We use affiliate links. If you buy something through the links on this page, we may earn a commission at no cost to you. Learn more.
11/17/06 Update (see info in Red)
Trying to find my perfect smartphone has been causing me the same frustration as trying to find my perfect gear bag. The quest just never ends because I've come to realize that there isn't any one perfect phone (or gear bag) out there for me. The whole trick is to find one that comes as close as possible. This review is for the Hewlett Packard iPAQ hw6945 Mobile Messenger; a Windows Mobile 5 Pocket PC phone. The question is, will it become my new "perfect" smartphone?
(I have also created an audio review of this phone in The Gadgeteer Podcast #2. This written review should be considered as a companion to it.)
Hardware Specs
Processor: Intel PXA270 processor 416MHz
Operating system: Windows Mobile 5.0 for Pocket PC, Phone Edition, with Messaging and Security Feature Pack
Memory: User Available 45MB available for persistent user storage 64MB SDRAM for running applications
Display: 3.0 inch (75 mm) Transflective TFT, 64K Colors
Built-in camera: 1.3 megapixel, 1280 x 1024 resolution
Battery: Removable, rechargeable Lithium-Ion (1200 mAh)
Expansion: Integrated mini-SD slot
Audio: Voice recording, built-in speakerphone, microphone, one 2.5 mm stereo headphone/microphone jack
Dimensions: 4.65″ x 2.8″ x 0.71″ (118 mm x 71 mm x 18 mm)
Weight: 6.33 oz. (179.45g) with battery; 5.28 oz. (149.69g) without battery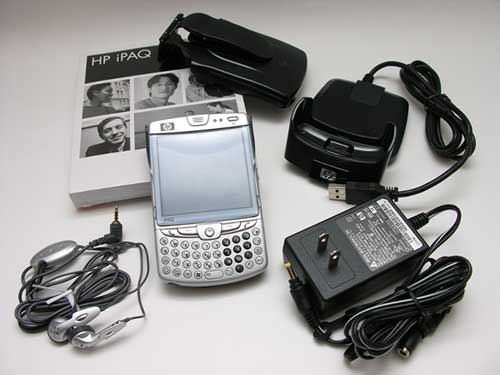 Package Contents
hw6945 Mobile Messenger
Universal cradle/charger
AC adapter
Flip cover
Holster
Wired ear bud headphones
HP product information guide
Software: Microsoft Outlook 2002, ActiveSync 4.1, HP ProtectTools, HP Photosmart Premier, HP Navigation Maps (60 day trial)
With WiFi, Bluetooth, a camera and even a GPS built in, the hw6945 has a lot of features packed into a relatively compact package. Let's take a closer look.
Hardware Design
Front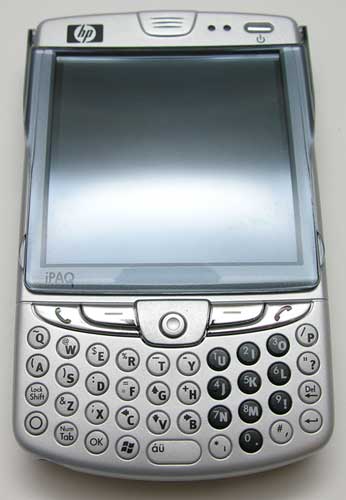 Made of silver and dark grey plastic, this smartphone has a similar appearance to a Treo, due to the small thumb-board keyboard located directly below the display.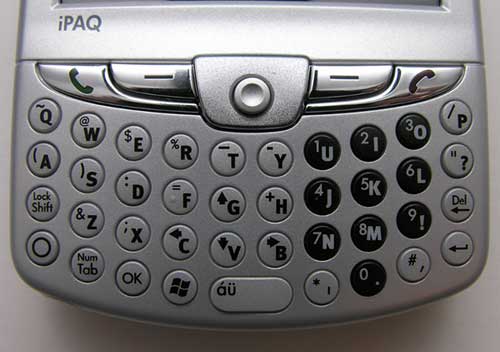 The keyboard has small flat hard plastic keys that exhibit good tactile feedback. Even though the keys are small and are practically flush with the face of the phone, they are still easy to press with your thumb tips.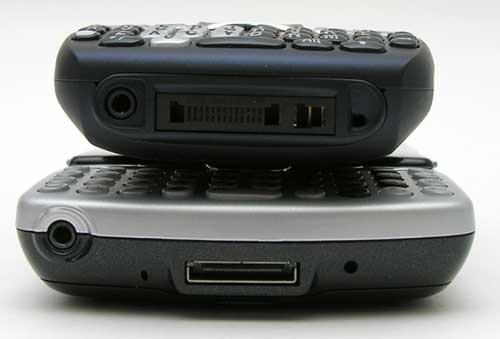 Notice how flat the keys are on the HP phone compared to the Treo 750v seen stacked on top of the HP in the picture above.
Situated above the keyboard are 5 additional buttons. The outside buttons start and end calls, while the inside buttons map to the onscreen command buttons. Centered between them is a small joystick type button that allows scrolling in 4 directions and also selects items when pressed in.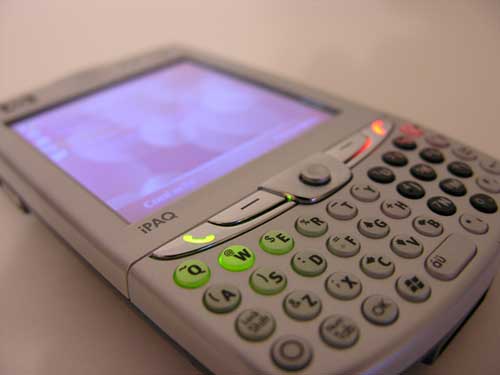 The start and end buttons are backlit, but unfortunately the keyboard is not. However, the light from the start and end buttons does sort of leak through to the buttons beneath the phone buttons.
The keyboard does in fact light up. I had the "Disable all buttons except power button" setting turned on in the buttons settings dialog box. Apparently when this setting is on, it keeps the keyboard from lighting up…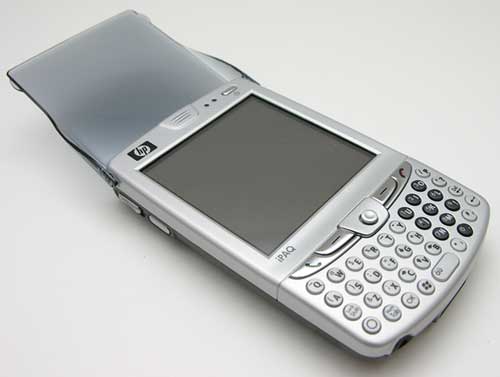 Included with the phone is a plastic flip cover. Kinda retro huh? It does do a pretty good job as a screen protector if you aren't the type of person to put your phone in a case.
Also located on the front of the hw6945 is the power button (top right corner) and two status LEDs beside it. One big problem that I have with this phone is the fact that the power button is the only way to power this device on. Pressing any of the other buttons including the green talk button has no effect. As a result, if you want to make an outgoing call when the device is turned off, you will have to press a minimum of 3 buttons. 1. Press the power button, 2. Press the green call button, 3. Press a speed dial key. You will also notice that the power button and green call button are separated by a good distance. Not very ergonomic at all.
Other buttons will in fact power on this device. I had the "Disable all buttons except power button" setting turned on in the buttons settings dialog box. This is apparently the default setting. Unchecking this option allows pressing of the Green call button to turn on the device and go directly to the phone / dial screen.
I've found the whole phone experience to be lacking when using this phone. Not only physically, but with the interface and reception. During calls, I will hear static in the background (people on the other end of the conversation have commented on hearing static too), and I have found that the signal strength is not as strong as other phones I have used.
Left Side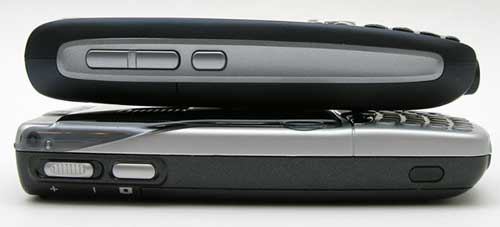 On the left side of the phone, you'll find the volume adjustment slider switch, camera button and IR port. In the image above, you see the hw6945 on the bottom, with the Treo 750v on top. This gives you an idea of how the two phones compare in thickness.
Right Side

A mini-SD slot is located on the right side of the device. The stylus slot is also located on this side.
Back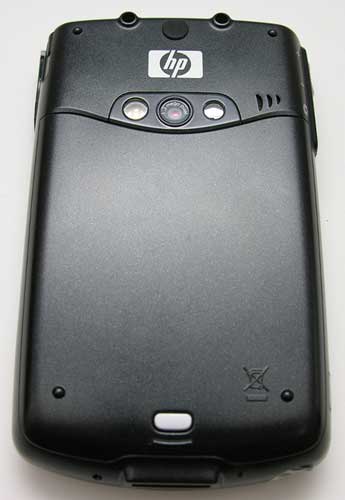 On the back you will find the built in camera lens, self portrait mirror and LED flash. Next to the camera is the speaker grill.
The 1.3mp camera is only just so-so as far as picture quality goes. You will definitely NOT be using this device as your primary camera.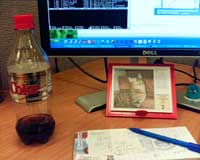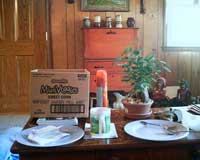 Click thumbnail to see full-size images
As you can see, the images are pretty fuzzy. The biggest problem though is that the camera software is slow. VERY slow. If you need to take a quick snapshot, you'll most likely miss it. More about the image capture software later in the review. It is nice to have a flash for the camera though, even if it doesn't flash automatically. You have to tap on the display to turn it on and off.
Bottom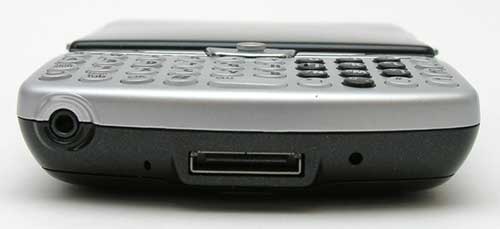 A 2.5mm stereo headphone jack, microphone, charge/sync port and reset switch can be found along the bottom edge of the phone.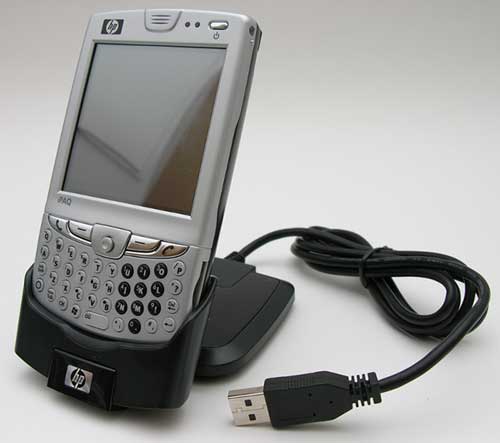 HP included a nice charge / sync cradle for the hw6945. You don't see cradles being included with PDAs or phones these days, so I consider this a nice 'gift'.
In hand, this phone feels pretty large. While it's somewhat thinner than a Treo, it's wider. The added width makes it look more like a PDA than a phone in my opinion.
Build quality is very good and this smartphone doesn't have any problems passing the Gadgeteer squeeze / creak test.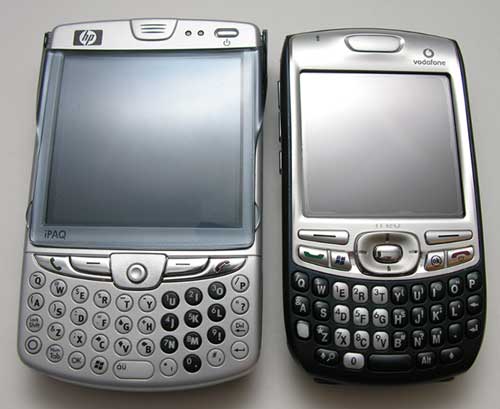 Above you can see the hw6945 and the Treo 750v. The display on both devices has 240 x 240 pixel resolution, but the HP's display is noticeably larger.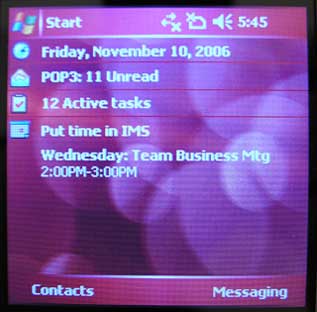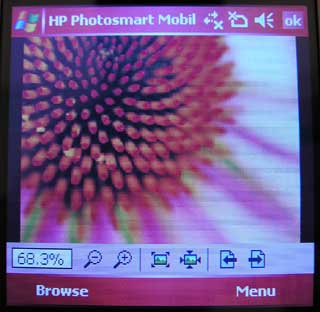 The display is crisp and easy to read, but it's not quite as bright and vibrant as the Treo 750v's display as shown below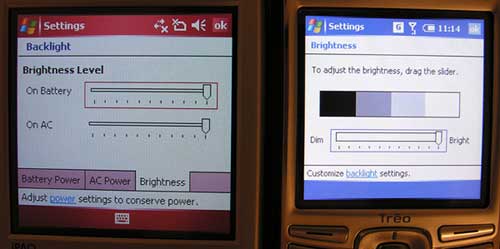 Left to Right: hw6945, Treo 750v
This picture was taken without a flash and with both devices side by side and set to their individual highest brightness levels. Even though HP does have a dimmer screen, it isn't something that you will notice without having another device with a brighter screen next to it to compare. So I don't have much to complain about as far as the display goes, except for the 240 x 240 resolution.
One hardware feature that I have so far been unable to test, is the built-in GPS receiver. Out of the box, this device does not have any mapping software built in. The only feature that takes advantage of the GPS is the image capturing software. There is a setting to have it stamp coordinates on your pictures. If you want to use the GPS for mapping, you can install the 60-day trial software that is included on CD. It's HP's navigation software. Of course, it's a Windows application, so I wasn't able to install it at home using my iMac. I did try installing it with my XP laptop at work, and didn't have a very good experience. The software has to connect to the HP in order to sync maps. When I would try this step, it continued to say that it could not find the device ID. I didn't have any problem syncing with ActiveSync though… The software app did install on the HP, but it caused the phone/PDA to run extremely slow. I checked and had sufficient memory available, but the only way to fix the problem was to do a hard reset. My confidence level in the GPS / software went down the tubes at this point. I would be interested in hearing from hw6945 owners that have had a better experience than I have.
As far as power, I haven't had any real issues with battery life while using this phone. For several calls, a little WiFi surfing, a few snapshots, etc. it will easily last the entire day with plenty of juice left over.
To wrap up the hardware section of this review, I would say that this device is more of a PDA, than a phone. I suppose that this might be beneficial to some people, but for me, I want a great phone that just happens to also have excellent PDA features. This one falls short in my opinion.
Software Installed on Device
ActiveSync
Bubble Breaker
Calculator
Download Agent
Internet Explorer Mobile
File Explorer
Get Good
Java
Microsoft Office Outlook Mobile
– Email
– Calendar
– Contacts
– Tasks
– Notes
Microsoft Office Mobile
– Word Mobile
– Excel Mobile
– PowerPoint Mobile
Modem Link
Phone
Photosmart Camera
Photosmart Mobile
Search
SIM Manager
Solitaire
Terminal Services
Windows Media Player 10 Mobile
Software Installed on CD
Adobe Reader (link for your desktop)
ActiveSync 4.2 (for your desktop)
Audible (link)
Avvenu (link)
Dynomite! By Astraware
Outlook 2002 (for your desktop)
Spritesoft Backup and restore
User Guide pdf
The today screen that comes pre-configured has a few plug-ins that allow you to easy see the status of your battery, free memory, free storage space and brightness level.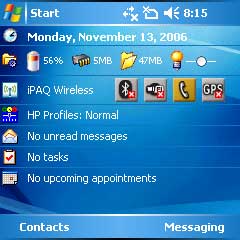 While the today screen looks pretty slick with these plugins, they really make the system sluggish. My advice is to just turn them off.
The hw6945 has a built-in 1.3mp camera. The camera software launch button / shutter button is mapped to the button on the left side of the phone.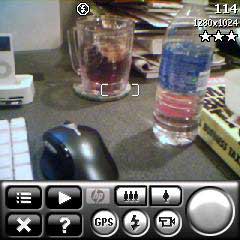 When you press the button, the camera interface starts up and is flipped so that you have to turn the PDA 90 degrees clockwise. This makes the HP feel like a camera because the shutter button is then in the upper right corner. The interface itself is simple to use as you can see from the image above. But it's also very slow…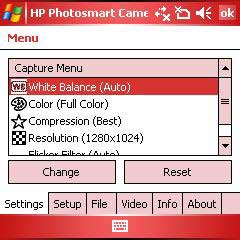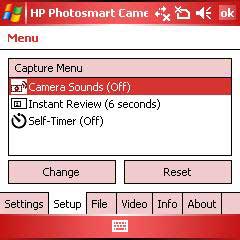 There is a nice selection of user customizable settings available…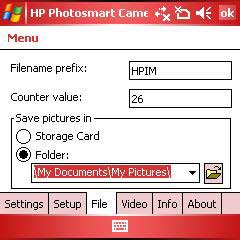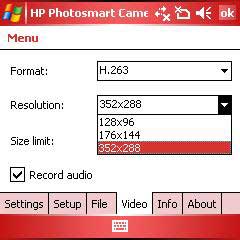 Too bad the image quality is only mediocre.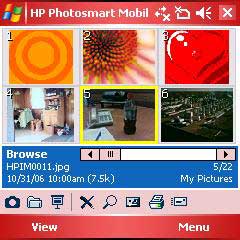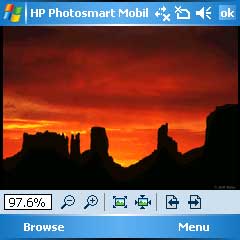 HP also includes a image viewer application. Nothing too special, but better than nothing.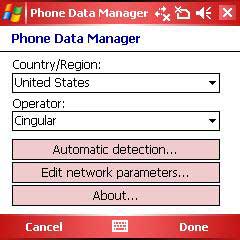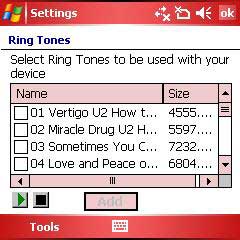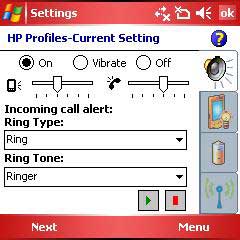 There is also a phone setting manager app, ring tone app and profile setting application. All three are simple to use.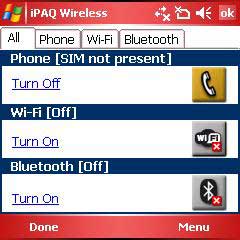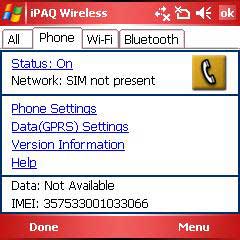 The iPAQ Wireless interface combines the phone, WiFi and Bluetooth setting dialogs all into one convenient location.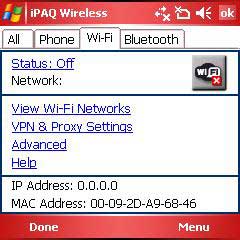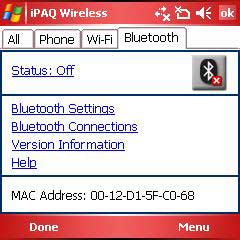 It's hard to gripe about this product because it has so much to offer as far as features. But my whole problem with it is that it tries to be everything to everyone and doesn't do a great job at any one thing. It's not a great phone because it's too big and has crummy ergonomics. It's not a great PDA because the screen is small and has low resolution. It's not a good camera because the interface is too slow and the pictures are not sharp enough. As far as the GPS feature goes, I can't comment because I was unable to get the software to work. In a nut shell, I am disappointed with the hw6945 and am setting off again on my search for my perfect smartphone…
Product Information
Price:
599.99
Manufacturer:
Hewlett Packard
Retailer:
Hewlett Packard
Requirements:

Microsoft Windows XP, 2000
USB Port
CDrom

Pros:

WiFi, Bluetooth, GPS
Built in 1.3mp camera
Thumb-board keyboard

Cons:

Too big for a phone
Bad phone ergonomics
Slow camera software
Fuzzy pictures