We use affiliate links. If you buy something through the links on this page, we may earn a commission at no cost to you. Learn more.
A person very close to me had to have a PET (Positron emission tomography) scan yesterday. I'd never heard of this type of diagnostic x-ray and suggested that she ask the technician if she could get a copy of the image emailed to her or something. I thought it might be interesting to look at… Well, they ended up actually gaving her a CD with a viewer and the whole scan (100's of images)!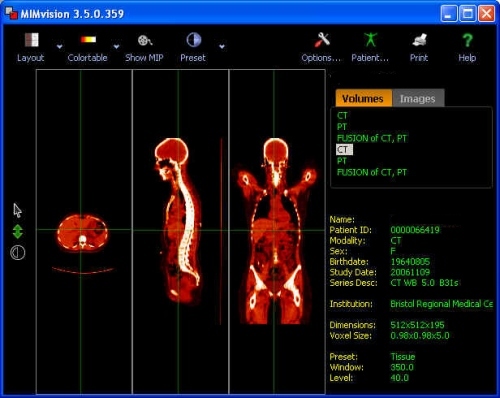 It's mind blowing what they can do with some radioactive juice and an x-ray machine! The viewer allows you to use your mouse to scroll through the x-ray in 3 dimensions (slices). I didn't know what the heck I was looking for, but it was still very cool.
No word yet on the results of the scan, so please keep your fingers crossed and send good thoughts this way :o)
UPDATE:The doctor called and everything is fine. No cancer found :o)