We use affiliate links. If you buy something through the links on this page, we may earn a commission at no cost to you. Learn more.
At least once or twice throughout the years, I have mentioned to John Hindaly of Vaja that it would be fantastic if they would consider adding a line of gear bags. All this time, I've been waiting patiently for them to create one of their masterpieces… I'm happy to say that my (and your) wait is now over. Vaja has just announced 3 new gear bags. A 15″ wide messenger, a 15″ vertical messenger and a slim messenger bag. They sent me the 15″ vertical messenger bag tonight. I'm honored that Vaja chose The Gadgeteer as the first review site that they've sent a sample to!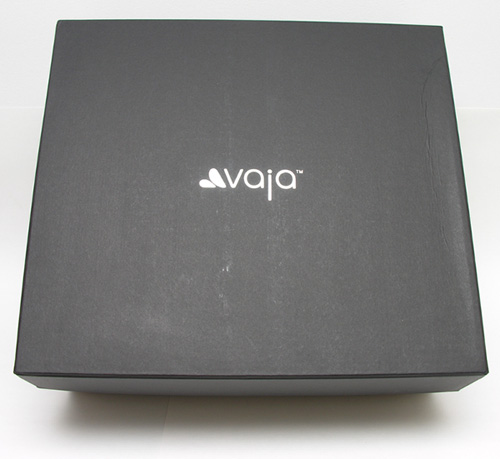 I think this is the biggest Vaja box I've ever seen ;o) I'm so used to receiving their boxes that fit in the palm of my hand.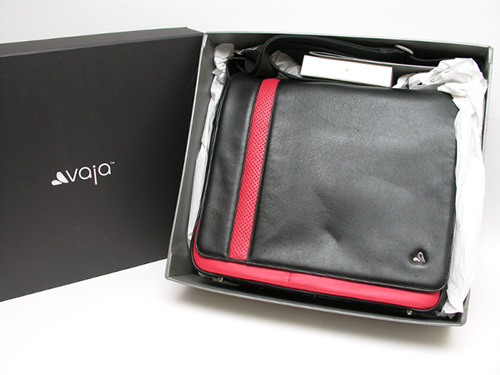 Mmmmmm, can you smell that yummy leather fragrance? No one is able to resist it. I took this bag with me to work and everyone that saw it had to pick it up and sniff it.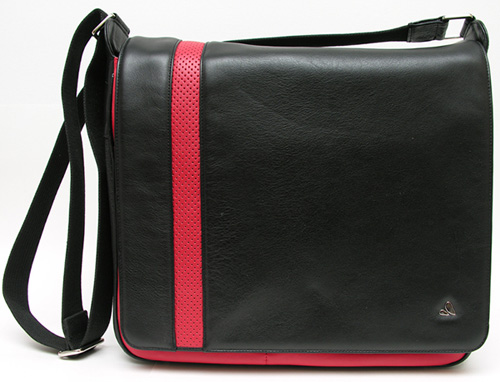 This bag is gorgeous! It has 5 pockets (2 zippered) and an adjustable heavy woven shoulder strap. Size wise, it is 14 x 11.3 x 4.50 inches. Empty it weighs in at 2.64 pounds. The bag is made entirely of fine grained soft leather. The version I was sent is Black with Red. You know Vaja though, customization is their thing. You can order this bag in a rainbow of color combinations.
The design of this bag has the primary color on the exterior, except for an accent strip of the color used for the interior flap and main compartment face. The Black and Red design for my bag kind of reminds me of a racing motif.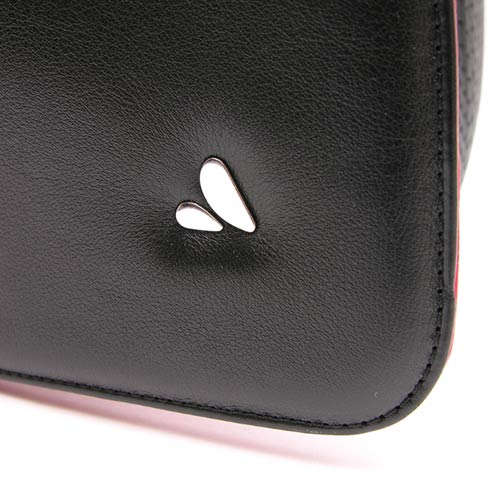 And for a little bit of bling, there's a Sterling Silver Vaja logo in the bottom right corner of the flap.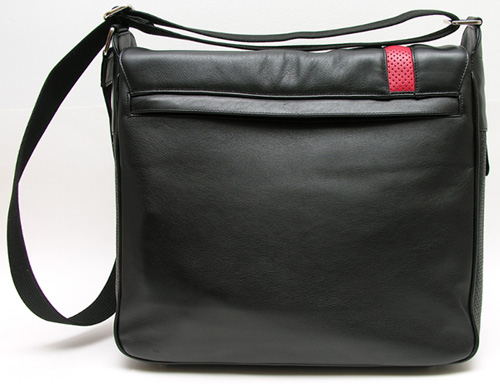 There are no pockets on the outside of the front flap, but there is one large zippered pocket on the back of the messenger bag.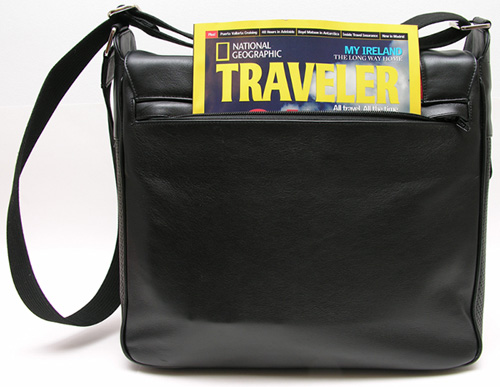 As you can see from the picture above, this pocket is not quite large enough to fully accommodate a standard sized magazine in either portrait or landscape orientations. I think an open pocket across the entire back of the bag would work much better.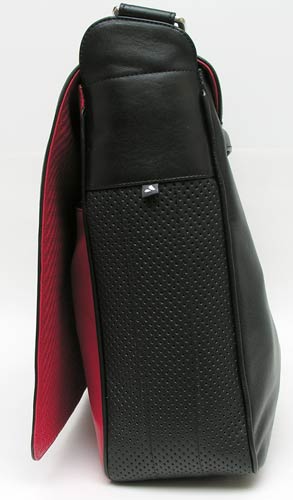 The right side of the bag is plain except for a small fabric tag with the Vaja logo. I think it would have been nice to have a side pocket here. Maybe for a small umbrella or mobile phone…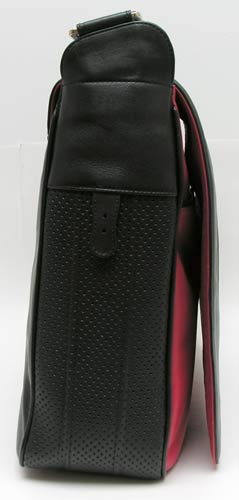 The left side is void of pockets as well. You will notice the leather tab with 2 holes though. This is a custom option and can be placed on either the left or right side.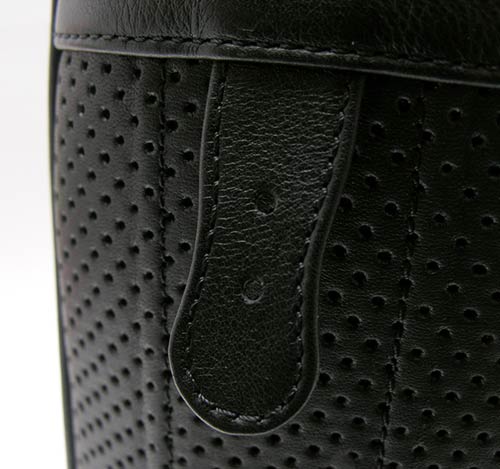 The tab can accommodate Rivet system plates and accessories. Vaja sells the kits as an add-on to the bag. With the system, you can connect your phone, PDA or other item to the side of the bag.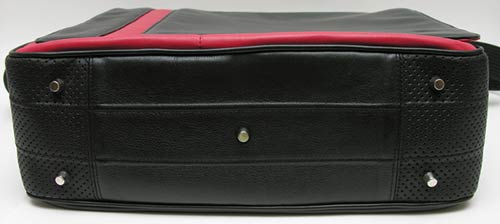 If you look on the bottom of the bag, you'll notice 5 metal feet. This is a nice touch that looks classy while also protecting the leather on the bottom of this expensive gear bag. This bag also stands up straight and doesn't normally topple over. I always hate when bags do that.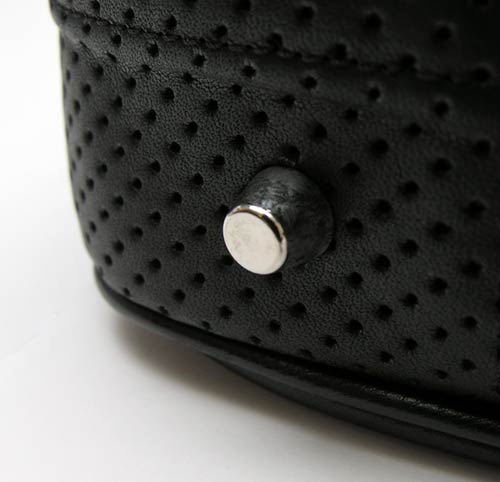 In the picture above, you can see a close up of one of the feet and also see the perforated detail of the leather that makes up the sides and bottom of the bag.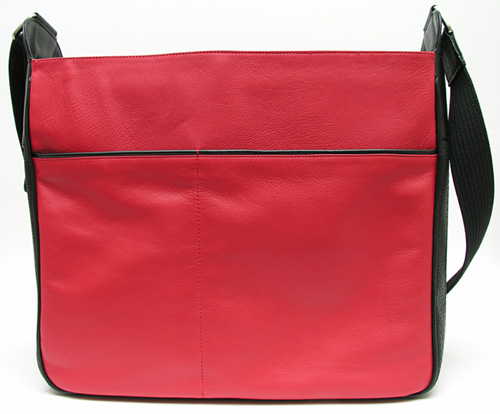 When you lift the flap, you are greeted with 2 open pockets. The pocket on the left is approximately 5 inches wide by 7.5 inches deep. The pocket on the right is 7 inches wide by 7.5 inches deep.
The pocket on the right also hides a smaller zippered pocket on the back wall which is 3.5 inches wide by 4 inches deep. The pocket isn't the most convenient to access though…
I should mention that the main flap of the bag does not have a fastener of any type to keep it closed. This may or may not be a concern. I find that the flap is heavy enough (there is some padding in it) to stay closed on its own.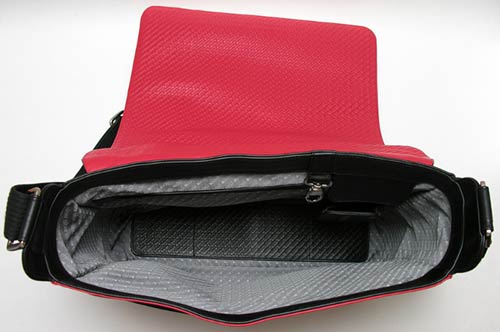 The main compartment is 13 x 10.6 x 4 inches in size, and like most messenger bags, is just an open cavity. The interior is lined in grey knit material that is emblazoned with the Vaja logo.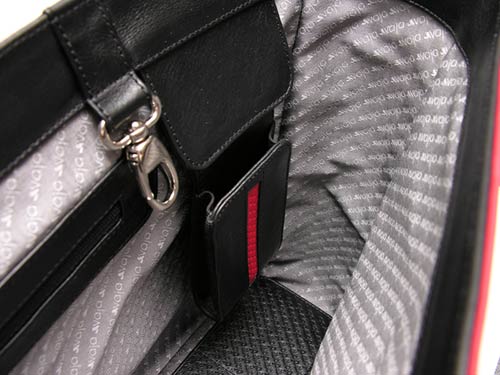 There is one pocket on the back wall of the bag. This is a 6 inch wide by 7 inch deep zippered pocket. Next to it, you can see 2 more custom options. One is a spring loaded metal hook that works great for keeping track of your keys, and the other option is a detachable leather gadget pocket.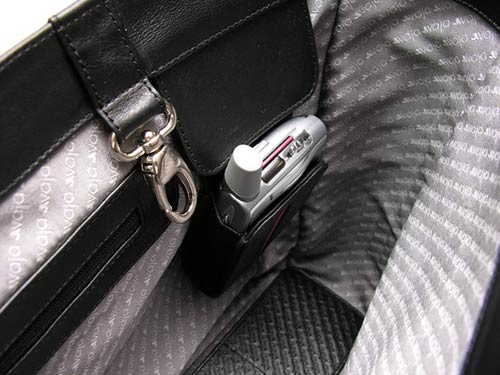 The pocket comes in Small and Large sizes. The small size was included with my messenger bag. This size just barely fits a Treo smartphone.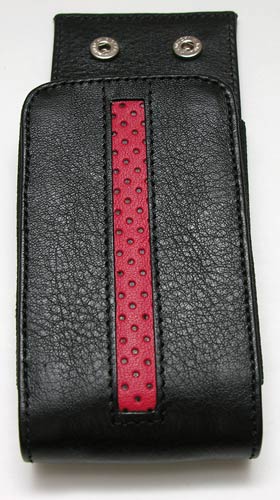 The sides of the pocket are elastic, while the rest is made of leather, with a color scheme that matches the scheme of the bag.
Ok, let's talk about what it is like to use the Vaja Messenger bag as your daily gear bag. Lately, I've been carrying a custom designed Bagaboo messenger bag, so I was curious to see if all my every day carry stuff would fit into this new bag.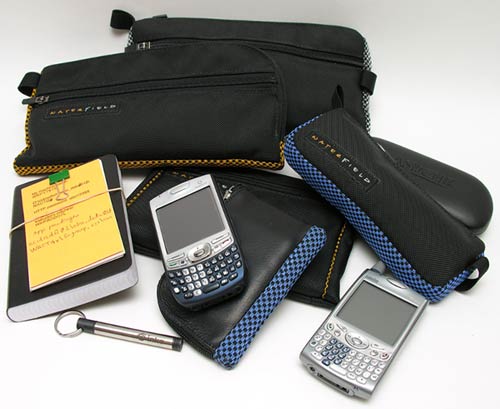 I'll be honest and tell you that I didn't move everything from the Bagaboo over to the Vaja bag. I just moved all the main stuff. I left a few pens, my checkbook (by mistake…), neoprene bottle cozy, a large Waterfield Cable Guy pouch and a few other odds and ends.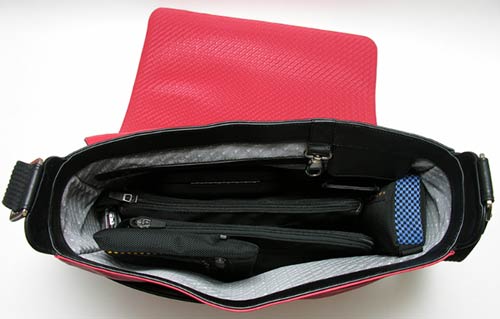 Here you see all the main items inserted into the Vaja bag, with room to spare. For such a compact looking bag, it really does have a generous amount of storage capacity.
The Vaja messenger isn't marketed as a laptop bag, but with the optional laptop sleeve (leather to match the bag, or neoprene), it will work as one just fine.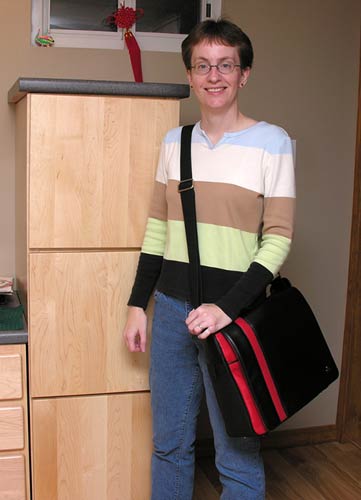 Here I am wearing the bag. I wasn't sure how well I'd like the unpadded woven shoulder strap, but I found it to be surprisingly comfortable. It does not slide down my shoulder when I wear a slick coat like the Bagaboo strap does.
I like pretty much everything about this bag. Of course I can always find something to criticize… after all, I wouldn't be doing my job if I didn't. I did notice one thing that this bag lacks. Pen / pencil holder slots! Not that the lack thereof should make you disregard a purchase of this bag, but I'm just saying… ;o) I do wish this bag had a grab handle, but since the flap does not fasten, a handle wouldn't work too well.
As made, my bag sells for $405. Yes, that is a lot of money to spend for a gear bag. Some people don't blink at that price when they consider the great materials, quality workmanship and style that this bag offers. I know I will enjoy this one for years to come.