We use affiliate links. If you buy something through the links on this page, we may earn a commission at no cost to you. Learn more.
Apple changed the digital audio player landscape when it replaced its popular Hard Disk Drive (HDD) based iPod Mini with the flash-based iPod Nano. This shift forced competitors to launch their own version, which further propelled the demand for flash-based players and, in my opinion, altered the digital audio player market forever. One such device is the digital audio player by Brando. Let's see how Brando's latest audio device stacks up.
First, the tale-of-the-tape (features / specifications):
Built-in FM Radio, VOICE REC and 1GB Flash Memory
Stylish Design LIKE iPod Nano with neck strap to hang on your neck headset
Color: Black
Support MP1, MP2, MP3, WMV, ASF and WMA format
eBook Function
Convert WMV, MPG, MPEG I, MEG II and AVI to MTV format. (Software included)
Super mini size. Fashionable mp4 device to carry around
65K True Color Display
1.5″ OLED Display
Dimensions (LxWxH): 90 x 42 x 8mm
Turn on Animated Welcome
Built-in Picture Viewer
Digital Recording Function: Built-in microphone
Built-in FM Radio Tuner (88-108MHz)
The FM frequency channel can be saved. No need to search every time
Able to record radio by two recording modes: Fine REC and Long REC
Replay Mode: Manual Replay, Auto Replay
A-B Repeat. Also, you can select the replay times and replay gap
Record Mode: Long VOR, Fine VOR, Long Rec, Fine Rec
Repeat Mode: Repeat One, Repeat Folder, Repeat All, Random, Intro
Multi-language Support: English, Traditional Chinese, Simplified Chinese, French, Italian, German, Spanish, Japanese, Korean, Portuguese, Dutch, Danish, Polish and Russian
Sound Effect: Natural, Rock, Pop, Classic, Jazz, Soft, DBB
Tempo Rate: You can set the tempo rate faster or slower with MP3 Format
Sleep Time and Power Off timer
ID3 Supported (Title Display, Lyrics Display)
Built-in rechargeable Lithium battery with adaptor

Compatibility: Supported Window XP; Window ME, Window 2000
No Driver needed (except Window 98 and Window 95)
Able to create folder for file management
Audio Connector: 3.5mm headphone jack
Opening the box I find the following contents:
1 black, mp4 audio player, Storage Size of 1GB
User Manual in English
Software CD
White, earbud style headphones
USB Cable
USB AC Power Adapter Charger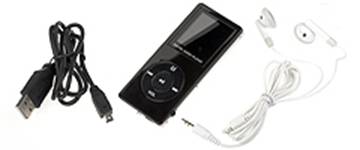 Flipping through the user manual, I immediately become concerned. The font size used is rather small and the images are so tiny that the text callouts are unreadable. There is no table of contents or appendix for reference purposes, plus the general layout is confusing to say the least, in that there is no spacing between sections and the section headings are non-descriptive. Bullets denote some sentences but it is unclear why, while other uses a numeric heading.
I also get the impression that the manual was translated to English without being proof-read because some things make absolutely no sense but are funny. Here is an example that had me laughing and scratching my head for an explanation:
"The knife man – impulsive punishment: Broad cast the level is smooth to roll over."
Never miss one of our posts again. Sent MON, WED, and FRI with the latest gadget reviews and news!
In general, I only resort to the manual when I cannot figure something out on my own, but I was so confused in my initial browse that I emailed Brando's site and requested an electronic copy, thinking it might be easier to read. I received a very prompt reply informing me that they do not have an electronic copy of the manual. So it looks like this will be a pure trial and error effort, which could be fun or maybe not.
My first impression of the audio player is that it looks a lot like the iPod Nano. It is nice and small with a shiny black face with while lettering and symbols, while the back is a brushed metal surface. Of course, both surfaces are highly susceptible to fingerprints.
The screen is 1.5" diagonal display and below that is a dual-circle mechanism similar to the iPods. The outside circle has an "M" at the top, to denote Menu, two forward-arrows at the three o'clock position, "VOL" at the bottom for the Volume and two backward-arrows at the nine o'clock position. The inner-circle has the common play/pause symbol.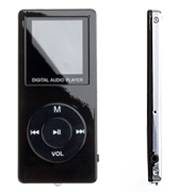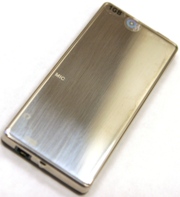 Interestingly, even though the dual-circles give the impression of a wheel mechanism that has ability to perform functions by moving your finger around the circle, unfortunately that functionality does not exist. Each function is enabled by pressing down the appropriate section. So they are just like individual buttons, which did have a tendency to stick a few times, forcing the unit to go somewhere I did not want it to.
Brando's digital audio player is very close in size to that of an iPod Nano. The player is 3.5"h x 1.6"w x 0.31"d compared to an iPod Nano which is 3.5"h x 1.6"w x 0.26"d. So, in terms of size, Brando's player should fit holders designed for the Nano. The only problem might be in regards the location of the headphone jack. The Nano's jack is on the bottom while Brando's is on the right-side, so keep that in mind.
The bottom of the player has a USB port and a metal loop for a strap. Sorry, no strap included. The right-side is where the 3.5mm earbud jack and microphone is located and the top has a slider apparatus to turn the power on/off. Here is a picture with callouts to help you gain a perspective where everything is located.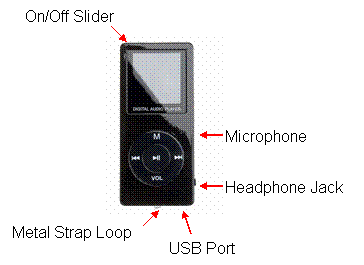 Here you can see the USB Port and the metal strap loop.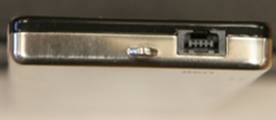 Turning the player on, I notice that the slider sort of sticks mid-way which is annoying because you wait for the power to come on only to realize that you need to slide it further to the "on" position. When the player is turned on, you have about a 15 second wait with an hour-glass icon followed by another 5 second wait with some animated picture. After playing with the device a bit, I realized that you can bypass the 5 second wait by pressing the "M" button when it begins. Unfortunately, I could not get past the initial 15 second delay.
The display is color, which is great, if you are in to that but I am not one who really cares about a color screen on my audio player. I guess if you were interested in viewing pictures on the device, which is possible, this might be a nice feature for you.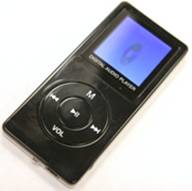 After the player completes its start-up routine, you see an animated picture of a disc with the heading of "Music". Pressing the forward-arrow button you can progress through the top-level menu as such: Music, Record, Voice, FM Radio, Text, Picture, Phone Book, Game, Movie, SYS Setup. Each level can be access by pressing the "M" button and you will experience another 5 second delay with a message saying "Initializing" while accessing the sub-section. I am not a fan of waiting. Next, I will break down the review by the top-level menu sections.
MUSIC:
The display in the Music section contains the following information: play/pause icon, current song number, incremental song time (hh:mm:ss), last song on the device's number, song length (hh:mm:ss), volume scroll bar icon, music file type (e.g. MP3) and the bit rate of the recording, album title, song title and artists, an animated equalizer graphic, song circulation play option icon, an unknown icon and finally, a battery icon.
Interestingly, I charged the device for hours but never could get the battery icon to appear above half-full. Aggravating, to say the least.
The first time you enter the Music section, the first file in memory is the song that will play first. Each time afterwards, the song that is on queue is the last song that was playing when you left the section, as a matter of fact, the song picks-up exactly where you left it when you last listened to it, which is nice, especially if you routinely turn the player on/off.
The sound quality of the player is good. Again a lot of that depends on the bit rate of the recording, the higher the better, the bigger the music file. That in mind, I did not notice any quality degradation from the player.
The player has some nice options in the Music section. You can repeat an individual song, repeat all song (continuous loop), repeat a folder, delete an individual music file or a folder, and you can play your tunes in random order.
Another feature that you may enjoy or find annoying, just depends, is a 2 second fade-out when transitioning between songs. At times I actually enjoy it but when you just want to access the next song as fast as possible, I could see it being annoying.
I was unable to access music that was in folders, which was disappointing especially if you like to catalog your music in folders by genre (country, rap, etc..) or even artist. I could see the folders that I created but I was unable to see or play the music files in the folders. Maybe the instruction manual explains how to make this work, but as previously stated the manual is pretty much useless.
RECORD:
In the Record section you have the ability to use the audio player as a recording device to capture voice or even songs off the radio through the FM Radio section. The recordings are captured at a 32kbps rate, so the quality is not very good. I found when testing the record option on voices it was not as noticeable as when I recorded a song of the radio. At 32kbps, the radio recording sounded horrible. Definitely not something you want to listen to for enjoyment purposes.
The recordings are saved in Windows Wave sounds format (.wav) with the file name REC## YYYY/MM/DD (e.g. REC01 2006/09/21, REC02 2006/09/21).
VOICE:
The Voice section is where you can listen to the recordings captured. Not much difference here than the Music section, in that you can repeat, delete and play the recordings in random order.
FM RADIO:
This is where you can access the built in FM radio tuner. So, if you get tired of your musical selection, you can tune in your favorite local station. The tuner is set to pick-up 88-108MHz. The reception actually surprised me. I have a 2-year old FM walkman that I compared the digital audio player too and the player had better reception.
The tuner has a Normal Band and a Japan Band feature. The Normal Band is 88-108MHz, while the Japan Band appears to be 76-90MHz. Seems that Japan needs to have a broader range of radio selection, but since I have never been there, who am I to judge.
The tuner seems to have the ability to save your favorite preset radio stations but I could not get this to work. Actually I found a "Save" menu choice but I was unable to transition through the tuner on my saved stations, so not sure if it was a device issue or user issue. Have I mentioned how helpful a user manual can be?
TEXT:
For those who enjoy reading ebooks, the player has a text feature that will permit you to do this. I personally enjoy the feeling of a hardcover book but I know that there are those of you, like Julie, who enjoy reading books off electronic devices.
I was surprised that the text did not appear too small on the 1.5" display. I found it very readable, although I cannot image reading a novel off the small display.
PICTURE:
The ability to view color photos is an attribute of Brando's digital audio player. The display quality is good, at best. Photos look the best when they are at good resolution at 128 x 128 pixels. That pixel size is roughly 1.5" diagonal, which makes sense because that is the size of the player's screen.
To give you an idea, here is an image sized to 128 x 128 pixels.

Options in the section include the ability to view photos one at a time or you can set them up to automatically flip to the next photo, like a slideshow. The automatic option even includes a mechanism to specify the delay, in seconds, between images.
Nice if you want to carry some pictures of the family or your pet around but I would not recommend using the audio player to view photos with a lot of details. I think the details will be lost or atleast limited by the size of the screen.
PHONE BOOK:
This section was the one that I spent the least amount of time reviewing, mainly because I did not attempt to import my phone information, again a limitation of the poor user manual. I can tell you that you can import and export your phone data and the device will display the subject's name. Upon clicking on a person's name, you have the ability to enter information in the following fields (denoted by icons): cell phone, main phone, email and fax number.
GAMES:
The audio player includes three games: BoxMan, Bricks and Color Bead. The Bricks game is like Tetris and it was the only one that I could quickly figure out.
A nice feature in this section would be the ability to play a game while listening to your music, occupying both your eyes and ears.
MOVIE:
The Movie section includes an AMV Player that allows you to watch video clips in AMV format. I was unfamiliar with this particular video file format, so I looked it up on the net and found the following description:
"AMV is a video file format, produced by MTV for use in Chinese MP3/MP4/MTV Players" – Wikipedia.org.
As with the picture and text functionality of this device, I think they are cool features but I would not want to attempt to watch a video of any given length on the digital audio player's tiny screen.
SYS SETUP:
This section is where a user can set the general options of the player (clock, LCD brightness, Language, Power Off specifics, Replay, Memory information and Firmware specifics).
The player's specifies that it supports the following languages: English, Traditional Chinese, Simplified Chinese, French, Italian, German, Spanish, Japanese, Korean, Portuguese, Dutch, Danish, Polish and Russian. Under the Language section it also list Arabic, Thai, Swedish, Czech, Slovakian and many others.
The Power Off section gives you the ability to turn the power off after a set time of inactivity, plus it has a sleep timer function which you can set up to two hours. So you can use your tunes to put yourself to sleep without wasting all of your battery.
Now that I have touched on each of the sections in the player, let's look at some other findings.
Transferring data to the device is very simple. Just plug the player into your PC using the USB port and it should automatically appear (depending on how ancient your PC is) as an external drive. Then it is just drag n' drop files onto the device. Hard to beat that, in regards to simplicity.
Earlier in the review I mention the fact that I never could get the battery icon to show a full charge. With that in mind, I was able to play the device for over 8 hours continuously without the player's battery shutting it down.
Charging the battery is done via a USB cable. You can plug into your computer or use the USB AC Adapter included in the package. I always like these extra USB adapters for charging because they are great if you have other devices that use USB to gain power. You can always use a back-up.
One note of concern, when you use the USB AC Adapter you can get the player to display the USB connection/battery charging image without actually having the AC Adapter plugged into the wall. So theoretically, if you were not paying attention, the device would appear to be charging when, in fact, it was not connected to any power source.
Look mom, charging without power. Now I know that would be a feature that everyone would love.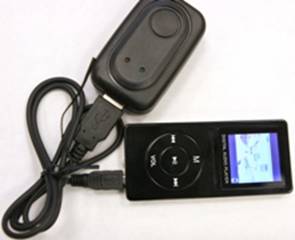 Overall, I think the player tries to do too much and fails to do anything very well. Do not get me wrong, I think Brando's digital audio player is a very serviceable device with multiple functions that give you the ability to do a lot. In my opinion, the unit's size and ability to transfer files are its biggest advantages, while I found the navigation mechanism and user manual its biggest detractors.
In comparing Brando's device to the iPod Nano, I think I might be more willing to fork over the extra $50 for a 2GB Nano then purchase the digital audio player.
Product Information
Price:
55.0
Retailer:
Brando Mobile
Requirements:

Window XP, Window ME, Window 2000
USB port

Pros:

iPod Nano-esque in size
Plug & Play, Drag & Drop ability to transfer files

Cons:

General navigation of the device is not intuitive
The user manual is basically useless.
False USB Connection/Battery Charging Display