We use affiliate links. If you buy something through the links on this page, we may earn a commission at no cost to you. Learn more.
The first time I ever saw a picture of the iCarta (from Atech Flash Technology), I thought it had to be a joke. Who would make an iPod speaker system that doubled as a toilet paper holder? The date on my calendar did not say April Fools day though, so this was actually a real honest to goodness new iPod accessory. Now in addition to having an iPod in your pocket, in your office and in your living room, you can also have one in the bathroom. The iCarta box says that it will enhance your experience. Ok, I won't go there…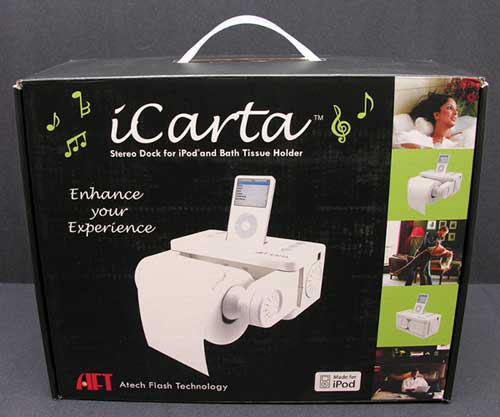 Hardware Specs
Dimension: 8.25 x 3.68 x 7.12 inches (W x H x D)
Speakers : Moisture resistant, (2) Tweeters for highs, (2) Woofers for lows
Power: 12V, 1.5A AC adapter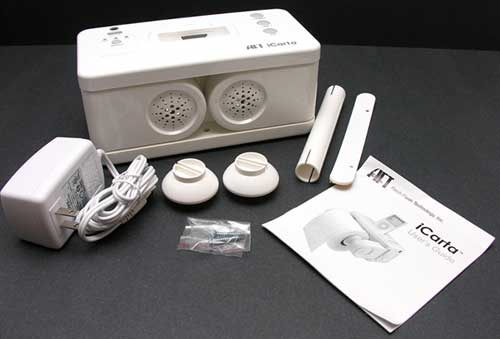 Package Contents
iCarta Stereo Dock for iPod with Bath Tissue Holder
Power adapter (100-240V ~ 50/60 Hz)
Bath tissue roll holder
Users manual
2 mounting screws
Adhesive mounting guide
Hardware Design
Front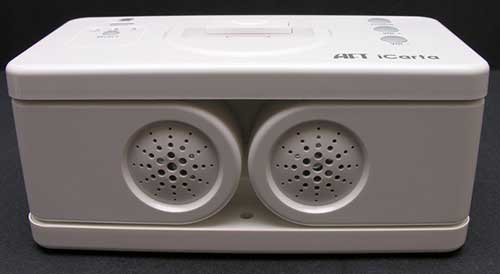 Looking at the front of the iCarta, you will see 2 speakers. These speakers are also the arms of the toilet paper roll holder. They fold out when you want to use this speaker system in the bathroom and snap shut when you don't.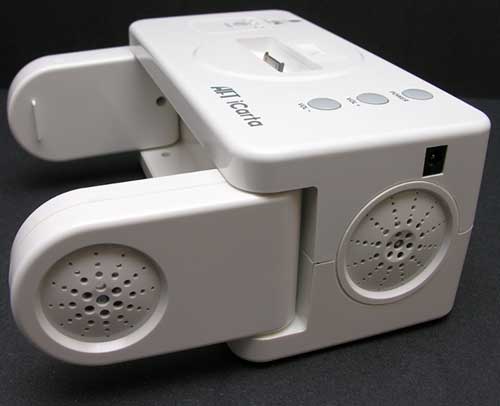 When the arms are open, they just swing side to side unless you insert the roll holder.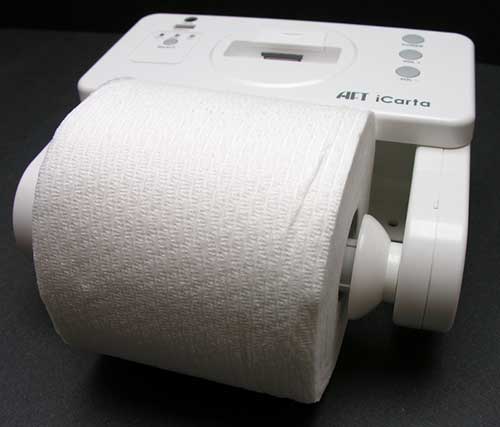 I tested the holder by using a standard sized roll of toilet paper. I didn't have any super-sized rolls in the house to test with, but I am pretty sure that they will not fit. The bigger rolls sometimes come with an adapter and there is no way to use that adapter with the iCarta, given the design of the holder.
Left and Right Sides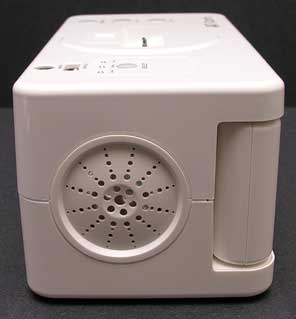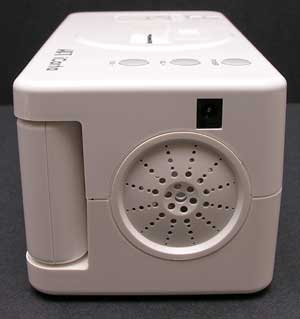 As you can see from the pictures above, both sides have speakers built into them. The right side also has the AC adapter port.
Back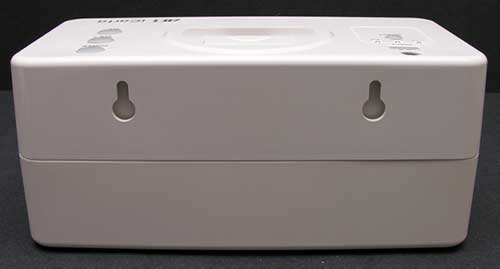 On the back you will find the mounting slots. Two Philips screws are included in the package, so that you can attach the iCarta to a wall or cabinet.
Controls
The audio ports and control buttons are located on the top face of the unit.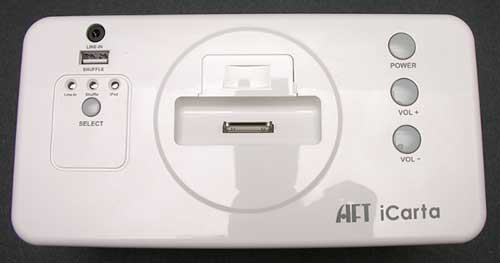 The iCarta is compatible with any iPod that has a dock connector on the bottom. Behind the docking connector is a slide out spacer. You can use this spacer to support thinner iPods, such as the nano. Next to the dock are buttons for Power and Volume control. The buttons are made of hard plastic and have good tactile feedback.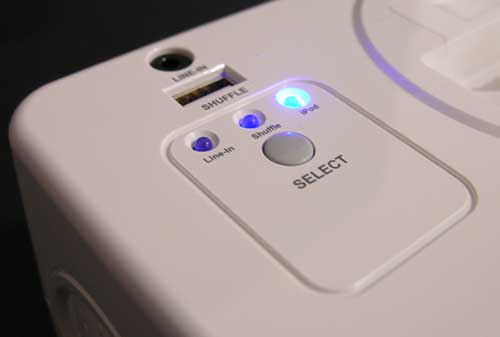 On the Left side, there is a 3.5mm Line In jack, and directly below that a female USB connector for an iPod shuffle. To specify which audio input you want to listen to, there is a Select button. Everytime you press this button, it will shift to the next audio input. A very bright Blue LED indicates which input is in use. The LED also allows you know that the iCarta is powered on. I should mention that the selected input will reset to the iPod input when you toggle power. Volume levels reset to a low level with power toggle too.
You will all probably be disappointed, but I did not install the iCarta in my bathroom for this review. Unfortunately I do not have a power outlet near the location where a toilet paper holder would be attached. I really didn't fancy stringing the AC adapter cord over my sink or across the floor. This is an issue that should be considered before you purchase this product with the intention of using it in your bathroom. I really wish the iCarta had the option of running on batteries.
Usage in a bathroom should be fine though as the speakers are moisture resistant. I found it a bit amusing that the user's guide warned not to use the iCarta near a bathtub or a washbowl. Hmmmm… Both of those objects are in most bathrooms ;o) Of course, they are just saying that you should not get water on the device. No splashing in the tub anymore buddy!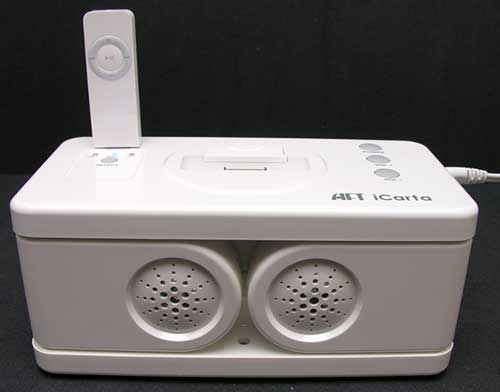 With the roll holder arms snapped shut, no one needs to know that this speaker system is for a bathroom. You can take it to your office and use it there too. So this is where I did my testing. I tried the iCarta with my iPod shuffle and iPod video. It's cool that the there is a dedicated shuffle port, but the down side is that the shuffle battery does not charge while connected to the iCarta. Seems a bit strange as iPods inserted in the dock do charge while connected…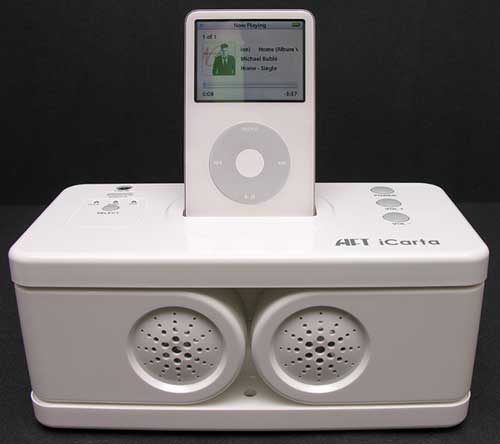 Sound quality through the speakers is about what you'd expect with a small sub $100 speaker system. As long as you don't go crazy and turn the volume level up to the max (doing so will make the whole speaker cabinet vibrate and rattle), the sound is fair. It won't blow you away with thumping bass or crisp treble, but it is good enough for your morning shower singing session in the bathroom for sure. I wouldn't want to purchase the iCarta as my sole iPod speaker system for a office or living room though. I think there are better sounding systems on the market for those locations. I would suggest the JBL On Tour Portable Music Box for one.
Product Information
Price:
89.99
Manufacturer:
Atech Flash Technology
Retailer:
Computer Geeks.com
Requirements:

iPod with dock connector
iPod shuffle
Any audio device with a line out
Power outlet

Pros:

Can be used in a bathroom to hold toilet paper, or in the office as a desk speaker
Compact
Charges iPod battery through dock connector
iPod shuffle connector

Cons:

Does not charge iPod shuffle while connected
Requires an AC adapter