We use affiliate links. If you buy something through the links on this page, we may earn a commission at no cost to you. Learn more.
The concept of Yin and Yang has been around for centuries. A simple
definition would be that "Yin and Yang" is a term used to describe
interdependent opposites, such as male and female, light and dark, or hot and
cold. The Tom Bihn
Imago marks the
first time I have seen this principle of complimentary opposites used to
describe a messenger bag…well, one that didn't have the well known black and
white symbol plastered to its front, anyway.  And yet, there is a very good
reason for the company to have chosen Yin and Yang to describe their new bags.
According to the Tom Bihn site, "The Imago is a small,
messenger/shoulder bag available in two models with distinct styling — different
fabrics, different colors, and different design — and multiple personalities — a
shoulder bag, messenger bag, or laptop messenger bag." The difference between
the Yin and Yang styles is that the Imago Yin is "made of 1000 denier Cordura®,
features a sexy recurved on the flap and is available in color combinations
Cocoa/Cocoa/Wasabi, Plum/Crimson/Steel, and Olive/Steel/Wasabi. The Imago Yang
[is] made of 1050 Ballistic nylon model, has a more conservative look, and is
available in color combinations Black/Black/Wasabi, Steel/Kiwi/Deep Blue, and
Crimson/Steel/Crimson. Both models are lined with 500 denier Cordura®, and,
other than the flap design, feature the same basic architecture."
I was sent the Imago Yin in Cocoa/Cocoa/Wasabi, just
like the one shown here: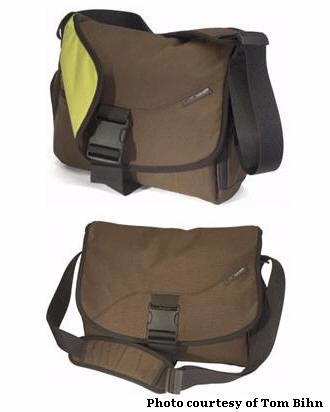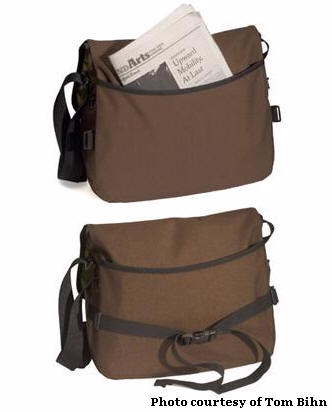 Measuring approximately
14.5" wide x 12.25" tall x 4" deep, the Imago Yin
has a clean, non-fussy design. The only sign of branding anywhere on the bag's
exterior is a discreet Tom Bihn tag sewn to a seam on the front flap. The bag is
kept closed by the nearly 2.5" wide heavy duty plastic clip, and the flap can be
tightened down or loosened as needed by adjusting the 2" nylon strap attached to
the clip. I have to admit that the sight of this large brown flap makes me feel
tempted to get out my embroidery needles and thread
again…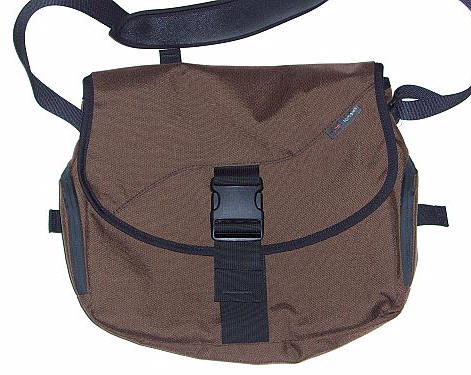 The Imago has an adjustable 55" nylon strap that can be shortened for
shoulder wear or lengthened for wearing bandolier style. The strap is 1.5" wide
and has a sliding, cushioned, grippy shoulder pad.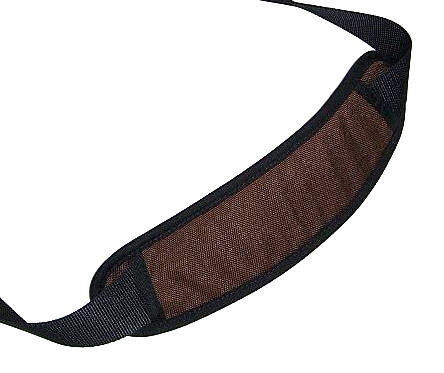 Never miss one of our posts again. Sent MON, WED, and FRI with the latest gadget reviews and news!
On the back is a removable waist strap for those that need extra security as
they ride a bike or walk. Tom Bihn's design quality is evident in the way that
the strap can be easily removed from the bag without cutting it off. I
personally never use these waist straps, and I have lost count of how many I
have had to permanently remove because the manufacturer didn't offer a neat
removable option. This is yet another reason why I really like Tom Bihn's bags!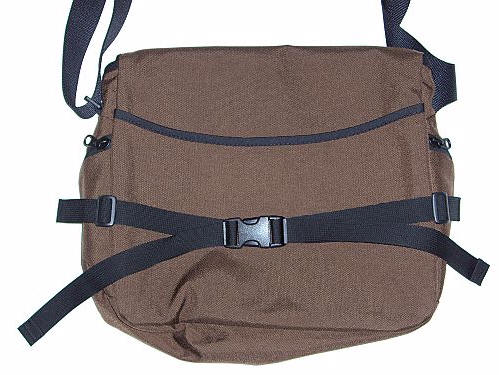 Each side of the bag has a 6" x 3" zippered pocket that is perfect for
holding smaller items such as cell phones, digital music players or sunglasses.
These zippers are #8 YKK "splash-proof" Uretech® zippers, which help keep water
from seeping through to the pocket's contents.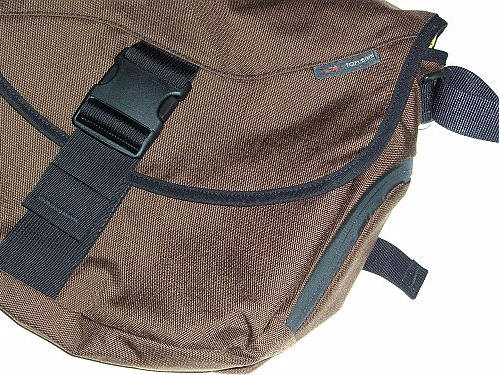 The coolest feature about each of these side pockets is that they are lined
in Ultrasuede. This allows even the most delicate items to be carried in the
pocket without fear of scratching.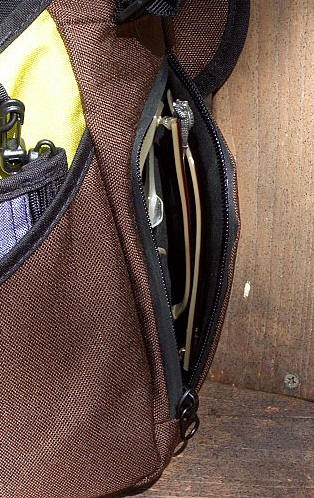 Unsnapping the front of the bag reveals a wasabi green splash of color. On
the left is a 7" tall x 7" wide zippered pocket. On the right is an open pocket
which measures approximately 6" tall x 6" wide. Attached at the top of the
pocket's back is a metal ring to which a keyring can be snapped, or one of Tom
Bihn's

Organizer Pouches which I will cover further in this review.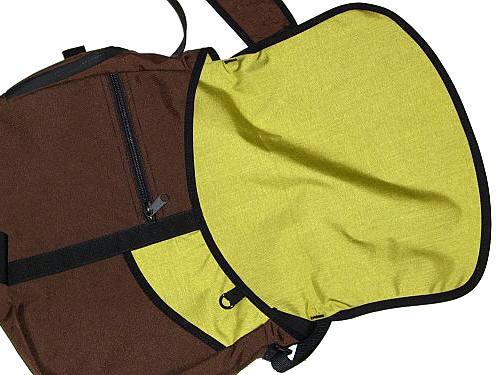 The main compartment of the bag measures approximately 14" wide x 12" tall x
4" deep, and is large enough to hold files, several books or other paperwork.
There are two open pockets against the front wall of the bag, each measuring
approximately 7" tall x 6" wide x 1" deep. These pockets are perfect for even
the largest sized PDAs or smaller UMPCs like my DualCor. On either side of this
front pocket wall are metal rings for attaching Organizer Pouches or the
included and removable extension keyring clip.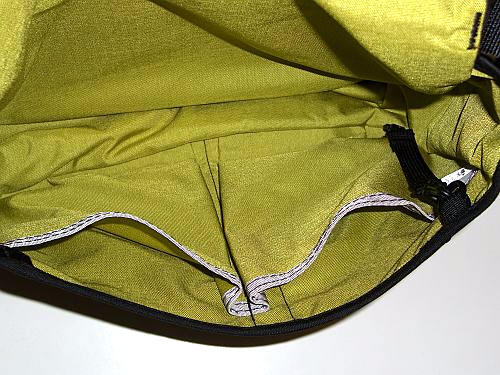 Here is a picture of my Imago Yin bag with a passport in the zippered pocket,
an

Organizer Pouch in the front open pocket, and a size 5
Soft Cell Laptop
Sleeve holding my Fujitsu P2110 inside. When I need to carry my laptop, the
sleeve can tuck right in; when the laptop is not needed, I have more room for
toting my "stuff".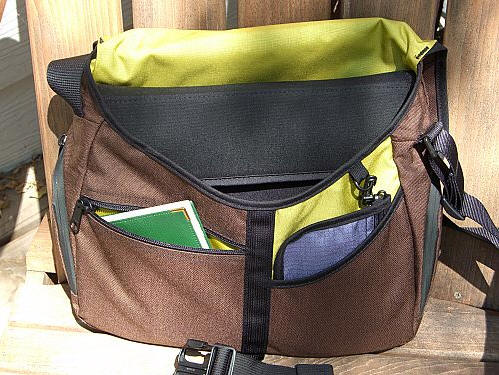 On our recent trip to California, Steve carried the Imago Yin as his day bag.
He was pleased by how the bag managed all of the goodies he wanted to keep
handy, as well as the items he purchased throughout the day.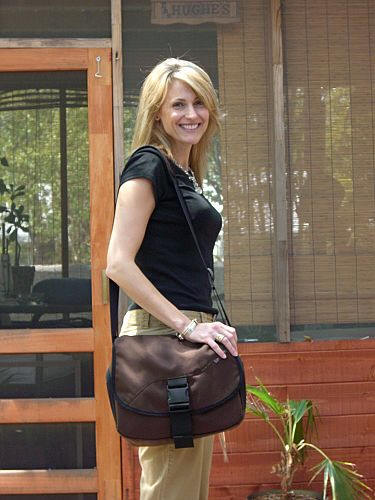 Me wearing the Imago, for reference I am 5'10"
The Imago Yin and Yang sell for $85.00
For bags such as the Imago, Tom Bihn

Organizer Pouches are the perfect solution for keeping cords neatly
contained, securing small loose items and separating various items that
shouldn't touch each other. Available in small, medium or large, Organizer
Pouches can be secured to the Imago (or any other bag with interior metal rings)
with their attached plastic clip.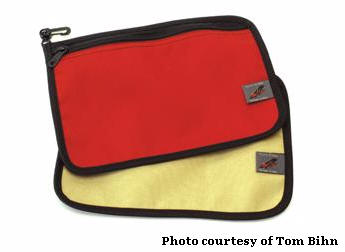 According to the Tom Bihn site, "the Organizer Pouches zip shut with a #5 YKK
coil zipper with a plastic slider which is less likely to damage sensitive
electronic gizmos. Made from 500 and/or 1000 denier Cordura® in combinations of
your favorite TOM BIHN colors — Wasabi, Steel, Crimson, Deep Blue, Sapphire,
Olive, Black — and vintage colors such as Periwinkle, Grid, and Cocoa. Colors
are "as available", which means we choose the colors and you don't. You can
indicate a color preference in the comments field during the checkout process,
but there is no guarantee you'll get the color you prefer."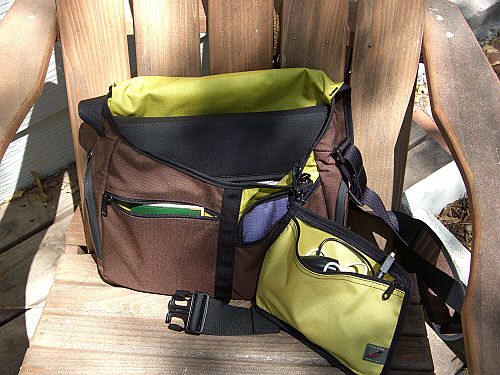 Organizer Pouches come in small, medium and large, and they sell for $5.00,
$7.00 and $9.00 respectively.
All that it takes to turn the Imago bag into a laptop bag is a
Soft Cell Laptop
Sleeve or a

Brain Cell hard case.
According to Tom Bihn, "only smaller laptops that will fit in our Size 5 or Size
6 (for the 13" MacBook) Soft Cell or Size 5 Brain Cell
will fit in the Imago."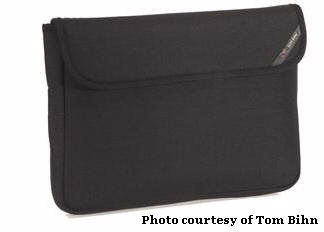 The Soft Cell is a slim padded sleeve that adds very little bulk to the
laptop while offering great protection against scratches, bumps and dings. Four
round Velcro tabs keep the flap closed and the laptop secure. The soft Cell can
be added to just about any messenger bag, even one you may already own.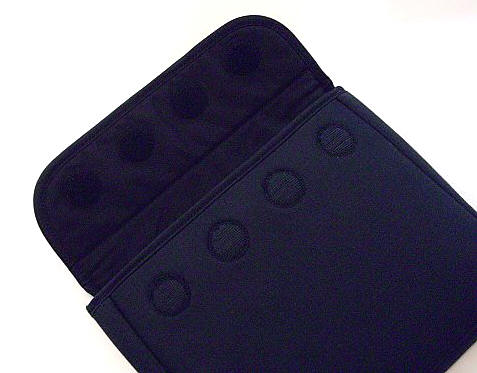 The Soft Cell is available in either a horizontal or vertical orientation for
$30.00
Now to jump to a product that I never knew I needed, didn't even recognize
for what it was when it was received, but now am glad to have…go figure! I was
sent a couple of Ultrasuede

Laptop Keyboard Covers which are made to lay over the laptop's keys when the
screen is closed.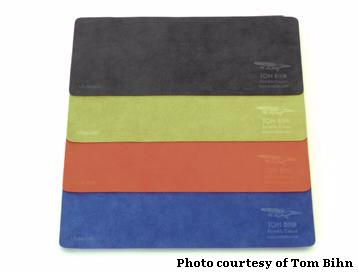 These swatches act as a buffer between the laptop and screen when it is being
transported, and they also keep "finger grease" (say it with me now, "eeeeeewww!")
off the screen. These keyboard covers measure 10" long x 4.5" wide, so the
actual amount of keyboard covered will depend upon the size of the keyboard. On
my Fuji it keeps everything covered…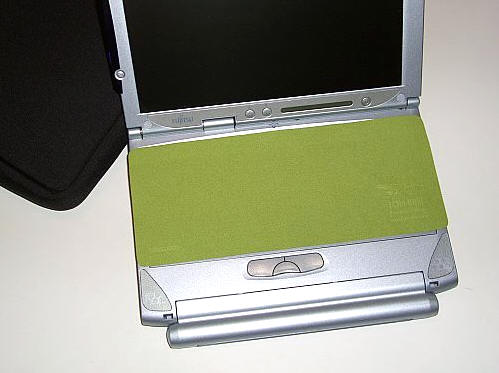 while on this much larger Dell it almost covers the keyboard from end
to end.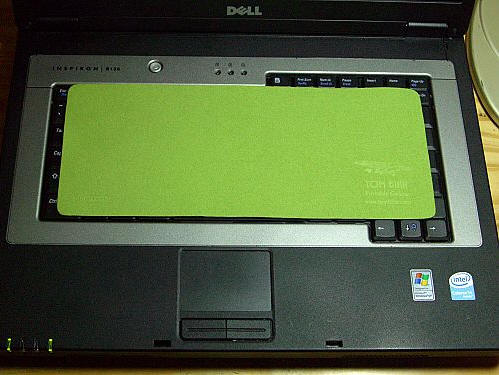 The Laptop Keyboard Cover sells for $6.00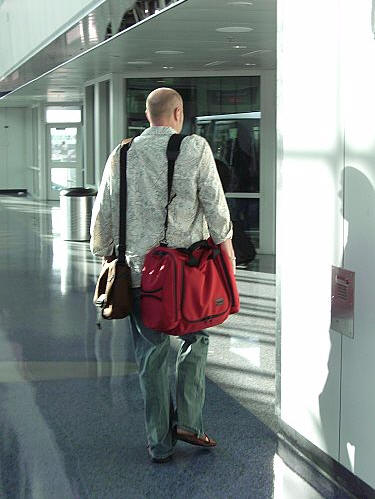 The Imago & Aeronaut on Steve, who is 6'4"
The beauty of Tom Bihn's products is that many of the bags have been made to
interact perfectly with the available accessories. It is very easy to find a
great bag, personalize it with the needed accessories, and then enjoy the
quality and superior workmanship of the entire package as they are used for many
years to come.