We use affiliate links. If you buy something through the links on this page, we may earn a commission at no cost to you. Learn more.
Here at The Gadgeteer, we love to discover good things that come in small packages. If it's tiny, designed well and useful, we're as happy as geeks at a HamFest. That's why I performed an internal happy dance when the USB Rota-Rota 4 port hub showed up in my mailbox the other day, all the way from Brando's shop in Hong Kong. One of these days, I hope to visit Hong Kong and Brando's shop, but until then, I will just have to settle for testing out his products.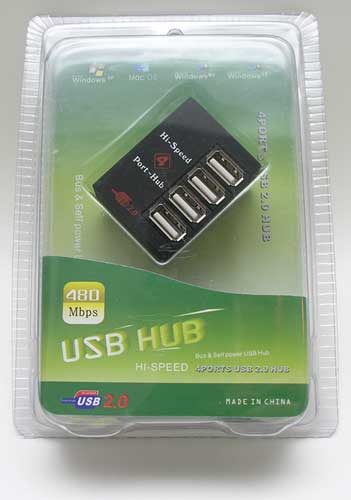 Hardware Specs
Fully compliant with USB 2.0 specification
Backwards compatible with USB 1.1
Support data transfer rate at 1.5/12/480 Mbps
Individual port over-current protection
Dimension: 1.5×2.0x1.25in (31x48x30mm)
Weight: 43g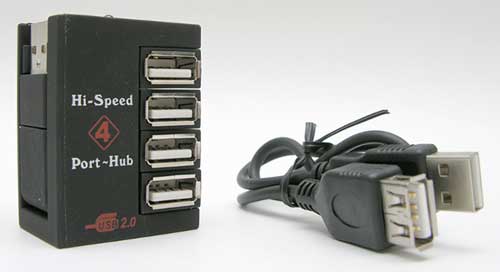 Package Contents
USB Rota-Rota Hub
17 inch USB extension cable
This hub is very small and compact. Not as small as the Super Mini Aluminum 4 Port USB 2.0 Hub from USB Geek that I reviewed, but this one has the advantage of not requiring an additional cable for connecting to the desktop or laptop computer.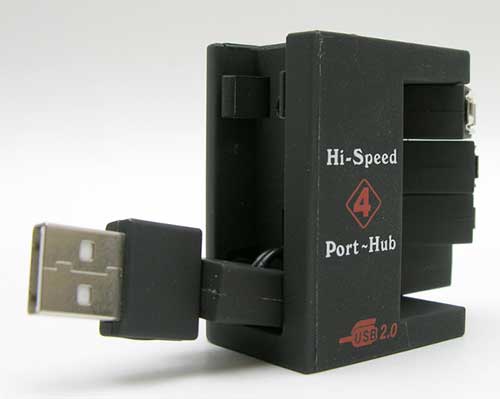 Never miss one of our posts again. Sent MON, WED, and FRI with the latest gadget reviews and news!
Instead, the Rota-Rota has a fold out connector that can rotate 180 degrees.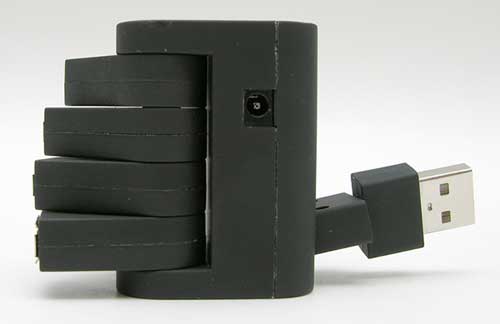 On the back of the hub is a power connector that can be used if you intend to connect devices that require a lot of juice (more than 500mA per port). Unfortunately, a power adapter is not included with this hub. According to the package, a 5V, 2.1A adapter is required.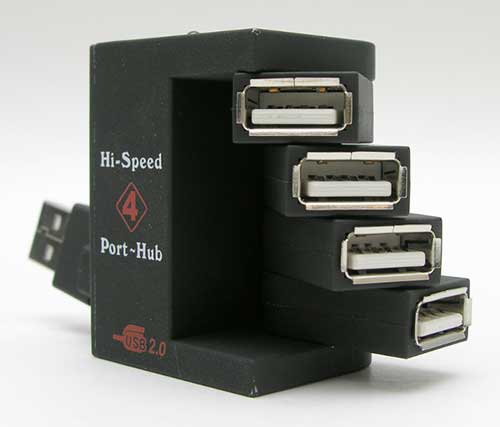 This is a 4 port hub. Each port can swivel 180 degrees, allowing plug in access to most USB enabled devices.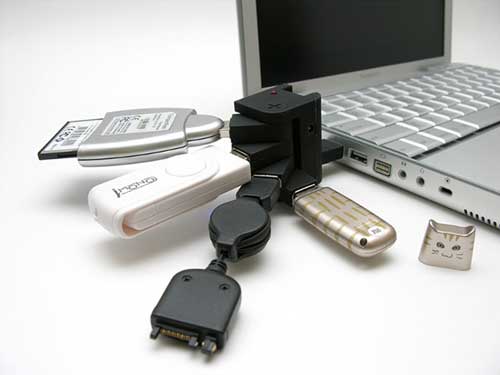 Here you see the hub connected to my 12″ Powerbook, with various flash drives and cables attached to it.
In use, the hub performed as well as other non-powered hubs that I've tested in the past. The only 'issue' that I had with this one seems to be an OS X related issue. Every time I would plug an additional USB drive, or card reader into the hub while one or more such devices were already plugged in, I would get the an error saying:
The device you removed was not properly put away.
Data might have been lost or damaged. Before you
unplug your device, you must first select its icon in
the Finder and choose Eject from the File menu.
Mac users will know this as a familiar error. It happens whenever you accidently pull a memory card out of a reader or unplug a USB drive without ejecting it first. I'm just confused that the error occurs when plugging something IN instead of UNPLUGGING it. On a PC, I didn't notice the error.
This isn't a hub that I would want to use as my primary hub, mostly because it is not powered and I tend to use devices that draw more than 500mA. That said, the USB Rota-Rota 4 port hub is a useful device to throw in a gear bag for those times when you might have too many devices to plug in, and not enough ports to plug them into.
Product Information
Price:
16.0
Manufacturer:
Brando USB
Retailer:
Brando USB
Requirements:

Windows 98/2000/Me/XP or Mac OS 8.6 or above

Pros:

Compact
4 swiveling ports

Cons: