We use affiliate links. If you buy something through the links on this page, we may earn a commission at no cost to you. Learn more.
Have you ever noticed that a lot of FM transmitters on the
market these days, don't blend in very well with the interior of
most vehicles. Their design tends to be too flashy or wacky for my
personal taste. I don't know about you, but I tend to prefer that
my vehicle accessories look more like OEM parts than something that
came from the bargain bin of AutoZone. That's why I was pretty
amazed when I came home the other day to find a package from
Speck Products. Inside
was the MobileTune FM Transmitter for the Apple iPod.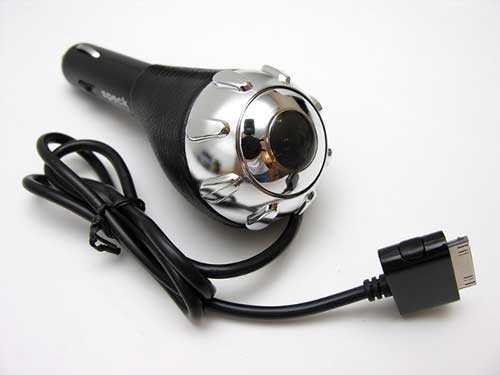 The first thing that caught my eye was the shiny chrome cap at
the end of its light bulb shaped body. No, it's not made of metal,
it's plastic. This cap is actually the tuning mechanism and display
for this FM transmitter. The outside ring is spring loaded and can
pivot left or right to easily adjust the frequency. Each click that
you give the ring, will move the transmitter 1 frequency up or down
the dial. Tuning is continuous from 88.1 to 107.9Mhz.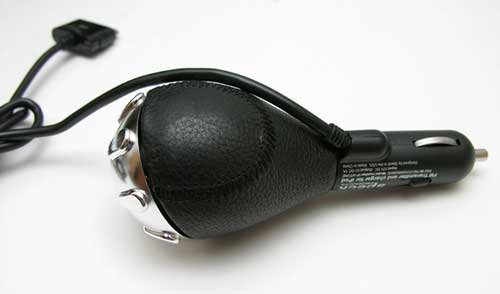 Most of the body of this device is encased in Black leather
which is stitched on with Black thread. This tight covering can not
be removed and truly gives the MobileTune a premium auto accessory
look and feel.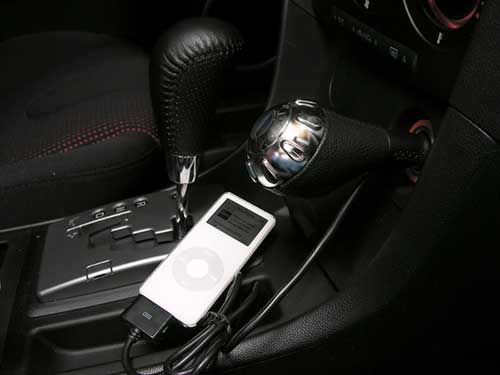 It actually blends in great with the leather covered shifter in
my Mazda3 5-door.
A 27 inch cable protrudes out the middle of the transmitter. At
the other end of this cable is a 30 pin iPod dock connector. To use
the transmitter, you plug it into a free 12V power socket in your
vehicle, tune your FM radio to a channel that has no station, and
then use the ring on the MobileTune to tune to that same
frequency.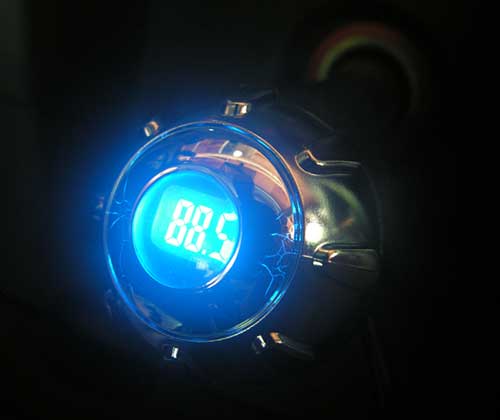 As soon as you power up your vehicle, the MobileTune's Blue on
Black display will glow. I sort of wish the display was Red to
match the other LEDs in my car. Oh well… The picture above makes
the display look like it is majorly bright. Don't worry, it's not
blinding or anything. Also, it's smart enough to turn off when your
car is powered off.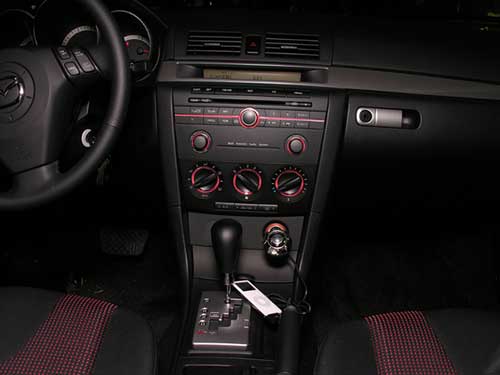 After the car radio and MobileTune transmitter have been set to
have matching frequencies, you're ready to connect your iPod and
start playing your tunes. For this review, I used my iPod
nano. Let's start with the good news first… The best features
that this FM transmitter has, is its ability to charge your iPod's
batteries while you're listening to music. It's also easy to tune.
Although I do wish that you could hold the ring in one position to
have it continue to cycle up/down the frequency list. As is, you
have to turn it, let it spring back to the center, turn it, let it
spring back, etc., etc.
The only bad news here is that I've been spoiled by my current
method of listening to my iPod through my car stereo. I use an
auxilliary input. Once you listen to your iPod connected through
the docking connector directly into your car stereo, you'll never
want to use an FM transmitter again. That said, if your vehicle's
head unit doesn't have an AUX input, the MobileTune will sound
pretty nice. During my testing, I did notice some light buzzing
sounds during the silent sections between songs. I also noticed
that I needed to turn the volume up on the stereo 2-3 notches
louder than when I use the AUX input. By the way, adjusting the
volume on the iPod itself when it is connected to the MobileTune,
will have no effect on the volume levels. All volume adjustments
must be done through the car stereo's controls.
Sound quality with the MobileTune is good, but no where near as
good as when using an AUX input. FM transmitters on the whole leave
music sounding a bit flat. Again, if you've never heard the
difference, you're not going to know what you're missing… If you
don't mind the sound of FM radio stations through your car stereo,
then you will probably find the MobileTune to be just fine for you.
This is definitely the best looking FM transmitter that I've had
the chance to review, but at $60, I think the sound quality could
stand some improvement.
Product Information
Price:
59.95
Manufacturer:
Speck Products
Retailer:
Speck Products
Requirements:

iPod video, iPod nano, 4G iPod, and iPod mini
Vehicle with 12V power adapter socket

Pros:

Blends in with car interiors (especially Black interiors)
Easy to use
Charges iPod

Cons:

Some buzzing noises occur during space between songs
Sound is a bit flat