We use affiliate links. If you buy something through the links on this page, we may earn a commission at no cost to you. Learn more.
Has anyone else noticed the way that carabiners, once a tool used mainly by
mountain climbers and other outdoorsy types have slowly been working their way
into the mainstream? I have several water bottles with them attached, a pen, and
even a travel wallet. I suppose it was only a matter of time before someone
attached a carabiner to a flash memory drive, and this is actually an
application that makes sense.
Today I am going to take a look at the
Imation
USB
Clip Flash Drive, which is basically a carabiner attached to a rubber shell
which houses a USB flash based memory device in denominations of 256MB, 512MB,
1Gb or 2GB. I was sent the 256MB version.
The rubber housing measures approximately 3" long x 1" wide x 0.4" thick, and
the attached carabiner is approximately 2.4" long and 1.3" at its widest point.
The removable USB based flash memory drive is a mere 1.84" long x 0.75" wide x
0.3" thick, and the entire package together weighs just 0.9 ounces.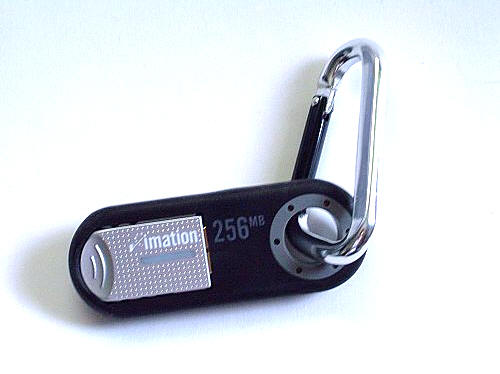 Specifications:
Interface: USB 2.0
Available capacities: 256MB, 512MB, 1GB, 2GB
Data Retention: 10 years
Power Source: USB Powered (no batteries)
Hardware Requirements:
Windows ME, 2000, XP — no software required
Windows 98SE —
driver
required
Macintosh Mac OS 9.0 and above
Linux® 2.4.2 or higher
There are three white paper stickers included which allow the user to affix a
descriptive label regarding the drive's contents into the hollow located on the
rubber housing's back side.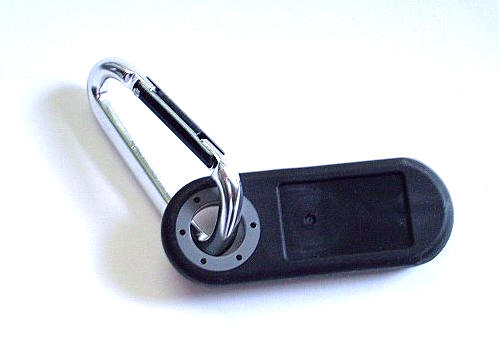 Peeling back the rubber on the end of the housing releases the miniscule
flash drive. This step makes me a little bit nervous, because there is a chance
that an over-anxious user might put undue stress on the USB connector while
removing the drive. I may just be overly cautious however, as nothing happened
to indicate that it was occurring during my period of "normal usage".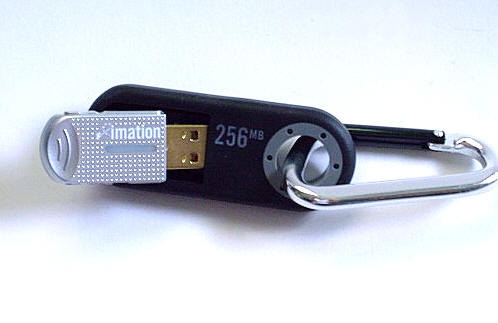 I was sent the 256MB model, so my hopes momentarily rose when I saw 512MB
printed on the rear of the drive. Alas, I would later learn that the written
amount was a dirty lie, the drive was just the advertised 256MB. ;0)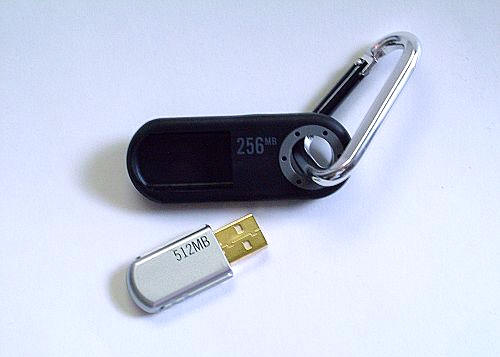 When plugged into a USB drive, a blue LED will glow on the drive's front. It
will flash as data is being transferred.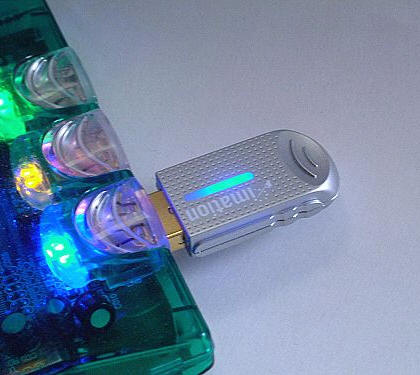 The drive is Plug & Play in Window's XP, and will show as a free drive in
removable storage.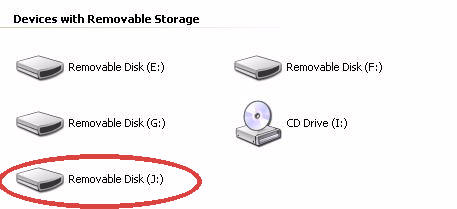 I decided to cheat and differentiate this drive from the others…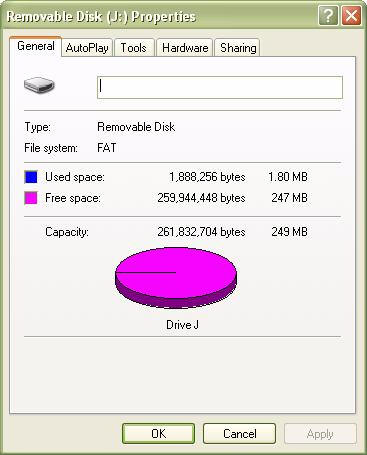 …much better!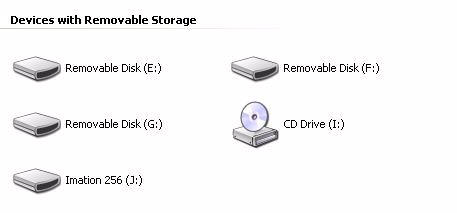 When plugged in, there are three folders already loaded on the drive, AP, Win
98 Driver & User Manual. These included files use 1832KB, and they can
technically be deleted if the user doesn't need them. However it would be wise
to save copies on the desktop, just in case. ;0)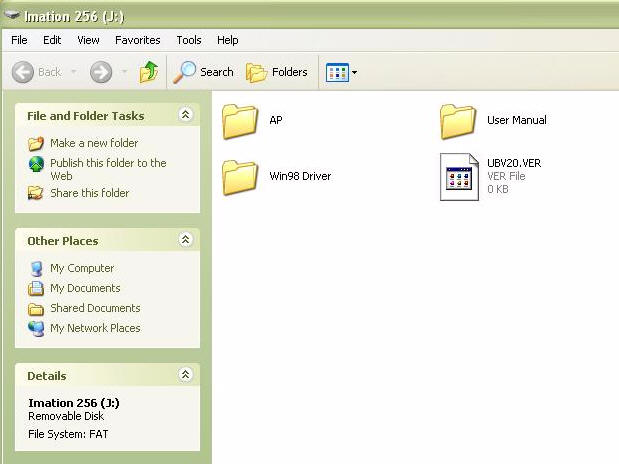 Inside the AP folder is a Format program, which when clicked reveals…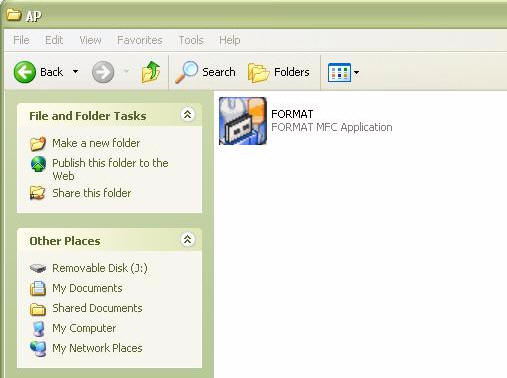 …software for partitioning the drive from public to private…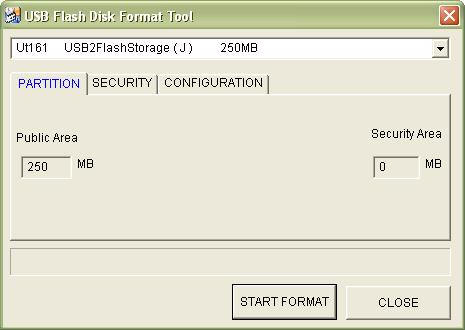 …a place to enter a password for the secure portion of the drive…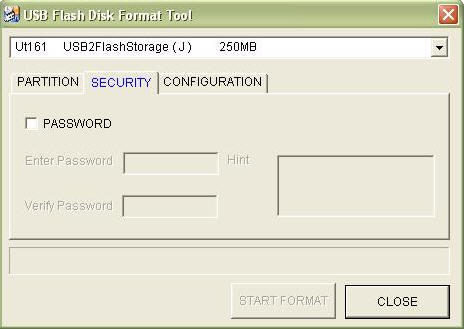 …and option to configure the drive's boot type and format function.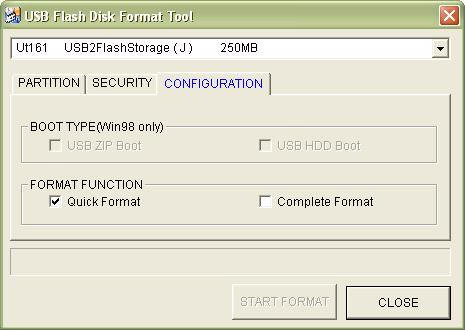 The carabiner allows the drive to be used as a keyring, be attached to a bag
or purse, or to be attached anywhere that there is something from which it can
dangle. While the drive is relatively secure inside the rubber housing, it might
be possible to knock it loose if the correct pressure was applied. Depending on
how often the owner thinks to check, it might be possible to lose the drive and
not realize it until much later since the rubber housing would still be dangling in its correct place. This makes the inclusion of the password protection a very good thing.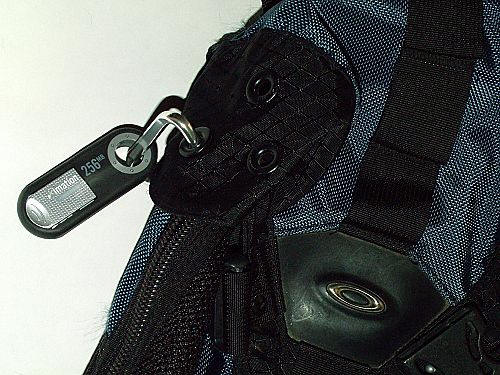 I did some quick time trials using the Clip Drive, and they went as follows:
An 88.4MB music file from computer to drive took 10.57 seconds. The same file
moved from the Clip Drive to the computer took 8:58 seconds.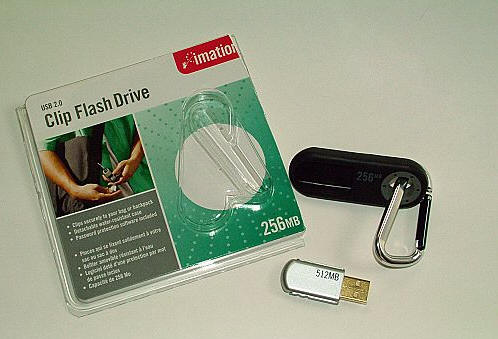 If you have been looking for a small USB flash drive that can be clipped to
your bag, keyring, belt loop, or mountain climbing equipment, then the Imation
Clip Drive may be the one for you. The Imation Clip Drive comes with a Five-year
limited warranty
Product Information
Price:
29.99
Manufacturer:
Imation
Retailer:
Imation
Requirements:

Windows ME, 2000, XP — no software required
Windows 98SE — driver required
Macintosh Mac OS 9.0 and above
Linux® 2.4.2 or higher

Pros:

Convenient way to carry flash memory
Includes password protection

Cons:

Possible to damage USB connector with improper handling
Possible to lose memory drive wihout realizing it's gone