We use affiliate links. If you buy something through the links on this page, we may earn a commission at no cost to you. Learn more.
Working 2 full time jobs (Cummins and The Gadgeteer) can sometimes take a toll on my sanity. There's nothing that says stress, like spending an 8hr day supporting CAD users all over the world and then coming home and having to write about the latest gadget or gizmo to show up in my mailbox. Don't get me wrong, I'm not complaining about playing with and writing about gadgets at all. It's just a lot of work and like all of us, work can cause a real energy drain at times. That's why any product that claims to help a person de-stress and recharge, is a product that I want to test.
Not long ago, I came across just such a product from a company in the United Kingdom. Enter the pzizz Personal Life Coach System. What the heck is a pzizz you ask? First of all, pzizz is pronounced "puh-zizz". The name is a reference to Power Napping. The P in pzizz is for Power and "Having a zizz" in the UK means "having a nap". Hence – p-zizz. This product helps you take a special uber-relaxing power nap whenever you need one, by using Neuro Linguistic Programming (NLP) and binaural beats. That's just a super technical way of saying that it uses a special algorithm that draws from three levels of data files (words, music and sound effects) to create a different nap each time you initiate one.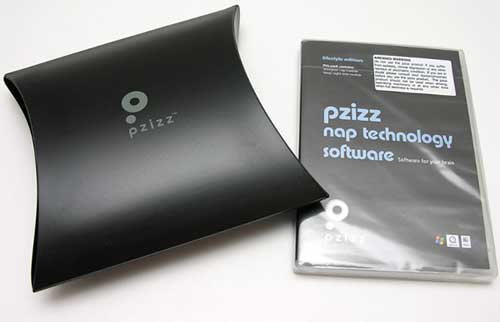 The pzizz system is available in two different versions. A hardware version and a software version. I'm going to tell you about the hardware version first. The pzizz player is a handheld iPod sized device that is powered by 2 AAA batteries (included).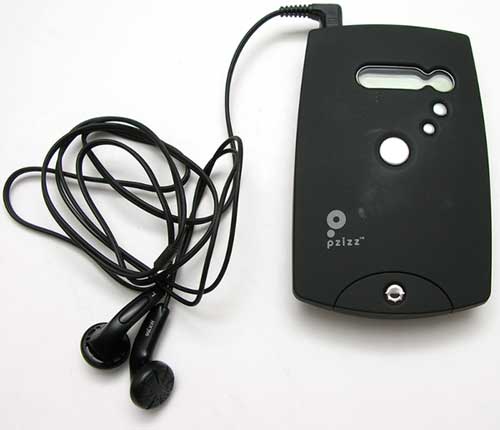 Package Contents
pzizz player
Sennnheiser earbuds
2 AAA batteries
Instruction leaflet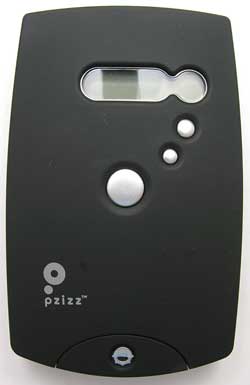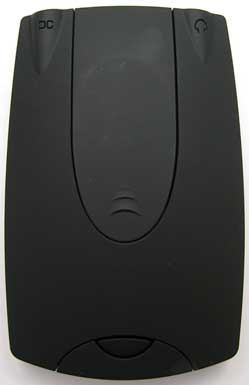 Front
The front of the player has a small mono backlit LCD display and 3 interface buttons. The buttons toggle power, adjust volume levels and change nap duration. The large button in the middle is the power/select button. Holding it down for several seconds will turn the device on. Then using the smaller buttons, you can adjust the length of your nap from 10 minutes up to a maximum of 60 minutes. Once you select the duration, you press the middle button a second time to select the time, then a 3rd time to start the nap. When the nap is in progress, the smaller buttons adjust the volume levels.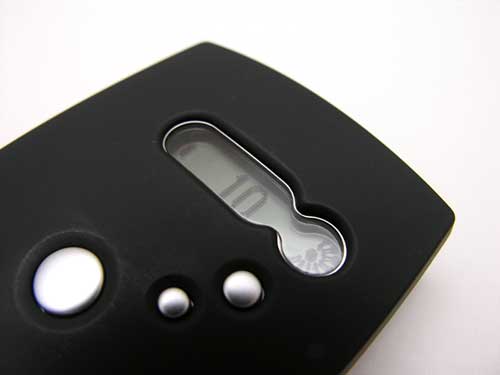 Back
The battery compartment is located on the back of the player. Typically a set of batteries will power the device for approximately 6 to 8 hours. A battery status icon is located on left edge of the LCD display.
Top
A standard sized earphone jack is located on the top of the player, along with a DC in connector if you wish to power the device with an AC adapter (not included).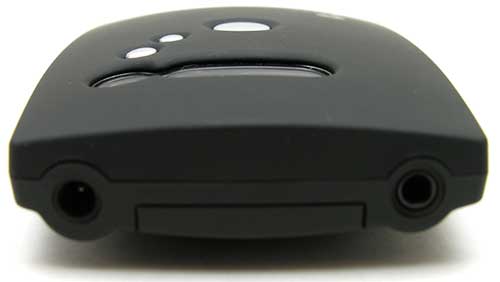 Bottom
The base of the pzizz pulls out to reveal what looks like a SD card. I thought maybe I could insert a regular SD card full of .MP3s and use the pzizz to play them, or plug the pzizz card into a card reader to see what the files look like. Unfortunately, regular SD cards do not fit in the pzizz slot, and the pzizz card won't fit into a card reader. It was worth a try though… Since the card is removable, this gives the player an upgrade avenue.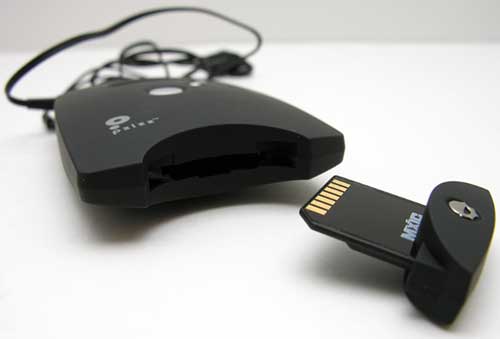 My tests with this player consisted of using it to take a 20 minute nap several times a week for a 3 weeks. You gotta love a review that requires sleep as a test! I really didn't know what to expect the first time I tried it. I thought it would be similar to some of the relaxation CDs that I had tried in the past. But with the pzizz, every nap is a bit different… Each nap starts out with a male narrator talking for a minute or so. He runs through some relaxation exercises such as tensing all your muscles and then relaxing them. He also talks about letting your mind relax and letting your thoughts drift. His voice is low and pleasant. Then the "music" portion starts. The first few times, the music felt a slight bit creepy to me. The music isn't like an actual song, it's more like a combination of energy sounds, bells, drawn out tones, hums and pulses. Here and there ocean waves, and bird chirps are thrown in too.
The audio sometimes moves from ear to ear in such a way that it almost made me feel like my eyes were moving back and forth under my closed eyelids. Like I was in REM sleep, only I wasn't really asleep. It was a strange sensation.
The part that I really didn't like, was that the narrator would start talking again just when I felt like I was really relaxing and getting ready to drift off. This would always slightly jar me awake again. The minimum volume level wasn't quite low enough for me, as his voice was startling. It often made me wish that there was a way to have a nap without the narrator's voice, or a way to make his voice lower in volume than the music.
After the first nap, I thought the pzizz was kind of lame. I felt pretty much the same way after my 2nd try as well. But then with the 3rd try, I found that after the 20 minutes were over, I felt more awake than I had after any regular nap I'd taken in the past. I also noticed that my pulse rate was slower than normal afterwards. Even though I've only used the pzizz 8 or 9 times, I think it shows real promise for helping me de-stress and relax. That said, I want to mention that I've yet to actually fall asleep while using it. Probably due to the narrator's voice ;o)
If I could change the player, I would allow for naps with no narration and the ability to add more time to a nap in progress. As is, once the nap begins, you can't add or subtract minutes.
pzizz Software Version
The software version actually fixes all the issues that I had with the hardware version and includes some nifty extras.

Available for Windows and the Mac, the software has a simple interface for setting up your naps.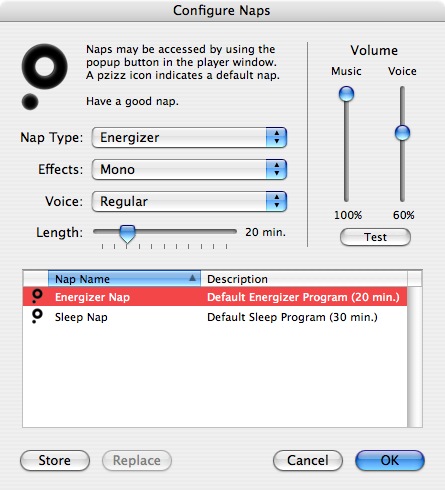 You can set the volume levels independently for the music and the voice parts. You can also turn off the voice altogether, or just have it play for the intro and wake-up sections. Unfortunately, you're still limited to 10-60 minute naps.
With the optional Sleep plugin, you can use the software to help you sleep at night. The music for this program is more soothing than the nap music. It has actual musical parts with melodies, mixed in with the bells, tones, and pulses.
The best feature of the software is the ability to create naps and sleep programs with specific time and volume levels and save them. This software will also allow you to export these programs to files that your iPod can play. For this reason, I feel that the software version of the pzizz is a better value than buying the hardware player. Especially since you can create nap and sleep programs without the narrator's voice. Which for me, is a big deal. It might not be an issue for other people though.
It's still too early to tell if a 20 minute nap with the pzizz is going to make my life better, but so far I'm happy to continue napping to find out!
Prices:
pzizz hardware player $147
pzizz nap technology software with energizer module $39.95
Sleep plugin $19.95
Product Information
Price:
Manufacturer:
pzizz
Retailer:
pzizz
Requirements:

Windows system requirements: Windows XP, XP Pro, 2000 - 128MB RAM
Requires QuickTime 6.5.2 or later
Macintosh System Requirements: Mac OS X v10.3 and above.
Minimum Machine Requirements: G4 667 MHz / 512 MB RAM

Pros:

Easy to use
Helps you to relax and de-stress
Software has the ability to export naps to the iPod

Cons:

Volume level on hardware player too loud
No way to turn off narrator on hardware player