We use affiliate links. If you buy something through the links on this page, we may earn a commission at no cost to you. Learn more.
If you happen to be in the market for a portable DVD player that you can take along with you on your next plane ride or road trip, the Insignia IS-PDVD10 which is available from Best Buy, might be one that you should add to your list of potential considerations. This player has a few extra features that make it a little better than your every day run of the mill portable DVD player. Let's take a closer look.
Hardware Specs
Dimensions: 10.25 x 1.25 x 8.75 inches
Weight: 2.6 lbs.
Playback Formats: DVD, DVD+R, DVD+RW, DVD-R, DVD-RW, CD, CD-R, CD-RW, MP3 and Picture CD
Coaxial Digital Audio Outputs
LCD Screen Size: 10.2in
Battery Capacity: Up to 3 hours
Package Contents
DVD Player
Remote
AC Adapter
A/V Cables
Cigarette Lighter Power Adapter
Manual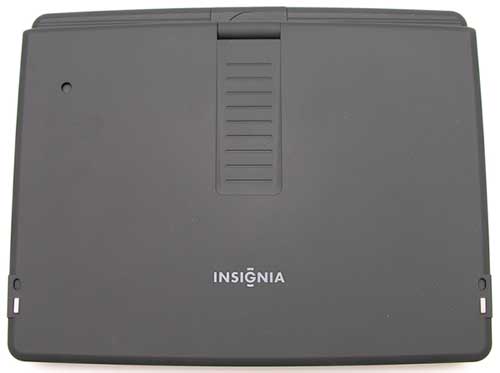 Upon opening the box, I almost thought that this device was a small laptop instead of a DVD player. Of course the large size comes from its 10.2 inch 16:9 widescreen aspect ratio TFT LCD display.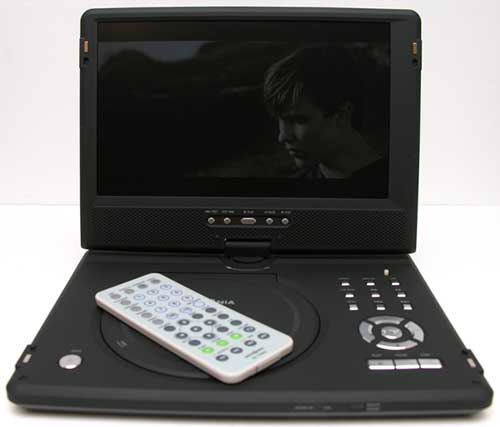 The display on the Insignia is definitely big and clear. Like most LCD displays, adjusting the viewing angle has a lot to do with the picture quality. For regular movie viewing, this player has a very nice picture. Brightness and color controls are both adjustable.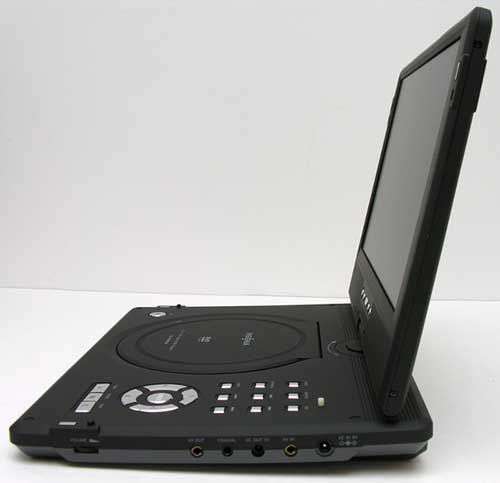 Although I didn't take a picture of it, the LCD can fold open 180 degrees (flat).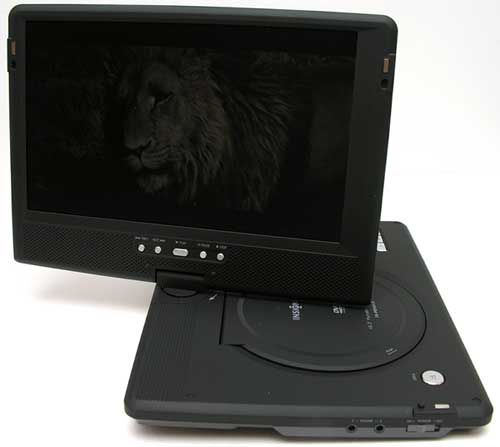 It can also swivel around 180 degrees…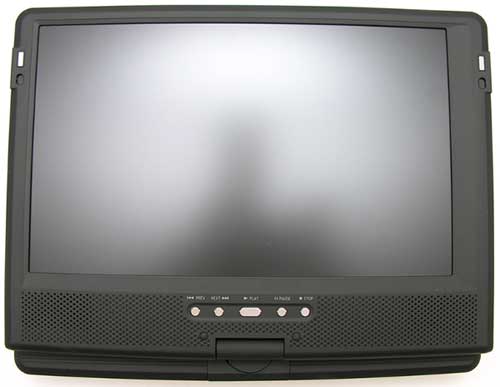 And then fold down flat like a tablet computer!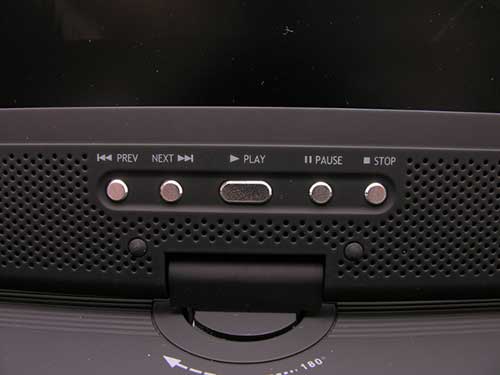 In this orientation, the function buttons for Play, Pause, Stop, Previous and Next Track are conveniently available directly under the display. The stereo speakers are also located in this area. Max volume levels are adequate for normal / semi quiet environments. For planes and some cars, you'll most likely want to use earphones. This player has dual headphone jacks so 2 people can listen without disturbing anyone else.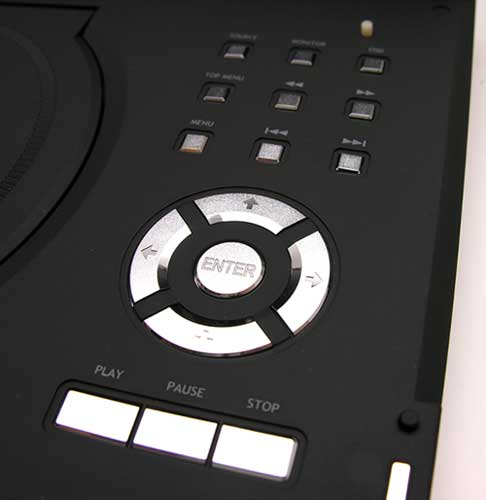 A second set of function buttons are available and accessible when the player is in laptop mode (not folded flat or swiveled). Buttons for the on-screen menus are also located there.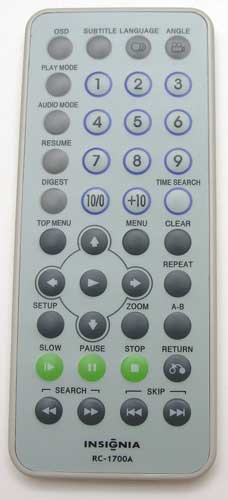 The included IR remote gives you a 3rd method of controlling the DVD player functions. This remote includes features not available on the player itself.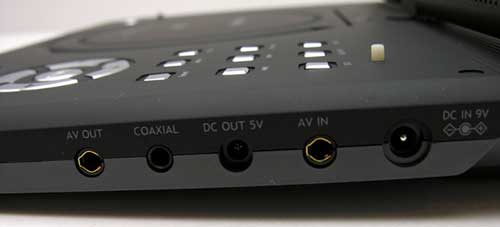 On the right side of the player, there are Audio / Video input and output jacks, DC input / output jacks and a coaxial jack. The AV in and DC Out jacks are to allow for hookup to an optional TV tuner box.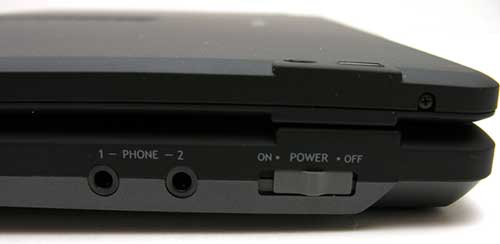 On the left side is the Power switch and dual stereo earphone jacks.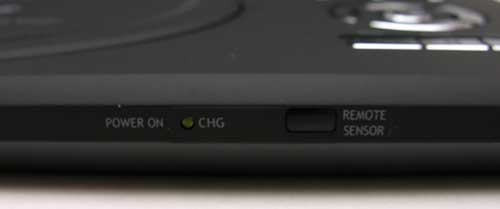 Along the front edge of the player, you will find the Power status LED and remote sensor window. While the batteries are charging, the status LED will glow Amber. While the player is powered on, it will glow Green.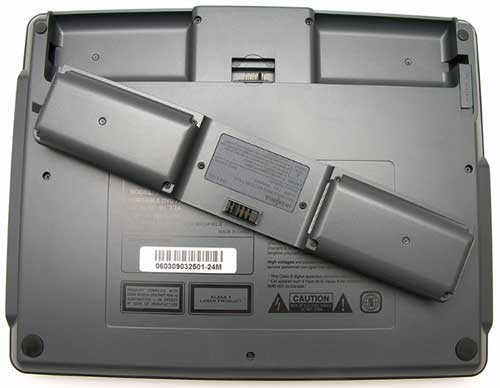 It's important to note that the batteries will only charge when the player is powered off. According to the Best Buy site, the batteries are only supposed to last up to 3hrs per charge. However, during my testing I found that they lasted 3hrs and 40 minutes. Not bad… Not quite long enough for 2 full length movies, but more than enough for 2 90min ones :o)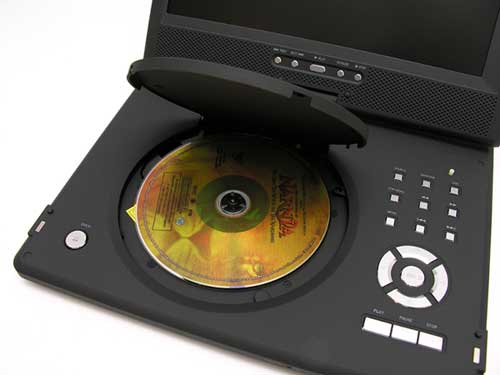 In addition to playing DVDs, this player can also play audio CDs and MP3 CDs. The only issue I see (hear) with playing music with this player (or even watching DVDs) is the fact that you can hear the player constantly spinning. So if you have the volume set really low, the sound of the spinning platter might become a little annoying. Changing tracks actually sounds like a motorcycle revving it's engine! Vroom vroom!
All in all, I found the Insignia IS-PDVD10 to be a nice DVD player. It's just the perfect size for 2 kids to share in the back seat of a long car ride. The price isn't too bad either. And just think, if your kids use this player, they won't be asking to use your laptop!
Available from Best Buy.