We use affiliate links. If you buy something through the links on this page, we may earn a commission at no cost to you. Learn more.
It's been raining nano accessories at Gadgeteer HQ lately.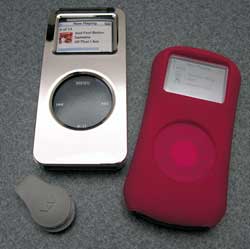 The folks from AVA sent me their silicon LAVA case and their ELEMENTS
Chrome case. The silicon case is hourglass shaped, is very thick
and is available in quite a few bright colors. The chrome case is
really made of plastic, but it's a two piece shell that totally
encloses the nano. A little cable grip accessory is included with
each case.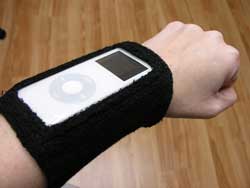 I also got the chance to take a look at the Jamband. This is a terry cloth
elastic wristband that allows you to wear your iPod nano on your
wrist as you run or workout. The nano (or shuffle) is held securely in a
special pocket that has a transparent window, for full access.

In addition, I received an invisibleSHIELD for the nano. I've heard a lot of good things about these protectors, but have yet to try one. Right now I have a different protector on my nano, and don't feel like like removing it. I'd be glad to hear from people that have some experience with the invisibleSHIELD. What do you think of it?
I'm going to offer the items mentioned above and the Macally mTUNE nano headphones that I reviewed as a prize to the 7th person to send me a Gadgeteer of the Month story to feature on the site. The stories need to be at least 3-5 paragraphs in length and include at least 1 image. All entries will be considered for posting on the site, but only the 7th entry I receive will win the goodies. The contest is open to everyone, so get busy and send in your stories!