We use affiliate links. If you buy something through the links on this page, we may earn a commission at no cost to you. Learn more.
You probably never imagined that drinking your morning cup of coffee or tea would give you the ability to display your Gadgeteer spirit, did you? I mean, besides a coffee maker, what type of gadgets could a gear-head use to help with that first blast of caffeinated goodness? How about a special mug that can mix the sugar in your tea or the cream in your coffee? The Brando Whirl Wind Cup to be precise, can do just that.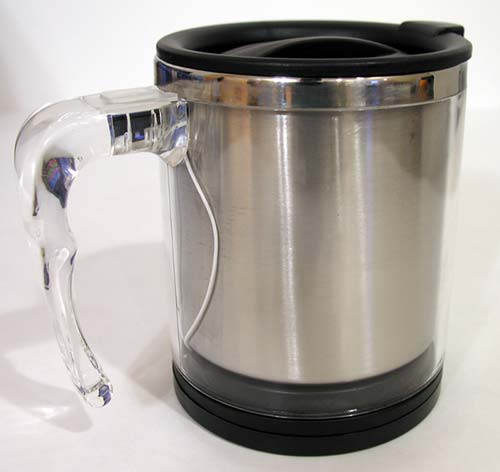 According to the box, this mug makes your beauty come to life. Ummm, if you say so… As you can see, this is a plastic and metal mug that looks similar to other coffee mugs that people tote around the office.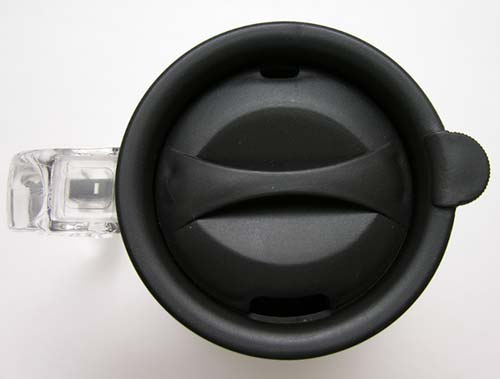 It even comes with a removable lid that helps guard against spills by employing a twisting top that closes or opens the sip spouts.
Remove the lid to see what makes this mug special.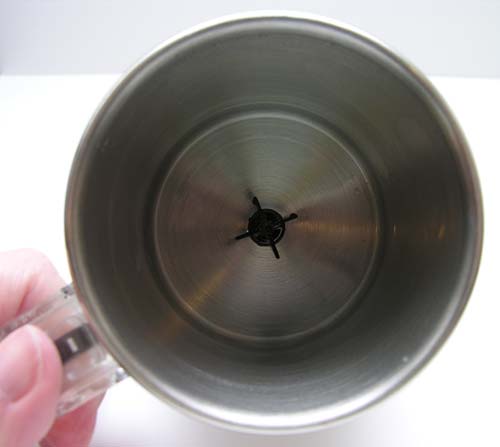 A small 4 bladed rotor is built into the bottom. The blades are made of plastic.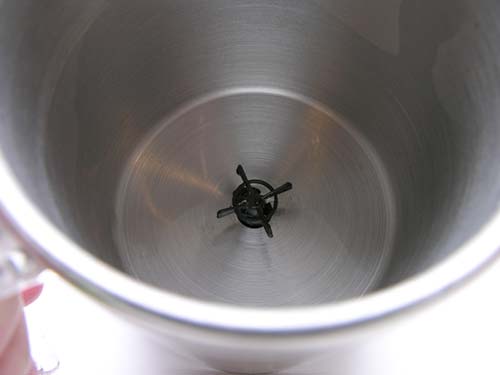 Here you can get a little better view of the rotor. Even though it looks small, it is actually quite powerful.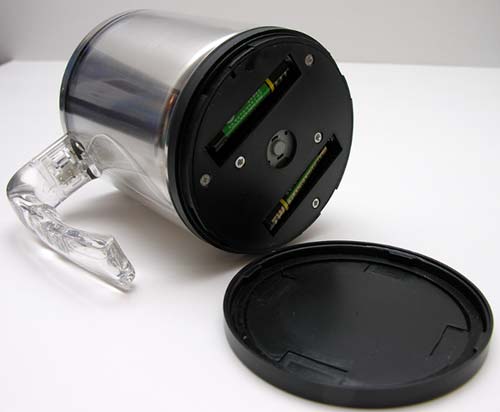 The rotor is powered by 2 AAA batteries (included with the mug) which are installed into the base of the mug. A plastic cover locks in place to protect the batteries.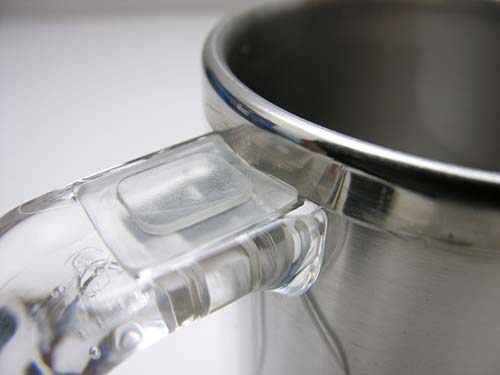 The Whirl Wind Cup can hold approximately 1.5 cups (350ml) of liquid. You don't want to fill it up to the very top though, because the mixing action will raise the level in the cup.
After you fill it, you just press the clear rubber button on the handle and watch your beverage mix before your eyes!
See it in action…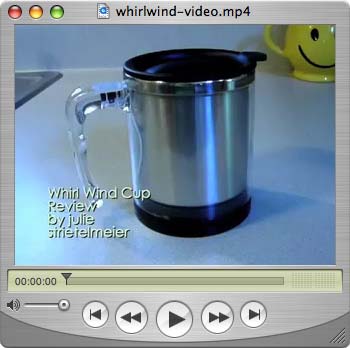 Click on image to play the QuickTime video (1:48sec, 3.7mb). The video is encoded in the H.264 codec. You will need the latest version of Quicktime to view it. VLC is another free viewer.

I conducted several tests with the Whirl Wind Cup. The first test I tried was mixing some splenda in a cup of hot tea. No problems there. The next test was to beat up a raw egg for some scrambled eggs. This worked great too! The hardest test was to mix up some chocolate protein powder in soy milk. The powder I use tends to be pretty clumpy if it doesn't mix up thoroughly. I am happy to report that this cup mixed the powder perfectly. Then I cleaned the cup by filling it with some hot water, dish washing soap and pressed the button to spin the solution. This is actually the best way to clean this cup. You DON'T want to submerse the cup in water or wash it in a dishwasher. Even though the lid on the bottom appears to be snug, water can seep in.
The Whirl Wind Cup is a fun little doohicky that doesn't really do anything that you can't already do yourself with a spoon. But, it is one of those products that will give your gadgeteer reputation a few more points. And who among us, wouldn't like that? ;o)
Product Information
Price:
22.0
Manufacturer:
Brando Gadget
Pros:

Mixes thoroughly and quickly
Great for beating an egg
Fun

Cons:

Can not immerse in water or wash in a dishwasher