We use affiliate links. If you buy something through the links on this page, we may earn a commission at no cost to you. Learn more.
Calling all Apple iPod video owners. Gather round and make yourselves comfortable. I'm going to tell you all about the Marware iPod Dock with Remote. This little accessory will allow you to connect your iPod video to your television, so that you can view your video content and photo slide shows on a much bigger screen. From the get go, I thought Apple was pretty cheap to not include such a product with the iPod video in the first place. That said, let's see if this one is really worth the $50 price tag.
Package Contents
iPod dock
IR remote
USB cable
AV cable
USB AC adapter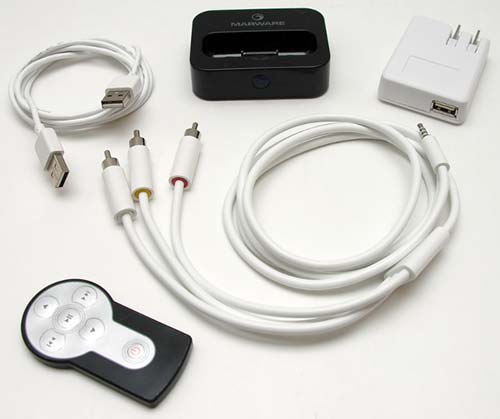 Marware includes everything that you need to easily connect your iPod video to your TV. You can also use this dock for viewing slide shows with the iPod nano, photo and mini. Connecting everything up is so easy that an instruction manual isn't even included. A drawing on the back of the box explains how to hook things up. It's just a matter of connecting one end of the USB cable to the AC adapter and the other end into the back of dock.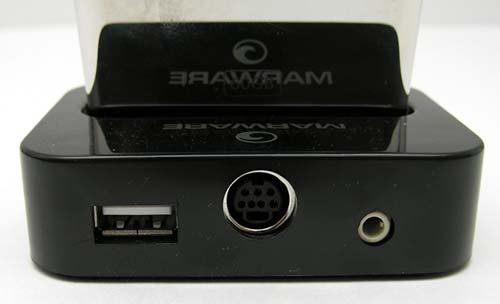 Then the AV cable connects to the back of the dock and to the Video, and Audio Left / Right RCA jacks on your TV.
As you can see from the picture above, there's also an S-Video jack on the back of the dock. S-Video is supposed to provide better picture quality than composite video. You're on your own to find an S-Video cable though… Marware doesn't include one.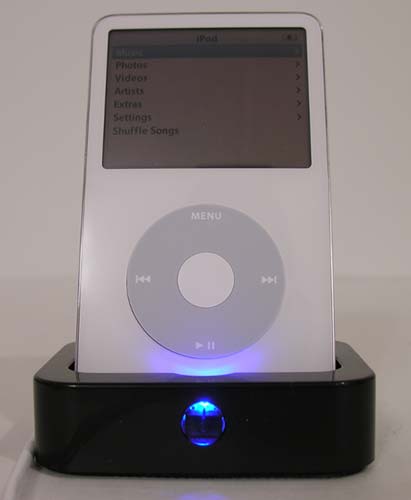 Once plugged in and powered on (using the little IR remote), a bright blue LED glows on the front of the dock.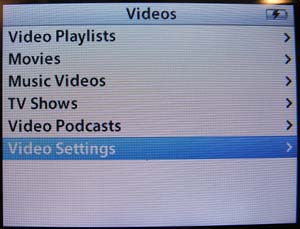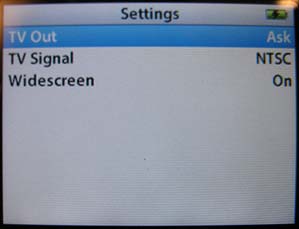 At this point, you need to plug your iPod into the dock and go to the Video Settings screen to turn on TV output and specify the type of TV signal you are using (NTSC or PAL). You can also turn Widescreen on or off.
Next, queue up one of your Movies, Music Videos, TV Shows or Video Podcasts and press play on the included remote or click wheel. Voila! Your show starts playing on your TV screen.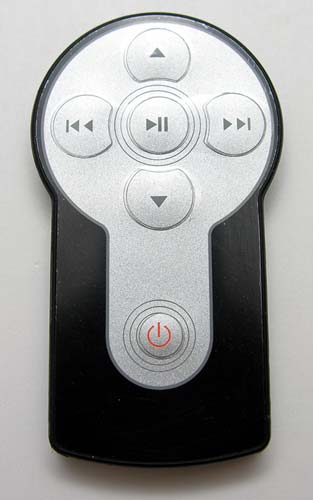 Now is the time to mention that you'll either need to get up off the couch to choose your videos or slide shows to view, or you'll need to have bionic eyes. Why bionic eyes? Well, there isn't a menu on the TV screen that you can use to pick content to watch. The remote will let you Play / Pause. That's it. It does not allow you to go forward and backwards through video files. If you press the Forward and Backward track buttons, it will just pop you back up to the video listing screen. From there you can't use the Up / Down buttons to scroll to a file and press Play to play it. The Up / Down buttons do nothing. It's pretty useless. Since you can't easily see the list on the iPod's screen from more than a few feet away, you'll need to get up off the couch to pick another video to watch.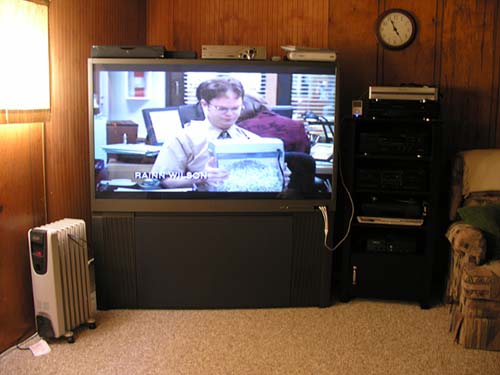 Here you see an episode of The Office that was purchased directly from the iTunes store. It is playing on my 65″ Mitsubishi RPTV. I tested the video quality using both the included AV cable and an S-video cable. I really could not tell that much of a difference. You won't be blown away by the picture quality, at least I wasn't on my TV. I didn't have a smaller TV to test with, so maybe it's just my setup that was the culprit. I can't complain too much though. It's really convenient to grab one of my fave shows from iTunes and watch it on my regular TV. Especially when I miss TIVO'ing it due to a storm.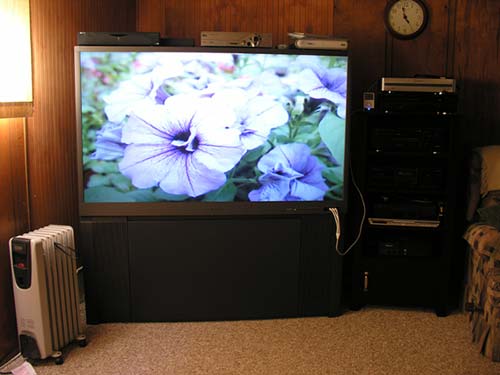 Viewing photo slide shows is pretty cool too. The images are shown full screen, with cool transitions. The only thing missing is the ability to play music during a slide show. This brings me to one of my main disappointments with the Marware dock; connecting the dock to a TV, will not allow you to listen to your music files through the TV. This strikes me as odd, since audio works just fine during video playback… You can connect the Left and Right part of the AV cable into your home theater system and listen to music that way though. Unfortunately, I didn't test this feature as I don't have my Denon sound system hooked up at the moment.
One more odd 'feature' that I noticed is the fact that the Power button on the little remote, really doesn't turn OFF the dock. If you happen to be playing a video, and press the power button, the audio will turn off, but the iPod will continue to play the video, which will continue to play on your TV screen. Weird.
The Marware dock performs as advertised. It's half the price of a competing product that includes both an on screen menu system and the ability to play music through your TV. You just have to ask yourself if those two features are worth an extra $50. I know for myself, an on screen menu would be a very convenient addition to this product. I'm not sure it would be $50 worth of convenience…
Product Information
Price:
49.95
Manufacturer:
Marware
Requirements:

Apple iPod video, nano, photo, U2 iPod, mini

Pros:

Easy way to view videos and photos on TV
Charge and sync music with a computer

Cons:

Can't play music files through TV
S-video connection on dock, but s-video cable not included
No on screen menus