We use affiliate links. If you buy something through the links on this page, we may earn a commission at no cost to you. Learn more.
When you listen to music, your listening experience will only be as good as the earphones or speakers that you have connected to your audio device. We've all owned junky earbuds and crummy little speaker systems that have static or bland sound. After awhile you get used to a mediocre experience, which is too bad because when you can listen to your tunes through a really really good set of speakers, it makes your music seem almost brand new.
I was very excited when the folks at Audioengine contacted me to ask if I might like to test their Audioengine 5 speaker system. According to their company website, these small speakers sounded as good or better than speakers costing 100's or even a 1000 dollars more than their $349 price tag. Audioengine was started in 2002 by 3 people with a total of 36 years working in the audio industry for such companies as Harman/Kardon, Gibson Guitars, Alesis Studio Electronics, and Apple Computer. Those credentials impressed me, so I was definitely ready to take a listen!
Hardware Specs
Type: 2.0 bookshelf-style, powered speaker system

Power output: 45W RMS/ 70W peak per channel (AES)

Inputs: 2 X 1/8″ stereo mini-jack

Outputs: USB Type A (power charging only)

Main voltages: 115/230V 50/60Hz switchable

Amplifier type: Dual Class AB monolithic

Signal-to-noise: >95dB (typical A-weighted)

THD: <0.05% at all power settings

Crosstalk: <50db

Frequency response: 60Hz-22kHz +/-1.5dB

Input impedance: 10K ohms unbalanced
1″ thick MDF cabinet
5″ Kevlar woofers with advanced voice coils
20mm silk dome tweeters with neodymium magnets
Torroidal power transformers
Size (each): 10.0�(H) x 7.0� (W) x 7.75� (D)

Weight: 6.4Kg/14lbs (left), 4Kg/9lbs (right)
Package Contents
AC power cable
1/8″ audio cable, 2 meters (~6.5ft)
(2) 1/8″ audio cables, 20cm (~8″)
1/8″ to RCA "Y" cable
USB power extender cable, 1 meter (~3.28ft)
Speaker wire (16AWG), 3.75 meters (~12.3ft)
Drawstring cable bag
Drawstring speaker bags
Setup Guide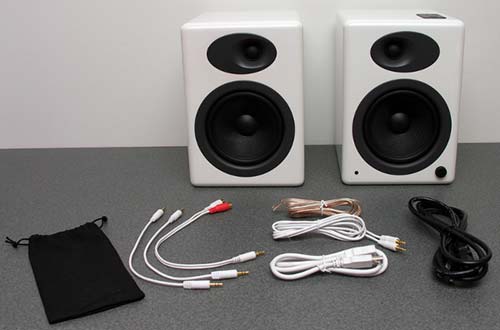 When I came home one day a few weeks ago and saw a big box on my front porch, I couldn't figure out what might have been delivered. Then when I tried to pick up the box, I was even more confused due to how heavy it was. After I managed to wrangle it into the house, I saw the return address and was instantly excited. Speakers! I wasted no time opening the box to retrieve them.
The speakers are white lacquered heavy solid bookshelf sized units, with a contrasting black woofer, tweeter and volume adjustment knob. The white matches my iMac perfectly, but if I wanted to set these up in my living room, I'd much prefer black or even wood grain. However, at this time, your only choice is white.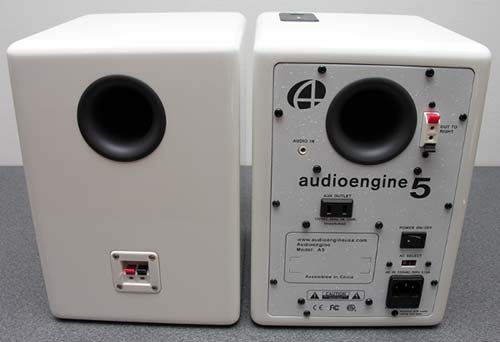 Setting up the speakers is a snap, given the fact that everything you need has been included. All you need to do is position the speakers up to 12.3 feet or so apart. Why 12.3 feet? Well mainly because that's the length of speaker wire that is included with the speakers ;o) Of course if you would like to place them farther apart, you'll need to go out and buy more wire. The speakers are shielded, so you can place them within a few inches of a video monitor.
After connecting the speaker wire and power cord, you'll next need to decide what audio device that you would like to use with them. This is where the Audioengine 5 speakers really shine. They have two 3.5mm audio inputs jacks. One on the back of the left speaker and one on the top of the left speaker. Connect one of the included audio cables to the audio in jack on the speaker, and other end to the audio out or earphone jack of your audio device.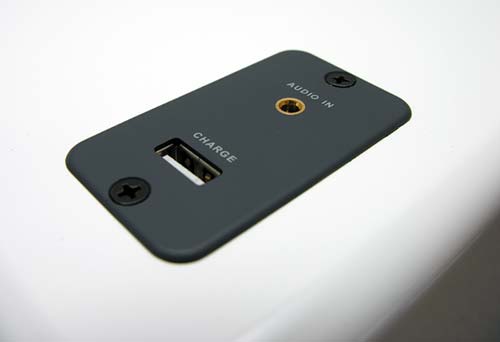 In addition to the audio in jacks, there is also a USB connector on top of the left speaker. Does that seem odd? Not when you realize that these speakers are marketed for the iPod. The USB connection will allow you to charge your iPod while it's connected to the speaker system. Sweet!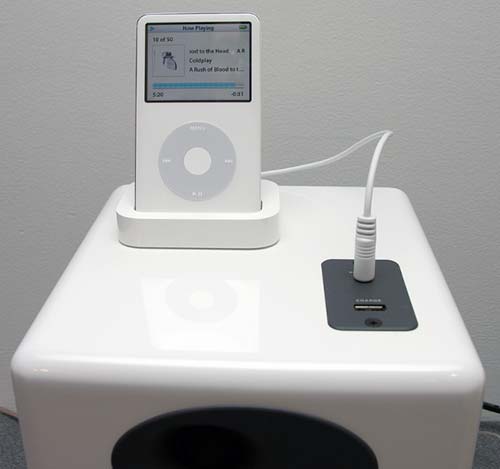 Now you could connect the iPod by plugging into the earphone jack, but that won't give you the best sound and control. The better method is to use Apple's iPod dock. The audio cable plugs into the jack on the back of the dock and then into the speakers. Connecting the USB cable from the dock to the speaker will then charge your iPod while in use. Yeah, I know that the dock no longer ships with new iPods (Apple, you are cheapskates!), but trust me, buying one is totally worth it. One reason is that it looks cool perched on top of the Audioengine's, but the main reason is that through the dock connection, the front speaker volume control is not dependent on the iPod volume setting. When connected in this way, changing the volume directly on the iPod will have no effect on the sound level coming out of the speakers. This works much better, and the sound quality is also much better using the dock.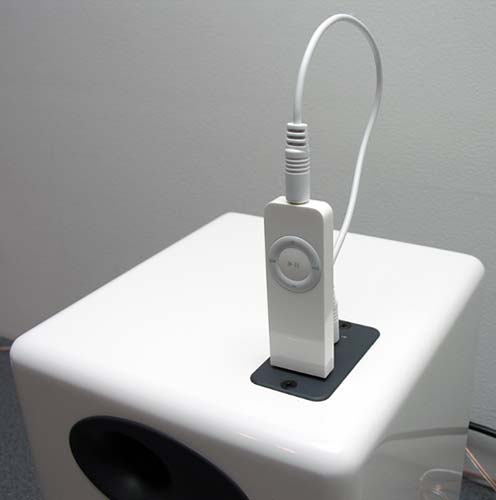 The USB connection also works great with the iPod shuffle. Too bad that you need to connect the audio cable too. But the coolest thing about the Audioengine speaker system, is that it has an auxiliary power connection on the back. With this connection, you can plug in an Apple Express module and have streaming music from your iTunes collection. Very cool!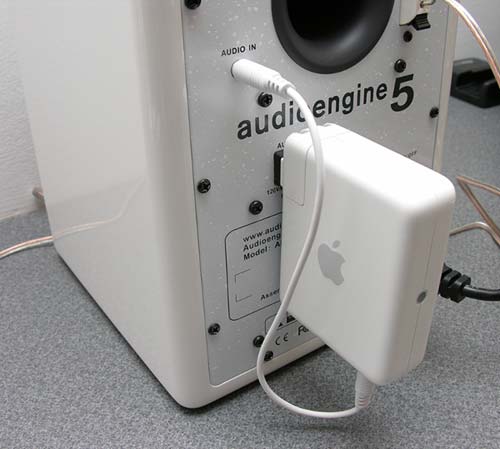 Audioengine designs and manufactures their own drivers, woofers, crossovers, amplifiers, power supplies, and cabinets. In other words, they are not "box built" speakers with off-the-shelf components but are entirely custom-designed. This is very evident as soon as you turn them on and start listening to music through them. In my opinion, they are the best speakers I've ever heard. But like I've said in numerous reviews, I'm not an audiophile, so I'm only giving you an opinion of what they sound like to me. They have great clarity, and wonderful bass for such a small system. They have the ability to rattle the windows, if not shatter them! I set them up in my office and couldn't handle turning the volume louder up to 25%! I've really enjoyed using them for the past few weeks and wouldn't want to send them back.
These speakers are close to perfect, but I would change 3 little things if possible. The biggest thing I would appreciate, would be a power button on the front face of the speaker, instead of the one the back. It's too inconvenient to reach around to find the power switch. Maybe adding a power toggle to the volume switch would be a possible solution. I think a remote control of some type would be a good idea as well. The only other thing I would do, would be to offer the Audioengine 5's in other colors.
I love the Audioengine 5 speaker system. They are definitely a 100 steps above a lot of the smaller more inexpensive systems I've reviewed in the past. At $349, they won't be in line with everyone's budget, but if the price doesn't scare you away, you'll not regret the purchase. Oh, I know Apple just came out with the HiFi… I've not had the opportunity to try it, but I'd rather have the Audioengines. It's a no brainer than they have to sound better, given the fact that you can separate the left and right speakers… Maybe Apple will send me some to review… Yeah, I won't hold my breath ;o)
Product Information
Price:
349.0
Manufacturer:
Audioengine
Requirements:

Audio device with an audio out or 3.5mm headphone jack

Pros:

Wonderful sound
Auxillary power jack on back
USB charging connector on top
2 audio input jacks

Cons:

Power switch on the back side
Only comes in white
Needs a remote control