We use affiliate links. If you buy something through the links on this page, we may earn a commission at no cost to you. Learn more.
Not long ago I reviewed the
Gadget Brando 3 LED Clip-On Flashlight which could be attached
to the brim of a ball cap. While that was a good idea and a handy
product, today's review item takes the same general idea and runs
with it. So without further ado, I present the Gadget Brando
5 LED Cap Light, an approximately 3.5″ long x 2″ wide x 0.5″
deep five LED bar which clips to the underside of a cap's brim.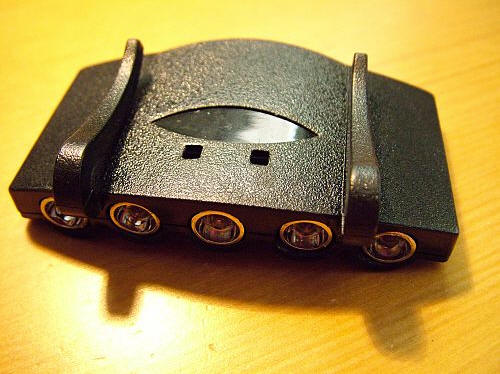 Two Lithium CR2032 cells are included, and once installed the
light bar will be powered on or off by pressing the small button to
the left of the battery compartment.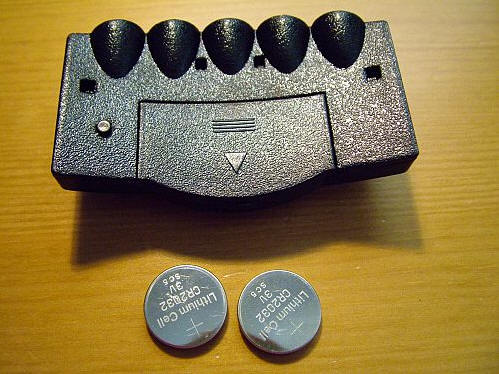 When turned on, the five LEDs glow with an extremely bright
white light. It is enough to illuminate a safe walking path in
front of the wearer, or to put a spotlight on whatever project the
wearer is working.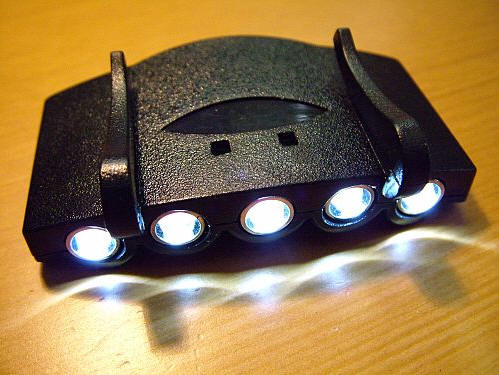 Attaching the light bar to the brim of a cap is accomplished by
sliding the two plastic clips over the bill's edge.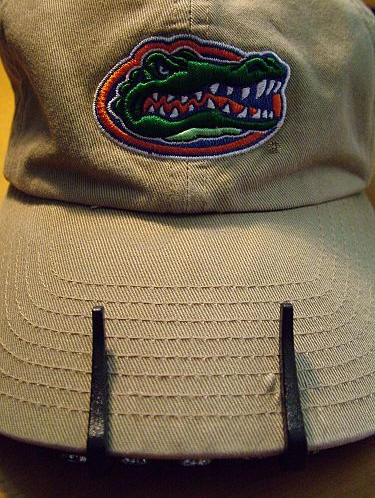 Once installed, the light bar peeks from underneath. This is the
part of the review where I should mention that if you are the
finicky type that has to get your brim creased just so, then
this product may undo a little bit of what you have worked so hard
to achieve. However, the pay off is that for a slightly less
creased brim the user will get bright illumination for walking,
hiking, or working in a dark area.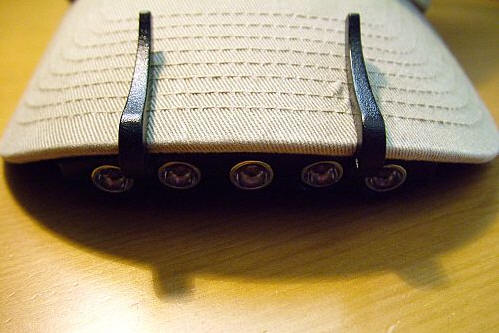 Steve, my ever-patient model, shows that the 5-LED Cap Light
doesn't add a ton of bulk to the wearer's cap…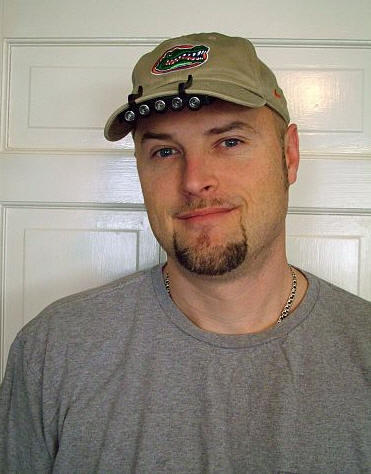 …and it can be a great way to work on things while shining a
light exactly where it is needed.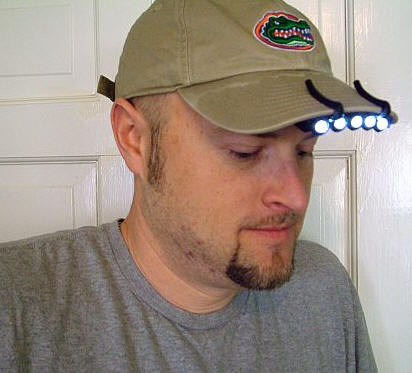 In fact, Steve said he could have really used this product back
when he was restoring Sarah's Firebird
The Gadget Brando 5 LED Cap light is a clever solution for those
that need an extra hand when working alone. It's not quite as
obvious as a full head lamp, and it is more powerful than a small
clip-on. As an added bonus, the clip on light can be removed and
held when a hand held flashlight is desired. I think it's a pretty
clever idea.
Product Information
Price:
16.0
Manufacturer:
Brando
Requirements:
Pros:

Instant lighting whereve one's head is pointed
Easy to attach
Easy to operate
Clever idea

Cons:

May undo a much loved ball cap's bill crease