We use affiliate links. If you buy something through the links on this page, we may earn a commission at no cost to you. Learn more.
A couple months ago, I was been bitten by the video bug when I started watching Josh Leo's Vlog. This guy makes some really great videos and they inspired me to try my hand at doing the same thing. Well, not really the same thing, because I didn't start an actual Vlog. When I get in front of the camera I tend to look and act like a total goob. No one wants to see that, trust me ;o) Instead, I decided to do what I think I do pretty well; make reviews. Small video reviews to be more exact. Or as I have been calling them: "See it in action" spots. So far I've made 4 of these spots and they seem to be getting a little better each time.
My first video camera has been the Canon Optura 600. I thought my Canon was pretty darn good until Brando sent me the Sanyo Xacti VPC-HD1 to review. High Def? Oh boy! But, does this device truly live up to the saying that good things come in small packages? Let's see.
Hardware Specs
Effective pixel count: Approx. 5.1 megapixels
CCD: 1/2.5 inch, 5.36-megapixel 2ch-readout CCD (total)
Recording Media: SD Memory Card
Recording file formats: Still: JPEG (DCF, Exif 2.2, DPOF standard), Video: MPEG4 (ISO Standard), Audio: 48kHz Sampling,16bit, 2ch, AAC-compression (stereo)
Resolution (pixels): Still: [10M] 3680 x 2760, [5M-H] 2592 x 1944 (low-compression), [5M-S] 2592 x 1944 (standard-compression) [3M-T] 1536 x 2048, [2M] 1600 x 1200, [1.2M] 1280 x 960, [0.3M] 640 x 480
Video: [HD-SHQ] 1280 x 720 (30fps, 9Mbps), [HD-HQ] 1280 x 720 (30fps, 6 Mbps) [TV-HR] 640 x 480 (60fps, 6 Mbps), [TV-SHQ] 640 x 480 (30fps, 3Mbps) [TV-HQ] 640 x 480 (30fps, 2 Mbps), [Web-HQ] 320 x 240 (15fps)
Lens: 6.3 – 63 mm (38 – 380 mm on a 35 mm camera), 10x optical zoom lens
Open f/3.5 (W) – 3.5 (T), AF: 9 groups, 12 lenses, built-in ND filter
Photo range: Standard: 10cm (wide) / 100cm (Tele) to infinity, Macro: 1 cm (wide) to 100cm (wide)
Shutter speed: Still: 1/2 sec ~ 1/2000 sec. (Flash: 1/30 ~ 1/2000 sec., Lamp mode: max 4 secs)
Video: 1/30 sec – 1/10000 sec
Digital zoom: Shooting: 10x max
Playback: 58x max. ([10M] mode, depending on the resolution)
Focus: Auto (Still: 5-point AF/Spot AF, Video: Continuous area AF), Manual: (16 steps)
Program AE: Auto/Sports/Portrait/Landscape/Night View/Fireworks/Lamp
Filter function: Standard/Cosmetic/Monochrome/Sepia
Photometry: Multi/Center-weighted/Spot
Exposure correction: Program AE, +-1.8 EV (in 0.3 EV steps)
Video clip correction: Camera shake correction, Flicker reduction, Wind noise reduction
Sensitivity: Still: Auto (ISO 50-400), Manual (ISO 50/100/200/400, Lamp mode: Max 1600)
Video: Auto (ISO 200-800), Manual (ISO 200/400/800/1600)
Self timer: 2sec./10 sec.
White balance: Auto: Full Auto TTL, Manual: Sunny/Cloudy/Fluorescent/Incandescent/Sampling
Flash: Auto/Forced/Off/ Red-Eye (Slow, synchro mode possible in Night View mode)
Flash Range: 30cm-2.8m [Wide], 30cm-1.9 [Tele]
Audio: Microphone: Built-in stereo, Speaker: Built-in mono (L/R mixed output)
LCD monitor: 2.2-inch OLED, 210,000-pixels (coverage 100%, 4-level brightness), 285? rotation
Interface: AV output (Video: D4/Composite Video/S-Video, NTSC/PAL, Audio: stereo)
USB 2.0 High-Speed (Storage Class+PC Camera+Video Class)
:interfacing via docking station connecting adaptor
Languages: Japanese, English, French, German, Italian, Spanish, Dutch, Russian, Korean, Traditional or Simplified Chinese
Power source: Lithium-ion battery (DB-L40/1200mA, included), Charging AC adapter included)
Approx. battery life: Video: 80 min.
Dimensions: 3.1″(W) x 1.4″(D) x 4.7″(H)
Weight: 7.4 oz. approx. (main unit only); 8.3 oz. approx. (including battery and a standard SD card)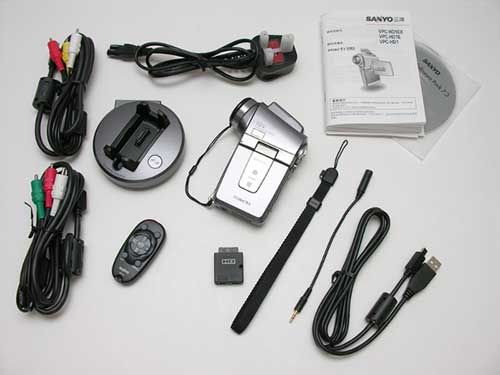 Package Contents
Sanyo HD1 camera
Docking station
Remote controller
AC Adapter
Cable adapter
AV cables to connect to TV
Component cable
USB cable
Zippered case (not pictured)
Handstrap
Lens cap
Instruction manual
Quick guide
CD Software pack:
Motion Director SE 1.1 (Windows)
Ulead PhotoExplorer 4.0 SE (Windows)
Ulead PhotoExplorer for Mac 2.0 (OS X)
Ulead MovieFactory 4.0 SE (Windows)
QuickTime 7 (Windows)
The Xacti HD1 pretty much ships with everything you need to get up and running quickly and easily. Well that is except for an SD card. You'll want the biggest / fastest card you can find because recording HD video takes a lot of memory depending which mode you set it to record at:
Movie
Record Times        
SD Card
Capacity
HD-SHQ
(1280 x 720,
30 fps, 9 Mbps)
HD-HQ
(1280 x 720,
30 fps, 6 Mbps)
TV-HR
(640 x 480,
60 fps, 6 Mbps)
TV-SHQ
(640 x 480,
30 fps, 3 Mbps)
TV-HQ
(640 x 480,
30 fps, 2 Mbps)
Web-Hq
(320 x 240,
15 fps)
Audio Only
2GB
28 mins
42 mins
42 mins
1 hr 22 mins
2 hrs
7 hrs 39 mins
33 hrs 40 mins
1GB
14 mins
20 mins
20 mins
41 mins
1 hr
3 hrs 49 mins
16 hrs 49 mins
512MB
7 mins
10 mins
10 mins
20 mins
30 mins
1 hr 56 mins
8 hrs 32mins
256MB
3 mins
5 mins
5 mins
10 mins
15 mins
57 mins
4 hrs 14mins
Before I really get started with this review, I have to say up front that I'm a digital video camera newbie. This is only the 2nd such camera that I've had the opportunity to use. So this is mostly going to talk about how easy this camera is to operate and my general impressions on the video quality.
HD stands for High Definition. That's a term that is getting quite a bit of press these days given the fact that cable and network TV channels are really starting to broadcast more and more of their shows in HDTV (network TV is set to switch over completely by 2009). I purchased a TV that can view HDTV stations 2 years ago, and I absolutely love it when my fave shows or a movie is in HD. The difference in picture quality between HDTV and regular TV is like night and day. So, when I heard about the Xacti HD1 camera, all I could think about was recording video clips that looked as good as the stuff I watch on my TV. It's not quite that cut and dry though. HDTV has several different formats and resolutions. The main ones are 1080i, which has a resolution of 1920 x 1080, and 720p which has a resolution of 1280 x 720. Both can be shown in 16:9 (widescreen) format and 4:3 format. The Xacti's max resolution is that of 720p (1280 x 720) widescreen.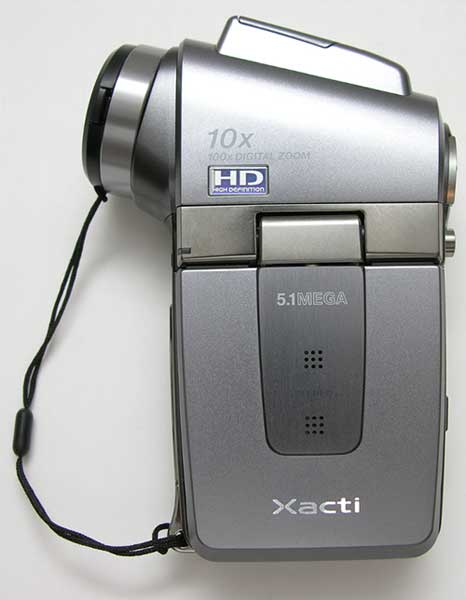 You have to agree that this camera is a real looker. It has a sort of a titanium colored plastic shell. There are metal parts too (I think).
Logo side up, the Xacti has a flip up, rotating display. On the outside of the display, is the stereo microphone. Right above the display and to the left, is the battery charging status LED. This LED glows Red when the battery is charging, and turns off when charging is complete.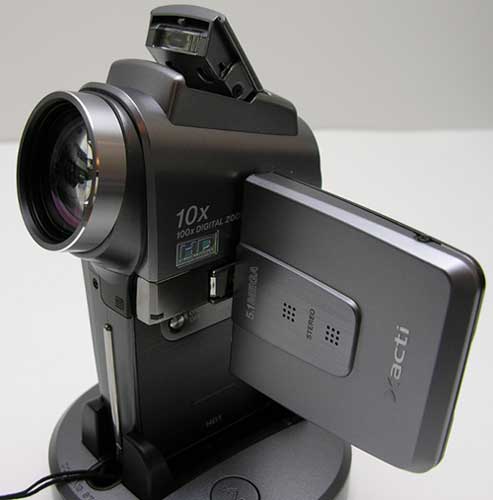 On the top edge of the camera there is a pop up flash. A button on the opposite side of the camera pops open the flash when you need to use it when taking still images. Unfortunately, the flash will not pop open automatically when needed.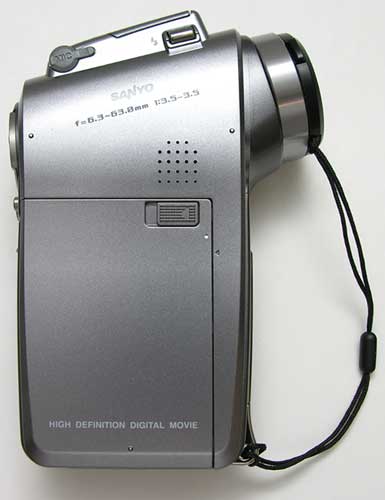 On the back side of the camera there is the battery compartment, external microphone jack and flash button. The front of the camera facing the lens, there is an eyelet for the lens cover, and the IR port.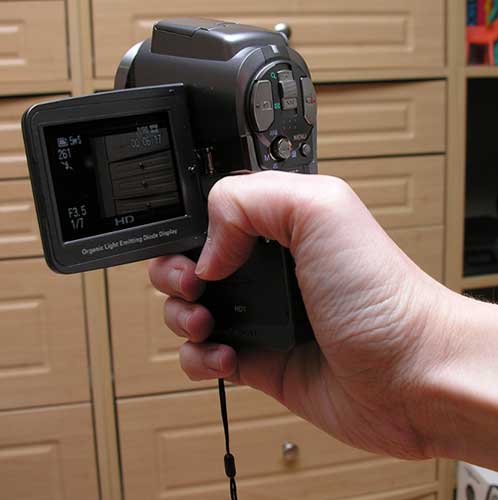 The size of the Xacti HD1 is just right and it fits comfortably in your hand using a pistol style grip. All of the important controls are within very easy thumb press distance. Build quality feels solid and performing the good old Gadgeteer creak test yielded no flexing of the case.
In the image above, you can see the flip open display. It is a 2.2 inch OLED (organic light emitting diode) display, which is crisp and bright while not drawing as much power as a regular TFT display. The only slight complaint I have about the display is in opening it. There needs to be an edge or something better to grab on to. If you are wearing gloves or mittens, it's pretty awkward to open.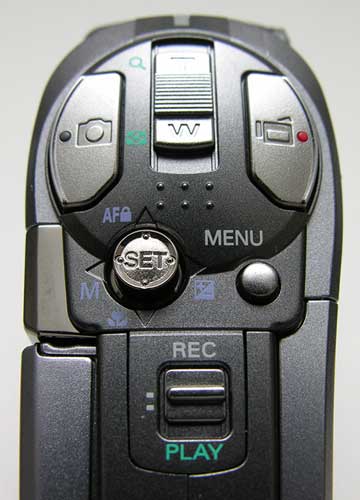 Camera control is by way of 6 main buttons. Starting clockwise from the top, there is the spring loaded Zoom switch. Push up to zoom in and push down to zoom back out. The Xacti has a 10x optical zoom and a 10x digital zoom (which gives you a total of 100x). The next button is the Video Recording button. Press it once to start recording, and again to stop recording. Next in line is the Menu button. Pressing this button will bring up the on screen menu, and pressing it a 2nd time will exit out of the menu. More about the menus in a minute. The bottom button is the Record / Play mode switch. Directly across from the Menu button is the Set button. This is actually a mini joystick. With it you navigate through menus and settings. It will also allow you to change some settings while in video recording mode. The button across from the Video Recording button is the Shutter button. Like typical digital cameras, you press this button halfway to focus and then the rest of the way to take the shot. It is interesting to point out that you can take still shots even during video recording.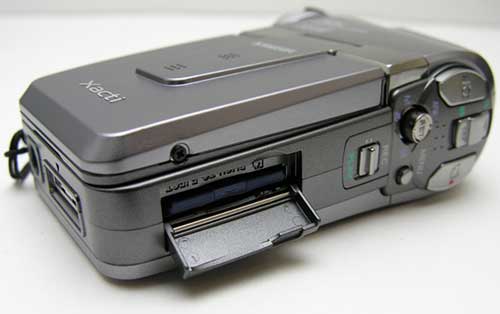 Below the main buttons is the SD card slot, which is protected by a spring loaded flip open door.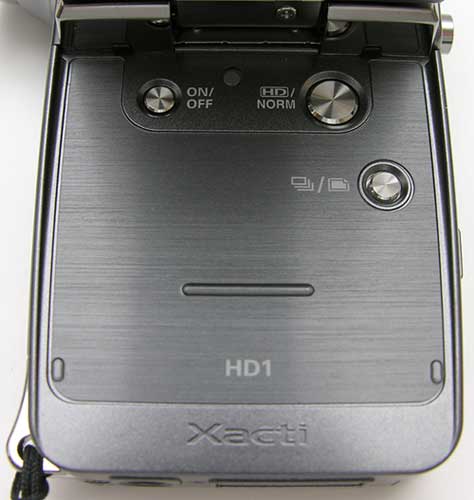 The only other control buttons are located under the flip up display. Here you will find the On/Off button, HD/Normal video recording mode toggle button and the Sequential / Single still image shooting mode button.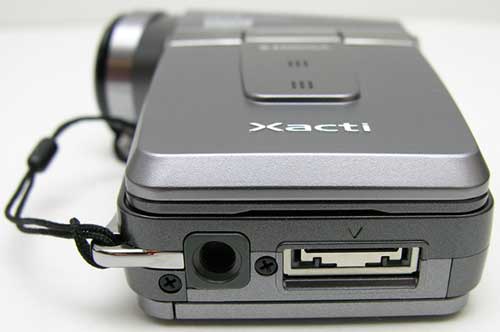 On the bottom edge of the Xacti, you will find a standard sized threaded socket to accommodate a tripod, and the docking station connector.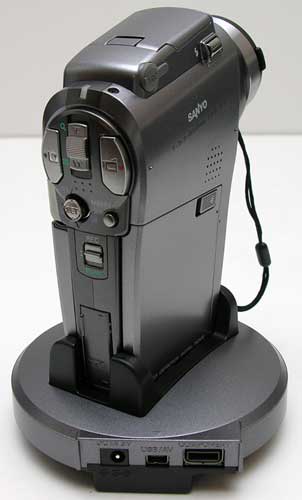 A nifty little docking station is included with the Xacti. The camera easily sits on this base and can be removed without the need to hold on to the base itself. The base has 3 connections on the back. One for the AC adapter, one for the USB cable or AV cable, and one the for the component cable. The AV and component cable are included so that you can connect the Xacti to your TV to view videos.
Now let's take a quick look at the different menus and settings.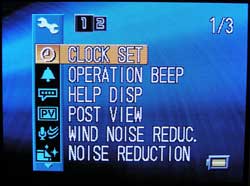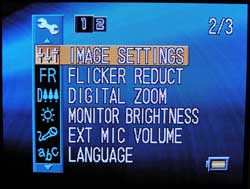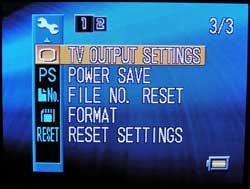 In the options setting menus, you can change set the clock, turn off the menu beeps and voice announcements. Yes, the camera talks, it really talks. In the options settings menus, is where you turn on the wind noise reduction and noise reduction features. What is the difference between the two? Well, one is for actual audio noise, and other is for visual noise. The wind noise reduction setting is just that, it helps you to make a good recording when the wind is blowing. According to the manual, you don't want to leave this setting turned on when you're not in a windy environment. Supposedly it will cause the audio to sound unnatural. I have not noticed this yet… One thing to be aware of is that once you turn the setting on, you'll have to remember to go back and turn it off when not needed. Even turning the camera off will not change the setting. The other setting: Noise Reduction, is supposed to help guard against noise in your still images, enabling clearer snap shots.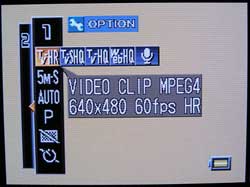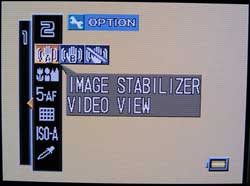 The camera settings menu is where you have the ability to change things like still image quality, video image quality, exposure, ISO, white balance, etc. If you are the type of person that loves to tweak settings and is not content using the defaults for everything, you'll love all the control that this camera will give you. You can even do some minor video editing right on the camera. By minor, I mean that you can 'cut' video clips and 'join' clips. These menus are also where you can turn on the image stabilization mode.
Ok, let's get to the real world usage of this video camera. First of all, this camera is very fast to start up. If it is in standby mode, you just flip open the display and by the time you rotate it to the proper viewing angle, you're ready to go. Thanks to the tapeless design of this camera, it is really that fast.
Most people would probably not buy this camera to use it for still images, but it's nice to know that it does an excellent job with them. I guess it should considering it is a 5.36 megapixel camera with a 38-380mm range.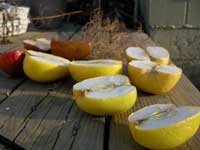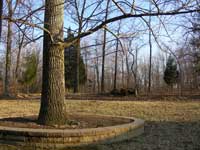 Click to see full-size still images (each one is 2592 x 1944 and approximately 1.5mb).
Like I mentioned above, you can also take a picture while you're recording. In theory it sounds pretty awesome, but in practice, I didn't get very good shots at all this way. It also caused the video to pause at the spot where I pressed the camera shutter button. The pix above were not taken while in video recording mode.
As a video camera, this little camera has the ability to do a really great job. At the same time, it can be very disappointing. At first I thought it was junk because all of my clips were so grainy. Then I figured out that this camera is super sensitive to light. If you try to shoot in a dimly lit room or even outside, you won't be very happy with the results. This camera likes light and lots of it.
Here are some sample video clips taken directly off the camera with no extra modifications, compressions, conversions etc. I tried to keep them around 10 seconds or so in length due to the fact that they are quite large and I don't want my web host getting too mad at me.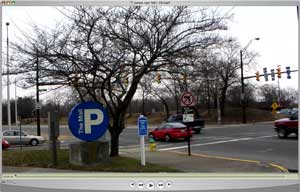 HD-SHQ 1280 x 720, 30fps, 9Mbps 13mb, MPEG-4 format. Click to watch video.
The video above was shot at the camera's highest resolution setting and with no zoom. It was a gloomy day and the video quality doesn't look too hot if you ask me. It's actually a little blurry.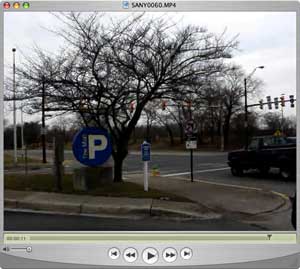 TV-HR 640 x 480, 60 fps, 6Mbps, 9mb, MPEG-4 format. Click to watch video.
Here's another sample with more frames per second. Still not the sharpest picture.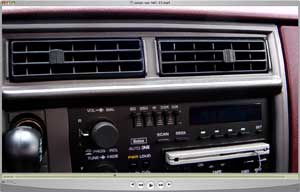 HD-SHQ 1280 x 720, 30fps, 9Mbps 16mb, MPEG-4 format. Click to watch video.
Finally a video clip with crisp images. At least when the subject is close up… Those are my main gripes about this camera. It doesn't seem to do well with low light and long shots. I can deal with the light issues. But the long shots will be a problem for a lot of folks. Not so much for me, as I'll be using the camera to do my see it in action spots. Those are all close up for the most part. Maybe I'm expecting way too much from this camera. I don't know. I guess when you read that something is HD, you just automatically think it's going to be perfect.
I should mention a little about the sound recording quality. None of my video clips had much in the way of sound, but for the most part I'm happy with how the Xacti performs in this area. The microphone will be facing away from you when you are recording, so I found that the sound wasn't quite as good as my Canon camera in this respect. The microphone location on the Canon is on the top of the camera. This can be remedied though by using an external mic. I'll have to give this a try.
When it's all said and done, the Xacti VPC-HD1 is a great little video camera. It has the ability to take HD quality movies given the right conditions. The tapeless design is pretty convenient. Yes, SD cards are more expensive than digital video tapes, but SD cards are also more compact, can't get jammed and they let the camera power on super fast. Also, with SD cards, each time you record something, it will be saved as a new file on the card. I find that this makes it easier for me to do my editing instead of slicing and dicing longer clips to make shorter ones.
I've only had this camera for less than a week, so I plan to put it through some more testing until I come to the final conclusion as to if it will work as my new video camera. Right now I'm leaning towards yes.
Product Information
Price:
830.0
Manufacturer:
Brando Digital Shop
Pros:

HD 1280 x 720 resolution video recording
5 megapixel still shots
Small form factor
Tapeless design
Fast startup

Cons:

Doesn't do well in low light
Long shots seem blurry
File sizes can be huge