We use affiliate links. If you buy something through the links on this page, we may earn a commission at no cost to you. Learn more.
Last week I reviewed the iFish and this week I'm taking a look at another silly, but fun little gadget from Brando's toy shop. This time around it is the Potan Poton from Tomy. I was told that the name refers to the sound that water makes when it drips. While that reference won't be obvious to some people, it's hard to mistake the fact that this is a toy houseplant. It looks similar to the Flip Flap that Judie reviewed. The Flip Flap was also made by Tomy, but solar powered. The Potan Poton is water powered.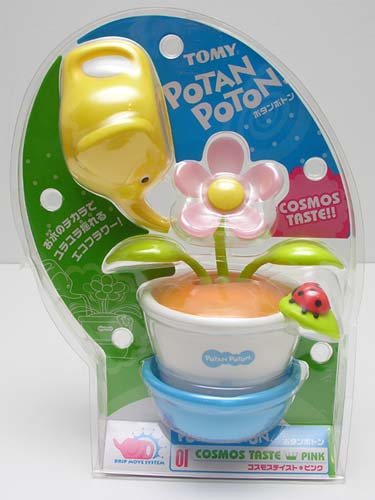 You have to love the little yellow elephant watering can! I'm not sure what Cosmos Taste means… Hmmmmm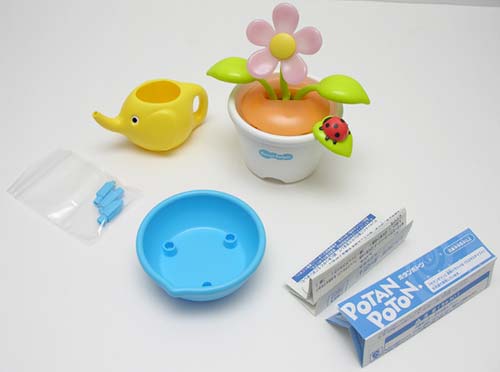 In the package you receive the flower pot, tray, 3 stand off pegs and an instruction sheet. The instructions are in Kanji, so I basically just looked at the pictures. This isn't a complicated toy ;o) The pegs snap into the tray and the flower pot rests on the pegs. Simple.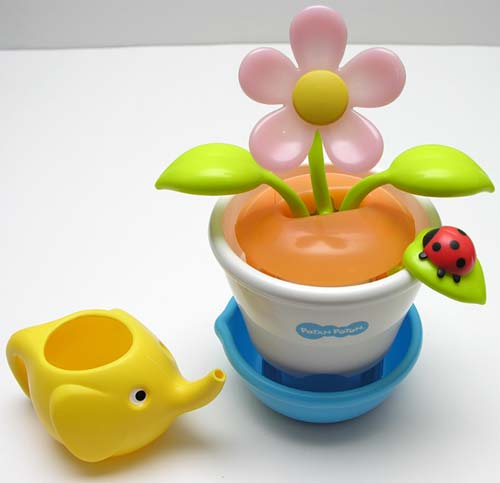 The next step is to fill the watering can with regular tap water and water the plant. At this point, the directions did come in handy. The pictures showed that you were supposed to pour the water on the edge near the lady bug, and not in the middle where the stems are located.
So, I poured in the water and then… I waited… and I waited a bit more… after about a minute, I thought I might have managed to kill a plastic plant! But just when I had given up, the flower started swaying and the leaves started flapping. Too cool! The effect is slightly hypnotic, as the movement is so smooth and noiseless. The 'dancing' continues for several minutes until the water runs down into the tray. You can then lift off the pot and pour the water back into the watering can for the next time. I did learn that if you fill the plant with more water, it will start dancing sooner.
See it in action…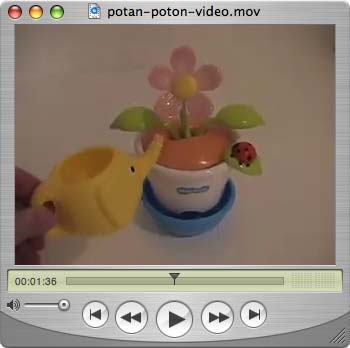 Click on image to play the QuickTime video (3min 12sec, 3.7mb).
The Potan Poton does not require batteries, so I have no idea how it even works. I do know that it's a cool little toy that can't help but make you smile. Give one to your favorite brown thumbed friend :o)
Product Information
Price:
15.9
Manufacturer:
Brando Toy Shop
Pros:

Cute
Doesn't require batteries
Won't wither up and die like a real plant