We use affiliate links. If you buy something through the links on this page, we may earn a commission at no cost to you. Learn more.
Weekend Hodge Podge
Amit and David of Aural New York sent me 2 sets of their colored iPod earbuds. They are available in Pink, Black and Blue and come with both Black and White earbud pads. They look (except for the color) and sound just like stock iPod earbuds. Priced at $15, they let you stand out from the crowd of White earbud wearers.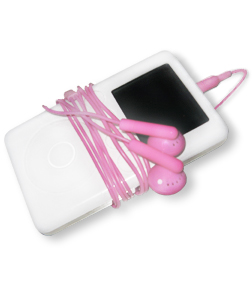 —
Last Monday's review of the iFish proved to be quite popular, so I decided to do another wacky review for this coming Monday. Stay tuned. :o) Of course, there will be a See it in action video spot included. Speaking of video spots, I had a few people email to complain that they couldn't play the videos without installing the latest version of Quicktime that comes with the latest version of iTunes. I'm looking into compressing future videos with something other than the H.264 codec, if this is an issue.
How many of you have been watching the Olympics? They look great in HD! Go USA!