We use affiliate links. If you buy something through the links on this page, we may earn a commission at no cost to you. Learn more.
Not long ago, Julie and I were looking at the
Crumpler site, each with a
different bag in mind. In my ongoing search for the "end-all be-all hold-all"
gearbag, I was looking for something with lots of pockets that could organize my
stuff neatly on overnight or weekend trips. Julie was still caught up in her
search for a small bag that could go within another bag; one that could hold her
absolute essentials on quick trips.
The bag that she decided on was
the Status Belly, a simple shoulder bag style with several interior pockets.
Once she received the bag, she realized that it was more purse-like than she had
expected, so I offered to do the review.
The Status Belly is a bit purse-like, more so than most of the bags
Julie and I have ever reviewed. Whether it is ultimately called a "purse" or a
"gearbag", I think that the Status Belly may appeal to those that need a more
organized way to carry their daily essentials. Composed in a basic horse-shoe
shape, the Status Belly is available in lime with mint green trim, pale yellow
with light bronze trim, light blue with navy trim, light oatmeal with dark brown
trim and light orange with dark red trim. This bag is the light oatmeal with
dark brown trim, which I think is better described as khaki with olive trim.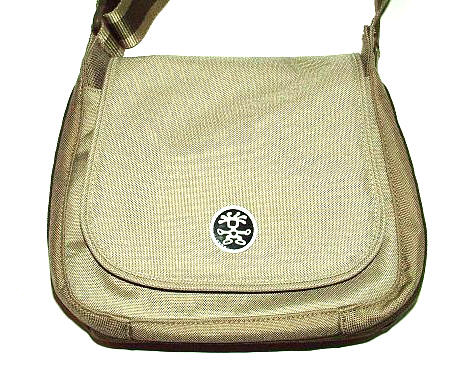 Measuring approximately 10 wide x 8" tall x 4" deep, this bag is not
overly large. It is sized to hold the users "minimum daily essentials"; and as long as a
laptop is not one them, then it may just be large enough to do the trick.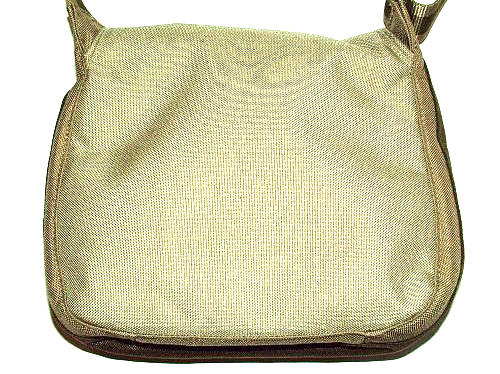 The bag is composed of a water resistant 1000 Denier Nylon shell. The
exterior of the bag has a tightly woven appearance, similar to other backpacks
and travel bags made with the same grade Cordura. The front of the bag has a
1.1" diameter rubber Crumpler logo.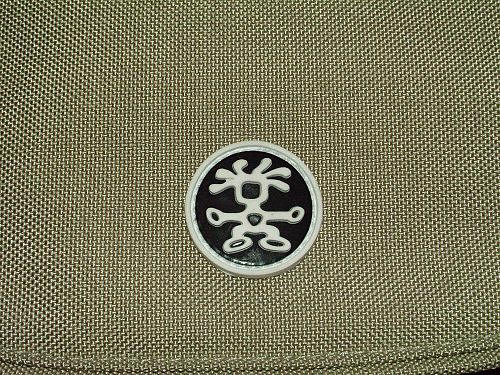 The strap on the Status Belly Bag is quite long and is able to be adjusted so
that the bag will hit anywhere from mid torso to below the hip. This
adjustability allows the bag to be worn as a classic shoulder bag or bandolier
style across the chest.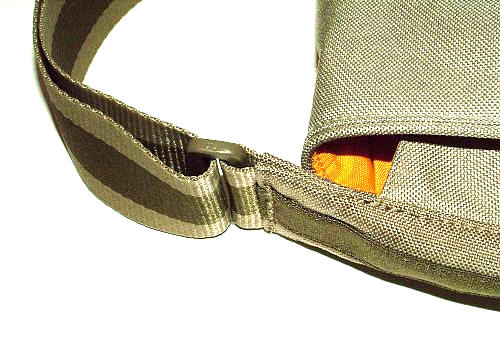 The strap appears to be similar to the nylon webbing used in seatbelts, in
other words it is quite tough.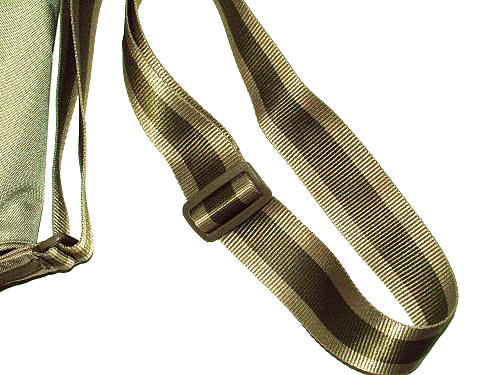 Stress points on the bag are all reinforced with extra stitching…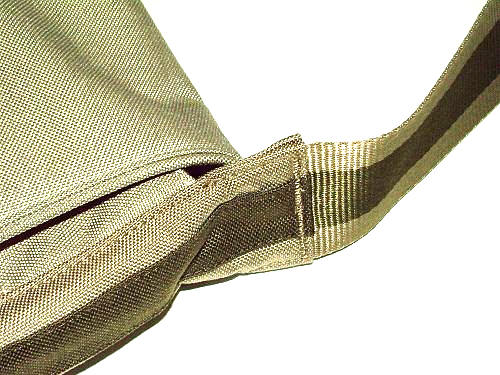 …and the tone on tone look of the strap is carried over to the rest of the
bag because of the addition of a contrasting fabrib strip stitched to the bag's outer edges.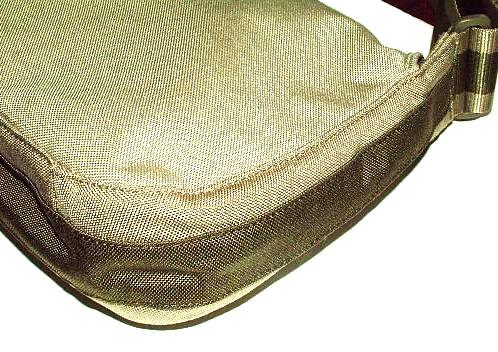 Lifting the large front flap reveals the only con to what is otherwise
a very nicely made bag: a 5" wide x 2.75" tall oval patch of Velcro.
Because of this patch, the Status Belly Bag can't be opened without suffering
through one of the most jarring sounds imaginable. Why such a large patch of
Velcro was used when a simple snap could have sufficed is beyond me; but there
it is. If that wasn't a deal-breaker for you, then keep reading…
The interior of the bag is lined in bright orange 420 Denier Ripstop Nylon.
Using a bright background such as this allows items in the bottom of the bag to
be easily seen. While this might not be quite as important in a smaller bag such
as this, it is still a nice feature.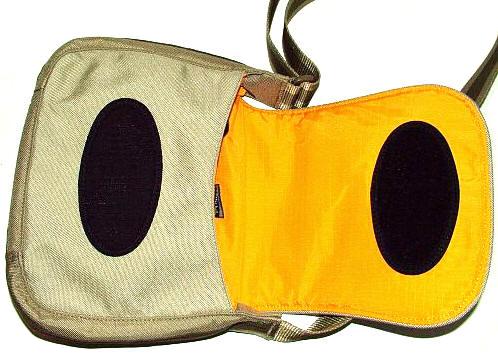 Inside the bag are two open 5.25" tall x 4.5" wide pockets. These are great
for holding a cell phone and PDA, or a digital music player and smart phone. The
rear wall of the bag has a 6.5" wide x 5.5" tall zippered compartment which is
perfect for small loose items which might otherwise be lost. The interior is
wide and deep enough to hold a 7" wide x 4" tall wallet while still leaving room
for a pair of sunglasses and a set of keys.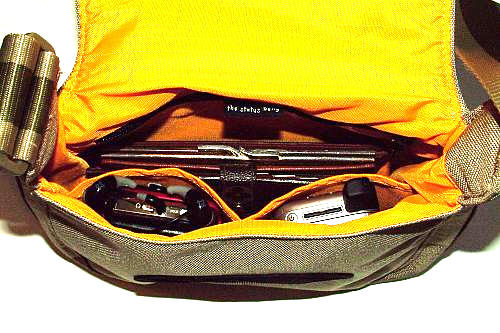 Here is a shot of the bag on my shoulder. As you can see, it's not an overly
large bag, but it is not too small, either.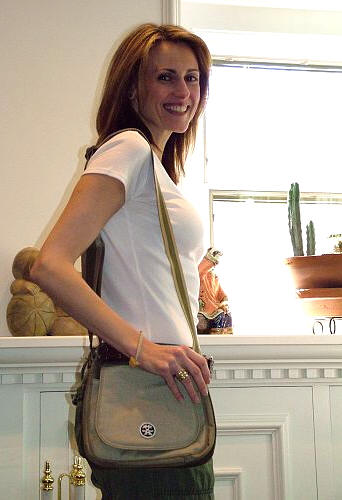 For size comparison, I am 5"10
Those that like the style but think they need a larger bag should take a look at
the
Crumpler Maurice.
The Status Belly is not the bag for someone that needs to carry a lot of cables,
devices and extra peripherals. However, it is a good choice for someone that
wants a more casual purse which can also manage their daily necessities in an
organized fashion.
The
Status Belly is available online at
Crumpler.
Product Information
Price:
50.0
Manufacturer:
Crumpler
Pros:

Very well made of quality materials
Can be worn as a shoulder or across-the-body bag

Cons:

A humongus patch of Velcro is used to keep the front flap down