We use affiliate links. If you buy something through the links on this page, we may earn a commission at no cost to you. Learn more.
It has been over three years since I reviewed the
ACM,
a handy gadget for people that don't carry a conventional wallet, but that want
to keep their money and cards organized. Since then, new models have been introduced
which feature different colors and finishes, as well as a larger version which
can hold twice as many cards. The line has also been expanded to include useful
accessories for the various ACMs.
Today I am going to take a look at the new
Leather Case
which has been created to fit all of the six-card ACMs. When the Leather Case is
added to an ACM, the combination of the two creates a more conventionally styled
wallet. For this review, I'll be testing the Leather Case on the
Silver Reserve 6
Card, which is a similar model to the original ACM previously reviewed. I'll
also be checking out the
Silver Hybrid 12
Card, one of the newer larger capacity models.
So let's get started!
The Silver
Reserve 6 Card is touted as ACM's "most popular model." Composed of a
brushed silver metallic front which can be engraved, the Silver Reserve has a
plastic back that has been coated with a rubberized polymer. This ACM measures
4.05" long x 2.6" wide x 0.8" at its thickest point, and it weighs 2.8 ounces
with six cards installed. The 6 Card ACM feels very solid, and it does not creak
or flex when squeezed and torqued.
There are six buttons on the ACM's face which designate various types of
cards the ACM might contain.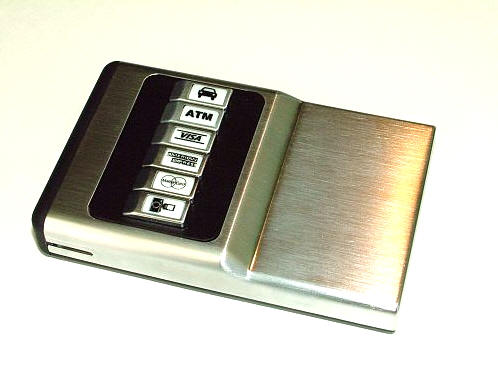 Each button has a  removable art tile which may be swapped with those
included on the red instruction card.
In this manner, the ACM can be personalized to directly reflect the cards
carried by each individual owner.
6 Button
Replacement Cards may be purchased for $6.95.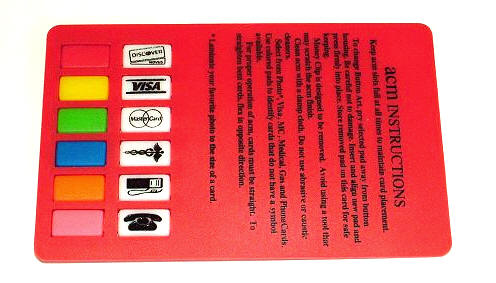 The custom cut
Leather Case fits perfectly over the 6 Card ACM. covering and protecting it
in smooth black lambskin. A 2" long x 1" tall cutout allows the unfettered
operation of the ACM's sliding buttons.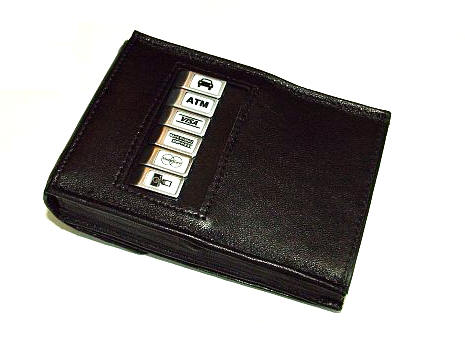 The Leather Wallet stops right at the ACM's edge, so there is no over-hang to
interfere with card access.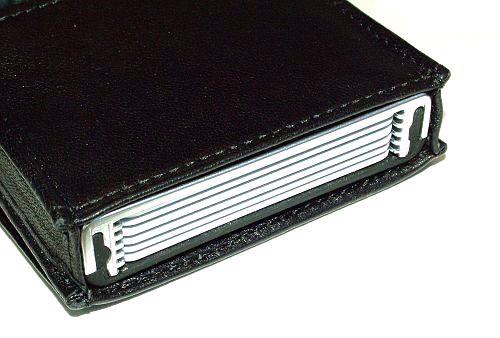 Cards should be carefully inserted so that they are on corresponding rails,
meaning 'straight" and not "cock-eyed". Cards with any warping should be gently
flexed in the opposite direction to correct the warping. When cards are
inserted, there will be enough tension holding them in place that they will not
easily fall out of the ACM, however it might be possible that in a severe fall
the cards might become dislodged.
When a button is pushed forward, the corresponding card will eject. After the
card is used, it should be replaced in it's open slot.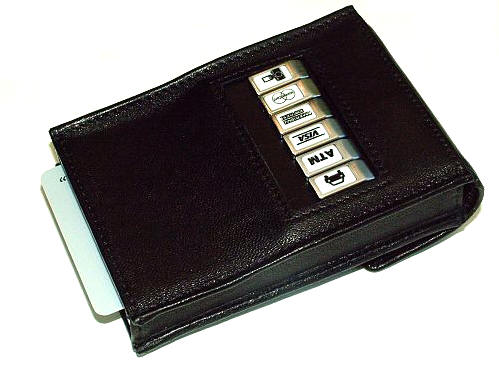 The back side of the wallet has a flap which is held in place by two
non-magnetic snaps.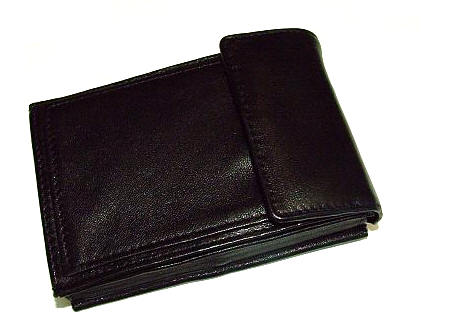 When opened, there is one secure pocket for an ID or credit card…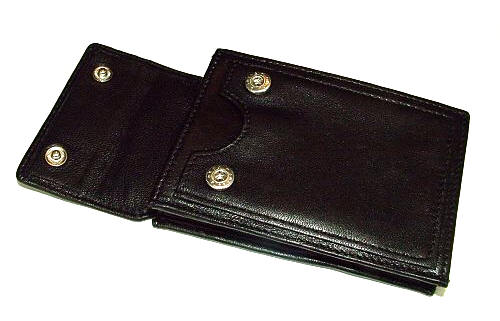 …as well as a slash pocket which can hold folded bills.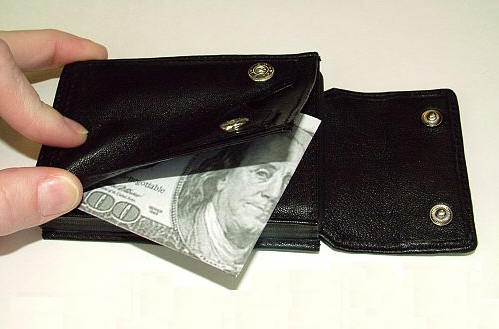 The Leather Wallet is a nice accessory for those that want a slightly more
traditional wallet appearance for their non-traditional ACM. The Silver Reserve
6 Card ACM is priced at $39.99, and the separately sold Leather Wallet is
$29.99. Even with the Leather Wallet installed, the 6 Card ACM should
comfortably fit in the front or rear pocket of looser-fitting jeans, khakis and
dress pants.
For those that are not interested in covering their ACM with lambskin, but
that still need some additional storage room, there is also an optional
Business Card
Clip which fits into the slots on either side of all 6 Card ACMs. This
modified black plastic clip is also coated with the same rubberized polymer
found on the back of the ACM, and it has been reinforced for long-term use by
the addition of a metal support on its underside.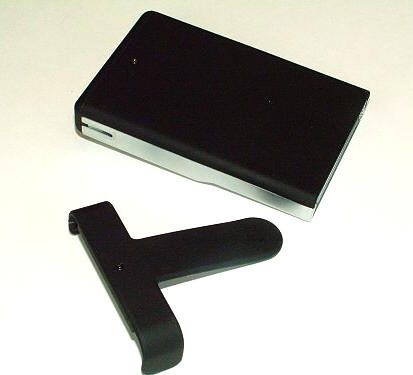 When installed, the Business Card Clip allows the ACM to neatly carry money,
a small stack of business cards, receipts and other paper items.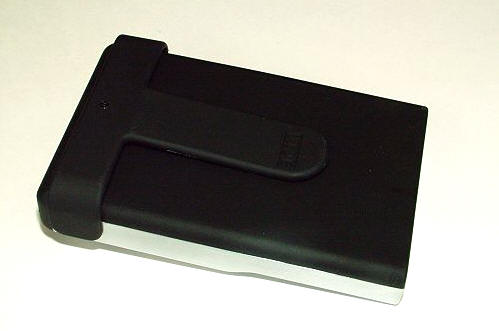 There is a lip on the clip's rear end which keeps stacked items from
escaping.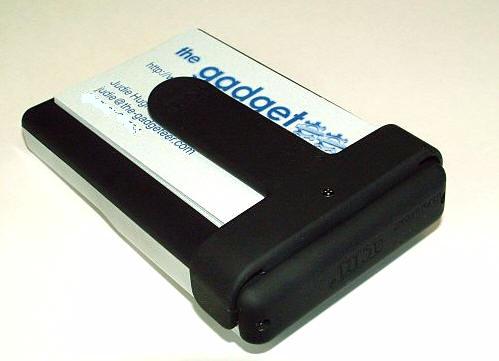 The Business Card Clip is an additional $14.95.
Perhaps the most interesting additions to the ACM line are the new 12 Card
wallets. These are also available in a variety of finishes and colors. I was
sent the Silver
Hybrid 12 Card, which is a portly adaptation of the more svelte original
ACM. The Silver Hybrid 12 Card is composed of a brushed silver metallic front
which can be engraved and a plastic back which has been coated with a rubberized
polymer.
The buttons on the 12 Card are slightly different than the 6 Card ACMs,
because they show a color as well as a card type. That is because each of the
six buttons is dual purpose, each designates two cards that will be
ejected when the button is pressed forward.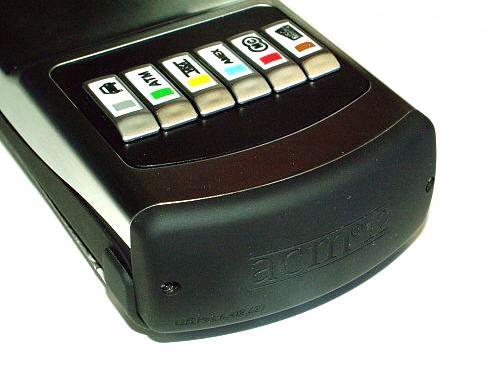 Measuring 4.5" long x 2.6" wide x 1.5" at its thickest point, the 12 Card ACM
weighs 4.9 ounces. It is not exactly pocketable, so would be best used by those
carrying a purse, gear bag or brief case. This ACM feels very solid, and it does
not creak or flex at all when squeezed and torqued.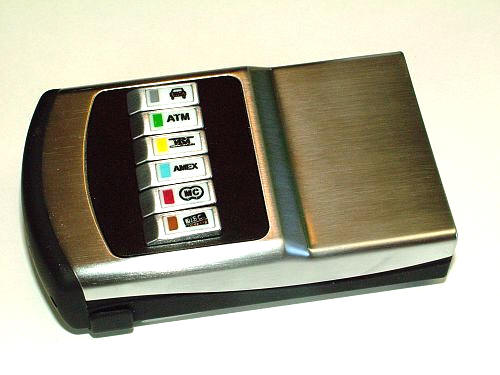 Obvious by its name, there are twelve card slots on this model versus the six
slots on its predecessor. Those that are counting will notice that only eleven
cards are actually present here. That is because the red card containing the
extra rubberized tiles takes up two slots.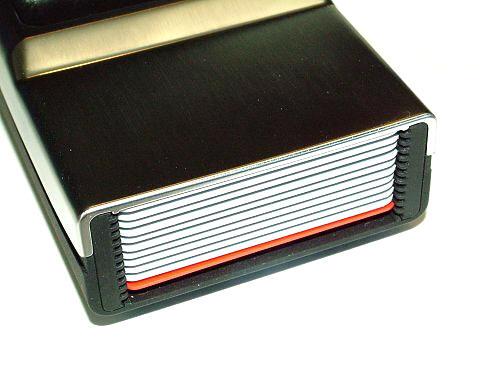 Once again, there are tiles which may be swapped with those installed to
designate the exact type card the owner is carrying. However, in this case one
card must be designated by an icon and one buy a color bar.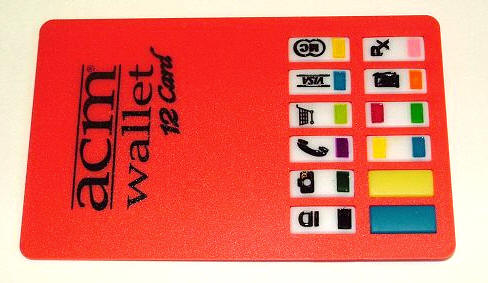 When one of the dual purpose buttons is pressed forward, the two designated
cards will eject at a staggered rate for easy choice and retrieval. If the card
on the bottom is wanted, it can simply be pulled out. If it is the card on top
that is needed, I have found that pushing the bottom card back into it's secure
position makes for easier retrieval.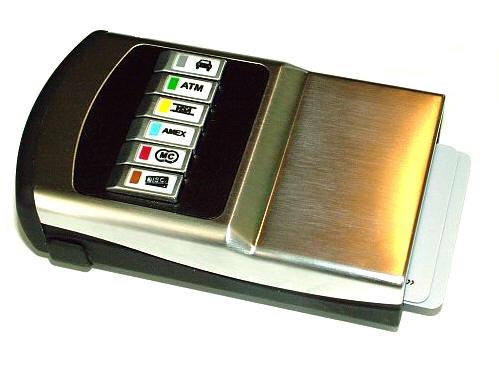 The back of the 12 Card has a removable metal-reinforced clip…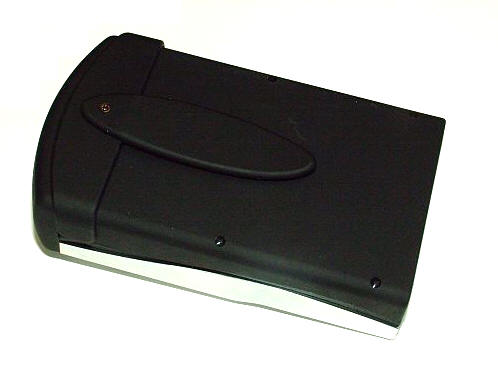 …which locks into the slots on each side of the ACM's case.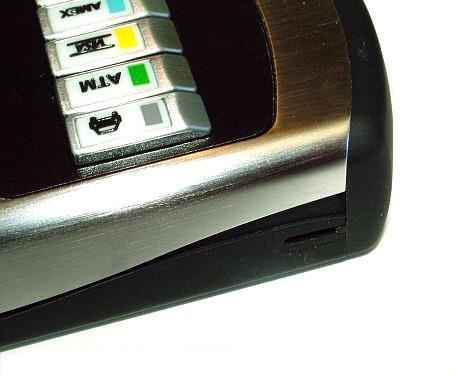 This clip does a good job of holding one or two business cards,  as well
as folded money and receipts.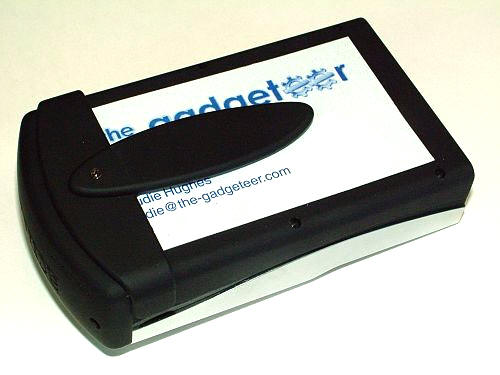 In this case, it is holding the device's printed instructions.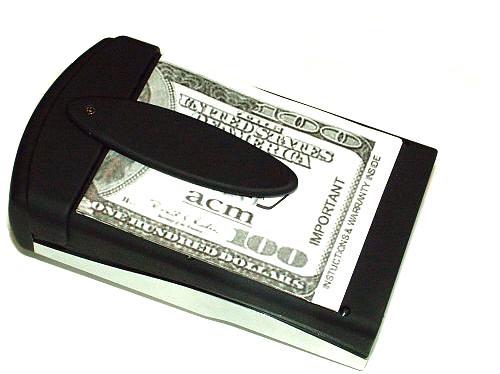 The Silver Hybrid 12 Card wallet is priced at $59.95.
All ACM Wallets come with a 5.25" tall x 4" wide leatherette pouch.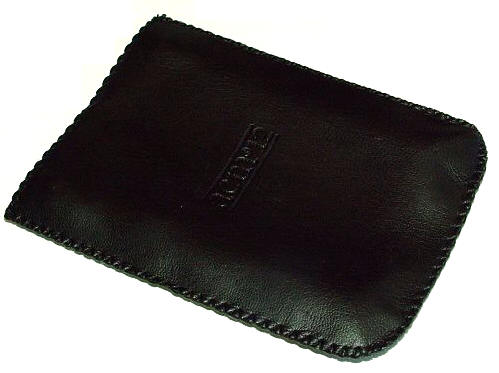 All ACM Wallets come with a
one year limited
warranty against mechanical defects.
All of the different models of the Auto Card Manager and their accessories
can be purchased directly from their
website, as
well as from other retailers.

Product Information
Price:
Manufacturer:
ACM
Requirements:

Six to twelve ID, credit or other similarly sized cards.

Pros:

Almost instant organization for those that need it
Customizable buttons
Durable and solid construction

Cons: