We use affiliate links. If you buy something through the links on this page, we may earn a commission at no cost to you. Learn more.
My favorite style of pants, next to blue jeans, is cargo pants. One of the
things that I like best about cargos – beyond the fact that they are usually cut
with comfort in mind -is that they always have lots of pockets. Whether I
am scrambling through the ruins at Mesa Verde, hiking at the ranch, running to
the store or in the process of traveling, cargos make it possible to go places
without carrying an extra bag – because the things that might ordinarily go into
a small bag can instead go into the pant's pockets.
If one were to Google the word

Cargo Pants, one would find that SCOTTeVEST
tops the list – primarily for their

Hidden Cargo Pants which Julie reviewed in 2004. While those cargos
definitely had their merits as pants one could wear to work, I was still left
hoping for something that was a bit more like the cargos I prefer – meaning that
they had pockets on the legs and looked a bit more casual.
Evidently I wasn't the only one hoping for a more casual alternative, because
in late December SCOTTeVEST released their

Ultimate Cargo Pants. Ultimate? That's a rather grandiose statement.
But it didn't take long after receiving them for me to realize that for the most
part, they really do live up to the claim.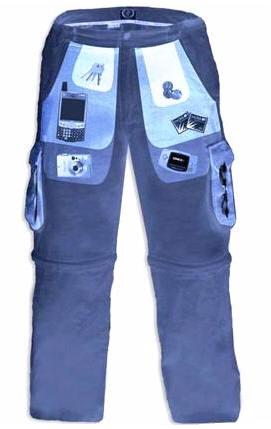 Picture courtesy of the SeV site
Available in the color sand, which is basically a light khaki color, the
Ultimate Cargos will work with just about any color shirt. The waist sizes start
at 30 and go up to 40, and lengths are available from 30 inches to 34. Right out
of the package, these heavy weight linen blend (55% linen / 45% cotton) pants start out as a
nice looking pair of cargos. The fabric has the loosely woven appearance that is
typical to linen, but these are no light-weight Miami-Vice style pants. These
khakis are substantial and they nothing like the the almost see-through linen
garments people wear in hotter climates.
For the most part, the stitching is done in a matching
khaki. However, inside the waistband and on certain stress points on various
locations on the pant's exterior, there is a complimentary orange stitching
used.
Without knowing that they happen to be in the SeV line, one would never know
that the Ultimate Cargos were absolutely loaded with hidey-holes and special
pockets; they just look like comfortable three season pants.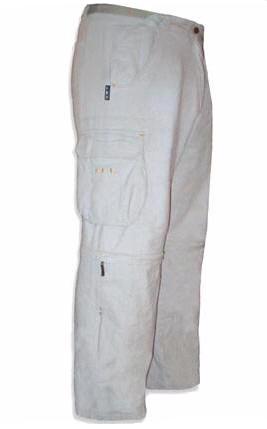 Picture courtesy of the SeV site
The SeV Ultimate Cargos have eighteen pockets dispersed throughout. Some are
PAN enabled, some are hidden, some are specialized, and some are just plain old
fashioned pockets. While the pants would be completely loaded down and slightly
ridiculous if one were to try to load every single pocket with every
gadget owned, the cool thing is that because there are so many pockets, the
pants can be used to meet each individual owner's needs in different situations.
So without further ado, let's take a look at the Ultimate Cargo pants…
These cargos are done in a flat-front style, which in my opinion gives them a
more flattering look. There are five inch-wide fabric belt loops strategically
placed around the waistband so that the pants won't gape when a belt is worn.
The fly is held closed with a metal SeV logo button, but there is an additional
hidden button inside the waist which helps the front of the pants hang neatly.
To be perfectly candid, this hidden button comes in handy when the pants are
undone, as it keeps the pants from immediately dropping – especially if they are
weighed down with gear.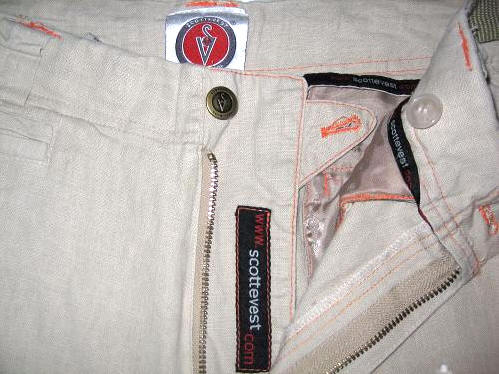 In a move reminiscent of Lucky Brand Jeans, there is a strip of fabric tape on
the inside fly with "www.scottevest.com".
On the right side of the contrasting orange-stitched interior waistband is a
3" wide x 2" deep open hanging pocket, suitable for tucking something small.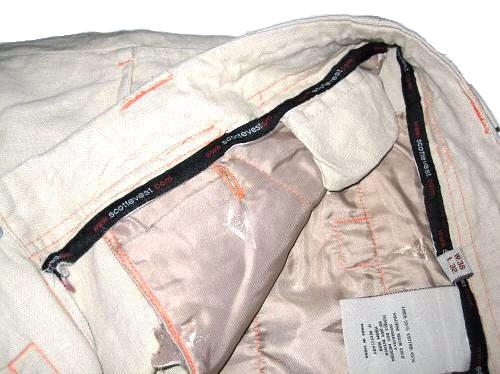 Directly under the right front belt-loop is a small 1.5" wide x 3" deep
pocket, which although it was probably not placed here for the purpose, will
perfectly hold a pack of gum. An inch wide strip of sage colored cotton webbing
is situated between the front belt loop and the next further back on each side
of the shorts. This webbing has orange stitching which divides it into several
sections perfect for attaching small items such as carabiners or clip-on key
rings.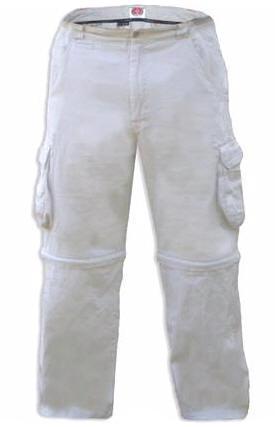 Picture courtesy of the SeV site
On each side of the hips are dual slash pockets. We'll start with the set on
the right.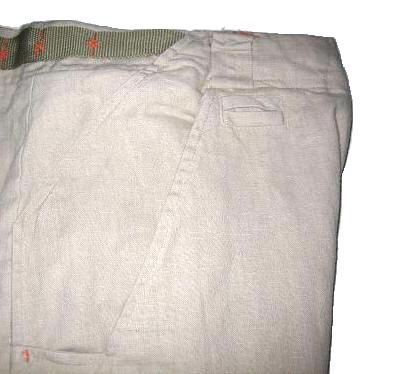 The forward
Personal Area Network (PAN) enabled pocket is open, with a wide cut design
that allows for easy access by the hand. Although the fist time one slides their
hand inside this pocket might seem ordinary, it actually has two special
features which soon become evident. First of all, there is a detachable key
lanyard which hangs neatly inside until needed.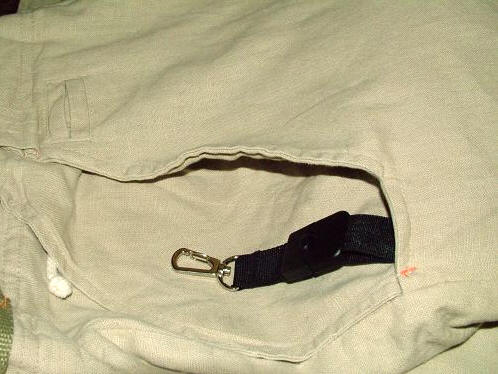 When keys are attached, they are held in a comfortable and easily accessible
location – which keeps them from being lost in this approximately 14" long x 7"
wide pocket. With one's hand thrust deeply in this pocket, it soon becomes
evident that there are actually three sections in the pocket's bottom –
and that the pocket is really much wider than 7", measuring more like 13". The
way this pocket is attached to other pockets and pressure points in the loose
fitting cargos allows them to hold the wearer's stuff without the fabric
bunching or sagging.
The PAN enabled nylon-lined slash pocket which sits directly behind the
forward slash pocket is approximately 11" deep x 8" wide. It is held shut with
the embedded magnets which we have grown used to finding in Scott's TEC enabled
garments. At the top of this pocket is an adjustable cord which allows the pants
to be tightened or loosened. This may come in handy for those that eat a huge
meal and then go walk it off…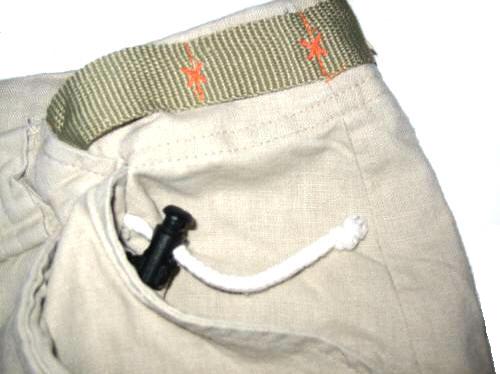 This large open pocket is suitable for carrying a PDA or GPS unit, or other
items which the wearer would like to keep easily accessible. Since the legs of
the cargos are cut so loosely and since the pockets are so deep, items may be
carried without their outlines being evident on the wearer's leg.
Each leg of the pants has an exterior 8" tall x 7" deep cargo pocket, but as
with all things SCOTT, there is more to these pockets than meets the eye.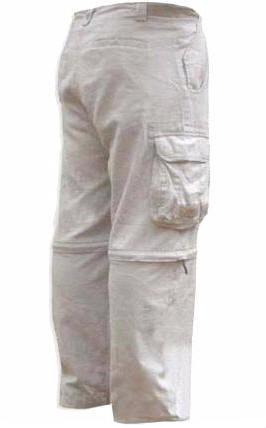 Picture courtesy of the SeV site
Each side of the pocket's flap is held with a hidden magnet, which when
opened reveals a large open interior pocket.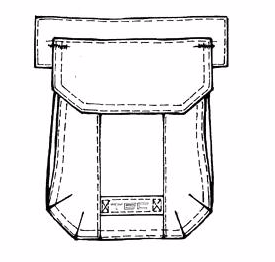 Picture courtesy of the SeV site
The exterior of this pocket has a sage colored strip of webbing with the TEC
logo embroidered in contrasting orange.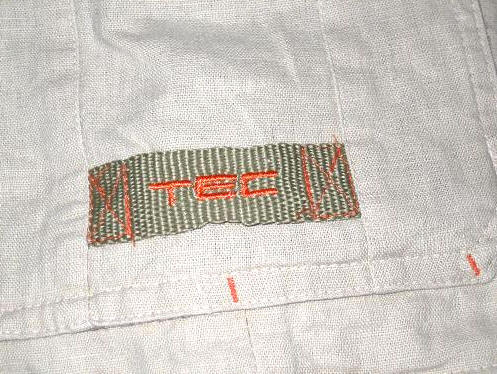 There is also a 5.5" long zipper which runs along the side of the pocket
facing the inside of the wearer's legs. The purpose of this zipper is to allow
easy access to the pocket's interior – even when the wearer is seated in a tight
spot – such as when strapped into an airplane seat with the tray down.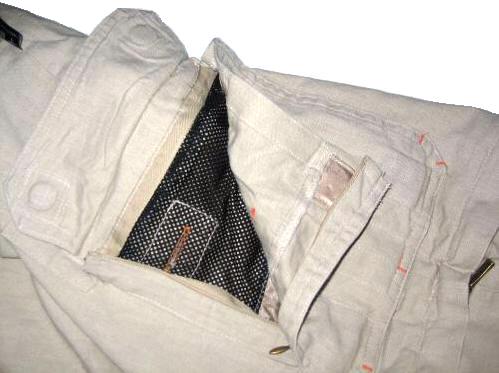 On the back wall of this roomy pocket is an PAN enabled mesh-faced
organizational panel which features two zippered pockets. These secure pockets
are perfect for carrying loose memory cards or other small items which the owner
does not want to misplace.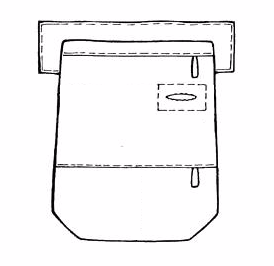 Picture courtesy of the SeV site, manipulated by me to better
reflect its actual layout
Further down the leg, about mid-calf, is a small nylon-lined 4′ tall x 3.5"
wide zippered pocket which has been hidden in the seam. Even this little pocket
has a means of support, so that items stowed inside will not dangle loosely
against the wearer's leg.
Adding to their versatility is the discretely hidden zipper directly above
the knee on each leg…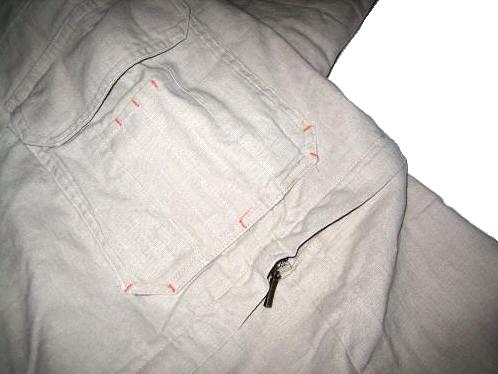 …which allows the pants to be converted quickly into shorts
and then back to pants again.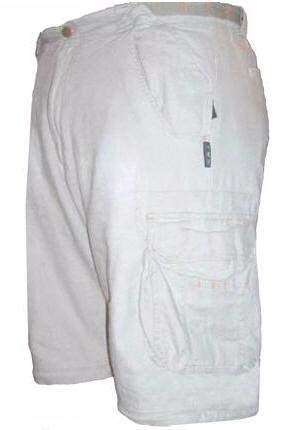 Picture courtesy of the SeV site
The dual slash pockets on the front left side of the cargos is exactly the
same as those previously described on the left, except that there is no keyring
on this side. However, there is an addition of a hidden zippered pocket
measuring approximately 13" deep x 7′ wide that is sewn into the lining of the
outer slash pocket.
The left leg's cargo pocket's flap is also held by dual magnets, and it also has the hidden
easy-access zipper, but the exterior of the pocket has four pen or stylus slots.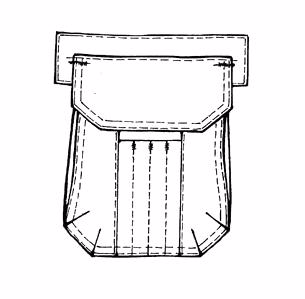 Picture courtesy of the SeV site
As with the other cargo pocket, there is a PAN enabled organizational panel
on the interior wall. The top zippered pocket is faced with mesh, and is perfect
for holding change or other small loose items which need to be kept secure. The
bottom of the pocket has two strips of elastic which have been sewn to hold four
AA and four AAA batteries within the formed loops.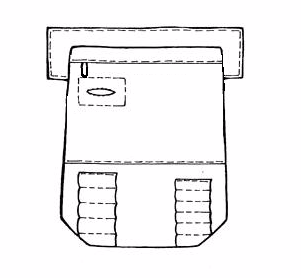 Picture courtesy of the SeV site, manipulated by me to better
reflect its actual layout
The rear of the pants has four darts sewn in from the waistband to allow the
pants to drape nicely on the wearer's rump.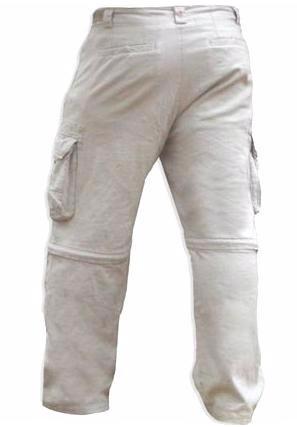 Picture courtesy of the SeV site
The middle rear belt loop has an embroidered SeV logo, which is done in
matching khaki with a small contrasting orange "e".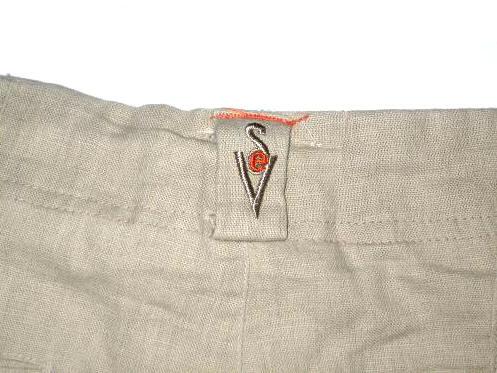 The rear pockets are held shut with hidden magnets. Each of these 8" deep x
7" pockets are lined in nylon, which keeps them from bunching up when items are
inserted or removed.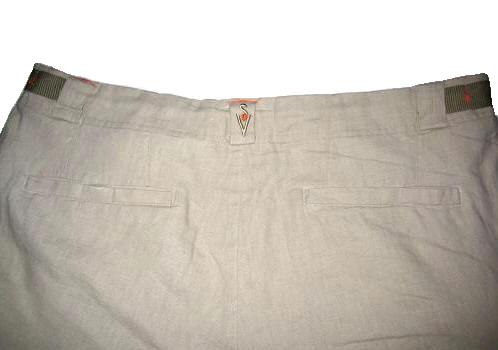 All right, so far I have only shown pictures of the Ultimate Cargo Pants
being worn by the invisible man, so now its time to show them being modeled by
real people. We'll start with Steve, who is wearing the 38 x 32 pair, upon
which I based the pocket measurements in this review.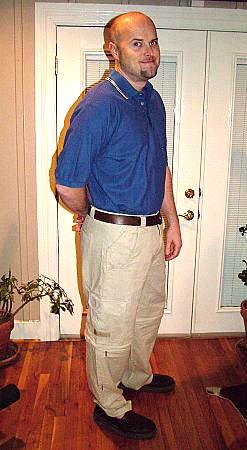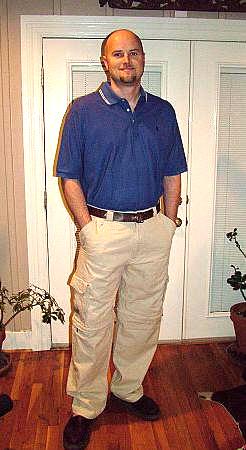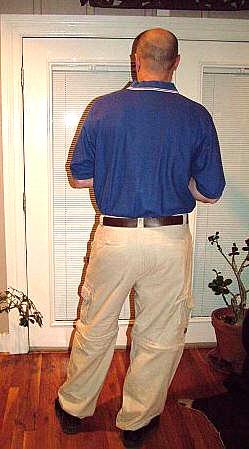 The SeV Ultimate Cargo Pants aren't just for men. Even though their rise is a
bit longer than I typically wear, and even though they sit higher than I would
typically want, these pants are still quite wearable. The wide, loose-cut legs
make them supremely comfortable, and cool fabric makes them a favorite for
warmer days – like today…86º on January
3rd! Can you even imagine? Texas weather is so weird. If you don't like it, just
wait a day and it will change. But I digress…
The only issue that I can foresee regarding women wearing the SeV Ultimate
Cargos is that I am wearing their smallest size – a 30" waist. This means
that more petite women, probably 75% of the population,
will be out of luck. Sorry gals, but this is yet another time that it pays to be an Amazon!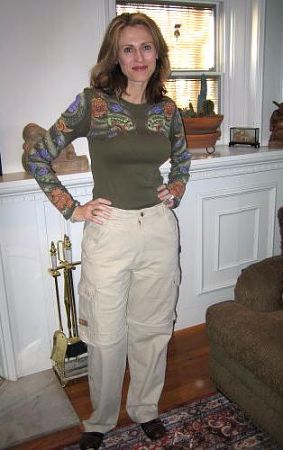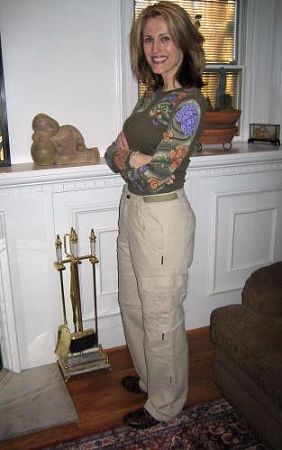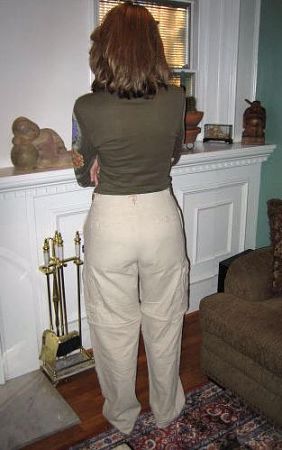 These 30 x 32 pants measure 12" long from the crotch to the top of the waist.
This puts the cargos right under my belly-button with about 4" of extra fabric
kind of hanging in the crotch area, for lack of a better description. While I wouldn't want
these pants to be quite as fitted as a pair of jeans, I would like them to be a
little lower cut and with a little less hanging. In a perfect
world, SeV will come out with a pair for women, which would have about 1.5" less
length on each size's rise. If the waist could just be dropped to a fashionable
three fingers (approx 2")  below the belly button, instead of the one
finger (approx. 0.5")  that it is now, I would love, love, love
them. That's the only change I would request…well, also that they be available
in women's' waist sizes 26 – 34, and lengths of 32" or 34".
The SCOTTeVEST Ultimate Cargo Pants are the most specialized cargos that I
have ever seen. Even without their secret compartments and hidden pockets, their
good looks would make them an easy choice. The fact that my husband thinks these
pants look and feel like they should cost twice as much as they do says a
lot, too. All of the custom touches that Scott & company build into the SeV
products make this pair of cargos the clear choice for anyone that wants
to tote their gear in comfortable style.
Product Information
Price:
99.99
Manufacturer:
SCOTTeVEST
Requirements:

Size 30 - 40 waist
Size 30 - 34 inseam

Pros:

Stylish, well made garment
Comfortably cut
Three-season fabric
18 built-in pockets
Easily convert to shorts

Cons: