We use affiliate links. If you buy something through the links on this page, we may earn a commission at no cost to you. Learn more.
Last year I reviewed Bluetake's i-PHONO BT420EX Bluetooth headphones. Although they had great sound, they had a funky design that really didn't appeal to me. I don't mind looking geeky, but there's a point that none of us need to cross ;o) You can see what I mean if you follow the link above to the original review… Well, it's been over a year now, and I'm happy to report that Bluetake has a new set of headphones on the market. Available in Black, White and Charcoal, the i-PHONO mini BT450Rx set doesn't look geeky at all.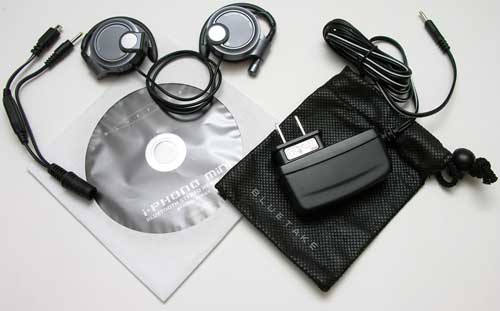 Hardware Specs
Specification: Bluetooth v1.2 compliant
Bluetooth Profile Supported: A2DP (Advanced Audio Distribution Profile), AVRCP (Audio Video Remote Control Profile), HSP (Headset Profile), HFP (Hands-free Profile)
Audio Codec: SBC
Carrier Frequency: 2.4 – 2.483 GHz
Spread Spectrum: FHSS (Frequency Hopping Spread Spectrum)
Modulation Method: GFSK (Gaussian Frequency Shift Keying)
Radio Coverage: Class 2, up to 3 – 10 m (9 – 30 ft.) *3
Sensitivity: RF Output Power: -6 dBm to 4 dBm
Power Consumption: 222 mW
Power Input: 5 V / 300 mA / 2.5 W
Built-in Battery: 3.7 V / 300 mAh / Lithium / Rechargeable
Dimensions: 44 x 37 x 20 mm (1.73 x 1.46 x 0.79 in.) (Single Side / Ear Clip Excluded)
Weight: 44 g (1.55 oz.) (Battery Included)
Package Contents
i-PHONO mini headset
AC Adapter
Y-splitter power cable
Drawstring pouch
Utility CD
User manual
These headphones don't have a band that goes from earphone to earphone. Instead there is a 20″ wire that runs between them, that you can either hang in front or behind your neck. Each small earphone has a plastic earpiece that can swing out to allow you to easily put it on your ear. A soft rubber strap is attached to the earpiece which comfortably keeps the earphone in place.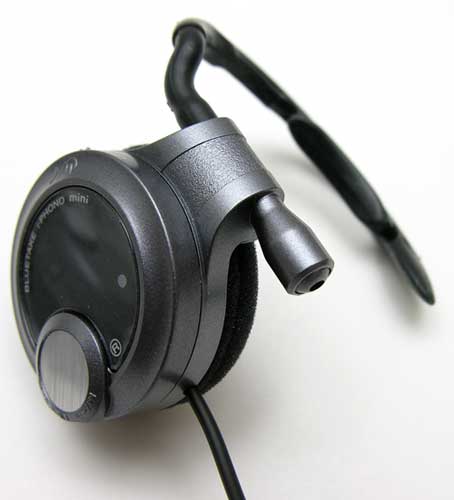 Earpiece folded out
The right earphone has the built in microphone, status LED, power / call switch and volume rocker switch.
Never miss one of our posts again. Sent MON, WED, and FRI with the latest gadget reviews and news!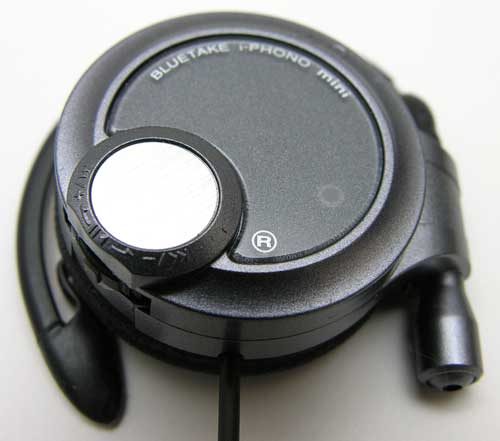 The volume rocker switch is located at the bottom of the earphone. The switch has a small nub that you can grip with your finger nail to rock back or forward to adjust the volume. This switch is also supposed to allow for music control (Play, Next Track, Previous Track) in some music players. I was unable to get this to work for me in both iTunes and Windows Media Player.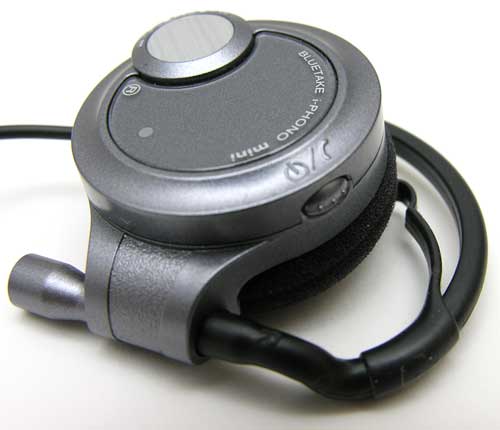 The power / call switch is located at the top of the right earphone. Pressing and holding the button for 4 seconds will power up the phones. Holding for 5 seconds will turn them off. Pressing once will toggle call answer and call end features when paired with a compatible mobile phone.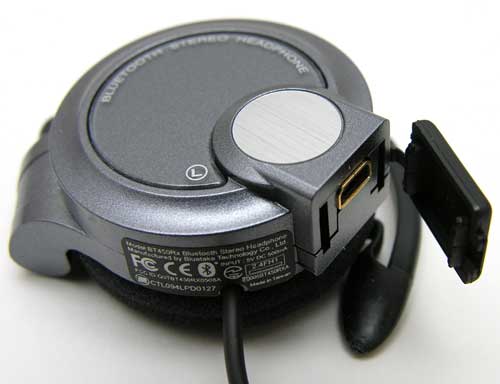 The left phone has the power connector under a hinged plastic cover. Charging is accomplished with the included AC adapter. You have to plug the included Y-splitter cable into the end of the AC adapter. This splitter allows you to charge both the headphones and the BT450Tx Bluetooth stereo transmitter (optional accessory). A Red / Green LED in the splitter adapter shows the charging status of the headphones.
Before you can use these earphones, you must first charge the batteries. This operation takes about 2hrs. Once that is complete, you need to pair it with your computer or mobile phone. This is done by powering the phones on and then by pressing the power and the volume rocker switch buttons at the same time. My first attempt to use these headphones was with my iMac. I had no problems at all pairing the devices. The problem came when I tried to listen to iTunes music through the phones. Ugh. The sound quality was HORRIBLE. Mostly a very prominent hissing behind the music. This was before I learned about Bluetooth profiles and found out that the Mac does not support the A2DP (Advanced Audio Distribution Profile) and AVRCP (Audio Video Remote Control Profile) profiles. Drats.
There is a solution for this problem though. The i-PHONO mini is available in a different configuration. Selling as the BT450Rx-C, this package includes a Bluetooth Stereo transmitter module. Unfortunately, Bluetake didn't send me that particular package. But, they did send me their BT007Si Bluetooth USB Adapter. Of course, this adapter doesn't work with the Mac. Yeah, I tried it even though the packaging does not mention Mac compatibility. Grrrrrrrr… At this point, I was getting somewhat frustrated, so I decided to at least test the headphones with my Treo 650. Guess what? The sound quality during a call is as bad as it was with the iMac. Hisssssssssssssssssss. Also the earphones have a very annoying / loud beep that alerts you to incoming calls.
Before I ended up getting completely torqued off, I dug out the only PC left in my house, an ancient 800mhz Dell Inspiron Notebook. I installed the BT007Si Bluetooth USB Adapter. The installation did give me some hiccups, but I finally finished and was presented with the screen you see below.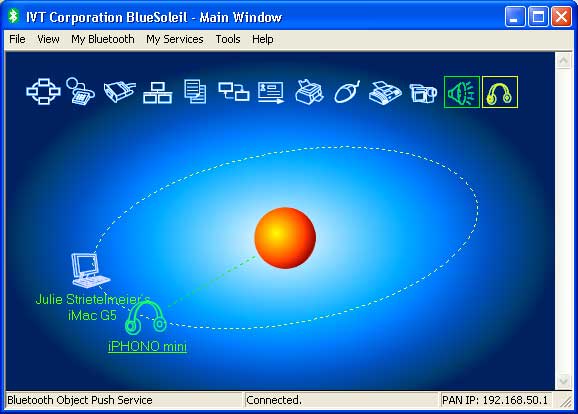 As you can see, the Dell sees the headphones and my iMac. In order to use the headphones to listen to music, you have to run this application and then click on the speaker icon (see it at the top with a green box around it?). After you click on that and go into the control panel to switch the audio default device, glorious stereo sound will start pouring out of the i-PHONO minis. Bout darn time!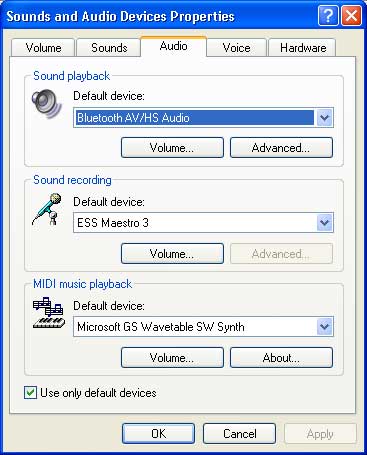 Once I was finally able to listen to music through these headphones, I forgot about all the frustration and just enjoyed them. I have to admit that the quality is very good. I would have to say that they are the best Bluetooth headphones so far. Now I will say that just like the AIRcables, these headphones also suffer from some stuttering here and there. Not nearly as frequently as the AIRcable headphones, but it is still there.
Another problem I noticed was that if the phones are powered off and then powered back on, I have to go into the Bluetooth app and click on the speaker again to start the streaming audio through the earphones.
In use, I found that I could listen to music for approximately 5-6hrs on one charge. Distance from the computer was impressive. I could walk around the whole house with only an occasional stutter or music cutout.
The BT450Rx's are very comfortable and light weight. I had no problems leaving them on my ears for a couple hours at a time. They also have very good sound quality when paired with a device the supports the A2DP and AVRCP profiles. Since they are not compatible with my Mac, I'm not that impressed. But for you PC users with computers that have Bluetooth, these might be worth all the annoying problems (occasional stutters and Bluetooth app initialization), just to have wireless music.
Product Information
Price:
99.99
Manufacturer:
Bluetake
Requirements:

Computer with Bluetooth supporting A2DP and AVRCP profiles
Mobile phone that supports HSP and HFP Bluetooth profiles

Pros:

Small and light weight
Great stereo sound

Cons:

Occasional sound stutters
Hissing when used with Treo 650