We use affiliate links. If you buy something through the links on this page, we may earn a commission at no cost to you. Learn more.
There were many years when the only "portable media device" I had was
whatever Pocket PC I happened to own. Not only have all generations of Pocket
PCs played MP3s, they have also been able to play video in Windows Media format.
However, other than a constantly changing selection of MP3s and a small
selection of music videos that I would keep on various CF or SD cards, I never
really took advantage of the PPC's digital video capabilities until I owned the
HP iPAQ hx4700. With its glorious 4" VGA screen, the 4700 just begged
to be used as a portable cinema. But there was only one major problem…memory
space. Well, make that two problems – processor speed. Even with the iPAQ's
speedy 624MHz processor, there were still times when – for whatever reason –
movies would become pixilated and stutter.
The largest SD card I own is 2GB, which can hold three or four full-length
movies and a decent selection of songs along with all of the programs and eBooks
which I need to carry. While this usually will work just fine for me, it may be
too limiting for those that prefer to store a wide selection of movies, music or
photos on their device. That's when a dedicated digital media player can come in
handy.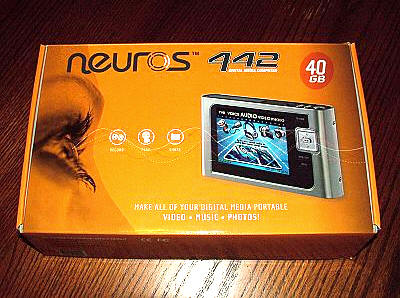 Neuros Audio, the company
which makes the

Neuros HP20GB Digital Audio Computer, has recently introduced their first
portable media device, the
442 Digital Media
Player / Recorder.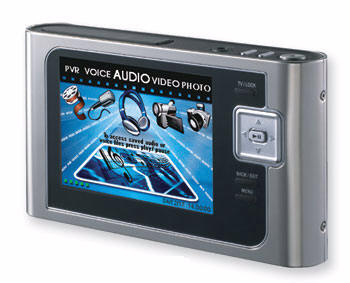 Photo courtesy of the Neuros site
The Neuros is unlike other available portable media players because it is based upon
the principle of open source code, and is thus constantly evolving due to
a community of contributing open
source developers and users. In a nutshell, this means that if consumers
find there are software features missing or that need improvement, the input of
the community and the resulting work of the open source developers may
create a solution without the consumer needing to buy the latest model hardware.
Speaking of hardware, lets take a quick look at the 442. Composed of a silver
metal case wrapped around a black plastic body, the Neuros definitely has a
curvy and sleek appeal. The device measures approximately 5.25" long x 3′ wide x
1" thick, and it weighs 12.1 ounces. The 442 feels extremely solid in
hand, and passes the Gadgeteer Creak Test with flying colors. When the unit is
shaken there are no loose rattling sounds; the over-all feeling is definitely
one of substantial quality. The 442's case has rounded edges which make it feel
a bit smaller than it is and which keep the device from catching on the edge of
pockets. I like the black and silver color scheme, and I am glad to see that the
silver portion is somewhat matte – which means that it will attract some
fingerprints and smudges, but not as much as a shinier surface would have. The
black plastic screen is a total fingerprint magnet, but that is to be expected.
Here are some photos of the Neuros 442 taken with the Datexx Pavio and the
iPAQ 4700. As you can see, it is the middle sized item of the bunch…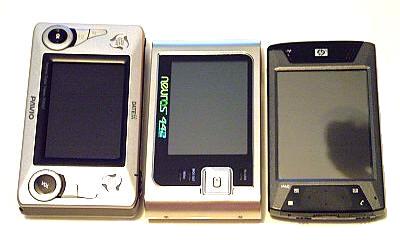 From left to right: Datexx Pavio, Neuros 442, iPAQ 4700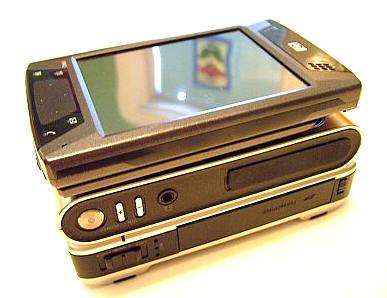 From top to bottom: iPAQ 4700, Neuros 442, Datexx Pavio
Included in the box are the 442, a set of earbud headphones, the mini USB /
USB cable, a composite video Input/Output cable, an AC Adapter, a leather
carrying case, a warranty card and the installation CD which includes a quick
start guide, the owner's manual, Ulead Video Toolbox software and Windows 98
drivers.
The front of the 442 features the 3.6" TFT LCD screen built into a slick
black plastic background. On the right edge of the black background are the
following buttons and controls, from top to bottom: TV/Lock, which toggles the
screen on and off when the player is running. A touchpad with a button in its
center allows four-way navigation through the various screens and menus, and the
center button controls play and pause. Next is a Back / Exit button which is
used for backing out or exiting from various navigational screens and returning
to the previous level or screen. The Menu button calls up whatever menu (if any)
is available in a particular screen.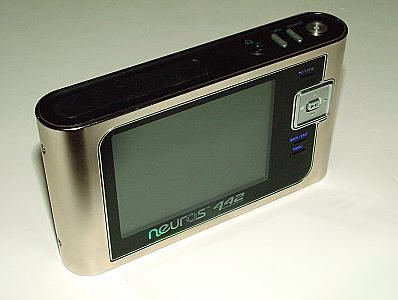 The top of the Neuros has a selection of ports that are covered by a flexible
strip of rubber which plugs into the empty ports when they are not in use.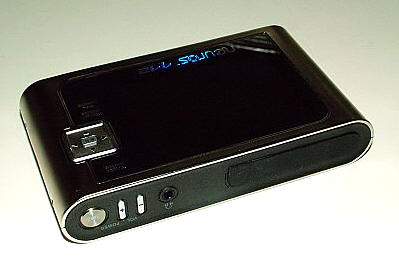 Some people will be annoyed by the strip if they are constantly accessing
these top ports, but I like having it there. It gives the top of the device a
cleaner appearance while keeping the ports grime free. The ports are, from left
to right: the 5V DC In, the AV Out, the AV In and mini USB.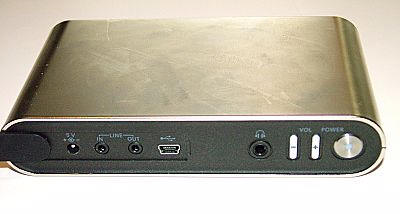 Not covered by the flexible rubber strip are the 3.5mm headphone jack, the
Volume – and Volume + buttons, and the Power button which features a white LED
in its middle. When the device is plugged in and charging, this light will
flash, until the battery is full at which time it will solidly glow. When the
442 is in use, the white LED will also solidly glow.
The bottom of the device has a dedicated SD / MMC slot and a reset button.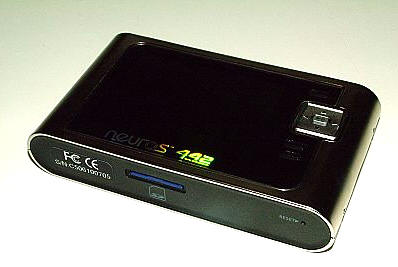 There are no other buttons or ports on the sides, but here are a few more
shots of the 442 from all angles.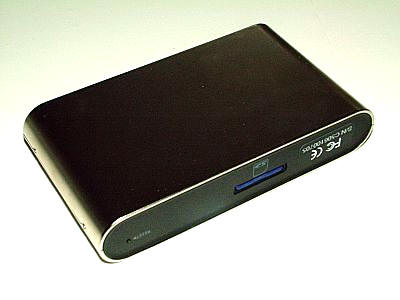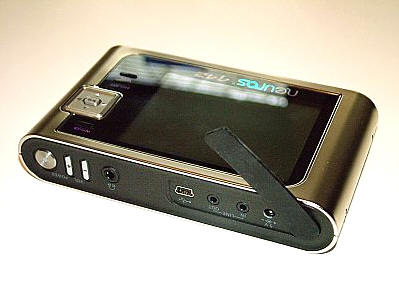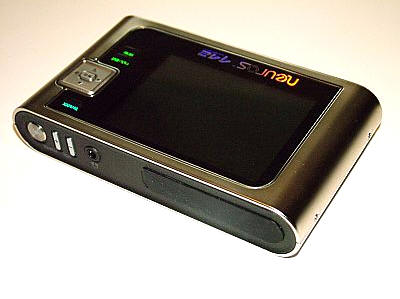 The included carrying case is made of polyurethane and has a soft loopy
fabric interior. Although there is an included clip, I can't honestly imagine
ever wearing the 442 on my belt…ever.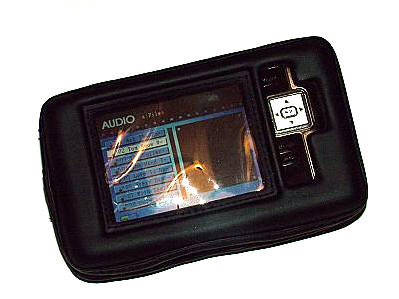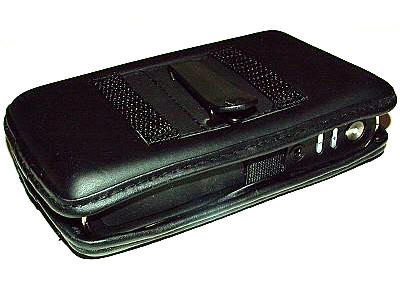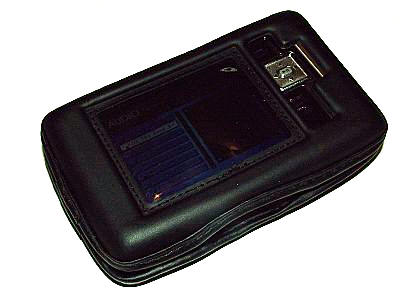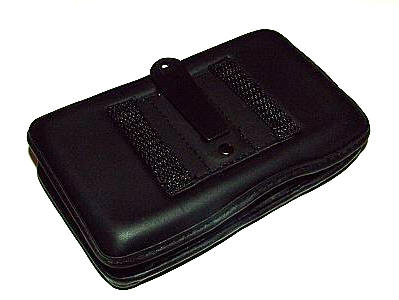 The corners of the case are open, so the 442 will not really be protected
should it ever suffer a serious fall. The case also seems to be about a half
inch too wide, so the Neuros doesn't sit quite as securely as I would like. With
that said, I very rarely if ever used the case while testing, so this is
definitely not a huge issue…for me. It may be for someone else, and if
that is the case (no pun intended), then it would be best to find a different
universal holder which could better protect the player.
Music Player
MP3/ADPCM/WMA/AAC-LC
Video Recorder
MPEG SP with G.726 audio
[email protected], MS ASF format
Video Player
Composite video output to TV: NTSC/PAL
Playback of MPEG4/DivX 3.11/4.0/5.0/WMV v9
Photo Viewer
View image in JPEG/GIF/BMP
Storage
40GB HDD
Holds 10,000 songs, 20,000 high resolution images or up to 150 hours of
video
Firmware
Limited firmware updates will be available at
www.neurostechnology.com

PC Compatibility

Win 98/ME/2000/XP, Linux kernel and later, Mac OS X
and later

I/O

USB 2.0 high speed, SD/MMC slot, Mini USB slave mini
B to A, Headphone Jack, Line in Jack, Line out Jack, DC Jack
Battery Life
Up to 5h video and 9h audio in continuous use
So let's take a look at the list of features stated on the Neuros site, I'll
be touching mainly on the ones I haven't already mentioned as well as the basic
operation of the device.
• Powerful dual core CPU optimized for multimedia processing: There isn't
much information on the Neuros site regarding the dual core CPU, so I wrote to
my contact for a bit of clarification. Since I honestly don't know much about
the nuts and bolts of dual core CPUs, my question was, "I
assume that what you mean is that you are placing two cores in one CPU. So are
the resulting cores using the same cache for better continuity, i.e. – both
posting to the same cache for a smoother playback?"
To my surprise, I received an answer from Joe – the CEO of Neuros – saying,
"It's kind of like putting a separate processor on a video card, so you offload
the "number crunching" to a different DSP (digital signal processor) type
processor. One core does the UI and the other does the multimedia processing. 
It really just means more flexibility for programmers and the open source
community and more horsepower." 
Well, what "dual core CPU" wound up meaning for me was that I never once saw
a video become pixilated or stutter while using the Neuros, and I thought that
was pretty impressive.
• Easy Setup, No software needed: This is true to a point. Assuming that
one is using a post Windows 98 PC, the Neuros is completely plug and
play. When connected to the host PC via USB cable the 442 is immediately
recognized as an additional hard disk drive.

Clicking on the disk reveals the following folders…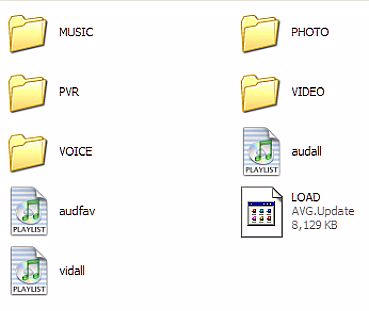 …into which  music, video and photo files may be dragged and dropped.
When the Neuros is first turned on, this screen will appear and the outline's
of the flower's petals will fill with yellow as the device boots.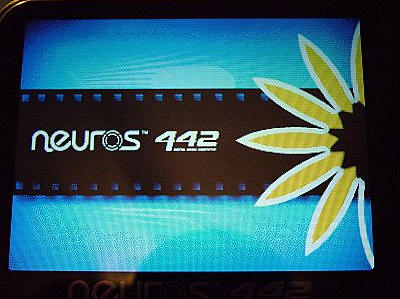 The main menu screen is very impressive, and the bright colors and dynamic
selections really make this home screen "pop". The first thing that should be
done is to set the time and date, as well as explore some of the other options.
Using the touchpad to scroll through the main menu screen to the Setup
function…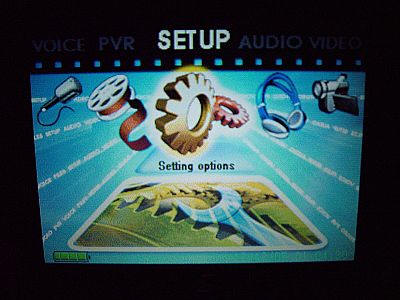 …pressing the Play / Pause button enters the actual setup area.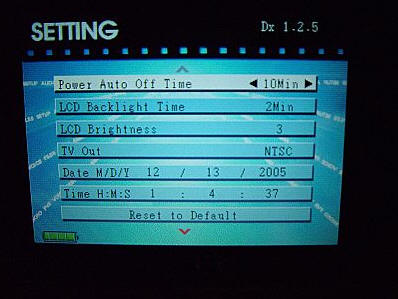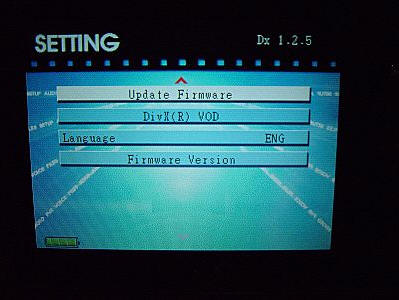 The Neuros recognizes MP3,
ADPCM,
WMA, and
AAC-LC music
files. If the user's music or video files are not in the correct format, then
they will need to be converted to one that the 442 can recognize, unless the
Neuros is simply being used as a portable hard drive to transfer files from one
PC to another.
The Neuros recognizes MPEG4, DivX 3.11/4.0/5.0 and WMV v9 video files. Those
that have their video files stored in a different format should use the included
Ulead Video Toolbox software to convert the files to either MPG4 or DivX.
• 40 GB hard drive (stores up to 10,000 songs, 20,000 high resolution
images or 150 hours of video): The included 40GB should be sufficient to
store the a fair large digital video or music library, but those that have even
greater storage needs might be interested to know that there is info on the
Neuros site regarding a future 100GB version. Interestingly enough,
Neuros has an incredible upgrade program,
which is
detailed here . The gist is that for $99 the currently owned 442 may be sent
in and exchanged for the newest version when it comes out, or it can be
kept, and instead the current owner can enjoy a huge discount on the next
version. I have never seen such an offer from any hardware manufacturer –
it reminds me of the half-price trade-up that

Dooney & Bourke used to offer back in the day, which really kept
their customers l-o-y-a-l.
• A 3.6" TFT LCD screen to view MPEG-4, DivX, and WMV9 videos: The screen
is beautiful and the video playback is clear. As I mentioned before,
there are no stops and sputters, and I have not noticed any pixilation of the
display.
• Record Video in MPEG-4 format directly to the device – no PC required:
Because the 442 is a recorder as well as a player, it can be connected directly
to an audio or video output with the included a/v cables, and used to collect
content for later replay – whether it be audio or video. The addition of an SD
card slot also allows the Neuros to also be used as a digital camera photo dump
– assuming that the camera uses SD cards.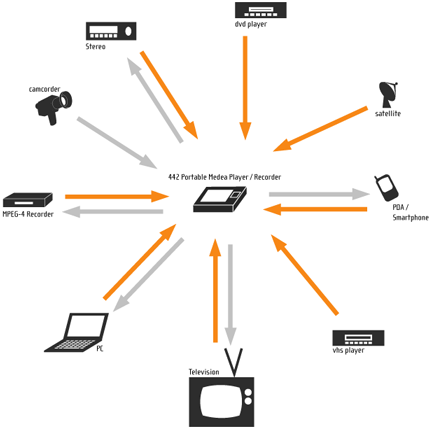 Photo courtesy of the Neuros site
When video recording is desired, the PVR function should be chosen from the
main menu…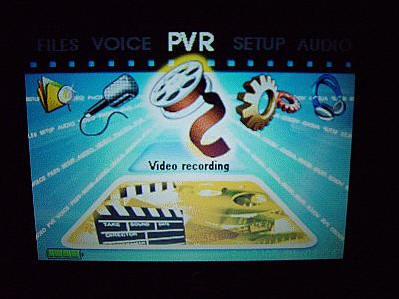 …this will lead to a screen which directs the user to press Play to begin
recording. Before beginning, various recording settings can be accessed through
the Menu button.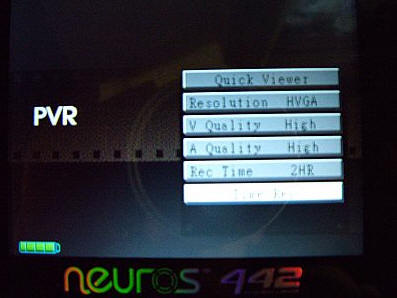 Notice that the record time can be set to go from 30 minutes up to four
hours. The PVR can also be set to record at a future date and time.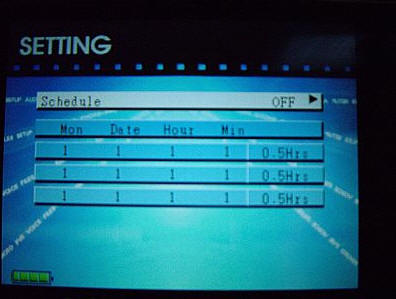 Here is our kitchen TV / DVD player, which I connected to the 442 with the
included RCA cables. The complete setup took about two minutes – literally. The
three color-coded ends of the A/V cable went into the Line Out jacks on the back
of the TV, and the single jack went into the 442's Line In jack. As you can see,
recording of the latest breaking news has commenced…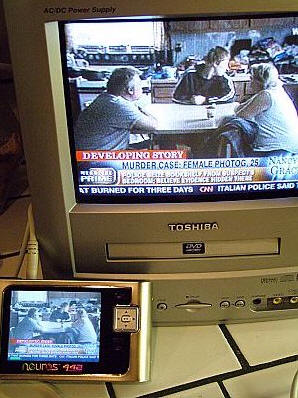 It would be a simple matter for me to insert a DVD and then record the output
directly to the Neuros. Video that is recorded in this manner plays back
flawlessly, each and every time.
• Watch video and photos on the built in screen or output to your TV:
Navigation on the 442 is not quite as intuitive as I would like, nor is it as
satisfying as I had hoped. Video folders are reached by selecting the Video
feature from the main menu. Once that selection is made the user is presented
with a window showing Music, Photo, PVR, Video and Voice as selections, but the
only choice that will work is the Video one. It would have made more sense for
none of the other options to be displayed.
I thought that perhaps I was missing a feature, and that if a photo was
stored directly in the Video folder it would show up as such under the Video
directory, but the file management system was not able to see it at all. But I
digress…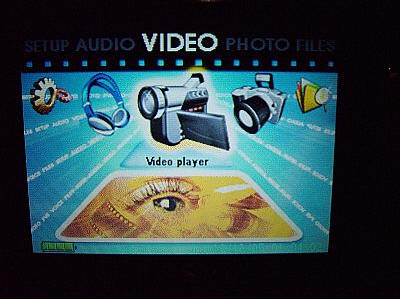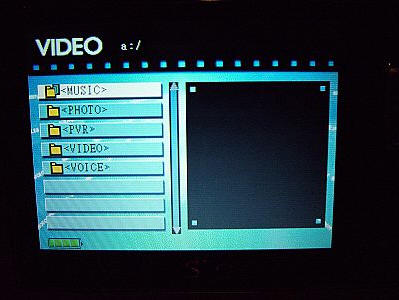 Once inside the Video folder, subfolders and interior files are displayed.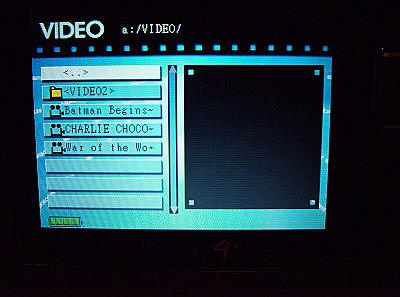 The screen is easy on the eyes, and while it is not as high resolution as my
iPAQ 4700's, it does look very good. These photos from playing movies were taken
at about 1" away from the 442's screen. When watching video in "real life", the
pixels are not anywhere near as evident.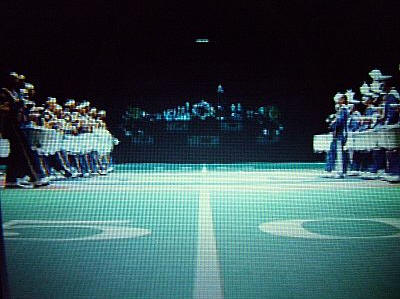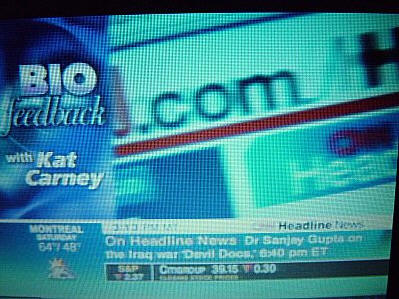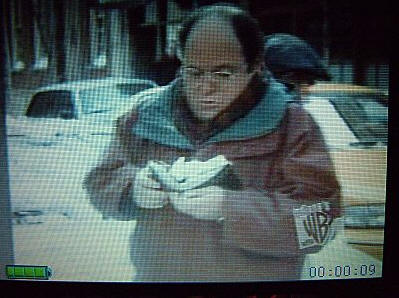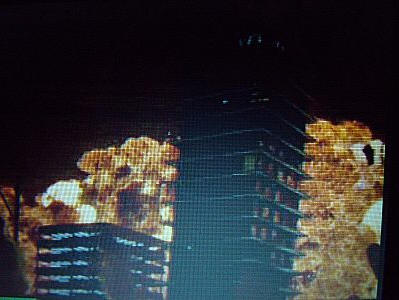 Once again, I want to reiterate that video playback is extremely
smooth – there are no staggers or stutters whatsoever.
However, I did find one problem: When viewing movie files which I had
previously converted for the

Datexx Pavio's review to DivX from WM format (using Dr. DivX), the audio and
video tracks would pop out of synchronization shortly into each movie.
Just to make things interesting, these exact DivX movies play with perfect
synchronization on the Pavio as well as on my desktop PC.
What made this extra frustrating was that the pre-loaded video clips on the
Neuros played beautifully. If I had never attempted to convert my own movies to
the proper format, I would have never had any problems.
I later converted five movies from WM format to MPG4 using the included Ulead
software, and I encountered a new problem – no audio with perfect video. Three
of the videos even displayed an "Unsupported Format" notice before they started
playing – video only with no audio. Just to be sure that my newly created files
weren't corrupt, I played each movie directly from the Neuros onto my computer
and each had perfect sound. <sigh>
I have got to say that I am generally a very patient person when
trying out a new product, and I will work with it somewhat doggedly until I get
it to function correctly – but that is hardly ever the case with the average
consumer. Most of them will give up after one or two tries, cussing the product
as they ship it back for a refund. :0/
With that said, I next tried converting one WM movie to DivX using the
included Ulead software. This time, the movie was replayed on the Neuros with
both video and audio – and the sound was synchronized with the picture!
Okay, so what have we learned here today? Ulead converted MPG4 movies…bad,
Ulead converted DivX movies…very good. Alrighty, then!
I honestly think that the most bullet-proof way to transfer a movie onto the
Neuros is to hook it directly to the analog source and begin recording, as I
previously discussed in the PVR portion of this review. Thankfully this method
works flawlessly.
In any case, assuming a properly formatted movie is playing…
While a movie is playing, the menu button can be hit which will bring up the
equalizer screen and screen brightness options. While watching a movie, I found
that changing the equalizer settings did not seem to have any effect, but for
the most part that was no big deal as the movies already sound fine as they were
recorded.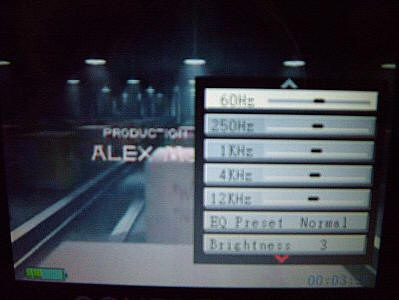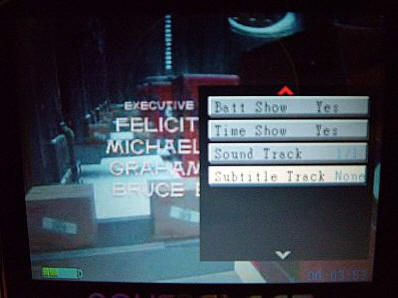 Something that may cause concern for some users is that there is no way to
bookmark one's place in a video. If, for instance, the 442 is paused in the
middle of a movie – but then the user has to back out and turn off the device,
there is no way to save their place. It is possible to advance or reverse a
movie at speeds ranging from x2 to x16, or x-2 to x-16. This does help to get
back to one's place somewhat quickly.
This is as good of a time as any to say that I have not found an easy way to
turn the 442 off when inside the Video and Audio functions. Picture this
scenario – I'm watching a movie which I need to pause. After hitting the Play /
Pause button I realize I need to turn off the device. It would seem that I could
hit the power button at this point and it would turn everything off, but instead
I have to hit the back button five times to get to the main menu screen,
where I can finally turn things off. It would only be four times if I didn't
have an SD card inserted, but there is one. One less click is needed to turn off
the device when listening to audio. This just doesn't seem very user-friendly. I
would like to see a firmware upgrade that allows the user to get back to the
main menu screen by pressing and holding the Menu button – or something along
those lines.
Photos may also be displayed either on the 442 or upon a larger monitor when
the 442 is connected with the included A/V cables.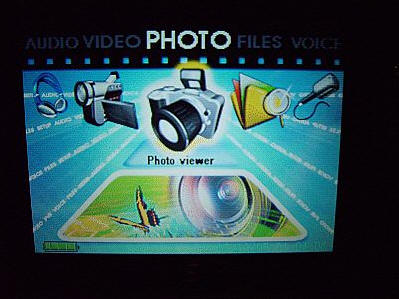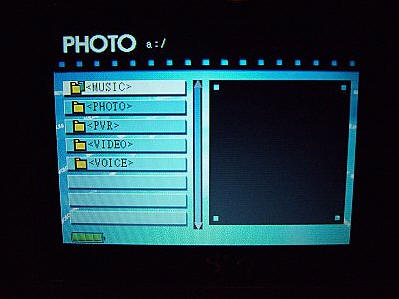 Pictures will advance in slide show fashion, every couple of seconds.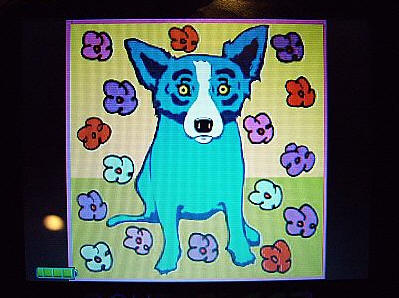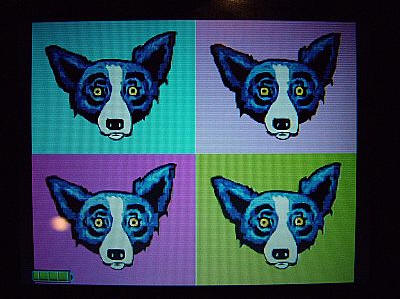 If files are stored on an SD card, they can be moved to the main hard drive –
but it is a little bit tricky to do so. First the File Management option should
be chosen from the main screen…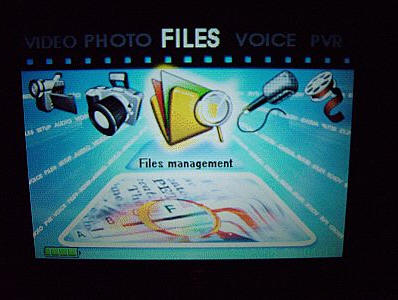 Once inside, a:/ will be shown as both locations, a:/ being the hard drive.
To get to b:/, the back button must be hit, which will reveal the option of
using that drive. This seems a bit backwards and klutzy.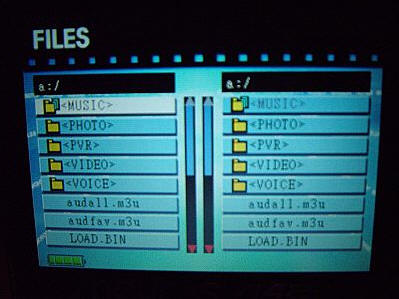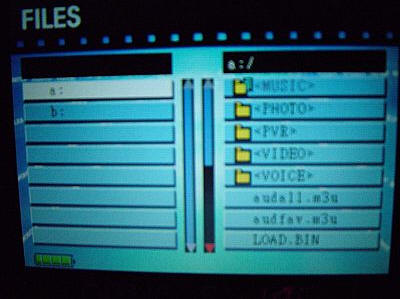 Items that I wish to copy are selected by scrolling to them individually and
then hitting the Play / Pause button which causes a tick to be placed next to
each of them. They may then be copied to the other drive. Should I desire to
then delete them, I would need to individually select them all again and chose
that option. This can become a bit tedious when there are many files to
work with.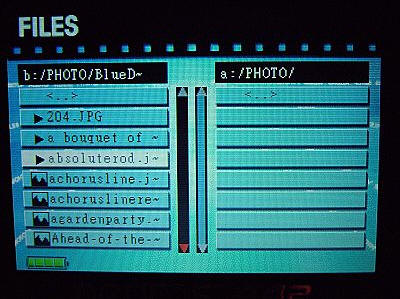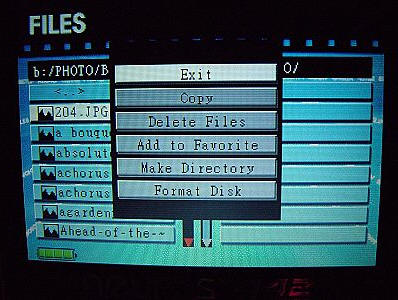 • Fully featured digital audio player: The sound produced by the 442
is surprisingly excellent – I would venture to say that it is more pure
than that produced by my iPod. With that said, navigation in the audio area is
just as klutzy as it was to the Video area.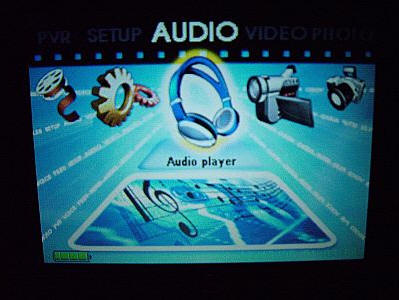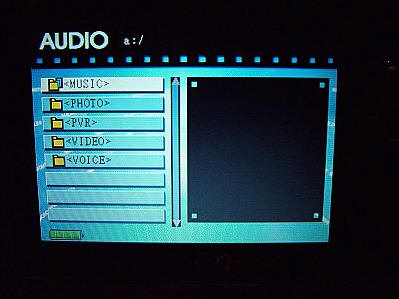 The next screen shows the available songs in the folder, and before the music
is begun, the menu can be pressed which allows the options of repeating music,
playing it randomly, etc. Individual music files may be deleted, added to the
playlist, etc.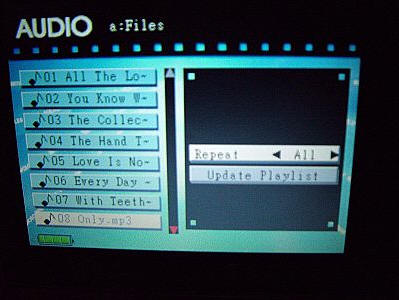 Music may be stored in one large common folder, or in separate folders
designated by album title, artist, or playlist name. Once a song has been
selected, hitting the Menu button will reveal the screen which shows the
adjustable equalizer; there are also five preset equalizer settings.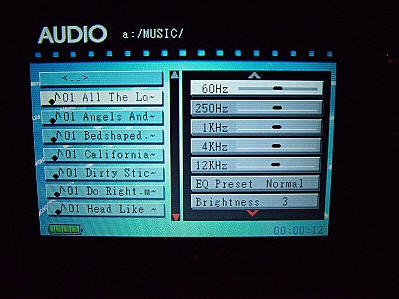 The screen brightness may be adjusted at this time, from one of five levels.
The user can also designate whether they desire the battery icon to show on
screen, as well as the time in the track.
If the song was recorded with tags intact, they will show as it plays. If
not, then there will be a dark area. This seems like such a waste of space…why
can't there be an album art display, or a graphic equalizer, or some trippy
fractal display…ah well.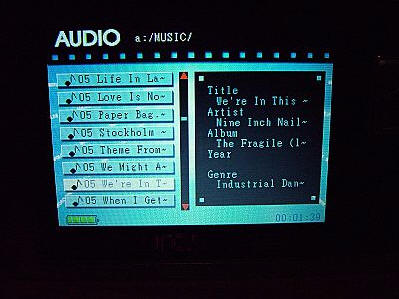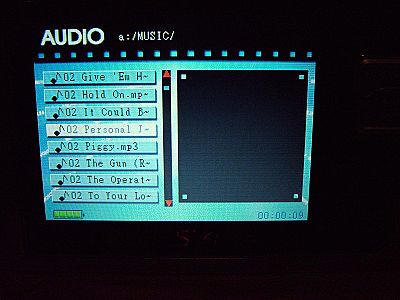 The music player feature of the 442 is much more feature-laden than the

Datexx Pavio's, which I recently reviewed, but it is still not quite as nice
as I expected. However, it is certainly adequate.
• Battery life: up to 5h video and 9h audio in continuous use: Battery
testing of the 442 while using it as a digital music player was started at 9:00
am and the device died at 5:47, which gave 9 hours and 47 minutes of playback.
Of course I was occasionally fiddling with the player while doing the testing,
which caused the screen to turn on for short periods of time. Had I not been
doing that, I might have squeezed out a full 10 hours.
Battery testing of the 442 while using it as a digital video player was
started at 6:00 am the following day, and the device died at 11:15am, which gave
5 hours and 15 minutes of playback.
I am impressed that the battery actually lasted longer than it was
advertised, as that seems so seldom be the case. Because the battery does last
long enough, it is possible to watch two full movies on a single charge, which I
consider to be excellent.
Included software:
The Neuros 442 ships with Ulead Video Toolbox, which will convert various
video file formats to either MPEG-4 or DivX.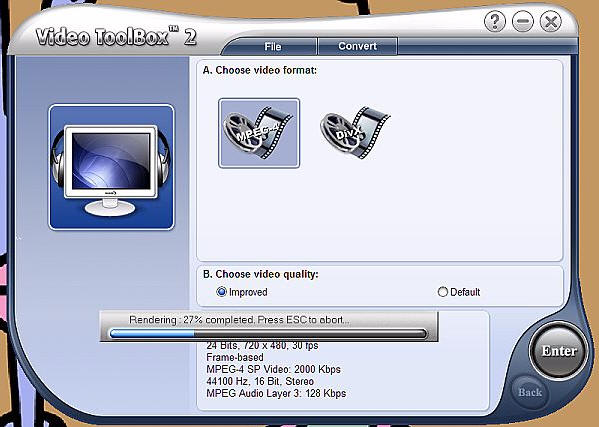 Conversion can take anywhere from half an hour to several days, depending
upon the amount of video being converted. Because the software is able to handle
the conversion of more than one file at a time, I set it to convert five full
length feature films from Windows Media to MPEG-4, and it took a full 28 hours.
The conversion of one WM movie to DivX
took four hours.
Many of the issues, both positive and negative,
that I have experienced while testing the Neuros are discussed in their
442
Forum and in the
442 FAQ. I
like the Neuros' hardware very much, it just seemed like the software wasn't
quite "ready" yet. While I am certainly not saying that it is unusable, it is
definitely not particularly intuitive nor does it quite feel "finished". The
good news is that because it is an open source project the glitches I
encountered and the portions of the UI which I found klutzy should eventually be
remedied.
The Neuros is extremely easy to hook to an analog audio / video source, and
recording directly to the device is a breeze. Playback looks and sounds great on
this solidly built device, and once the user learns the rhythm of hitting the
various button combinations to get where they want to be, it is not so
hard to navigate. But perhaps the best feature of the Neuros is the community of
people, developers and consumers alike, which are working together to create an
ever improving product.
The current version of the 442's users' manual
may be
found here.
Product Information
Price:
399.99
Manufacturer:
Neuros Audio
Requirements:

Win 98/ME/2000/XP, Linux kernel and later, Mac OS X and later

Pros:

442 device feels solid and is well-built
Excellent audio and video playback quality
Easy to record from analog audio / video sources
Good battery life

Cons:

Non-intuitive UI
Converted video had major "issues"