We use affiliate links. If you buy something through the links on this page, we may earn a commission at no cost to you. Learn more.
The N-Series is a new (in 2005) line of high-end multimedia phones from Nokia. The N90 is targeted at photography and video, with a 2.1 megapixel camera and a design tailored for imaging.
Opening The Box
The N90 box is filled with a variety of items: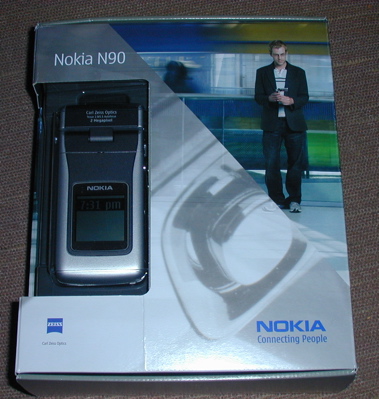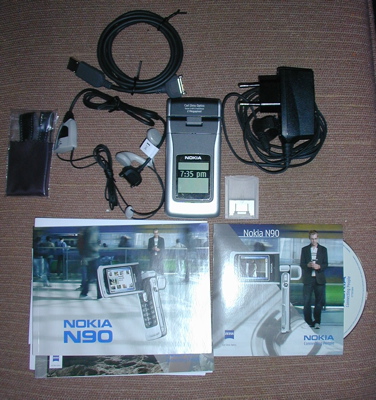 N90

Phone
Multi-voltage AC adapter with European plug (AC-4E)
Charging adapter CA-44 for use with standard power accessories
64MB RS-MMC memory card and adapter for full size

MMC

slots
Stereo earbuds with microphone

USB

cable
Wrist strap
Nokia PC-Suite for Windows 2000/XP
Manuals and documentation
The N90 does not use the 3.5mm power jack common to most Nokia products, but rather a smaller 2.0mm jack. To plug in a standard Nokia AC adapter or car kit, you will need to use the CA-44 charging adapter. Extras cost about $8, in case you need one for home and one for the car. Alternately, the supplied AC adapter will work with American power if you attach a Euro-to-US plug converter; these cost about $5 at Radio Shack.
Hardware Specifications
The N90's hardware specifications are worthy of its positioning:
EGSM 900

/1800/1900,

GPRS

/EDGE (max 236kbps down, 118kbps up)

WCDMA

(UMTS) 2100 (max 384kbps down, 128kbps up)
Series 60 (Symbian) operating system
31MB internal memory
RS-MMC card slot
352×416, 256k color main display
128×128, 4096 color external display

USB 2

.0 high speed port
Bluetooth 1.2
Up to 10 days standby
Up to 4.5 hours talk time
2 megapixel (1600×1200) camera with

LED

flash, autofocus, macro, 20x digital zoom
Carl Zeiss optics
For those of us in North America, the lack of 850 MHz support in the N90 may be a problem. T-Mobile uses 1900 MHz exclusively, so the only thing you might miss out on is a bit of roaming coverage; Cingular, on the other hand, uses 850 MHz in many areas. Perhaps Nokia will eventually release a North American version of the N90 with 850 MHz support, but unless and until that happens I don't recommend it for Cingular customers.
Likewise, the 2100 MHz band is not currently used in the USA, so the N90's UMTS support doesn't work here. EDGE is available from both T-Mobile and Cingular, and may come close to broadband speeds, however.
Physical Design
The first thing I noticed when I took the N90 out of the box is its heft. At over six ounces, it feels more substantial than most phones. Closed, it is large for a phone, though not overly so, and its boxy shape seems deliberately designed to evoke a camera-like feel.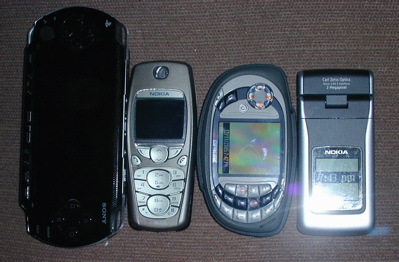 (Left to right: Sony PSP, Nokia 3595, Nokia N-Gage QD, N90)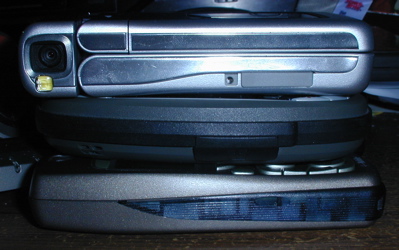 (Top to bottom: N90, N-Gage QD, 3595)
Although the N90's design is based on a typical clamshell layout, it has three parts instead of the usual two, with the top and bottom flaps hinged separately to a rotating lens barrel. It opens into three basic configurations: phone, still camera, and video.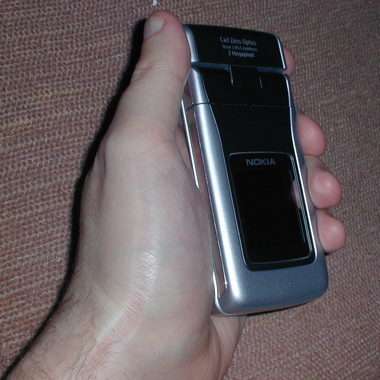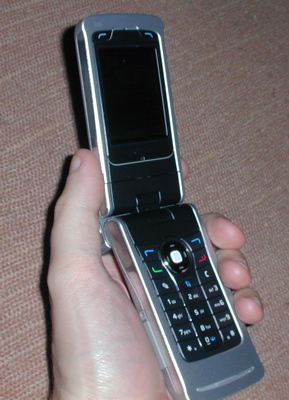 When you open it to talk, the N90 is quite long and will reach from the ear to the chin of almost anyone. The presence of the lens barrel feels unusual at first but is not hard to get used to. If you hold the phone in your left hand, it is very easy to accidentally put a thumbprint on the lens, until you get used to avoiding it. (The actual lens is behind a piece of clear plastic, so this is, at worst, a minor annoyance.)
To take still images with the N90, you leave it closed and turn it sideways like a compact camera, twisting the lens barrel outward. In the video configuration, you open it halfway and twist the display, so that you can hold the phone upright with the lens pointing away from you. This is easier to show than to describe, so check out the pictures below to see the various ways to hold the N90.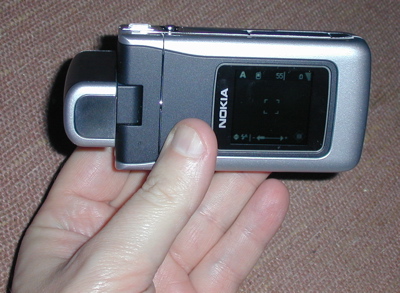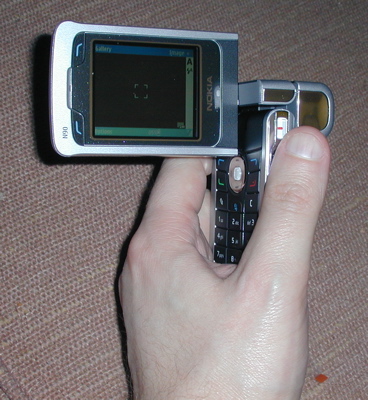 The following pictures show the controls on the sides of the N90. On the left are the camera lens, charging port, and Pop-Port (under a rubber cover). On the right are the memory card slot (behind the metal door) and camera controls (joystick and shutter button).


The external display on the N90 is almost as big as the main display on some cheaper phones. Not only can it have wallpaper, but you can read incoming text messages and answer calls on it without ever opening the phone.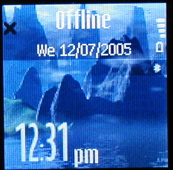 Imaging and Video
The stand-out feature of the N90 is its camera. With a Carl Zeiss f/2.9 35mm (equivalent) autofocus lens and 2.1 megapixel (1600×1200) sensor, the N90 is in a photographic class above most other camera phones. Its physical construction and built-in software are designed to make it feel and act more like a real camera than most of the competition.
For still photography, you don't even have to open the lid. Flip the lens barrel out, hold the N90 sideways, and it looks and feels almost exactly like a compact camera. The camera software activates almost instantly, the cover display becoming an electronic viewfinder, and you can control many of its settings with the tiny joystick next to the shutter button. As on most digital cameras, you can press the shutter halfway to lock exposure and focus, or just press it all the way down to take a quick shot. You can flip the lens, take a picture, and put the N90 back in your pocket in a few seconds.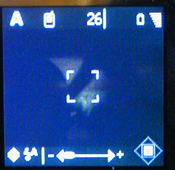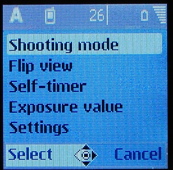 Opening the N90 and twisting its main display around into the "camcorder" position also starts the camera software quickly and automatically, but with a different user interface tailored to the larger screen. In this configuration you can access all of the camera settings, record stills or video, and view the gallery.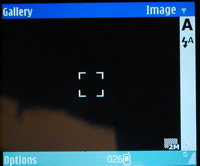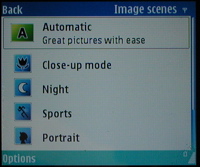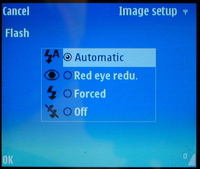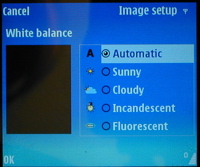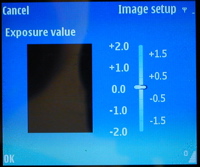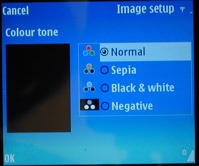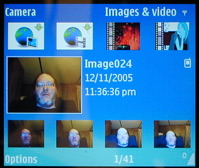 In either configuration, the camera software is intuitive and very much like what you would find on any other digital camera. I don't have a lot of experience with other camera phones, but I have a hard time imagining that any of them are more convenient than the N90.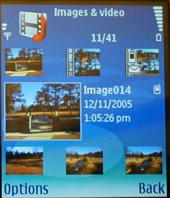 The quality of the N90's images seems to be reasonably good. I took a couple of outdoor test shots, which you can see below along with similar shots taken with a Nikon Coolpix 800 (which is also a 2.1 megapixel camera) immediately afterward. The Nikon images were taken at minimum zoom (roughly equivalent to the fixed focal length of the N90's lens) with default, automatic settings for white balance and exposure. (Note: click on the images to see the full, unedited versions.)
First, the images from the N90:
And the ones from the Nikon:
The N90's images are, by comparison, very warm. Interestingly, if I apply iPhoto's automatic enhancement filter to the Nikon images, the colors become comparable to the N90's unedited output. The difference may be a matter of preference; I happen to like the Nikon's "coldness" better, but I suspect accurate color would be somewhere in between the two.
Next, here are a couple of self-portraits taken under normal room lighting by holding the camera at arm's length while sitting at my desk, the first with flash and the second without. Notice that even the flash shot is somewhat grainy, and shows blurriness due to camera shake.
Although full specifications for the N90's camera are not provided in its marketing literature, the EXIF data from these images can tell us a few things. The flash self-portrait is ISO 800, 1/8 second shutter—no wonder it's grainy and a bit blurry. The white LED "flash" simply cannot provide the same amount of light as even a small tube flash. This is a necessary compromise for a camera phone, but it is also a limitation to be aware of.
Based on the EXIF data of all the images, it appears that the N90's camera has a fixed aperture of f/2.9, sensitivity from at least ISO 250 to 1000, and shutter speeds from at least 1/8 to 1/2500. According to the manufacturer's specs, it focuses down to 10cm. All things considered, this is an impressive amount of photographic flexibility for a camera phone.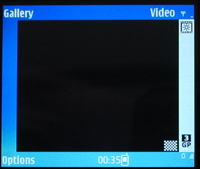 The N90 can record video as well, although only at a relatively low resolution (352×288, 15fps). Three video quality levels are available; the highest uses the MPEG-4 codec, the lower two use 3GPP and are suitable for e-mail or MMS messaging. Here are some short (10 second) videos in all three formats, so you can see the difference:
[1.1MB MPEG-4]
[212KB 3GP]
[112KB 3GP]
(Note: The N90 does record sound with its videos; if the samples seem not to have audio, it is because there wasn't anything but wind noise to record.)
Software
Like many of Nokia's other models, the N90 is based on the Series 60 (Symbian) platform. Though the Series 60 platform is not quite at the same level as the Palm or Windows Mobile PDA operating systems, it has better-than-average contact management, synchronization, and third-party application support. The N90 comes with an extensive set of software:
Contacts, Calendar, To-Do, Notes
Still and video imaging
Messaging (SMS,

MMS

, POP3 and

IMAP4

email)
Gallery (image, video, and sound clip management)
Movie Director (edit movie clips)
Kodak Mobile (share and print photos)
Voice Recorder
Adobe

PDF

reader
QuickOffice (read only access to Word, Excel, and PowerPoint documents)
RealPlayer
Image and video editors

MP3

and

AAC

music player
Symbian web browser
Opera web browser
Info Print (printing directly to Bluetooth printers)
Nokia PC-Suite for Windows (2000/XP)
Adobe Photoshop Album Starter Edition for Windows
Adobe Mobile Video Editor for Windows
The main display of the N90 has twice the resolution in each direction as most other Series 60 phones. Most of the built-in software, including all of the standard Symbian applications, uses the full resolution of the display, and it looks fantastic. Applications that don't expect a high resolution display will be scaled up, looking somewhat fuzzy but still quite usable. Taking pictures of an LCD rarely does it justice, but here are a couple of comparisons between the N90 and an older Series 60 device (the N-Gage QD, which also happens to have the ugliest color scheme ever inflicted on a phone):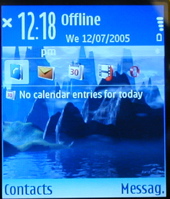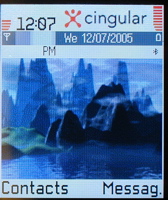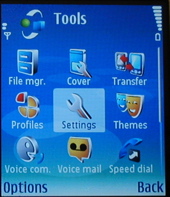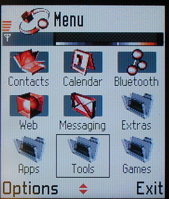 (First and third screens: N90. Second and fourth: N-Gage QD.)
And some more screens from the Symbian OS and software: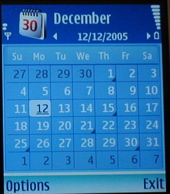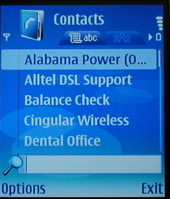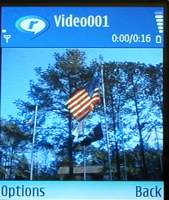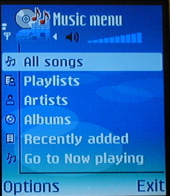 The review model also came with Nokia Lifeblog, which tracks all of your photos, calls, and text messages in a unified timeline which can be synchronized to your PC or to the web. It also includes an uploading tool which makes it easy to publish photos to a weblog or Flickr photostream.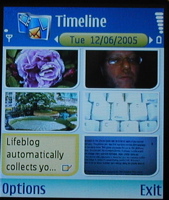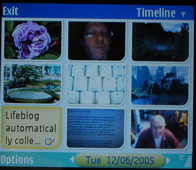 Using the
N90
Operating the N90 is, in most ways, just like using any other Series 60 phone. Therefore, my comments here will focus on new or interesting features not found in older models.
The first visible change from previous incarnations of the Series 60 system is that the home screen is more PDA-like, with a row of shortcut icons and a listing of upcoming events. Along with the usual two programmable buttons, this makes up to seven applications available without going through the menu, and given how much software the N90 comes with this is a welcome addition.
Another interesting feature of the N90 is its voice dialing, which is not based on prerecorded tags. Instead, it actually tries to recognize the names of your contacts, adapting to your voice the more you use it. While this is a nice idea, I was not able to make it work very well in practice. My impression is that it requires some training and tweaking before it reaches full accuracy, and I haven't had enough time with the N90 to do that yet.
One surprising omission from the N90 is the lack of a vibrating alert. Why Nokia left out such a fundamental feature is a mystery to me, especially given that the N90 is otherwise very well endowed.
PC Connectivity and Synchronization
The first thing I did after unboxing the N90 was to try to synchronize it. Pairing it with my PowerMac G5 for Bluetooth communication was as easy as usual, but iSync did not recognize the N90. This is a well-known problem, but since the N90 is a Series 60 device it is possible to poke at the innards of iSync to make it work. (The fix is relatively pain-free, but I don't recommend it for the faint of heart since it does involve changing files internal to Apple software.) This done, iSync installed its conduit on the N90 and loaded up my Address Book and iCal data without problems. Sending files in both directions with Bluetooth was also flawless, and significantly faster than with the N-Gage QD (also a Series 60 device) I use as my everyday phone.
Since I don't use Windows, I can't say much about the PC Suite software, except that it claims to handle synchronization, saving images, loading music, and ripping CDs. The PC Suite works with Bluetooth or USB 2.0 using the included cable.
If you are upgrading from another Series 60 phone, the N90 includes a "Transfer" application which uses Bluetooth to copy your contacts and settings from your old phone. It is far more efficient than using the SIM, because it copies the entire contact database including multiple phone numbers, addresses, and images.
Music
The N90 is capable of playing music, but not really designed for it. The built-in audio player handles MP3 and unprotected AAC formats, but there is no way to control it with the phone closed. A larger obstacle is the lack of a conventional headset jack on the N90; the supplied earbuds connect directly to the Pop-Port on the side, leaving no way to plug in standard headphones. If you want music capability in your phone, the N91 is probably a better choice.
Conclusion and Availability
My opinion of the N90 is mixed. There is a lot to love about it: a comparatively excellent camera, nice display, and a good software bundle, just to name a few things. My only complaints about its design are minor: lack of vibrating alert and a headset jack, and the different-than-usual power connector.
The lack of 850 MHz support is potentially a bigger issue, since it cuts out a big chunk of the American GSM market. It's not surprising that high-end devices like this one are available in European versions first, but I still hope that quad-band, instead of tri-band, will someday become the norm. (The N90 does everything else, after all.)
In addition to the usual GSM phone importers, the N90 is now (as of the 2005 holiday season) available in the USA through CompUSA and Ritz Camera, priced at $600 without contract.
Product Information
Price:
600.0
Manufacturer:
Nokia
Pros:

EDGE and UMTS (Europe only) for broadband-like data speeds
2.1 megapixel camera with more photographic flexibility than most camera phones
Physical design makes taking pictures fast and easy
MPEG-4 video recording
Series 60 (Symbian) smartphone OS
Lots of included software
Bluetooth and extensive PC sync support
Voice dialing does not require recording tags

Cons:

No 850 MHz support
No vibrating alert
No headset jack (must use data port or Bluetooth)
Needs adapter to use with standard Nokia power accessories
Big and heavy for a 2005 model
Not officially supported by Apple iSync yet
Expensive