We use affiliate links. If you buy something through the links on this page, we may earn a commission at no cost to you. Learn more.
Palm's newest entry level PDA is the Z22. Coming in below the sweet spot of $100, this PDA gives you all of the basic PIM (Personal Information Management) features that we've come to expect in a personal digital assistant, while leaving the power user features for the more expensive models. Unlike Windows Mobile device manufacturers, Palm has always given consumers the choice of price over features. We've yet to see a $100 Pocket PC. Of course, the Z22 isn't for everyone. It's a device for those of you that would like to dip your toe in the pool of personal organization without having to spend the equivalent of a car or house payment to do it.
Hardware Specs
Processor: 200MHz ARM-based Processor
Operating System: Palm OS software version Garnet v5.4
Memory: Total 32MB with 20MB accessible to user
Display: STN color 160 x 160 display with backlight
Audio: Speaker
Interface: USB (for HotSync operation), Infrared
Dimensions and Weight: 2.7 x 4.06 x .6in, 3.4 oz.
Power: 108-32 VAC/60Hz
Battery: 900 mAh rechargeable Lithium Ion (internal – non user removable)
Package Contents
Palm Z22 PDA
Stylus
USB cable
AC adapter
Graffiti 2 sticker
Software Installation CD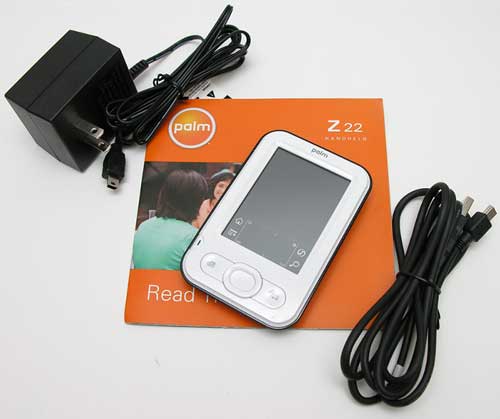 Despite the sub $100 price tag, the Z22 doesn't feel like a toy at all. It's a very solid PDA. Yes, it has a plastic body, but it did not disappoint me when I conducted the good old Gadgeteer creak / squeeze test. Nope, no flexing or rattling with this little guy.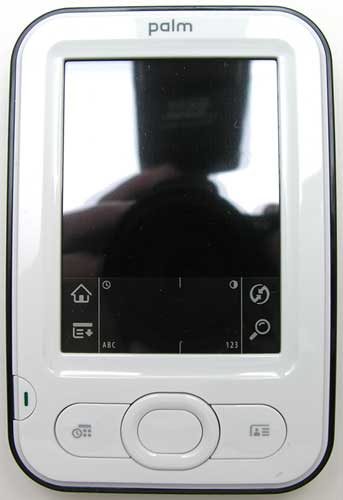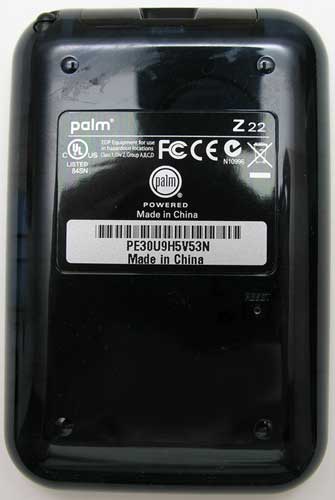 The Z22 bears a slight resemblance to an iPod, if only for the shiny white plastic face. I guess Palm just decided to go back to the shell color of their first Zire. The back of the PDA is a deep blue that you can vaguely see through.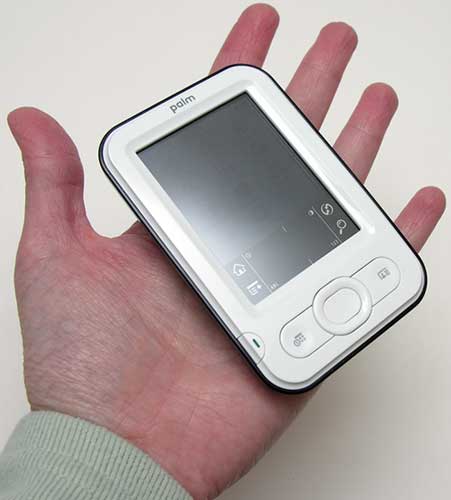 As far as size goes, this PDA is small and definitely very pocketable. The rounded back makes it very comfortable to hold in your hand for an extended period of time.
The face of the PDA has the display, power button, 4 way navigation button, select button, and 2 application buttons. All of buttons are made of hard plastic and have good tactile feedback. I didn't notice any response issues with the buttons like I had with the TX that I just reviewed.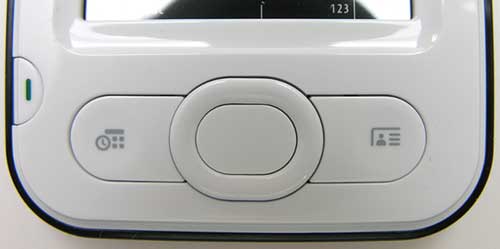 All of the buttons are flush with the face of the PDA, except for the 4 way nav button. I like the button shape as it allows your thumb to easy slide along the raised ring to scroll up and down, left and right. Makes playing games and reading eBooks easy :o)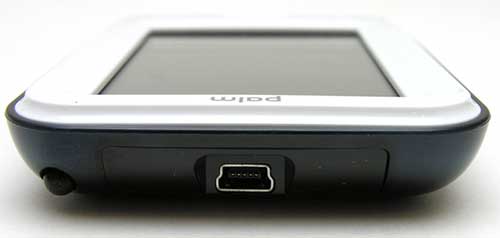 At the top of the Z22, is the stylus silo, mini USB connector and IR port. The PDA comes with a USB cable that you use to sync with your PC or Mac. This USB cable can also charge the internal battery. An AC adapter which also has a mini USB connector on it is also included for faster battery charging.
Regarding the IR port, I did some quick tests and found that the Z22 can send and receive data to another Palm PDA (my Treo 650) at up to 2 or so feet. Not too great…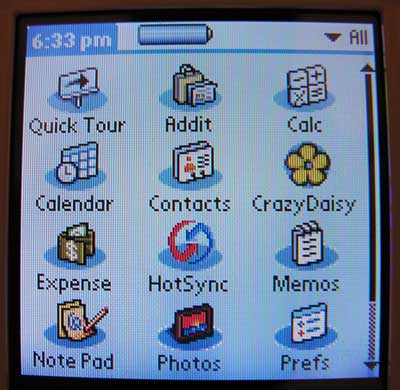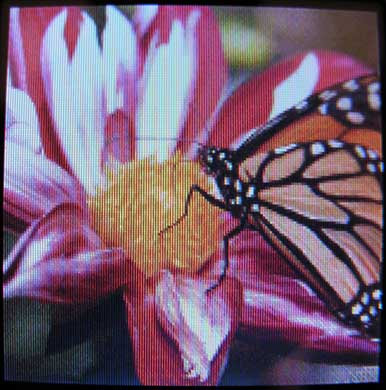 Application launcher and built in Photo application
The 160 x 160 pixel color display is small but readable. The backlight is bright and the colors are vivid. You do have to realize that the display is no where near as good as the more expensive Palm PDAs though. You can see the individual pixels, and sometimes the colors tend to bleed down the screen a little.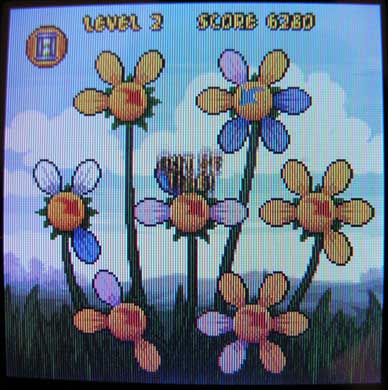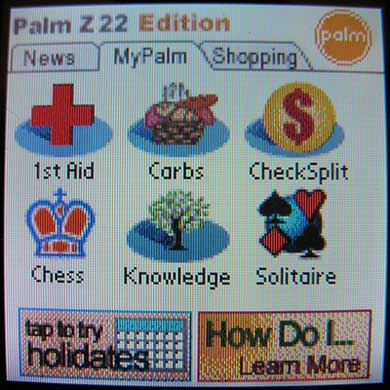 Crazy Daisy game and Addit apps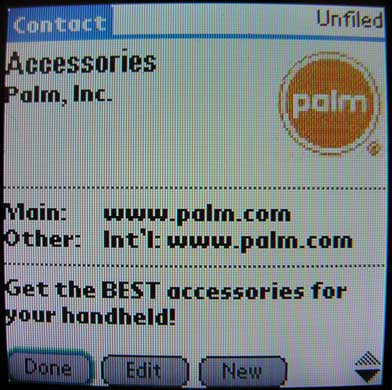 Contacts with photo
All of the pictures above were taken without flash. The Z22 screen isn't bulgy like it appears in the images. My camera seems to have a problem with skewing lines when taking macro shots…
Using the Z22 for PIM operations like addresses, appointments, memos etc was not painful at all. The 200MHz processor is reasonably snappy for those basic tasks and the 20 megs of memory is more than adequate for most people's info. If you think you'll want to use this PDA for reading lots of eBooks or for databases, you'll probably want to consider a model other than the Z22.
An important detail to note about the memory is that it is non-volatile. This means that if you forget to charge the battery and it completely dies, all of your information will not be lost. This is a great feature for beginning PDA users.
As far as battery life, Palm states that the battery should last around 5 days in between charges for normal use. So far, I'm finding that statement to be pretty much dead on.
Software
Included in ROM:
Addit software catalog with Chess, Carb Counter, Solitaire, 1st Aid and CheckSplit
Calculator
Calendar
Contacts
Crazy Daisy
Expense
Memos
Note Pad
Photos
Quick Tour
Tasks
Security
World Clock
Included on the CD:
Palm Desktop 4.1 for PC and Mac
Photos desktop software for PC & Mac
Power by Hand
eReader
PowerOne Calculator
SplashShopper
The software bundle isn't too sparse considering the price of the unit. You get all the usual apps, including a cute little Astraware game called Crazy Daisy. A few other games (Chess and Solitare) are included with Addit. Addit is an application offered by Palm in partnership with Bluefish Wireless that allows you to download 3rd party apps to your PDA. It requires a manager program to be installed on your PC. Right now there isn't a Mac version available.
Yes, the Z22's hardware is a really bare bones PDA. You don't get an expansion slot (SD), an earphone jack, Bluetooth or WiFi. But what do you expect for $99? What you do get is a solid little PDA with a color display, great battery life, 20 megs of available storage and a reasonably snappy little processor. The Z22 would be perfect for anyone that is anxious to check out what a PDA can do for them, without breaking the bank.
Product Information
Price:
99.0
Manufacturer:
Palm
Requirements:

Windows 2000 (SP4), Windows XP
Mac OS 10.2.8 to 10.4

Pros:

Less than $100 for a color PDA
Non-volatile memory
Small form factor
Easy to use

Cons:

No expansion slot
No earphone jack