We use affiliate links. If you buy something through the links on this page, we may earn a commission at no cost to you. Learn more.
Gadget Brando Gooseneck LED Flashlight
Have you ever needed to aim a bright light directly into an inaccessible
area, only to be stymied because your flashlight's head was too large or because
the item you needed to spotlight was not directly in front of the beam? Well if
so, have I found the answer for you…
Gadget Brando has released a
Gooseneck LED Flashlight
has a flexible 5.25" long shaft which can be twisted to aim in just about any
crazy direction.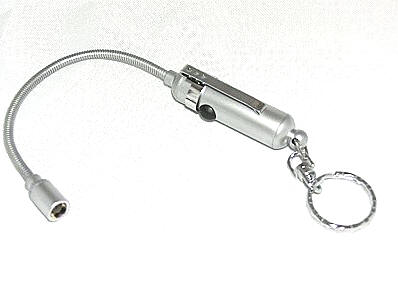 This LED flashlight measures 7.75" long and approximately 0.5" wide on the
handle. Its body and gooseneck are composed of silver metal, which gives the
torch a nice weight of 1.6 ounces.  The first set of three AG13 button cell
batteries is included.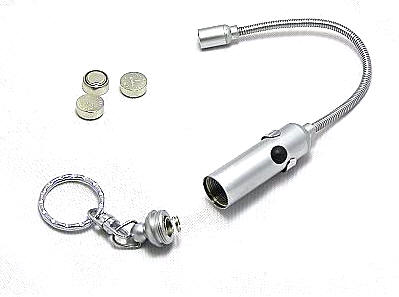 Pushing the black rubberized button turns the torch on or off and when
activated, a single bright white LED will shine. This light is strong enough
that it can be used as a flashlight in the dark, but its real purpose is to
allow the user to aim a beam in what would normally be hard to reach areas. The
beam is wide, and not too pin-pointy, which will allow the interior of something
with a very narrow opening to be illuminated.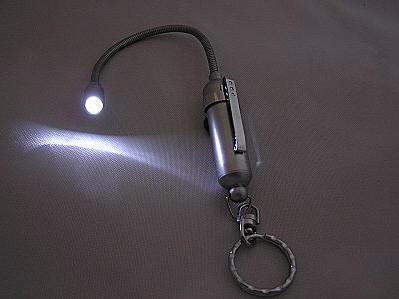 The torch can be clipped securely to the user's pocket, it can also be
attached to a keyring or worn on a lanyard.
The Gadget Brando
Gooseneck LED Torch is a great item to have on hand for those times when
something has been dropped into a sink drain, when a light is needed for finding
the last USB port on the back of a cable loaded tower, or really anytime
that a thin flashlight head will do the job better than its full-sized
counterpart. For this price, you can get one for all of your favorite Geeks. :0)
Price: $8.00
Pros:
Infinitely flexible gooseneck attachment which allows a perfectly pointed beam
Can be attached to the pocket, keyring or a lanyard
Cons:
None
Product Requirements:
Three AG13 Button Cells (included)
Product Information
Price:
8.0
Manufacturer:
Brando
Pros:

Infinitely flexible gooseneck attachment which allows a perfectly pointed beam
Can be attached to the pocket, keyring or a lanyard

Cons: