We use affiliate links. If you buy something through the links on this page, we may earn a commission at no cost to you. Learn more.
Back in 2001 I got the brilliant idea of buying a laptop that would replace
my desktop, which resulted in the purchase of the Gateway DS Solo 9550 XL. In
case you didn't catch it, the "XL" is on the end of that name for a reason; that
laptop was a beast. Measuring about 13" x 11" 1.5", it weighed somewhere
in the neighborhood of nine pounds. That was the tradeoff for a laptop
that ran with desktop specs (at the time) and upon which I could bring
everything with me when I traveled. The Solo had every type of connection
port, card reader and media drive that was available at the time, and for a
while, it was the perfect solution. But time passes, specs change and I
eventually bought a much smaller laptop as well as a desktop with more
impressive features than any laptop could offer. The Gateway was relegated to a
closet and basically forgotten.
Recently I decided that I needed an extra computer on my desk to handle an
ever-growing genealogy project. The small screen size of my Fujitsu kept it from
being a contender, as it would not be directly in front of me but would instead
be sitting about four feet away at all times. My eyes are good, but they aren't
that good –  I would not be able to easily read data from its screen.
That's when I remembered the Gateway, and its resurrection began.
Rediscovering the Gateway has been like being reintroduced to an old friend.
Its 15.5" screen has begun to dim a bit, its 1.1 USB ports give a "high speed
device connected" warning every time I use them, its hard drive is only the size
of an iPod's, and its rechargeable battery has long since died. However, once
plugged in it is snappy, reliable…and it was basically free when you consider
that I did not have to go out and purchase something new. Recycling at its
finest, right?
The side benefit to having an entire laptop solely devoted to my project is
that it is portable. When I travel with it to conduct research, I will be
bringing along everything that I might need for reference. The only
problem would be finding  the perfect laptop bag in which to safely tote
this dinosaur. Now sure, there are lots of larger sized laptop bags available,
but a special consideration in this case is the weight of my laptop. The bag
that I would have to be designed to comfortably carry this heavy
computer, its power cord (my battery's dead, remember), and other paraphernalia
without completely killing my shoulder.
Sometimes the universe will properly align, and it was just such an occasion
when Tom Bihn's VP of Marketing, Darcy
Hudgens, wrote to ask if I would like to check out the
Super Ego, their
new "super-large" messenger style bag. After looking at its specifications, I
realized that the Super Ego might be just what I needed.
When I opened its packaging, I was immediately impressed by the size of this
bag. It measures a generous 17" across, 14.5" tall and 6.75" deep, and weighs
about 2.5 pounds empty.
The Super Ego can be personalized to fit the owner's wardrobe or style. It's
available in several color combinations that refer to the main body, front
insets and the interior, namely: black/black/steel, black/black/deep blue,
black/steel/crimson, black/crimson/crimson, black/crimson/deep blue,
black/steel/wasabi, black/grape/deep blue and black/kiwi/deep blue. I was sent
the black/black/steel version which basically means that the exterior is all
black and the interior is a deep gray.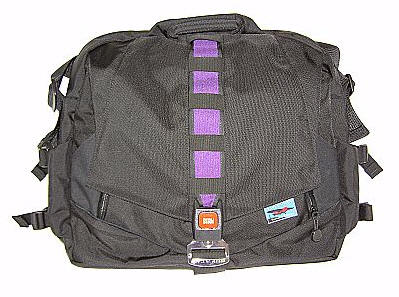 As a further method of personalization, there are optional strips available
in several different colors and materials that can be inserted into a special
Velcro lined receptacle running down the middle of the front flap. The entire
length of the soft loopy material on the back of the strip bonds to the long
strip of Aplix / Velcro, and the strip is reinforced by five cross-bands.
Never miss one of our posts again. Sent MON, WED, and FRI with the latest gadget reviews and news!
Available in nylon fabric are strips of steel, plum, olive, deep blue,
crimson and wasabi. Blue glitter and grey glitter strips are available in
Naugahyde, and there is also a yellow vinyl strip that is perfect for those who
might like to affix small stickers or write on it with a Sharpie. When you order
your bag, the first strip is included and there is an option to order other
colors at that time.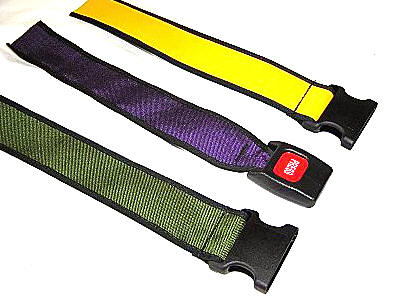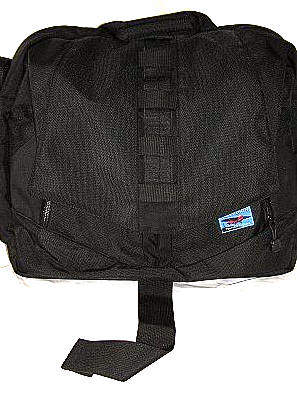 Three loose strips, the bag with no strip in place – hence no
closure system
One a color strip has been placed in the Velcro lined receptacle, it becomes
the front strap for the bag. The basic strips have a heavy duty plastic
snap-lock buckle on their ends, which is very easy to secure and won't come
undone until both sides are intentionally squeezed.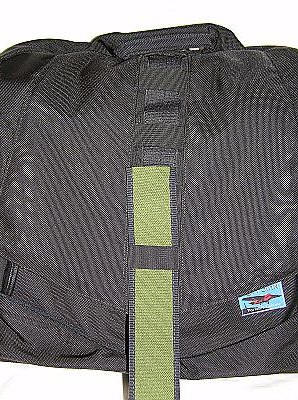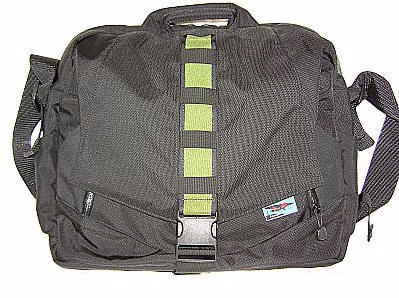 I was sent three different color straps to try, and one of them included the
optional seat belt buckle on its end. Just as it's name implies, this buckle
system is essentially a metal seat belt with a metal and plastic buckle
assembly. It looks really cool, but the downside is that it will add an
additional pound.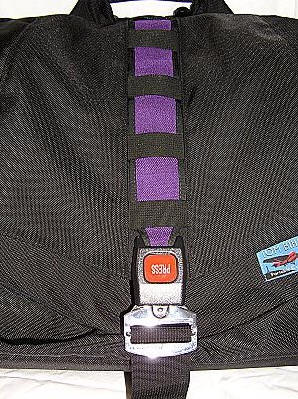 The only branding on the exterior of the bag is the sewn-on blue "Tom Bihn
Portable Culture" retro airplane tag. Depending on how empty or full the bag
happens to be, the label may or may not be displayed in its entirety.
The Super Ego is constructed of 1050D Ballistic nylon and 500D Cordura which
has been coated with urethane on the inside and treated on the outside with a
water repellant. In addition, all of the zippers on the bag are a special YKK
Uretek "splash-proof" model. Therefore, the Super Ego is inherently water
resistant, although definitely not water-proof. The bag should be able to
protect its contents from a sudden rain, but not necessarily a complete
downpour.
Each side of the bag has a 6" tall x 4" wide elastic pocket with two
adjustable nylon straps for securing their contents or compressing the pockets
when they are not in use. Due to the open corners at the bottom of each pocket,
they are perfect for holding bottled beverages, but not small loose items.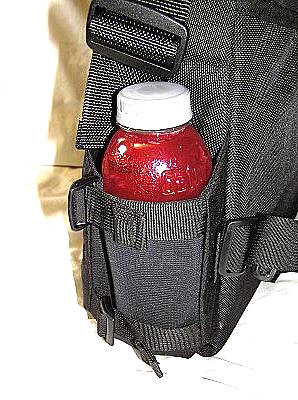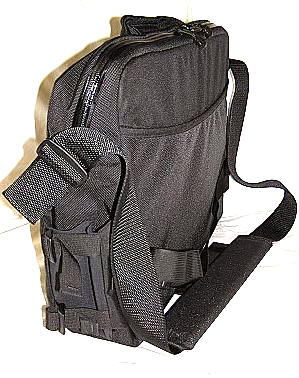 The top of the Super Ego has a 1" wide x 0.7" thick padded handle which is
perfect for those times when the owner's shoulder needs a rest or for when the
shoulder strap has been removed because a briefcase style is more appropriate.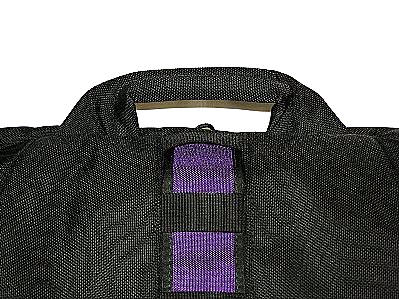 Speaking of the shoulder strap: Each end is secured by a loop which allows
the strap to be attached then sized to the users needs with the built in heavy
plastic sliders. The strap's ends are finished both by cauterization of the
nylon to prevent loose threads and with a 0.5" sewn-in fold. An added benefit to
the sewn in fold is that it will catch the buckle and keep it from ever coming
off the strap.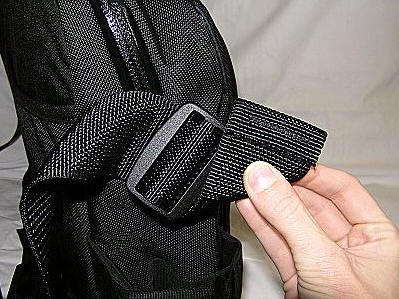 The strap itself is a comfortable 2" wide nylon webbing affair that passes
through a thick 11.5" long x 2.5" wide x 0.75" heavy foam filled shoulder pad.
The shoulder pad really helps to disperse the weight of the bag when it's
totally full.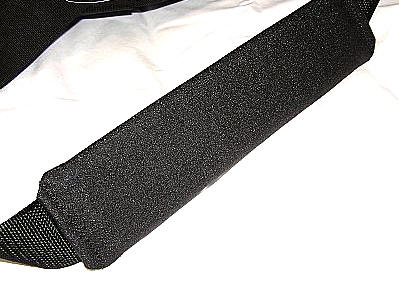 The back of the bag has a 17" wide x 10" deep slash pocket, perfect for
stowing a newspaper or magazine.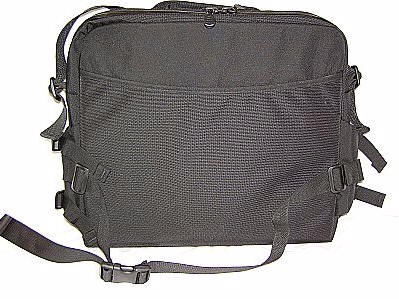 There is also a removable waist strap, because as versatile as the Super Ego
is, it is at heart a messenger bag. If you don't need the extra security of the
waist strap, then it can be removed. This strap is also finished by cauterizing
the nylon edges and with a sewn-in fold.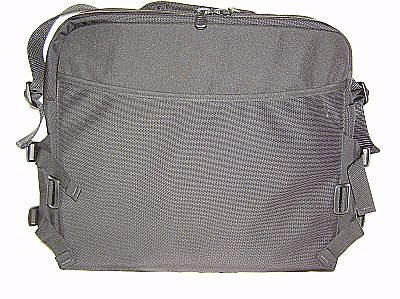 That's the exterior – now let's take a peak inside!
Undoing the buckle and lifting the front flap of the bag reveals two deep
pockets measuring approximately 5" tall x 5" wide¹,
which are perfect for those items that the user needs to have immediately
available. There is even a removable key clip, so that they don't either fall
out or fall to the bottom of the bag.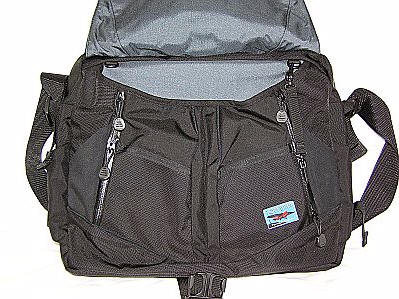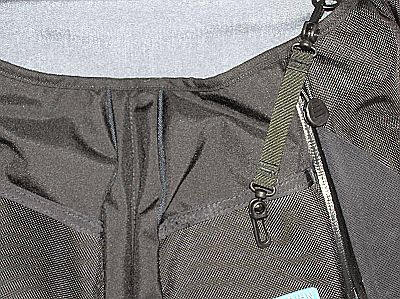 On either side of these two pockets are two more pockets, which are secured
with YKK #8 Uretek "splash-proof" zippers. Each zipper has two heavy duty pulls,
each with a 2" nylon cord attachment and plastic end for easy grip and access.
The interior of each of these two pockets measures approximately 8" tall x 4"
wide¹.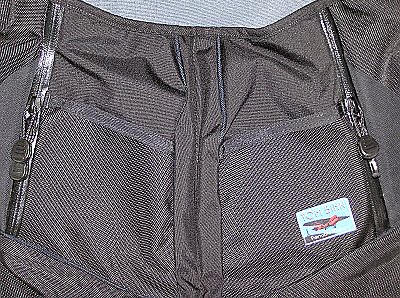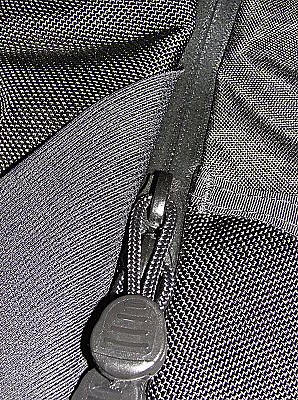 Behind this front pocketed section is a deep bin that measures approximately
13" wide and 11" tall. This bin is constructed in
such a way that when the bag is seated on the floor and the top flap is opened,
the pocket holds itself open in an easily accessible manner so that the owner
can pass their hand inside to either access the deep interior pocket…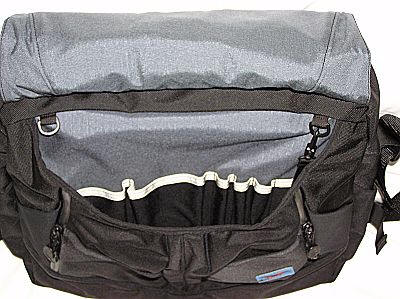 …or the row of special pockets present on its
back wall. Included are three pen or pencil pockets, one tall narrow pocket (a
ruler fits well here) and two more pockets which are each suitably sized for
stowing a PDA or a digital music player.
Exiting the front compartment of the bag, and
returning to the exterior top, there are two #10 YKK Uretek "splash-proof"
zippers running across the top edge, just behind the top handle. The zippers run
the entire 16" width of the bag and they meet in the middle. Each zipper has a
2" nylon and plastic pull.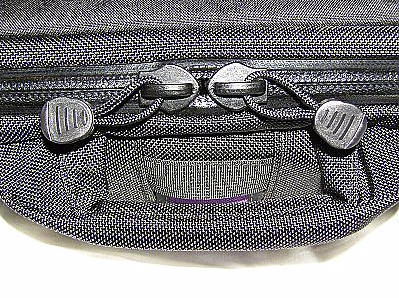 Opening this compartment, the first impression
is space…and lots of it!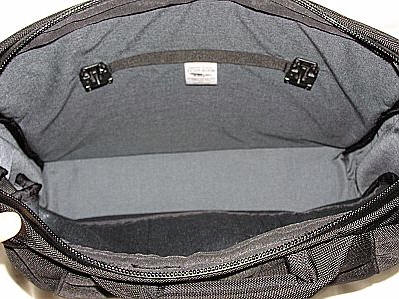 This enormous inner chamber measures
approximately 16" wide x 14" tall x 4.5" deep. The bottom and back walls both
are thickly padded with foam, so whatever is bring carried loose inside there
will be protected from shocks and other dings. This compartment is easily large
enough to make for a great overnight or weekend bag, if you are the type that
travels lightly.
Of course, the main reason that I was interested
in this bag was because it offers a way to safely and comfortably carry my
Gateway laptop.
The addition of a hard sided


Brain Cell laptop case to the interior of the Super Ego turns the bag into
the ultimate protection for any laptop. The idea behind the Brain Cell is a bit
unique, because not only does it offer a highly padded interior in which to
cocoon the laptop, but it also adds an interior sling which suspends the laptop
and works with the foam to offer even more protection. The Brain Cell is
designed to carry the laptop horizontally, as can be seen in the cross-section
below.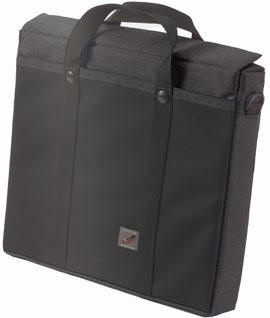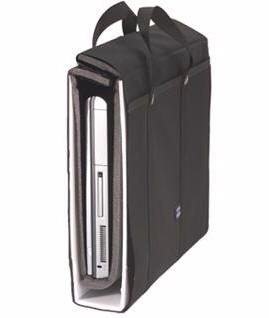 Pictures courtesy of the Tom Bihn site
Brain Cells are available in six different sizes so
there is a model that will fit just about every laptop ever made. The correct BC
for your particular model may be determined
here. Brain Cells are
available in solid black, crimson, steel, deep blue and wasabi. I was sent the
deep blue color in a size 2.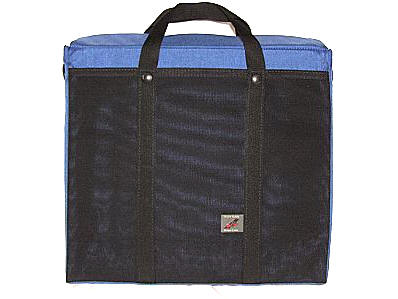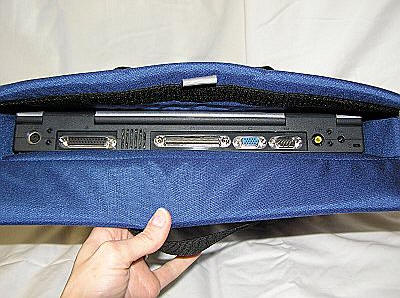 The size 2 Brain Cell measures 14" wide x 13" tall x 3"
deep. It has nylon strap handles on its front and rear, as well as loops on each
side so that an optional shoulder strap can be added when the user wants to
travel as lightly as possible.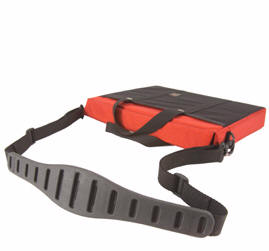 Photo courtesy of Tom Bihn
There is also an expandable mesh pocket on its front side for stowing loose
peripherals…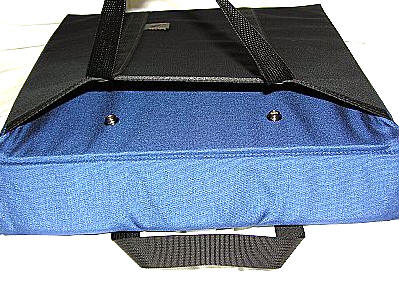 The Brain Cell is held closed by the use of a fat strip of Aplix / Velcro; it
is supposed to last longer than the traditional version.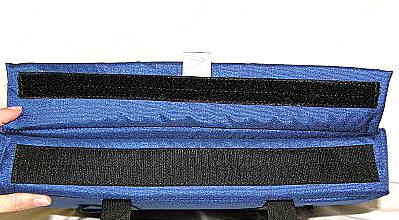 While it is possible to just slide the Brain Cell inside the Super Ego, zip
up the compartment and consider everything fine, that wouldn't exactly be the
Tom Bihn way. Instead, there are two plastic snap hooks located on the back wall
of the Super Ego that correspond to the loops on the back
side of the Brain Cell.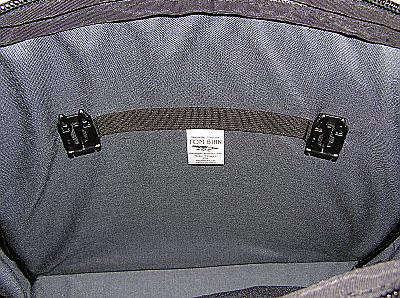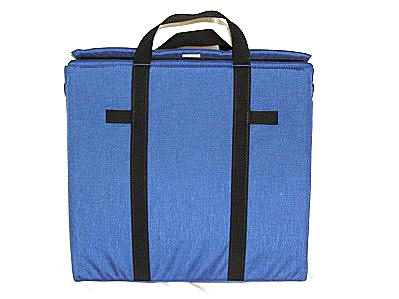 Depending upon the size of your laptop, there may or may
not be a lot of room left in the main compartment of the Super Ego when the
Brain Cell is in place. While my size 2 is quite large, you can see that there
is still a lot of room left; the size 5 that would fit my Fujitsu Lifebook would
leave even more room. On the other hand, the size 2XL Brain Cell that it would
take to hold a 17" laptop would virtually fill the compartment.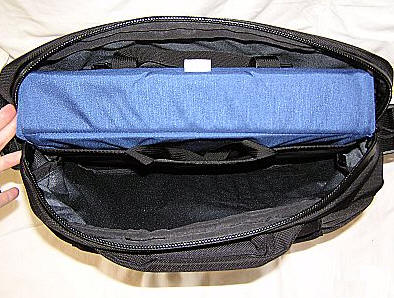 Overall, the Super Ego and Brain Cell combination is
just what I'll need when I am traveling and want to bring my Gateway laptop
along. While the bag is big, it is not cumbersome. Although nothing can lighten
the weight of my laptop, the shoulder strap and it's pad at least help make it
manageable. I can highly recommend the Tom Bihn Super Ego and Brain Cell
combination.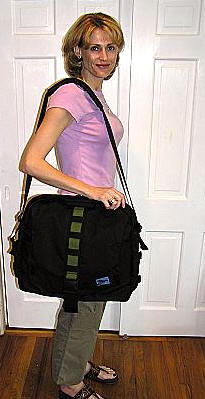 The Super Ego is a "super sized" bag – I am 5'10" for
reference
I am sure that by now it is obvious I am a big fan of this brand. I have
always found Tom Bihn's products to be extremely well made; no expense seems to
have been spared when selecting the superior materials from which their bags are
composed. Their products are designed by people who will actually use them, as
there are always little touches in a Tom Bihn bag that seem obvious at first,
but that had to be the result of careful planning. I am also glad to know that
even though the company has grown and is now well known enough to warrant their
own Snopes
mention, Tom Bihn bags are still mostly made in Port
Angeles, Washington by sewing crews that are paid a living wage. Bags not made
at their main workshop are manufactured under contract by people earning fair
wages in Minnesota, Montana and other locations in Washington State.
The Tom Bihn Super Ego messenger style laptop bag is
available here.
The Brain Cell is

available here.
You can view Tom Bihn's warranty

here.
Price: $125 for the Super Ego
Additional Super Ego strips are

available here for $5
Add a seat belt buckle to the first or second strip for $10
Brain Cells are $50 – $55
Add a Terra Grip strap can for $18
Pros:
Extremely well made with quality materials
Can hold even the largest laptops safely and comfortably
Choices of colors and front strips allow many personalization options
Well laid out interior with many pockets and zippered compartments
Can hold two beverages
Cons:
Expensive to totally dress it out – but the bag will last for many
years
¹ Measured at the
narrowest point
Product Information
Price:
125.0
Manufacturer:
Tom Bihn
Pros:

Extremely well made with quality materials
Can hold even the largest laptops safely and comfortably
Choices of colors and front strips allow many personalization options
Well laid out interior with many pockets and zippered compartments
Can hold two beverages

Cons:

Expensive to totally dress it out - but the bag will last for many
years
¹ Measured at the
narrowest point