We use affiliate links. If you buy something through the links on this page, we may earn a commission at no cost to you. Learn more.
Product Requirements:
Device:
Windows 2000 or XP, Mac OS X v10.2.6 or 10.3
palmOne has been in the PDA market for a
little over 9 years now. I think most of you will admit that they pretty much
started this 'revolution' that we know as handheld computing. Yes, I know there
were other handheld PDAs before the Palm Pilot 1000 and 5000, but none of them
took the world by storm like those first Palms did. In these past 9 years, we've
seen many evolutionary changes to palmOne PDAs. We've seen monochrome screens
turn into color screens, 128k of memory turn into 128mb of memory and so on.
Palm has been criticized by always coming out with new PDAs that only have
evolutionary changes instead of revolutionary changes. With their latest
offering, some may argue that the LifeDrive Mobile Manager is yet another such
PDA. The main new feature of this model is a 4gb microdrive built into it. It is
actually the first mainstream PDA to have this feature. So, is this an
evolutionary or revolutionary change? You will have to be the judge as I walk
you through this new device.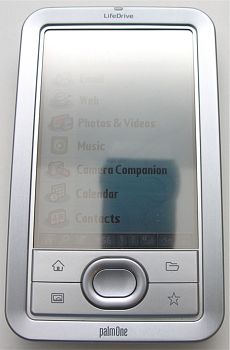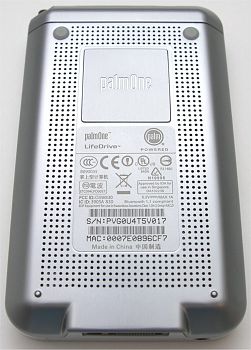 Hardware Specs
Processor: 416MHz Intel XScale Processor
Operating System: Palm OS software (Garnet) v5.4.8
Memory: 32MB on board RAM (for program caching), 4GB microdrive (3.85GB user accessible)
Display: TFT color display with backlight, 320 x 480, 16 bit color / 65,000+
colors
Interface: USB 2.0 (for HotSync® operation), Infrared, Bluetooth v1.1, WiFi
802.11b
Dimensions and Weight: 4.76 x 2.87 x 0.74in (121 x 73 x 19mm), 6.8 oz. (190g)
(including stylus)
Power: 108-132VAC, 60Hz US;100-240VAC, 50-60Hz Int'l
Battery: 1660mHa Lithium-ion polymer rechargeable battery (internal – non user
removable)
Expansion: SD card slot (Secure Digital), supports MMC and SDIO cards
Package Contents
LifeDrive PDA
Stylus
Leather slip case
USB cable with sync button
AC adapter
Graffiti 2 sticker
Screen protector
Read This First document
License Agreement
Accessories Catalog
Software Installation CD
My first impression of the LifeDrive was that it looked like the offspring of an
Apple Powerbook and a tablet PC. The top and bottom shells are made of aluminum,
with grey plastic sandwiched in between. This device is pretty large when
compared to most PDAs currently on the market. In hand it has a definite heft to
it. Although the LifeDrive is thick, the beveled sides allow it to remain
comfortable while holding it. As always, my first test with any handheld device is the
Gadgeteer creak test. So, I squeezed it, shook it, tried to flex it (gently) and
was impressed by its solidness. The casing does not flex or creak when squeezed.
The only noises I could generate were a few rattles from the side buttons when
shaking the device. Since I don't normally go around shaking my PDAs like a
maraca, I will say that the LifeDrive passed the test with flying colors.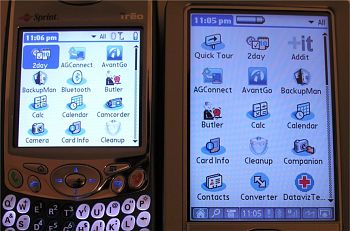 Left to right: Treo 650 on full brightness, LifeDrive on full
brightness
Never miss one of our posts again. Sent MON, WED, and FRI with the latest gadget reviews and news!
The main focus on the front of the LifeDrive is the display. The way the case
is constructed, it even frames the screen like a picture frame. While the
display is crisp and easy to read, on full brightness, the display is noticeably
dimmer than my Treo 650 when on full bright. Colors aren't quite as vibrant as
they could be. If I hadn't been using a Treo 650 for the past few months, I
might not even notice this…. but since I have,  I felt that I should put
that out there.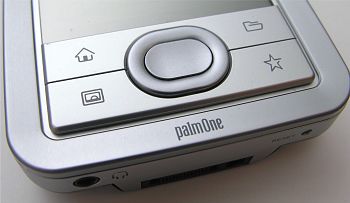 Below the display are the 4 main application and 5-way navigator button. The
application buttons are assigned to Favorites, File manager, Media and pTunes by
default. Of course, you are free to reassign them to any applications you
desire. The application buttons are large flat plastic slabs and have great
tactile feedback. The 5-way navigator button is oval shaped and made of metal (I
think…). The middle (select) button is smooth and concave. Surrounding it is a
ring that can be pressed up, down, left and right.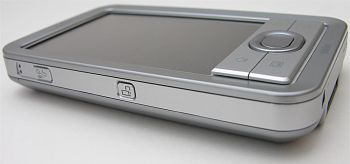 On the left side of the LifeDrive there are two square buttons. One that
toggles the screen from portrait to landscape, and one for the voice memo.
Holding the voice memo button will launch the app and initiate recording.
Recording stops when you let go of the button. Above the button are two small
holes for the microphone.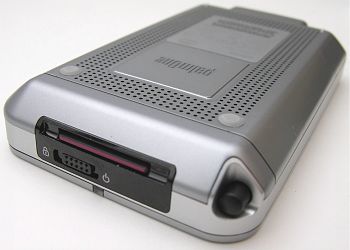 The top of the LifeDrive has the Power / Hold switch, IR port, SD slot,
status LED and stylus silo. When clicked all the way to the left, the Power
switch is in Hold mode. In this mode, button presses will have no effect. To
power the device on and off, you slide the spring loaded switch all the way to
the right and let go. I hate this type of power switch because it seems like I
never slide it far enough the first try to toggle the power status. I've taken
to using one of the application buttons for powering on the device instead.
The status LED blinks orange when the internal microdrive is being accessed
and blinks green when an alarm goes off. The LED glows amber while the device is
being charged. I assumed it would turn green when fully charged, but I've yet to
see this happen. It just remains amber.
The stylus included with the LifeDrive is identical to the telescoping
variety used with the Tungsten T series. This has been one of my favorite stock
styli used with a PDA, so I'm glad to see it here.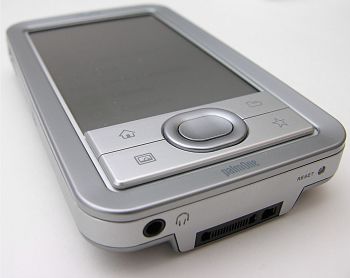 The bottom of the PDA has the 3.5mm earphone jack, hotsync port and reset
switch. This devices uses the same hotsync (multi connector) as current palmOne
devices. The LifeDrive ships with the same hotsync cable (with sync button) that
my Treo 650 shipped with. I'm disappointed that a regular cradle was not
included with this pricey PDA. That seems to be the trend these days and I don't
like it… Cables are ok for traveling, but I want a cradle for my desk.
The LifeDrive uses a 1660mAh Lithium Ion battery. Problem is that the battery
is not user swappable. There isn't a door on the back of the PDA for access to
the battery. There aren't even any screws on the back of this device to
facilitate battery removal of any kind. Since the LifeDrive is being marketed as
a mobile manager that can allow you to view your photos, movies, MP3s, Word,
Excel, etc. You would think that they have might given us the ability to bring
along a spare battery in the event that we run out of juice while doing all this
cool stuff. But nope… we are out of luck. I've only had the LifeDrive for a
couple of days, so a full battery test will have to be added to the second half
of the review.
The sound quality through the earphone jack (BTW: palmOne didn't include
earbuds with this device… at least there weren't any in the eval box I
received. Not that I ever use the freebies that come with PDAs…) is very good.
Max volume will make your ears bleed. Sound quality through the built in speaker
is fine as long as you don't turn it all the way up to max. Doing so will give
it a slightly distorted sound depending on the song. That said, this PDA has the
loudest alarm that I've ever heard. Set to high, I think it could wake the dead!
I also wanted to mention that the location of the built in speaker can be a
little inconvenient if you like to hold the PDA in your hand while watching
videos. Since the speaker is on the back, it is easy for your hand to muffle the
sound.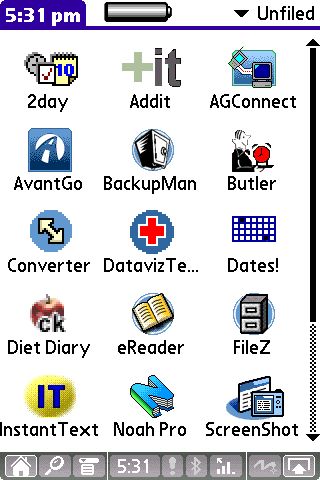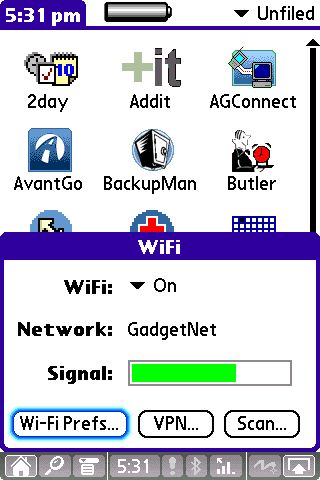 When it is all said and done, the LifeDrive has two major hardware features:
built-in WiFi and a built-in 4gb microdrive. This is palmOne's first PDA since
the Tungsten|C to offer WiFi. I have to say
that it's about freaking time! Having WiFi built in is much easier to deal with
than having to carry around an SD WiFi card. Setting up and connecting to an
access point with the LifeDrive was a snap. There's even an icon on the menu bar
now just for WiFi. Tapping this icon shows the WiFi power status, network name
and signal strength. If you're not connected to an access point, you can just
click the connect button and the PDA will search for networks. This is a
painless operation and makes surfing via WiFi on the LifeDrive a real joy. This
is especially true if you rotate the display. I couldn't get my screen shot
program to capture the rotated screens, but you get an idea of how websites look
from the pictures below.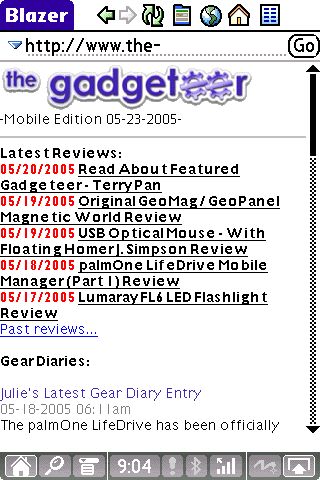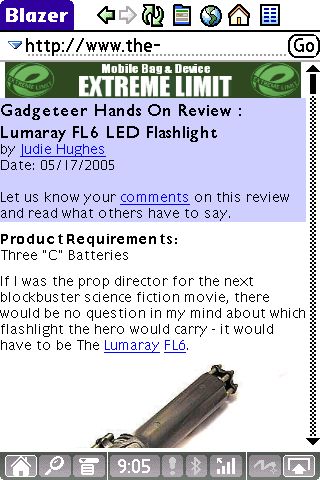 Of course the biggest news with the LifeDrive is the built in 4gb microdrive.
Although microdrives have been around for awhile now, palmOne has not had a PDA
with a CF slot in order to use one. So instead of adding a slot, they just
slapped the hard drive directly into the body of the PDA. They went with an
Hitachi drive due to their faster seek times. That's important when your OS and
all your applications are stored directly on the drive. The only memory on the
PDA itself is 32mb of RAM where the programs run from. When I learned about
this, I was worried about several things: battery life, noise, vibration and
system speed.
As far as battery life, I mentioned above that I've yet to conduct a real
test. But I will say that so far the battery life has not been too shabby at
all. I've surfed, played videos, loaded programs, played games, listened to MP3s
and still had more than 50% battery power left.
Some of you might be wondering if you can hear and feel the drive spinning
inside the PDA. So far I've not noticed any hard drive type noises at all. I
have noticed the very slightest hint of vibration though. It's almost
imperceptible, so it isn't a problem whatsoever.
Now we can talk about a big issue: system speed. Since the hard drive in this
device is used for EVERYTHING, this means that you will notice a definite lag
when launching applications as it has to go out and load the app from the drive.
While you won't see an hourglass or anything like that, you will notice a blank
white screen for a second or two as an application is loading. This does not
happen all the time, because there is 32mb of on board RAM where programs are
cached. So, if you happen to launch an application that you had opened not long
before, it should pop right up with no lag.
I've also noticed that doing a soft reset takes quite awhile longer than
other Palm PDAs I've used. Hard resetting now gives you 2 choices: Quick Erase
which takes 5 minutes and Secure Erase that can take 30 minutes. It should go
without saying that a hard reset will wipe the drive of all your files, apps,
etc.
My Treo 650 has a slower processor (315mhz), but feels much snappier than the
LifeDrive with its 416mhz processor. Could I overlook this lag as the price you
have to pay for gaining 4gb of space? Yes, I suppose I could… But I'm not sure
it is entirely worth it for me as I have a 1gb SD card in my Treo that isn't even full
yet. 2gb cards are already available, so 3 and 4gb cards should follow soon.
That said, the 4gb in the LifeDrive is built-in. I don't have to remove it if I
want to use the SD slot for something else… That's where the LifeDrive shines.
It has a card slot, a hard drive and WiFi all in one package.
The LifeDrive package is very nice but could be better. The screen could be
brighter. The system speed could be faster. Hardware is one thing, software is
another… This PDA has some new software tools that are very interesting and
may make this device worth the $500 price tag.
Included in ROM:
Quick Tour – Simple overview of features.
Addit – Application that enables you to download and buy Palm software
Calc – Same old calculator.
Calendar, Contacts, Tasks, Memos, Note Pad – PIM applications.
Card Info – Displays data about the SD memory card in the slot.
Camera Companion – Allows you to use your LifeDrive as a card reader for SD
cameras.
Contacts – Address book
Dialer – Bluetooth phone dialer
Documents to Go v7.0 – Word, Excel and PowerPoint viewer and editor that can
read and write native files. No more conversions are needed.
Drive Mode – Simple toggle application that turns on/off USB mode.
Expense
Favorites – Simple application launcher
Files – Finally, an actual file manager. Not nearly as good as
File Man, but it's a start.
Hotsync
Media – Picture and Video (ASF, MPEG1, MPEG4) viewer
Memos
Notepad
Prefs
Pocket Tunes – MP3 player
SMS
Solitaire
Tasks
VersaMail 3.1 – Email client
Voice Memo
Blazer 4.1 – Web Browser
World Clock
Included on the CD:
Palm Desktop
File Transfer (Windows only)
Microsoft Outlook Conduits (Windows only)
Phone Link Updater
Quick Install (Windows only)
Documents to Go Desktop and Conduit (Windows only)

Bonus Software:
Adobe Acrobat Reader – PDF file viewer
Audible Player (URL)
Enterprise Solutions (URL)
eReader – My favorite eBook Reader
Handmark Express
Real Rhapsody 3.0 Desktop
WiFile LT
Nice software bundle! The main standouts here are the new Camera Companion and
LifeDrive Manager / File syncing software. The Camera Companion is an app that lives on the
LifeDrive. When you plug in an SD card from a digital camera, it will
automatically recognize that this has happened and launch the app. You are
presented with 3 choices.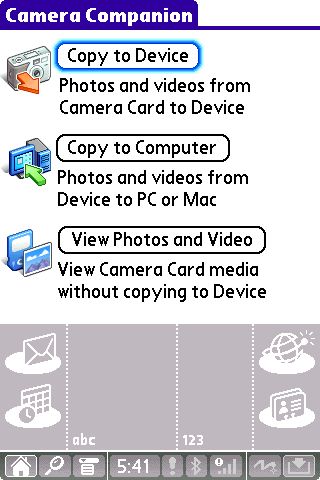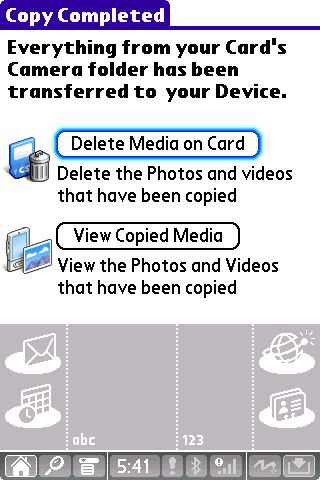 1. You can copy the images from the SD card to the LifeDrive. Once this
operation is complete, you will be asked if you would like to delete the media
off the SD card, or view the copied media.
2. You can copy the images from the SD card to your computer. This operation
will ask if you want to turn on Drive Mode which will enable the LifeDrive to
become a mounted drive on your PC when plugged in to a USB port. Copying files
is a fast operation given the fact that the LifeDrive uses USB 2.0
3. You can view the images directly from the SD card using the Media
application. Loading even large (1-2mb) images from the SD card is very snappy.
This application can come in really handy when you're on vacation and don't
care to lug a notebook computer with you to offload your digital pictures at the
end of the day. Of course, this will only be useful if you have a camera that
uses SD cards… That said, a CF adapter is supposed to be available soon. I
would find this helpful when using my little point and shoot Pentax camera, but
not as much with my new 8 mega pixel Nikon Coolpix 8800. This is only because I
tend to shoot a LOT of pix when on vacation and set the camera to the highest
resolution. With such a setting, each picture is over 23mb which would allow me
to only save around 170 pictures to the LifeDrive.
The other application that makes the LifeDrive a powerful pocket computer is
the new LifeDrive Manager File/Folder syncing application which resides on your
desktop computer (sorry Mac people, this is for Windows users only…). This
software allows you to drag and drop files and folders that will be synced both
ways. I had quite a bit of trouble getting the software installed. Each time I
tried installing it, it would get about 3/4th of the way through the
install when I would receive a popup with a 1316 network error. Clicking OK
would roll back the install. When I tried to then sync my Treo, it would never
connect. I thought FINE! I'll just go uninstall the Palm Desktop and start from
scratch with the new software. No go though… every time I tried to uninstall,
it would get so far and then give me that same 1316 error. ARGH! Thank goodness
for Windows System Restore. I was able to restore back to before I had tried the
new installation. Come to find out that this is a bug that has to do with the
Windows MSI installer. Lisa Gade of
MobileTechReview.com knew exactly what I was talking about when I started
complaining to her, and she pointed me to a utility from Microsoft that would
allow me to uninstall the Palm Desktop so that I could then install the new
version. What a headache!
After I finally was able to get the new software installed, I began playing
with the LifeDrive Manager. This is a separate program to the Palm Desktop. It
even adds a icon to the tray.



The LifeDrive Manager icon is to the left of the TV icon.
Double clicking the icon brings up the LifeDrive Manager application (when
the LifeDrive PDA is plugged in to the USB cable). This application looks like a
regular file explorer.

It is actually a file explorer for the LifeDrive 4gb drive. It also allows
you to copy any files or folders from your computer's hard drive to the
LifeDrive and keep them synchronized both ways every time you hotsync. So, if
you make a change on a file on your PC, the next time you sync, that change will
show up on your LifeDrive and visa versa. Even files that the LifeDrive can't
actually open or view will be copied and synced.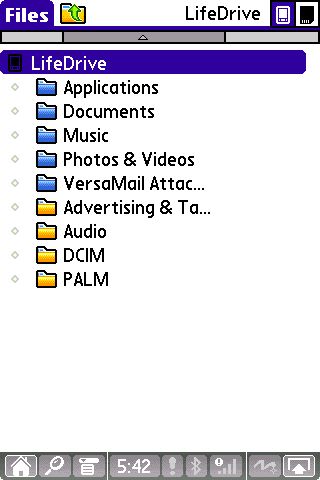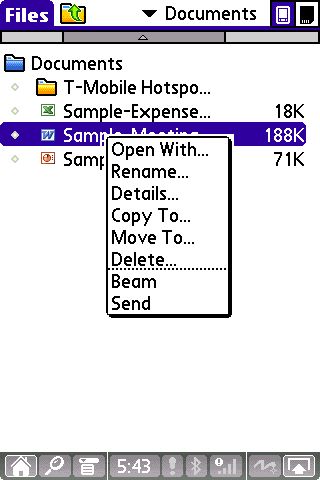 I did have a few problems opening Excel and Word documents that I had synced
to the LifeDrive. I kept getting errors that said I had a previous version of
Documents to Go installed on my device. My Treo has 7.000 built in, while the
LifeDrive has 7.005. Then sometimes when I would scroll around in an Excel
spreadsheet, I would get sys errors. This may be due to the fact that I first
synced the LifeDrive with all my Treo 650 data…
To sum things up, I have mixed feelings about the LifeDrive. It's most
definitely a step in the right direction for palmOne. Who can scoff at 4gb of
built in storage on a PDA? Finally adding WiFi is also a real plus. But then
there's the dim screen, sluggish performance when accessing files and the
biggest faux pas of all (in my opinion), the lack of a user replaceable battery.
Should you buy this PDA? It really depends on how many files, music, photos, and
videos that you need to carry around with you. I have a 1gb card on my Treo and
it is still half empty, so that should tell you that I don't carry around THAT
much stuff on my PDA. But that's just me. If you need the storage, can deal with
the deficiencies, then this just might be your dream device.
Price: $499
Pros:
Built in 4gb microdrive!
Built in WiFi
Screen rotation button
LifeDrive Manager,
File / folder syncing software
Cons:
Battery not swappable
A bit sluggish
Display not as bright as I would like
Slow soft resets
Product Information
Price:
499.0
Manufacturer:
Palm
Pros:

Built in 4gb microdrive!
Built in WiFi
Screen rotation button
LifeDrive Manager,
File / folder syncing software

Cons:

Battery not swappable
A bit sluggish
Display not as bright as I would like
Slow soft resets