We use affiliate links. If you buy something through the links on this page, we may earn a commission at no cost to you. Learn more.
Name: Terry Pan
Location: Hong Kong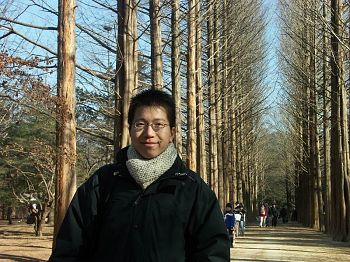 I am a copywriter in a full-service ad agency.
My gadget story is a bit unlike the past gadgeteers. It's about a process to
find out the BEST gadget that fits my need. Once I find a gadget good enough (at
least for a certain period), I will stop the searching process in that category.
Yet, I'm too often to start another search in some other category.
The 1st interested category is digital camera. It was my 1st year in university,
I was creating my website and badly want fast photos. The first one I got was
Kodak DC265, then it's a roster of 14 digital cameras (and why I changed the
previous cam):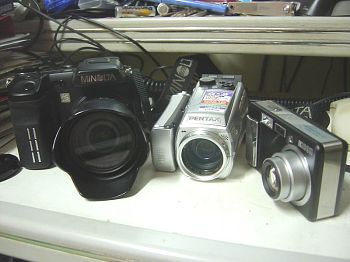 *for the ones still in my home
1. Kodak DC265 (for the website)
2. Canon Digital IXUS (it's smaller than DC265)
3. Canon Powershot G1 (it have more functions)
4. Canon Digital IXUS v (it's smaller than G1)
5. Canon Powershot G2 (I want more functions)
6. Kodak mc3* (a MP3 with CF slot? Cool)
7. Minolta DiMAGE 7i (I love the 28-200mm lens!)
8. Minolta DiMAGE 7Hi (Black looks much cooler)
9. Sanyo DSC-MZ3 (One cam doesn't fit all situations… I need a cam that
fits my jeans' pocket… what? This one can record 640 x 480 movie too?)
10. Minolta DiMAGE A1* (Anti-shake, excellent build and all, this is THE
one!)
11. Ricoh Caplio RX (MZ3 is not wide enough… I should keep 3 cams… one
for serious use, one for jeans, and one use like a DV)
12. Sanyo Xacti J4 (RX's photo quality not good… and J4 looks beautiful
and small)
13. Ricoh Caplio R1* (well, I still love the wide angle)
14. Pentax Optio MX4* (movie movie… 1GB for 1 hour movie? 10x zoom? And
that cheap???)
Still when I was in university, I hang out with more friends, have more stuffs
to do and more classes and… I need a PDA! It's the 2nd category:
1. Palm IIIx (it fits my pocket sooooo well)
2. Sony CLIE T-600 (IIIx was dead… and the Sony blue looks so cool)
3. Dell Axim X5 (really hard to change from Palm… but as a copywriter, I
need a convenient typewriter that supports MS Word)
4. HP iPAQ H2210 Chinese (I cannot find a keyboard for Axim…)
5. HP iPAQ H2215 English* (the first one was dead, I changed the ROM to
the Chinese one)
After switching to the current company, I found the desktop PC was ridiculous…
Pentium 266MHz for 2004? The 3rd category is notebook:
1. Samsung Q10 (PIIIM-933, 640MB RAM, 30GB HDD, DVD-ROM)
2. Dell Inspiron 700m* (I need a small notebook to handle so many media
files for work)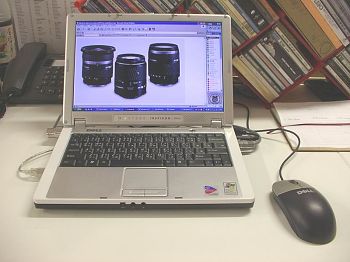 Now I am thinking about a HDD MP3 player, of course it's also for work and for
play.
As you can see, I do not have many gadgets at one time. Yes you can buy many,
but you cannot USE too many. I am not just a collector anyway. I use my own
money to buy the gadgets and wish they work faithfully for me. ?
Other gadgets I am using everyday:
Sony Ericsson T630
Sennheiser MX200 Earphone
HP iPAQ Foldable Keyboard (really nice)
CF Radio, CF LAN
Lowepro Camera Bags
My home desktop PC
Yet, I always wish there's one gadget can handle multiple tasks gracefully. 😉
My website: http://hkwalker.net