Product Requirements:
Device:
palmOne Treo 650 Smartphone
The palmOne Treo 650 smartphone
comes equipped with a better than average stylus. It isn't fancy by any stretch
of the imagination, but it does have a nice heft to it and has worked fine for
me so far. That said, Brando was kind
enough to send me one of his Treo 650 3in1 stylus replacement styli to evaluate.
I've been using it for the past week or so and think it's time to report how it
stacks up against the stock stylus.
As far as weight and dimensions, both are almost identical in length and
diameter. The Brando stylus must ever so slightly thicker as it fits just a
little tighter in the Treo silo. The stock stylus feels somewhat heavier, but
both are so light weight that I can barely get them to register on my electronic
scale. The stock stylus comes in at .2oz and the Brando stylus shows 0oz.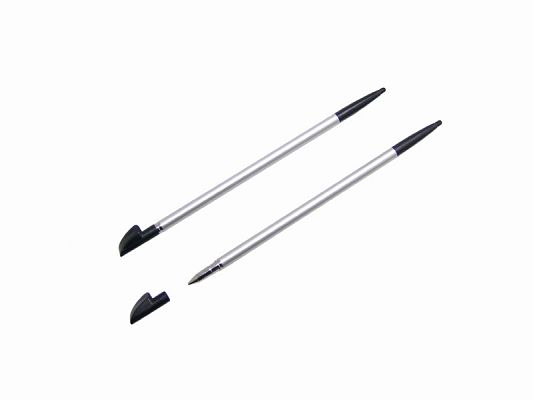 Photo courtesy of Brando's Workshop
The main differences between the stock stylus and this replacement stylus is
the fact that the Brando stylus has plastic ends that hide 2 features lacking on
the stock stylus. The top end pulls off to reveal a ballpoint pen and the bottom
end screws off to reveal a reset pin. I did notice a small problem with the
reset pin. Whenever I would unscrew the stylus end to access it, the ballpoint
pen cartridge would come along for the ride. The reset tip gets lodged in the
end of the pen cartridge so it sticks to it. This isn't a big deal, but it is
worth mentioning.
Some of you might say that having a separate reset pin isn't necessary since
you can just use the tip of the stock stylus for this operation. While this is
true, I personally don't like to use the writing tip of my stylus for any thing
other than writing. I'm a little paranoid that I might rake the tip against the
edges of the reset hole and scratch it. A scratched stylus tip could potentially
scratch an unprotected screen…
In use I have found that this stylus works just as well as the stock stylus.
The tips of both feel pretty much the same on the screen and neither really has
an advantage as far as comfort. What the Brando has going for it is the built in
pen and reset pin. These two features make this a great replacement for the
stock stylus.
Price: $10.00
Pros:
Built in ballpoint pen and reset pin
Cons:
When you unscrew the stylus tip to gain access to the reset pin, the pen
cartridge comes along with it.
More of our stories that you'll enjoy: