We use affiliate links. If you buy something through the links on this page, we may earn a commission at no cost to you. Learn more.
Ok, this is for all of you hax0rs, modders and gamers out there that love
flashing LEDs. I'm going to start by saying that I'm not into all the blinky
lights. They kind of get on my nerves. Does that make me old? ;o) Oh well…
If you are not old, or do like flashing lights, then you might
just like the Sprinters Fireworks 7 port USB 2.0 hub. The folks at
USBGeek.com were kind enough to send us one to
take a look at. This smallish hub (100 x 75 x 21 mm)
comes with a USB cable to hook up to your computer, and a small AC adapter.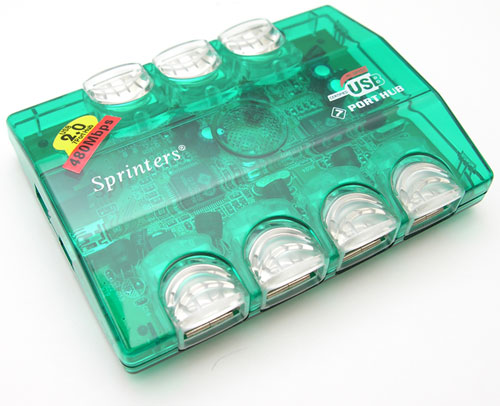 The hub is made of aqua colored translucent plastic which you can see the
circuit board through. Each port connector is a also translucent and lit by a
different colored LED. These port LEDs stay lit all the time, while an LED in
the middle of the hub constantly blinks green and blue. This particular LED
drives me nuts because I can see it blinking out of the corner of my eye when
the hub is on my desk.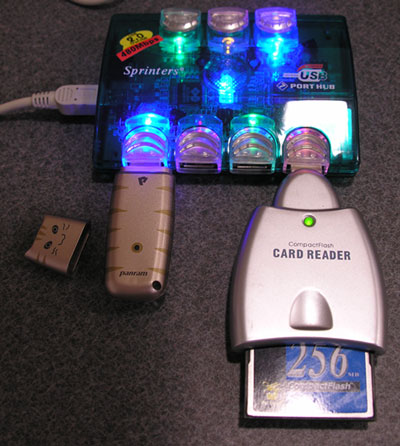 Depending on what you intend to plug into the hub, you might not even need to
use the included AC adapter. I used it with various flash drives without needing
it to be powered.
The hub works as advertised, but feels a bit on the cheap side as the plastic
is creaky when you pick up the device. Since a person doesn't often handle a USB
hub, I guess this isn't a big deal though… If you to like surround yourself
and your computer with flashing lights, then this hub will probably fulfill that
requirement.
Price: $29.00 available from
USBGeek.com
Pros:
7 USB 2.0 ports
Multi-colored LEDs
Cons:
Multi-colored LEDs
Product Information
Price:
29.0
Manufacturer:
USB Geek
Pros:

7 USB 2.0 ports
Multi-colored LEDs

Cons: