We use affiliate links. If you buy something through the links on this page, we may earn a commission at no cost to you. Learn more.
Over the past few years, I have evolved to a new level of gadget collecting:
buying gadgets for my gadgets. What seemed to be a innocent iPod purchase has
turned into entire lifestyle.
My Un-met iPod Need:
I have been looking to replace my component-based stereo system in my dining
room. My existing system is big and unsightly with multiple cords. I want a
drop-in solution with few cords and at least the same sound quality as my aging
Bose bookshelf speakers. Additionally, I want to be able control my iPod from
across the room. So, when I heard that Bose offers an all-in-one iPod stereo I
decided to give it a try.
First Impressions:
Bose shipped the item to me in the original
retail packaging. There is no extraneous external box, which is good, as it
saves cardboard but also bad, as it it is immediately recognizable sitting on my
doorstep. This can be slightly problematic if you want to hide your purchase
from a significant other or potential thieves.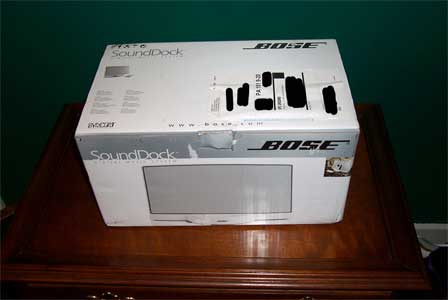 Similar to the

InMotions speakers from Altec Lansing, the SoundDock is sleek, white and
glossy. However, that is where the design similarities end. The overall shape of
the Bose is demi-lunar, giving it a slightly organic feel and the speakers are
appointed with a grey metal mesh. The simple, yet sophisticated design is
beautiful enough to be displayed in even the most formal of living or dining
rooms.
Upon closer inspection, all the edges and seams appear smooth and well finished
and the overall construction quality is high.
The footprint, approximately 12 inches in length by 6 inches width and 8 inches
high, is large as far as iPod speakers go, but still much smaller than a
traditional stereo.
Set Up:
The SoundDock is quick and easy to set up. Just attach the included AC cord and
select the proper size template for your iPod and you're done.
Bose includes several templates for use with dock-enabled iPods. I tested them
with a mini, 10 GB 3rd generation, a 20 GB 4th generation, as well as a 60 GB
iPod photo and all fit perfectly.
Usage:
The SoundDock is simple to control. There are two physical buttons on the base
to adjust the volume all other controls are handled either on the iPod itself,
or using the included remote.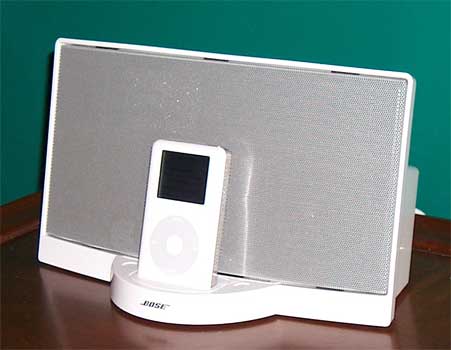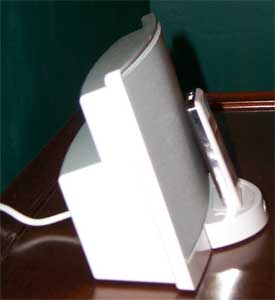 The remote is light and small, but not so petite that it is difficult to use, or
become easily lost. Featuring buttons to control the volume, change tracks,
play/pause, and to turn the device off, the remote fits well in my hand and can
be easily stowed in a pocket or drawer. The remote also has a reasonable range
at about 30" and is powered by a 3v lithium cell battery. The remote is somewhat
unreliable when tested around corners, but that is not uncommon with the
majority of remotes currently included with sound systems.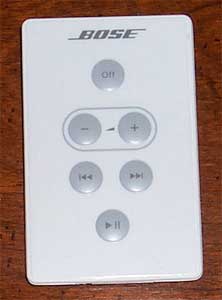 The rear of the device has no input or output ports, which both simplifies the
design and limits the use.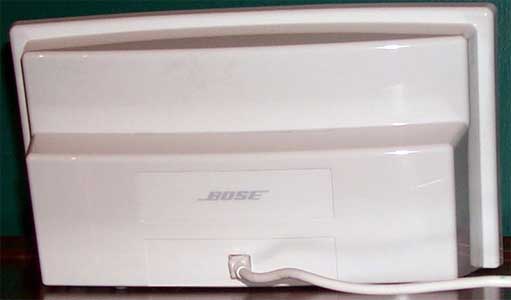 One part of the Bose setup poses a significant drawback for me: the power
adapter "brick" is rather large at 5 inches long and 2.5 inches wide. This can
be tricky to hide.
Features:
* Charges the iPod (through the dock connector) when attached to the AC adapter
in both the on & off settings.
* Remote
* Templates for a variety of dock-connector iPods.
Sound:
Bose does not publish the SoundDock's amplifier specifications. However, I
repeated same types of tests I did with previously with my InMotion speakers and
SONY SRS-T55 foldable speakers.
I tested the sound using an audiobook, classical and techno music and the tone
range is exceptional on all tested types of audio for all-in-one device with no
speaker separation. These speakers are significantly better in all categories
than either of my two existing iPod setups. A specifically noteworthy aspect of
the SoundDock, is its performance at high volume. Unlike my other iPod setups,
there is no noticeable sound distortion or crackling at full volume.
Again, some audiophiles will find the quality to be lacking, but remember these
are made for use with an (awesome, albeit limited) MP3 player. Although this is
a great little sound system, it is not in the same league as Bang & Olfsen's
loudspeakers. So I'd like reiterate: If you are looking for pro-quality sound,
why are you using MP3s anyway?
Overall, I found the Bose SoundDock to be a good solution to replace my
traditional component stereo system and now has a place of honor in my dining
room, until the next temptation comes along.
Price: $299.00
Pros:
Connects to all dock-connector iPod models
Matches iPod-white color scheme
Charges iPod while plugged in
Great stereo-quality sound
Cons:
Pricey
Not easily portable
Large AC power brick
No external sound input or outputs
Cannot use while the iPod is wearing a case, such as the iSkin
Product Information
Price:
299.0
Manufacturer:
Bose
Pros:

Connects to all dock-connector iPod models
Matches iPod-white color scheme
Charges iPod while plugged in
Great stereo-quality sound

Cons:

Pricey
Not easily portable
Large AC power brick
No external sound input or outputs
Cannot use while the iPod is wearing a case, such as the iSkin