We use affiliate links. If you buy something through the links on this page, we may earn a commission at no cost to you. Learn more.
Product Requirements:
A 3.5mm jack on any portable
audio/video device
Shortly after I finished my review on the
Etymotic Research 6i
Isolator Earphones, I received and email from Daniel East, the Marketing
Director of Future Sonics, asking if
I would be interested in trying out his company's universal fit professional
earphone monitors, the
Future Sonics Ears EM3. He mentioned that "we know they don't *look* like
much," but that "there was a reason…"
I replied that I was "not
concerned about how they look – just how they feel and how they sound," and
in a few days I had a new set of earphones to try.
It's already been stated that I am not the ideal earbud user, and there are
times when a full headset just isn't practical; I have come to realize that
in-ear speakers are the best solution for me. But up until now, the 6is were the
only ones I had tried, and I really liked them. However, I am always ready to
try something new!
For those of you that have never heard of Future Sonics, that is
understandable – unless you are a professional musician. According to their
site, "Future Sonics was the first company in the world to produce personal
monitors and systems. With nearly two decades of experience, development and
research, we put all of that knowledge into every aspect of our products,
systems and client services. Our online store features those products we prefer
and have confidence in so that you get the best out of your Ear Monitors©
brand and/or Future Sonics Ears™ products and systems." A list of some of their
more famous in-ear monitor clients is located
here.
I had heard of Future Sonics, but it had been ages ago when I was the
sound engineer for a local band.  One of the musicians had bought a
wireless in ear monitor system that used Future Sonics ear plugs. Surprisingly
enough, his name was not on that aforementioned list <wink>. All I really
remember from the time was that they were expensive, custom fitted, and he truly
loved them. I just appreciated that it wasn't an extra feedback monitor on the
stage for me to hook up and maintain, and that I could talk to him directly
through them. But I digress…
Once I received the package from Future Sonics, I saw that Daniel was
right…The Ears EM3s are kind of ugly. The package included one pair of
"neutral flesh tone" Future Sonics professional universal earphones connected by
the cable to a standard stereo 3.5mm earphone plug, three pairs of foam sleeves
(two large, one small), a carry case and the product manual.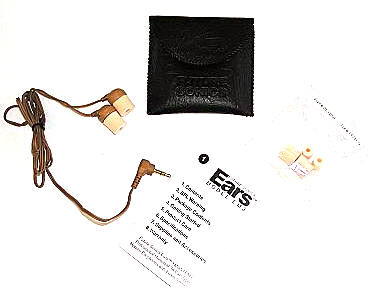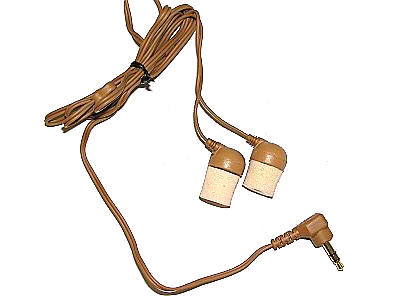 Specifications & Selling Points
Isolation:
+/- 25 dB ambient noise rejection
Transducer: FSI
Sensitivity: 118 dB
Frequency Response: 40hz – 20 khz
Impedance: 32
Standard 3.5mm Gold Connector – Upgrade any similar system!
Custom Molded Sleeves – avail. as special order direct only
(req. ear impressions)
The Ears EM3 is basically composed of a four foot long light brown cable, the
3.5mm plug and two plastic ends that truly aren't much to look at, as you can
see here…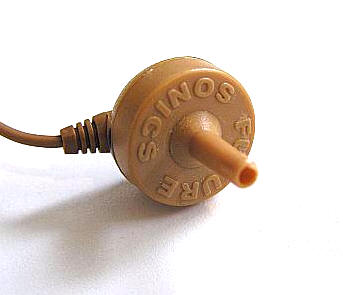 Obviously, there is some kind of circuitry inside the plastic that we can't
see. But from the outside, you have to admit that they don't look like much. A
set of foam sleeves must be added to the prong on the earphone, and then the
EM3s will be ready for use.
My first reaction when I saw all of the foam plugs…but no pretty flanged
silicone earplugs was along the lines of "eck." Sticking foam into an
ear, even a very clean one, just sounds unsanitary and gross. But I got over it
and prepared to use the EM3s.
The earplugs are not labeled R and L, instead, there is a red
line to signify "right" and  a blue line for "left".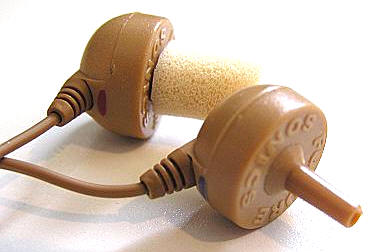 Because a complete seal is needed for the Em3s to properly work, it is
suggested that the user start with the larger foam. Once the foam is slid onto
the prong, it has to be lightly compressed to make it fit into the users ear
canal. Squeezing and slightly rolling the end of the foam gets it to compress
into a smaller point, which easily slides into the end of the ear canal. The
foam will quickly expand to fit, so it may take a try or two before you get the
hang of proper insertion. The foam doesn't go all that deeply into the ear
canal, but it is far enough that a good seal is made and they won't fall out.
I quickly found as I was inserting the EM3s that the cable would need to be
split a bit further than it came from the factory. This is simply done by
pulling the two cables apart until I hit the slider, which was butting up
against the collar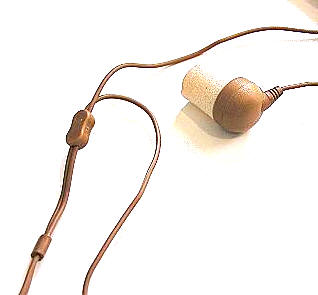 The slider is extremely handy because it allows the user to adjust the
earphones cable to comfortably fit, whether it is worn in front of or behind the
head.
The instruction manual advises turning the volume down to the lowest setting
before inserting the Ears and gradually adjusting the volume to the lowest
comfortable setting. I had to roll my eyes at that. I mean, even after adjusting
my Sony
NW-HD1's
internal volume (thanks Rich23!) it is still not the loudest player on the
face of the planet, but with in-ear monitors I have found it to be substantially
louder. So I followed the recommendations and boy…was I glad I did.
The immediate sounds was extremely rich, clear and surprisingly bassy. Ooooh,
me likey! Wearing the Ears EM3, I have really discovered the bass that my
HD1 is capable of producing. I had noticed a big improvement when using the 6is,
but I have to admit that the EM3 seems to pick up where the 6is left off and
runs with it. I have been listening to the same song on the same setting with
each set of earphones, and it seems that the EM3 sounds deeper and slightly
richer.
Now, unlike the 6is that I reviewed, the Future Sonics are not specifically
touted as being "noise reducing" or "isolating", but they definitely do that,
most likely because of their in-ear design. For example, As I sit here writing
with music playing on a medium volume setting, I can't hear the normal clacking
of my keyboard. I can't hear myself snapping my fingers. But if I turn the music
off, I can hear pretty well (although it is slightly muffled) without having to
physically remove the earphones. That is pretty nifty.
I am now presented with a problem: As much as I love the way these in-ear
monitors sound, I really don't like the idea of the disposable foam tips.
It means I am going to have to order
some more of these "comfort tips", because I really don't see using a pair for
more than a week or so before they just feel dirty and I have to replace
them. However, there is an option – Custom earpieces can be ordered. But
first I would have to visit to a local audiologist to have ear impressions made,
similar to what they do when fitting for hearing aids. This is a rather pricey
process, but if someone were really serious about their music, it would be
something to consider. I'll probably just stick to the foam tips, because they
certainly don't detract from the sound of these earphones and they really are
comfortable when worn for hours on end. I'll just have to get over the "eck"
factor.
If you haven't already bought a set of in-ear monitors, but you considered
doing so, then I strongly urge you to check out the Future Sonics Ears Model
EM3. They are priced less than other in-ear monitors, and I guarantee you that
they sound as good or better than any others you might try.
Future Sonics Ears Model EM3 are available
here.
Custom earpieces can be ordered
here.
Price: $159, Priced at $99 for a limited time
Pros:
Excellent, rich and clear sound
Increased bass
Comfortable
Disposable tips or you can order custom fitted
Cons:
The foam tips will need replacing periodically
Product Information
Price:
159.0
Manufacturer:
Future Sonics
Pros:

Excellent, rich and clear sound
Increased bass
Comfortable
Disposable tips or you can order custom fitted

Cons:

The foam tips will need replacing periodically