We use affiliate links. If you buy something through the links on this page, we may earn a commission at no cost to you. Learn more.
Product Requirements:
A 3.5mm jack on any portable
audio/video device
I guess that stock earbuds must be the equivalent of a PDA's stock stylus in
that some are better than others; some people will be very happy with them while
others will immediately look for something that better satisfies their needs.
Unfortunately, I have found that even if the stock earbuds sound great, I still
can't use them because they are just about impossible to keep in my ears. As a
result, the one thing that has kept me from really enjoying owning a digital
music player was not owning a portable headset that was comfortable for longer
periods of time while giving me the full sound I felt I should be enjoying.
When I first got my Sony NW-HD1,
I bought a pair of Bang
&Olufsen Earphones based on Julie's recommendation. While they definitely
sounded better than the buds that came with my player, I found out over time
that the B&Os really didn't fit my ears any better than the stock set had –
probably because even though they had a better overall design, they still
incorporated the dreaded one-size-fits-all bud that had to sit and stay in the
concha area of my outer ear. To keep from entering a vicious cycle of buying and
trying various portable headsets, I decided to just "deal with it", which I was
doing up until the night that Julie and I came to the Etymotic Research
booth at the CES Digital Experience
Show. One of the features of their booth was the display for their new
6i Isolator Earphones, which
they had developed specifically for use with portable digital music players.
When their representative asked if Julie or I would be interested in reviewing
them, I readily agreed.
Some of you may recognize their name from the
Etymotic Research ER-4P and ER-6
Isolator Earphones review that Julie did, or perhaps from my
ETY.COM Mobile Headset review
last April. I had found while doing that review that I was comfortable using an
in-ear speaker when using my mobile phone, but I hadn't really thought of doing
the same when listening to music.
When we returned to the hotel, I took a look at what came inside the 6i
Isolator's package. Included were the earphones which have a 5 ft. cord ending with 3.5 mm stereo plug, 1 pair
of white 3-flange eartips, 1 pair of foam eartips, 2 replacement filters, a filter changing tool,
a shirt clip (attached to the cord) and a soft padded accessory pouch.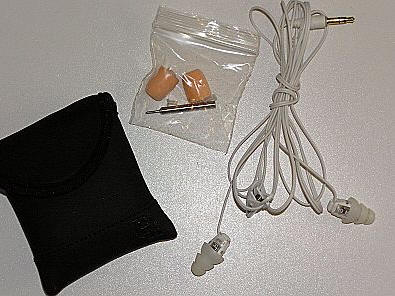 Frequency response: 20 Hz to 16 kHz
Tolerance: ±3 dB to 6 kHz, ±6 dB to 16 kHz re nominal
Transducer type: Balanced armature
1 kHz sensitivity: 108 dB SPL for a 0.14 volt input, (105 dB @ 0.1 V; 107 dB @ 1mW)
Impedance: 16 Ohms
Maximum output: 120 dB SPL
Maximum continuous input: 2.5 Vrms
Weight: less than 1 oz.

After fiddling with the contents and arranging everything to my liking, I
plugged the 6i Isolators into my player, inserted them into my ears…and was
blown away! Let me back up for just a moment though and talk about the
process of properly inserting the earphones.
The earphones come tipped with these soft silicone three-flanged eartips.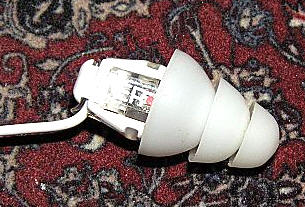 Three-flanged cleanable silicone eartips
These are the ones I think that most people will probably use because they
are quite comfortable and best of all – cleanable. It's important that the
eartips be cleanable because they don't just get gently placed at the opening of
the ear canal, the user is actually supposed to insert them pretty deeply
into the canal. I know that there are some people who will probably gross out at
this, and for those that do – I have one word for you:
Q-tips. ;0)
When inserting the eartips, there is a point when if you are doing it
properly, everything will suddenly become quiet and the sounds that you do hear
will be quite muffled if the music is not turned on. If the music is playing,
then you will hear everything that the artist does, and I do mean
everything. You'll hear the artist's soft chuckles at the end of a song that
you had never noticed before, the acoustic guitarist's fingers sliding on the
strings, the drummer's foot scraping the floor before he hits the bass's
footpad, soft subtle things that you don't always pick up when listening to
music over a conventional speaker, much less through a headset. It's truly
amazing, but as amazing as it is, it won't be for everyone. Why? Because not
everyone will get past the fact that they are having to wear the silicone
earphone in their ear.
I admit, it does feel more than a bit weird to wedge a silicone thingy
into your ear, but you get used to it quite quickly – especially because of the
satisfying payoff from getting such exceptional sound at lower volumes. Yes,
allow me to stop right here and mention that when wearing the 6i Isolator
earphones you will notice that you are listening to music at lower levels than
before because you don't need to crank songs up to really hear and appreciate
them. The music sounds like it is in your head, not just in your ears, if that
makes sense. Somehow, I think this may turn out to be a good thing for my
hearing.
I have found that the best way to remove the earphones is to gently twist
them as I pull them out, which gently "breaks the seal" and allows removal
without my ears feeling like their drums just got thumped.
An added benefit of wearing an in-ear isolator system is that just about
every bit of background noise is eliminated when listening; this proved
extremely useful on the plane ride back from Las Vegas. However, I have also
found that wearing the 6i Isolator earphones can be a bit aggravating to others.
If I can't see them, then I simply don't know that they are trying to catch my
attention. It's a definite trade-off.
For a moment, let's get back to the issue I have been skirting in this
review: ear wax. Yah, I know….eeeeeeew. Well, ear wax a fact of life
when using an in-ear speaker, and it doesn't matter how clean you are, it will
eventually either wind up on the earphone's flange or in the filter. If the
silicone eartip flanges feel like they need a good cleaning, then they can be
removed from the earphone's body and washed in mild soap and water. After they
have dried, they go right back on. The foam eartips however are disposable, so
when they no longer seem "fresh", they just get tossed.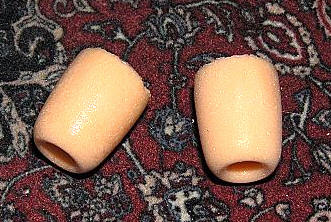 Disposable foam eartips
If after some time it seems that one or both of the earphones just don't
sound as clear as they once did, then it is time to change the earphone's
filter. Detailed instructions are included in the 6i Isolator's
online user's
manual, and after that quick tutorial the task is easily accomplished. Two
replacement filters are included with the kit, as well as a filter removal tool.
After these replacement filters have been used, the owner will want to
order another set to
keep on hand.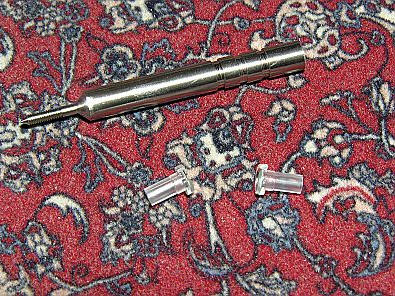 Two replacement filters and their removal tool
I know that I am not the biggest audiophile in the world. I can't sit there
and converse intelligently using the technical terms that "those in the know"
like to bandy about, but I can tell when something sounds fantastic
– when the bass is rich, the treble is crisp, the mid-range sounds full and
there is no distortion anywhere. That's the kind of music I want to listen to on
my portable player, and now with the 6i Isolator earphones I can and do. If
earbud style headphones aren't working for you, if you want deep, rich music,
and if you don't mind and in-ear solution, then you should seriously consider
the 6i Isolators.
Price: $149
Pros:
Excellent sound
Outside noise is virtually eliminated
Replaceable 3-flange or foam ear tips and filters
Solid construction
Cons:
Worn in the ear, and some won't find that comfortable
Product Information
Price:
149.0
Manufacturer:
Etymotic Research
Pros:

Excellent sound
Outside noise is virtually eliminated
Replaceable 3-flange or foam ear tips and filters
Solid construction

Cons:

Worn in the ear, and some won't find that comfortable