We use affiliate links. If you buy something through the links on this page, we may earn a commission at no cost to you. Learn more.
Product Requirements:
Device:
Bluetooth enabled Pocket PCs running Windows Mobile
2003, Windows XP Bluetooth
enabled computers/notebooks, Mac OS X Bluetooth enabled computers/notebooks
The generic name given to a Windows Mobile enabled PDA is Pocket PC. This name
really fits the description when you happen to have a Bluetooth PPC and
ThinkOutside's Stowaway Bluetooth
Travel Mouse. Known far and wide for their revolutionary folding keyboard, this
new product allows the road warrior to turn their Pocket PC into even more of a
laptop replacement with relative ease.
Package Contents
Travel Mouse
2 AAA Batteries
Black velvet drawstring carrying case
CD with Pocket PC drivers
Quick Start Guide
Warranty Info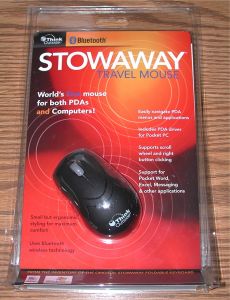 The Bluetooth Travel Mouse is an optical mouse that is of course cordless and
also very small. Given the size, people with large hands may be afraid that the
mouse will feel uncomfortable to use. I think I have large hands for a female,
and I find the Travel Mouse to easy to adapt to. I'm not sure I would want to
use it as my everyday mouse, but on the road it is great.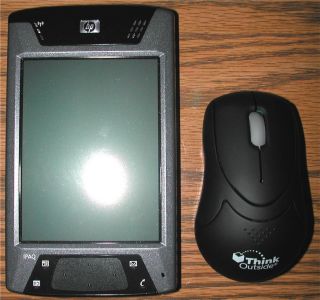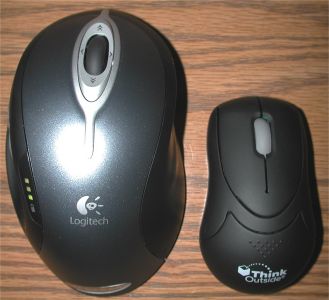 Left to right: HP iPAQ hx4700, Travel Mouse, Logitech MX1000
mouse, Travel Mouse
Made of a slightly rubberized black plastic shell on top and a clear shell on
the bottom, the mouse pretty snazzy. A snap off cover at the butt end of the
mouse allows for easy battery installation. According to ThinkOutside, the
batteries should last several weeks when used 3 to 4 hours per day.
Left and right mouse buttons are located in the typical area, while a soft
rubber scroll wheel separates the two. The scroll wheel spins continuously with
a very faint ratcheting feel. This button can be clicked and as such will
function as a third button.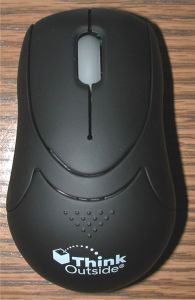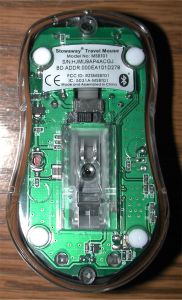 Four smooth feet on the bottom of the mouse allow it to slide easily across
most surfaces. Also located on the bottom of the mouse is the On/Off switch,
discoverable button and discoverable LED.
Before you can actually begin using the mouse with your Bluetooth enabled
Pocket PC, a driver installation is required. If you just want to use the mouse
with your Bluetooth enabled Win XP or Mac OS X computer, you only need to pair
and off you go…
The Pocket PC driver requires approximately 480k of space which seems like a
lot to me. I guess the only saving grace is that the one driver will work for
the Travel Mouse and Folding Keyboard (Bluetooth, IR, or serial). At the time of
this writing, the devices compatible with this mouse are (check ThinkOutside's
site if your PDA/Phone is not listed):
Asus : MyPalA620BT, MyPalA716
Compaq iPaq : 3970
Dell Axim : X30BT, X3iBT, x50v
HP iPaq : 1940, 1945, 2210, 2215, 3970, 4100, 4150, 4155, 4300,
4350, 4355, 5100, 5400BT, 5450, 5500BT, 5555, 6300, 6315, H6340, HX4700, HX4705,
RX3100
HTC Pocket PC : O2 – XDAII, Qtek 2020 / XDAII, XDAII
i-Mate Pocket PC : POCKET PC Phone / XDAII
O2 Pocket PC : XDAII
Orange Pocket PC : SPV M1000
Qtek Pocket PC : Qtek 2020
Siemens Pocket PC : SX66 / XDA II
Tmobile Pocket PC : MDA II
 
The driver installation on my HP iPAQ
hx4700 seemed to go just fine… at first… Several screens walk you
through the setup process.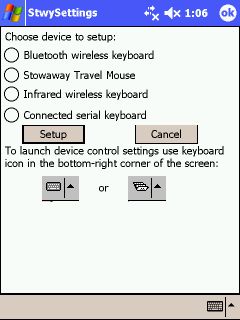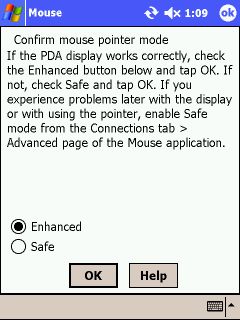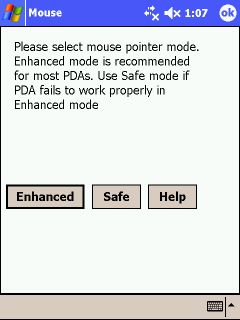 At one point it requests that you to choose between an Enhanced or Safe
pointer mode, asking to verify that the PDA display is working correctly. This
confused me as the mouse pointer was not even displaying on the screen yet.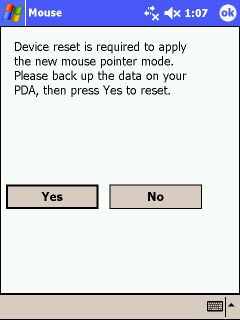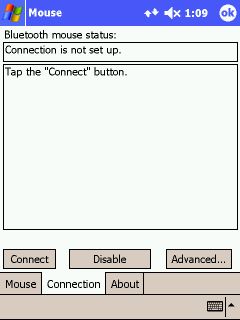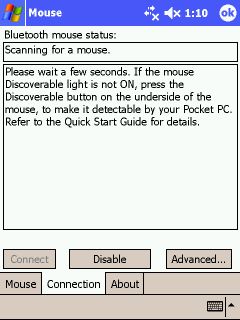 After a PDA soft reset, the software automatically tries to connect to the
Travel Mouse. Now is the time to flip the power switch at the bottom of the
mouse to the On position. It is also necessary to use your stylus or other
pointy object to press the recessed discoverable button. Once you press this
button, a green LED will flash letting you know that the mouse is indeed in
discoverable mode.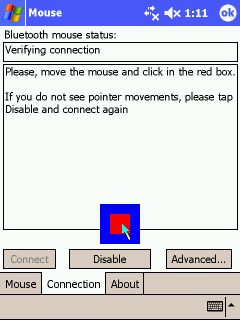 My problems started at the very end of the driver setup. Once the PDA
discovers the mouse, a red square with a blue border appears. The idea is to use
the mouse to click the center of the red box. Although I could move the mouse
pointer around just fine, the PPC did not recognize any of the three mouse
button clicks. I had to use my stylus to tap the square. After uninstalling and
reinstalling a couple times, I still could not get past this point.
It didn't take long for me to go to ThinkOutside's website and check for a
newer driver. Luckily there was one. A quick re-install and voila, all was well!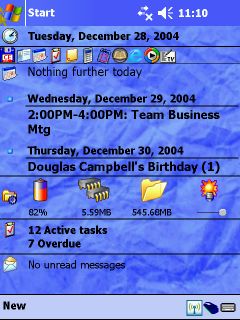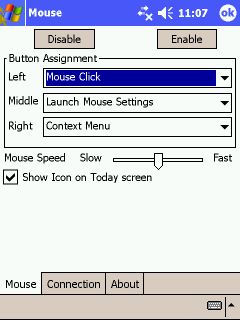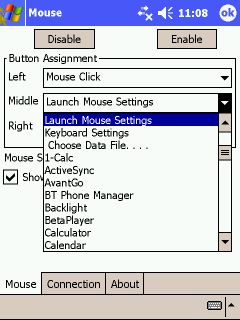 A small mouse icon appears on the Today screen. Tapping this icon allows you
access to the various mouse settings. Although it looks like you can change the
assignments for the left and right mouse button, you really can only change the
middle button. A pull down menu lists the applications installed on your PDA.
You can also change the mouse cursor speed, but the slider only has 5
settings. It would be nice if there were finer adjustment settings available.
That said, I have my speed set to one notch above slow, which seems perfect for
me.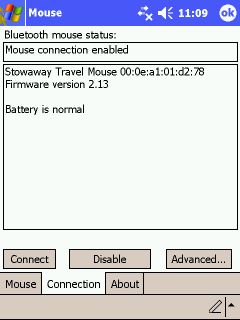 In the Connection properties page, there is even a battery status indicator
which is a nice touch.
A lot of you may be wondering why you would even want a mouse to use with
your Pocket PC. By itself, I'll admit that I'm not sure how useful it really is.
But in combination with a keyboard, this accessory turns your PDA into a very
capable little computer.
I tested the Travel Mouse with all the software on my PPC and the only
application that didn't completely work with it was eReader. The scroll wheel
would not allow me to turn pages.  It works great for Pocket IE, Pocket
Word, Pocket Excel etc. I'll tell you that it is a very strange feeling to use a
mouse to play Solitaire and Jawbreaker on my hx4700!
The only real problem that I have had with the Travel Mouse is that I have to
re-connect it every time I turn off the PDA. It does not automatically detect
it. Sometimes this even requires me to toggle the power switch on the bottom of
the mouse and press the discoverable button. This isn't a make it or break it
type of problem, but it is annoying considering that I do not have the same
issue with their Bluetooth keyboard.
The ThinkOutside Travel Mouse is going to have a place of permanent residence
in my gear bag. I can totally see myself using my hx4700 in conjunction with their
Bluetooth keyboard for taking notes in meetings, or as a notebook replacement
while traveling. $80 for a mouse is a little spendy, but if you are looking to
turn your Pocket PC into a true road warrior kit, you need this accessory.
Price: $79.99
Pros:
Adds a real mouse pointer to your Bluetooth enabled Pocket PC
Responsive
Comfortable to use
Cons:
Expensive
Does not automatically reconnect after PDA has been powered cycled
Product Information
Price:
79.99
Manufacturer:
Think Outside
Pros:

Adds a real mouse pointer to your Bluetooth enabled Pocket PC
Responsive
Comfortable to use

Cons:

Expensive
Does not automatically reconnect after PDA has been powered cycled