We use affiliate links. If you buy something through the links on this page, we may earn a commission at no cost to you. Learn more.
Product Requirements:
A free USB port
Hey guys – it is now officially the Holiday Season, which means that you had
better get with the program and make your desk or workstation a bit more
festive! If stringing up a line of cha-cha lights isn't acceptable, then you
might want to do what I am doing – install a USB driven lighted color snow
woman. I am going to say that this is a woman because she is wearing a pink
scarf and cap, and there are pink stars on her rotund belly.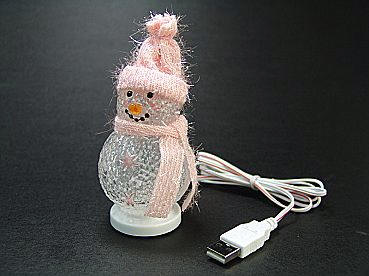 Picture courtesy of USB Geek
Comprised of a textured translucent body with a 38" USB cord attached from
the rear, the snow woman stands approximately 4" tall from her white plastic
base to the top of her fuzzy woven toque. Her cheery orange nose is reminiscent
of Frosty and her black coal eyes and smile will brighten your day.
Since we are going to be out of town for Christmas break, there isn't really
a good reason to go all-out and decorate our house, but I still wanted something
fun to make things seem more seasonal. This cheery little chica plugs into the
front port of my computer and cycles through her colors. That's all she does,
but she does it very well.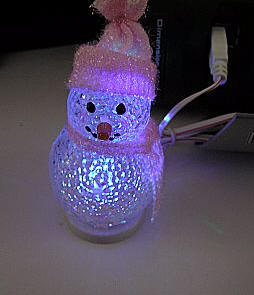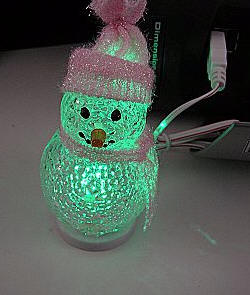 If you are looking for a simple way to spread some holiday cheer at the
office, then the
USB Snow Man, available from USB
Geek, is a great place to start.
Price: $16
Pros:
Easy to operate
Cheerful holiday item
Great office gift

Cons:
None
Product Information
Price:
16.0
Manufacturer:
USB Geek
Pros:

Easy to operate
Cheerful holiday item
Great office gift

Cons: