We use affiliate links. If you buy something through the links on this page, we may earn a commission at no cost to you. Learn more.
Product Requirements:
A source of solar power
The

Tomy Flip Flap Solar Powered Plant is a product that almost makes me sad.
Imagine working in a tiny cubicle with no room for a live plant. Or let's say that
instead of a green thumb, yours happens to be black. Maybe you are the type that
when you walk into a nursery, the salesman hides the live plants and points you
towards the silk flowers. If you fit any of those descriptions, but you really
want something green in your work space, then I suppose that you are the
consumer for whom this item was created.
The Flip Flap plant arrives in a clear display case that can be either left
on or removed.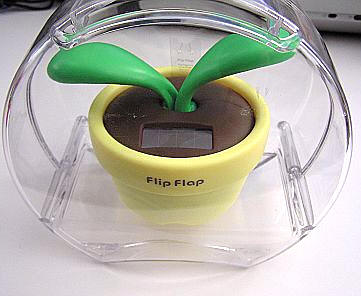 The instructions are tightly folded into one side of the base…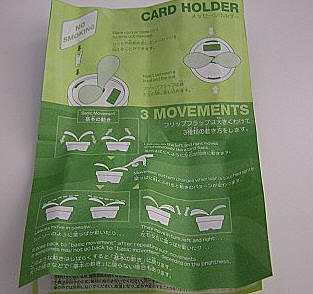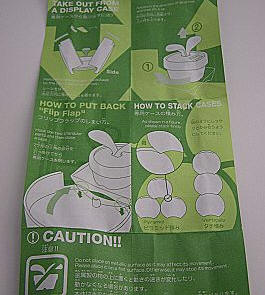 …with the other side holding the special message templates that the plant
can display with the included message holder.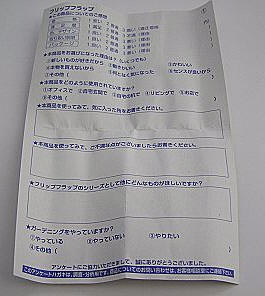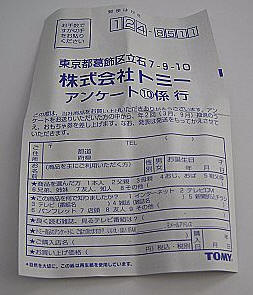 It's a good thing that the plant is pretty easy to figure out, since I am not
exactly fluent in Japanese.
Released from its case and on the removable display stand, the plant measures
approximately 4.5" tall x 5"long  x 4" wide.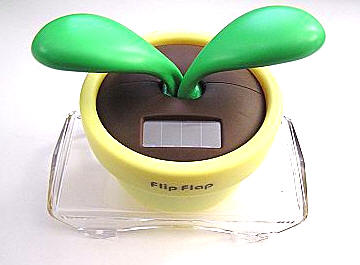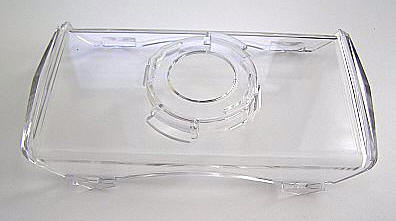 Available in green, yellow, orange, blue, white or pink, the Flip Flap
resembles an oversized bean sprout that instead of actually growing, gently bobs
in one of three rhythms as long as there is some sort of solar light available.
Changing the rhythms is accomplished by briefly holding one of the leaves down
with a fingertip. Upon release, the new pattern of bobbing commences. I bet that
cat's would love this…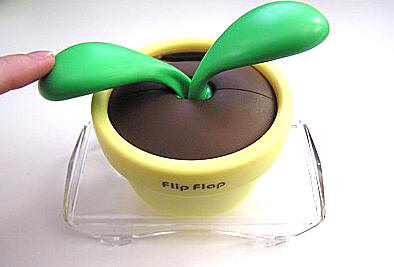 The bobbing action can be turned off from the bottom of the plant.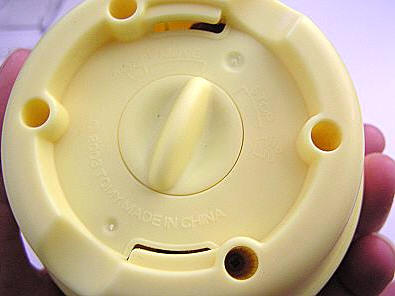 There are warnings on the packaging advising "no watering, " I guess they are
there just in case you are a total doofus.
One of the advertised features of the plant is the ability to display
messages. As I previously showed, there is a page of templates as well as a
plastic message holder which can be inserter in either the front or rear of the
planter.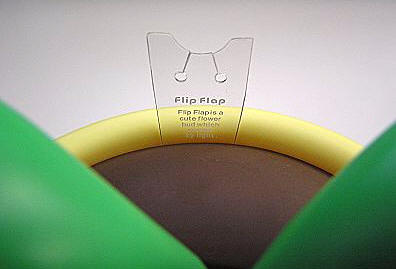 I am not sure if the writing on the page said anything I would want to
display, since it was in Japanese, so I cut out one of the message templates…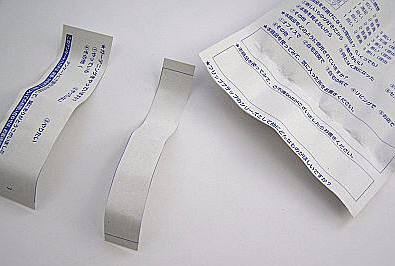 …inserted it in the holder, and I was in business! Ha!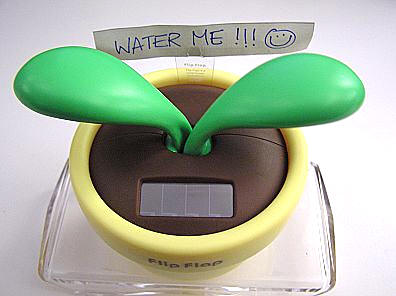 I found it interesting that you could buy multiples and stack them, according
to the instructions…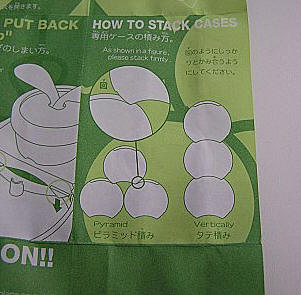 I mean, if you have enough room (and money) to buy a flock of these,
then maybe you should give a real plant a try.
The Flip Flap plant is cute, but pricey for what it does. I can't imagine a
thumb so black or a office so small that this would be the owner's only option.
However, I am sure that there is someone out there looking at this toy wondering
why I don't "get it." That is the person that should get one of these from
you for Christmas!
The

Tomy Flip Flap Solar Powered Plant is available from
Audio Cubes and other retailers
Price: $49
Pros:
Cute & small
Black thumbs are okay
Cons:
Expensive
Product Information
Price:
49.0
Manufacturer:
Tomy
Retailer:
AudioCubes
Pros:

Cute & small
Black thumbs are okay

Cons: