We use affiliate links. If you buy something through the links on this page, we may earn a commission at no cost to you. Learn more.
Product Requirements:
HP iPAQ hx4700 / hx4705 PDA
One of the few disappointments that I
have had from the beginning of owning my HP
iPAQ hx4700 PDA is the fact that it only came with 64MB internal RAM. While
this may sound generous enough, especially when one considers that the iPAQ File
Store includes an additional 128MB of ROM storage space, it really isn't. As I
explained in Julie's and my review, "Be aware that no
matter where a program is stored, it will be moved to RAM when it is time for it
to actually run. That is where the SDRAM comes into play. The 64MB SDRAM is
basically split in half. While one-half is available for loading programs, the
other half is necessary for running the programs. Therefore, the fewer programs
you can actually load in main memory, the faster the PDA will run and the more
program-running memory will be available. Since there is only 64MB to begin
with, it seems as if without even trying the memory will just dwindle. This
makes me think that 128MB SDRAM would have been a wiser use of extra memory,
rather than such a large File Store…"
 Even with only the applications
that had to be stored in the main memory of my iPAQ loaded there, my Memory
Manager looked like this…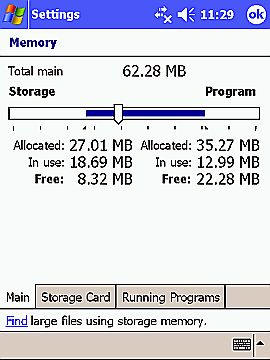 Within just a few days of owning PAQo,
as my 4700 was christened, I knew that he was something special. Unlike other
PDAs that have quickly come and gone, the screen and form factor of this PDA
ensured that it would be my daily driver for a long time. With that in mind, I
did what many women will try to do when they are in a relationship with someone
that is just slightly less than perfect – I decided to "change him" for
the better. Luckily for me, this would not be hard to do.
By the time Julie and I were writing
our joint review, I knew that I would be sending PAQo to
Pocket PC Techs for their
64MB to 128MB
internal RAM upgrade service. I hadn't actually received any low memory
warnings yet, but it seemed like it was only a matter of time before programs
such as
Where is My RAM? could no longer pin-point what was happening to my rapidly
shrinking internal memory.
Before I carefully wrapped my iPAQ for
his journey to California, I ran Spb Benchmark, just to see how the numbers
played before any improvements were done. It took about 30 minutes for this
series of tests to run, and by the looks of all the subjects covered it appears
to have been quite thorough. The following are the results of the tests run on
my freshly hard-reset iPAQ, as well as the results on my iPAQ after
Pocket PC Tech's upgrade.
One caveat: I am not sure why none of
the Active Sync tests worked in my tests, but I am afraid that they are why my
4700's average was not higher in the Spb Benchmark Index. If you take each test
individually however, you will see that the memory upgrade actually had a very
positive impact on the iPAQ's performance .
I am getting a little bit ahead of
myself here, so let me go back to the ordering process for just a moment.
When you decide to take the plunge and get the memory upgrade, you'll place your order
online. 
Pocket PC Techs will email the
packing & shipping instructions to you shortly. You'll have to pay to
ship your item to them by the carrier of your choice, I chose next day air and
Pocket PC Techs provided 2nd day return shipping after they had completed the
upgrade. Basically, I sent PAQo in on Monday and got him back Friday morning.
According to the Pocket
PC Tech's site, "During
the upgrade process we remove the existing 64MB and install 128MB. This memory
upgrade does NOT require our proprietary driver and is fully recognized by the
OS (126.27MB Available). This unit uses low voltage hi-speed BGA memory, so
stacking is not available and 128MB will be the maximum capacity."
When I received my iPAQ, I was pleasantly surprised to see the deluxe box that
he arrived in…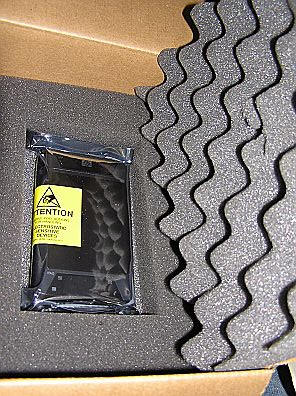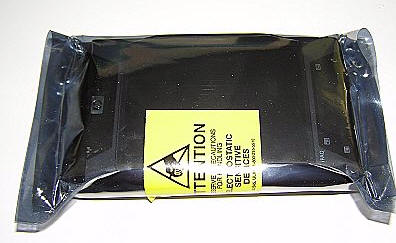 Inside the gray plastic envelope was my
much-missed 4700, along with a Klear Screen sample pack.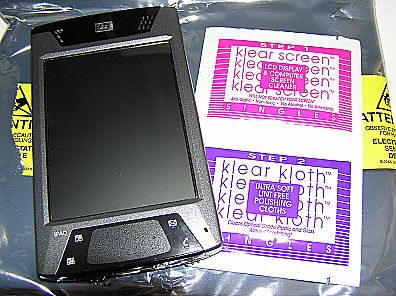 After unwrapping my iPAQ, I was tempted to immediately
charge its battery and then reload all of its programs…but I held off until I
could once again perform the Spb Benchmark test, the results were of which were
shown above.
Once I had restored
all of my programs to the iPAQ and had got everything set up once again, I was
pleased to see my new main storage RAM figures.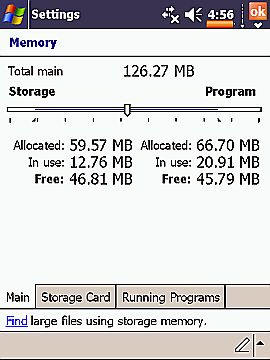 A sight for sore eyes – 126.27MB
RAM
As some of you may recall from Julie's and my review, "I
conducted a test with

BatteryBench .NET where I ran the 4700 on half bright (my usual brightness
setting) to 5% battery life. The iPAQ lasted for 280 minutes, or a total of
4
hours, 40 minutes." With the iPAQ freshly re-loaded with all of my
programs, I re-ran the same battery test under the same conditions, and the iPAQ
lasted for 344 minutes, or a total of 5 hours 44 minutes. I
have no idea why the iPAQ actually performed better this time, it may have
something to do with my battery now being broken in, but whatever the case, I can
certainly live with the results.
There are a couple of down-sides to
sending your brand new iPAQ in for the upgrade service. The first is that the
memory upgrade will void your factory warranty. For this reason, I think it is
best to use your iPAQ for a bit and make sure that there are no obvious factory
defects. Pocket PC Techs actually recommend that you wait until close to the end
of your warranty period. Of course, if there are any known issues with your
device, then you should send it in for warranty work first. Once upgraded,
Pocket PC Techs will provide a 90 day warranty on their parts and labor, as well
as on the motherboard of your Pocket PC.
This is the third brand new Pocket PC
that I have sent to Leonard and Mack, and I have to say that I have never
regretted "losing" my factory warranty on any of these PDAs for even a second.
Pocket PC Techs inspires that much confidence in me. Their staff has over
thirty years of combined experience doing these type memory upgrades. What's
great is while they have your unit cracked, they will examine everything –
checking to make sure that all is well. I am not sure if this applies to every
iPAQ, but according to their site, "We
have noticed that Compaq has implemented several ECNs (Engineering Change
Notices). These ECNs involve adding several small rubber feet between the main
board and the screen assembly as well as a Mylar shield over a portion of the
board.  We install these items during the upgrade. The result is a unit that has
less chance of failing in the future."
These guys really know their stuff!
I know that there will be some who'll
wonder why anyone would drop this kind of money on 128MB of internal RAM,
when one can easily buy a 1GB SD card for under $75. It's simple really.
Just as you would want the largest amount of RAM on your home computer, you can
get the same type of benefits from a larger amount of internal RAM in your
Pocket PC. Internal RAM is what makes a computer run faster and better, and it
will do the same for your iPAQ or other Pocket PC device.
Price: $199
Read the 90 day warranty terms
here.
Pros:
Doubled internal RAM
Increased performance in many areas
No decrease to battery life – mine has actually increased

Cons:
Voids factory warranty
It's not cheap
Product Information
Price:
199.0
Manufacturer:
Pocket PC Techs
Pros:

Doubled internal RAM
Increased performance in many areas
No decrease to battery life - mine has actually increased

Cons:

Voids factory warranty
It's not cheap