We use affiliate links. If you buy something through the links on this page, we may earn a commission at no cost to you. Learn more.
Product Requirements:
64MB Main Memory or more, 40MB Hard
Disk space or more, MS Windows 98SE/ME/2000/XP, Mac OS 10x (usage is limited to
transfer music files), USB Port, CD ROM Drive
I feel that in just a short amount of time I have really had my eyes opened
to the world of personal digital music players. Note that I don't call them by
the generic term of MP3 players? That's because not all digital music players
will play MP3s, but of course some players will play MP3 files as well as other
digital music formats. The Jet Audio iAUDIO M3
is just such a player. It not only will play MP3s, but it will also work with
WMA, OGG, and WAV files. Those of you that don't want to convert your music
files to a proprietary format, but that do want a cool portable music player,
may want to pay close attention to this review.
In addition to being a digital music player, the iAUDIO is also able to
record voice memos, create MP3 files from analog sources (direct encoding), and
you can listen to FM stereo radio while recording it at the same time – you can
even preset up to twenty radio stations. The player is upgradeable through
downloaded firmware updates and the display is customizable. This isn't bad for
a player that is roughly the size of a deck of playing cards.
The iAUDIO M3 is slightly different than other music players I have reviewed,
because it is actually comprised of two major pieces, the player's main body and
a small remote control with a six line display. While it is technically possible
to use the player without the remote, you would literally be flying blind. For
that reason, let's just consider the remote to be a necessary extension of the
main player. We'll talk more about this in just a little while.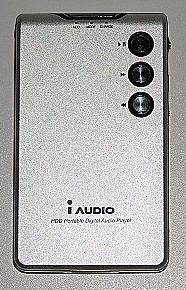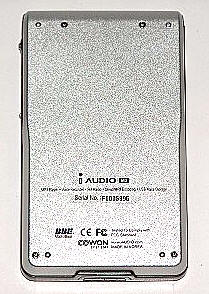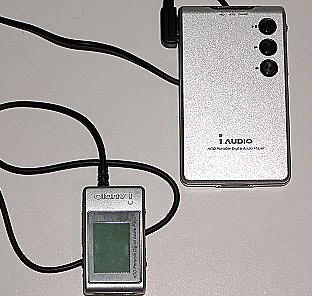 The iAUDIO M3 is available in several configurations. You can get a 20GB
player with or without a cradle (M3), a 20GB player with extra long battery life
(M3L) that comes with a cradle and the 40GB player that also comes with a cradle
(M3), but is not available with extra long battery life.
I received the 20GB regular battery life version with cradle. The main player
of which measures approximately 4" tall by 2 3/8" wide x  0.5" thick and it
weighs 4.8 ounces. The body is comprised of silver magnesium with black hard
plastic inserts. It much reminds me of  my old
Sony CLIÉ NR70V's case, being made with the
same slightly glittery silver metal. The M# is solid and feels substantial. It
passes The Gadgeteer creak test with flying colors and doesn't budge when
flexing is attempted. Overall, it gives off a true feeling of quality and
doesn't feel cheap in the least. As an added bonus, the smooth matte metal does
not show any fingerprints like a shinier polished metal case would.
Since the last two 20GB players I reviewed both had built in displays, I will
admit that it took me a little while to get used to not having that feature.
Once I got over not having it, I realized that for me, it really wasn't that big
of a deal. If you are the type of user that tucks your player into a pocket or
bag while listening, relying on the remote for all of your selecting, then you
will not  miss one less display. If you are not used to using a remote, or
if you usually listen to your digital music player while it is in your hand or
lying next you you on your desk, then there will be a slight period of
adjustment.
Without further ado, let's take an in-depth look at the JetAudio iAUDIO M3's
hardware…
Included in the box are the iAUDIO Player's main body, the LCD remote
controller, a sleeve-style carrying case, an extension connector, USB 2.0 cable,
line-in recording cable, AC power adapter, a set of Cresyn earphones, an
installation CD (contains JetShell and Jet Audio software) and for this review,
the optional syncing and charging cradle
Hardware Specifications:

Playback format: MPEG 1/2/2.5 Layer 3, WMA*, OGG,
WAV**, FLAC
Recording Format: MP3, 64Kbps – 320Kbps
FM Tuner: 87.5 MHz – 108.0 MHz
Hard disk: 20GB / 40GB***
PC Interface: USB 2.0 (Up to 480Mbps)
Battery
(Rechargeable Lithium Ion battery): M3 : Up to 14 Hours of Continuous Playback,
M3L : Up to 35 Hours of Continuous Playback
Power Supply: AC Adapter – DC 5.0V, 2A
Charging Time
(When using AC Power Adapter): M3 : About 3 hours,
M3L : About 6 hours
Buttons on Remote : PLAY/PAUSE, FF, REW, MENU (NAVI), VOL+,
VOL-, MODE, REC
Buttons on
Main Body: PLAY/PAUSE, FF, REW, Mode, VOL+, VOL-, MODE, REC
Switch: Hold
Display: 128 x 96 dots, 6-Lines 4-Gray LCD with LED
backlight (Multilingual Support)
SNR: 95 dB
Output Frequency: 20Hz ~20KHz
Output: 16 Ohm Earphones: 20mW+20mW
Dimensions: M3 20GB : 4.08 X 2.39 X 0.56 inches (103.7 X 60.8
X 14.2 mm),
M3 40GB / M3L : 4.08 X 2.39 X 0.72 inches (103.7 X 60.8 X 18.2 mm)
Weight
(Including Battery): M3 20GB : 4.8 oz (136 g),
M3 40GB : 5.3 oz (150 g),
M3L 20GB : 5.9 oz (168 g)
* Secure WMA format is not supported
** PCM format only
*** 1GB means 1 billion bytes. Actual formatted capacity may less
The front of the M3 is a smooth expanse of silvery metal, broken by three
vertical buttons in the upper left corner – Play/Stop (►║),
Fast Forward (►►) and Rewind (◄◄).
The top
center of the player houses three LED lights (HDD, MODE & CHARGE). Just for
reference, the HDD lED will light up green when the HDD operates. The MODE LED
will glow blue when the M3 is in Digital Audio mode, green when in
FM Radio mode, orange when the Voice Recorder or Line-In Recorder are
used, and bluish-green to indicate that the M3 is fully charged when it
is plugged in. The CHARGE LED will glow red while the battery is
charging, and will turn off when the M3 is fully charged.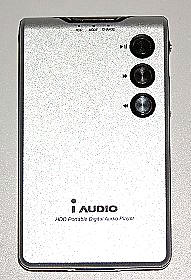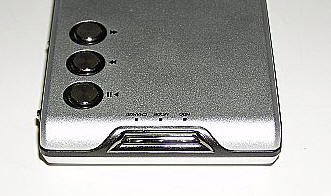 The left side of the player has the remote controller/earphone jack.
Interestingly enough, this appeared to be the same type plug that is on my
Sony NW-HD1, so of course I had to
try it to see if the other player's remote would work or vice versa. But alas,
they were actually not the same at all.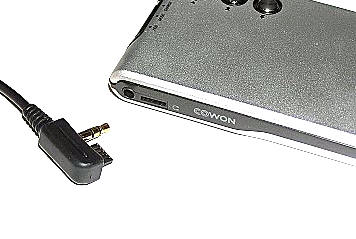 The right side of the iAUDIO holds the +VOLume/MODE/-VOLume toggle button
(Mode is activated by pressing in the center), the RECord A/B button, the HOLD
switch, the microphone and interestingly enough – a reset button.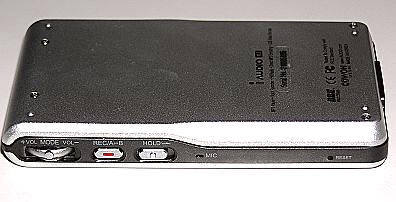 The bottom of the player has the sync/charge port.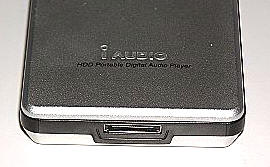 The front of the remote features a 1.25" (1" x 0.75") gray-scale LCD display
with a brilliant blue backlight.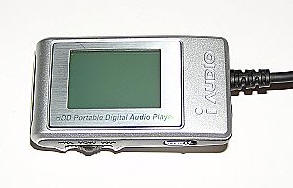 The left side of the remote holds the +VOLume/MODE/-VOLume toggle button
(Mode is activated by pressing in the center) and the HOLD switch.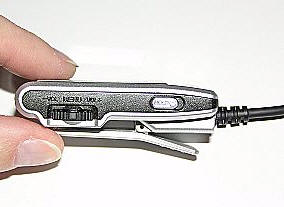 The right side of the remote holds the

Rewind (◄◄)/Play/Stop (►║)/Fast
Forward (►►)

toggle button (Play/Stop is activated by pressing in the center), the MODE
button and the RECord A/B button.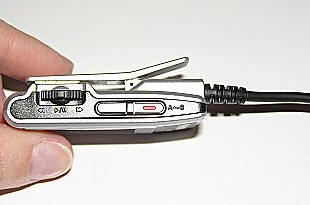 The bottom of the remote features the headphone jack plug for the included
Cresyn earphones, or those of your choosing.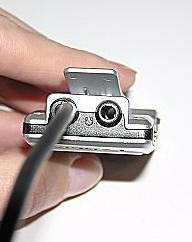 Now is as good a time as any for me to mention that these Cresyns are by far the
best pair of stock earphones that I have ever received with any audio product.
Before you audiophiles even think about objecting, please realize that I am not
saying they are the best I have ever used, they are just the best pair of
freebies I have ever come across. They fit in my ears, even with my tragus
piercing on the left side, and they sound great!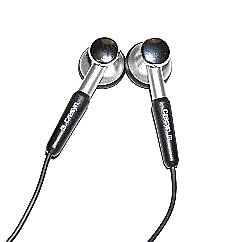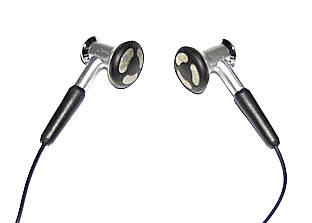 The back of the remote has a plastic clip for attaching to clothing or a
bag's strap.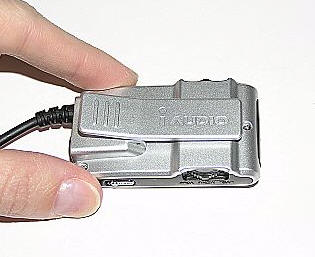 The optional cradle is a great place to dock the iAUDIO while syncing or
charging. Comprised of black plastic wrapped with matching silver metal like the
case of the M3, the cradle is a nice desktop accessory. The back of the cradle
has the following ports: DC IN 5.0V, Mini USB 2.0, LINE IN and LINE OUT.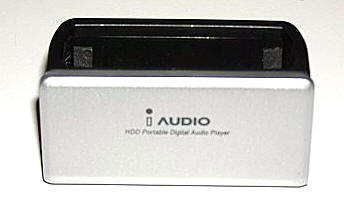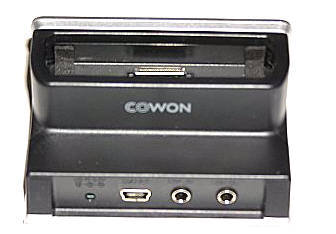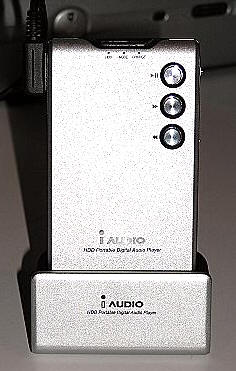 If you do not want to travel with a cradle, then you can use the included
extension connector. This black plastic thingamabob operates as a mini
sync/charge cradle – without the bulk or convenient propping of the desktop
cradle. On one end is the sync/charge plug, on the other are a row of female
plugs – DC IN 5.0V, MINI USB 2.0, LINE IN and LINE OUT respectively.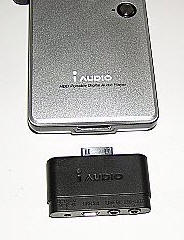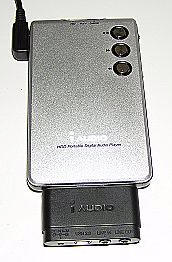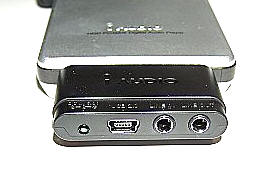 It's worth noting that the AC Adapter plug is of a slim form factor, made to
fit in a power strip without blocking several plugs.
Included Software:
The iAUDIO comes with JetShell, a program for ripping CDs to MP3 format and
for converting WMA and WAV files to MP3. It is also similar to a file explorer
in that you can use it to move music from your desktop or external hard disk to
the M3, which is technically also an external hard disk.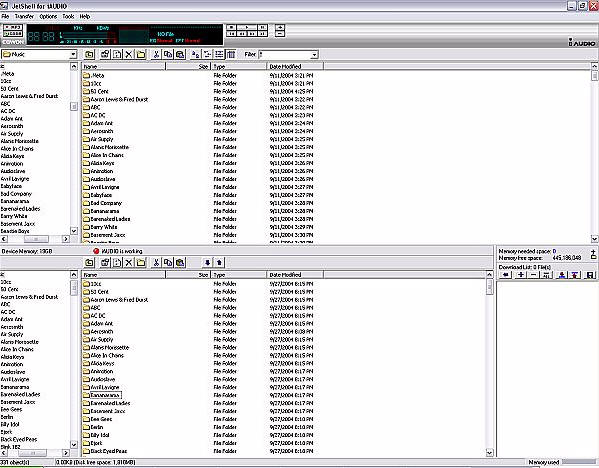 The M3 is immediately recognized when plugged into any computer as an
additional hard disk drive.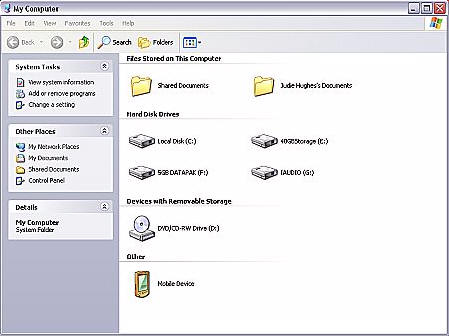 This is itself would be a great feature, but I soon discovered that the
iAUDIO had one more trick up its sleeve: Just because it comes with software for
moving music files does not mean that you need to use that software to do the
actual transfer. You can simply drag the music file from your computer to the
M3's Audio file.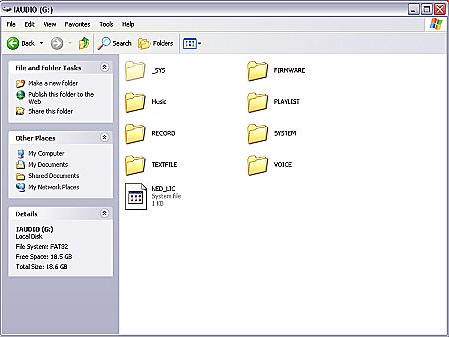 As I have mentioned in other reviews, I usually use
iTunes to rip my music and I like the
filing system that it uses. I find it incredibly convenient to be able to drag
'n Drop these files to the iAUDIO and have it recognize the artist, the album
and the titles of the song…love it!
Jet Audio, a music player and CD burner program is also included for desktop
use.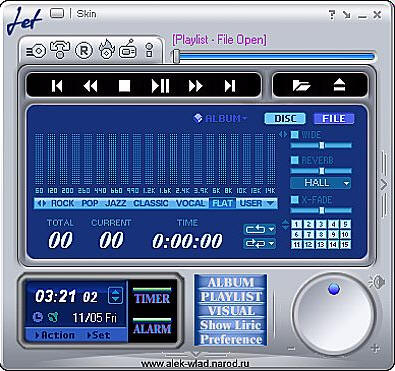 Using the iAUDIO M3:
Operating the iAUDIO M3 takes a little bit of getting used to, I will admit.
This is probably because I am used to my regular digital music player, just as
anyone else that tries something new will be. But once you learn the basic
navigation concepts, getting around is easy.
Assuming that one has already moved their music files over, it is now
possible to listen to transferred music files. Holding the

Play/Stop (►║) button on either the
main player or the remote for a couple of seconds will power everything on. The
LCD will light up with a brilliant blue backlight and the MODE light on the top
of the main player will glow blue.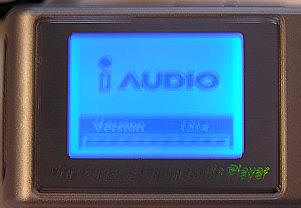 Pressing the MODE button will open up to a screen showing a graphic of four
choices: Digital Audio, FM Radio, Voice Recorder, and Line-In Recorder.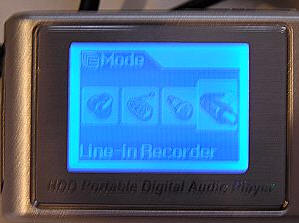 Modes can be selected by using the VOLume + or – toggle.. You can easily see
which mode you are in by either looking at the LCD screen or at the top of the
main player, as the LED lights will change for each mode, as I described
earlier.
While in the MODE window, you can access the MENU by pressing and holding its
button for a few seconds. Navigating from choice to choice is accomplished by
using the volume toggle, selections are made by pressing the MENU button, and
navigating back or forward is done by using the FF or Rew buttons.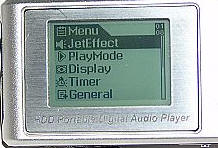 Once in the menu, the choices are as follows:
JetEffect – Equalizer (there are six presets and one user settings, but
all are adjustable), BBE (adjustable from 0 to 10), Mach3Bass (adjustable from 0
to 10), MP Enhance (Off or On), 3D Surround (adjustable from 0 to 10) and Pan
(adjustable from -2 to 0 to 20)
PlayMode – Boundary (all, Single, Directory and SubDirectory), Repeat
(Off or On) and Shuffle (Off or On)
Display – Lyrics (Off or On), Song Title (Filename or ID3 Tag), Play Time
(Elapsed or Remaining), Scroll Speed (speeds from 1 to 16), Album Scroll (Off,
One-Way & Two-Way), Title Scroll (Off, One-Way & Two-Way), Backlight Time (from
0 to60 seconds) and Contrast
Timer – AutoOff (from 0 to 60 minutes) and Sleep (from 0 to120 minutes)
General – Skip Length (Track, then from 2 to 20 seconds), Scan Speed (x4
to x 64), Resume (Off and On), AutoPlay (Off and On), FadeIn (Off and from 0 to
5 seconds), Controls (REC Long), Load Default (Cancel and OK)
Recording – FM Radio bps (64 to 320 kbps), Line-in bps (64 to 320 kbps),
Voice bps (32 to 128 kbps), Line Volume (0 to 10), Mic Volume (Low or High),
Auto Sync (Off to 8 seconds) and Voice Activated (Off or On)
FM Radio – Stereo (Stereo or Mono) and FM Region (includes China/Europe,
Japan, Korea and the US)
Information – System info including Version, HDD Total, HDD Free,
Directories and  Number of Songs
Whew!
Once you have your equalizer settings and play settings figured out, you can
sit back and finally enjoy using the the player. Since the iAUDIO M3 is more
than just a digital music player, I'll briefly go over the different MODEs and
their functions.
Digital Audio is the mode where you will listen to the music files
that you have moved tot he player. Using the menu choices and settings I
previously described, you can either listed to straight albums, shuffle through
your entire music library, or create a play list on the fly (by hitting the MENU
button briefly while a song is playing and choosing Add To List). I don't know
if it is just me, but the playback on this player seems a bit louder than on my
Sony.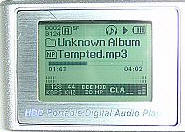 FM Radio is the mode where you can listen to the radio. Finding
stations is easily done by holding the REWind or Fast Forward toggle button. It
will automatically stop on stations with a strong signal. I found that even
inside my house I got a very good signal of all of San Angelo's major stations.
I make it sound like we have so many, don't I? Stations can be added to the
preset list by briefly hitting the MENU button and "Saving Current." You can
record music directly from the FM signal by pressing the Record button and
letting go. The signal will be recorded until you press Record again. This
recording can either be uploaded to the computer the next time you sync, or it
can be listened to from the iAUDIO M3. This may be a super handy feature for
those of you that have radio shows you can't listen to at work, but that you
want to record and play back later. Being recorded in MP3 format makes it
possible to carry these recordings on any MP3 player, Palm OS or Pocket PPC
device…getting any ideas? The amount that you can record is only limited by
the size of your available HDD space, and you can also adjust the quality of the
recording up or down to use more or less space.
Voice Recorder is the mode where you can record "notes to self"
through the built-in microphone on the main player. While in this mode, you
simply hit the Record button on either the main player or the remote. The
recording is saved to its own little folder, to be downloaded later to the
computer or listened to on the iAUDIO.
Line-in Recorder is a brilliant addition that allows you to take
analog recordings, such as your records or cassettes, and record them directly
to the iAUDIO as MP3s. How cool is that? I seriously need to do this with my old
collection of 12" records…
There is really only one other major item that I think I should cover, and
that is battery life. As I mentioned earlier, there are actually two types of
batteries available, Regular and the Long life. I have the 20GB player with the
regular battery, and I have been quite pleased with it. After a rigorous battery
test where I ran the iAUDIO down to where there were no bars in the battery and
the icon began to blink, I found that the player had been running for 13 hours
and 12 minutes. Most of that time was the player running with the backlight off,
but since I had to fiddle with it for the review, the light was on quite a bit
for some of the testing period. I think that 13 hours is pretty impressive, and
I would be willing to bet that the slightly larger M3L version probably gets
close to its billed 35 hours with continuous playback.
You'll have to forgive me, because this is the part of the review where I am
going to sound like a late-night infomercial as I say, "but wait, there's more!"
Today, when I went to the JetAudio site gather more info for this review, I saw
that there was a firmware upgrade. Installation was very easy, and after I
completed that, I found the section of their site that includes custom
displays
for the remote. Even better, there is a
tool that you can
use to make your own.
The JetAudio iAUDIO M3 player is a really spectacular bundle for the size and
for the money. Combining true MP3 playback with a handy voice recorder, FM Radio
recording as well as line in recording capability…this is such a feature rich
digital music player for such a compact size, it's truly amazing! The only
feature that I could wish for that wasn't already added is a built-in FM
transmitter. If that option is ever available, then I don't see how any other
player will be able to beat this one in the features/size and price arena.
You can check out the M3's User's Manual
here.
Find the best price for the JetAudio iAUDIO M3

here.
Price: $349 as tested at 20GB with cradle. $399 for
40GB version (that's the one I would suggest buying!)
Pros:
Small size
Great battery life
Will play MP3, WMA, OGG, and WAV files
Records voice memos
Creates MP3 files form analog sources
Can listen to and record FM stereo Radio
Includes CD ripping software
Can direct transfer music files
Can use player as a portable hard drive
Customizable and upgradeable
Actually ships with a great set of earphones
Cons:
No display on main player's body may bother some users
Product Information
Price:
349.0
Manufacturer:
JetAudio
Pros:

Small size
Great battery life
Will play MP3, WMA, OGG, and WAV files
Records voice memos
Creates MP3 files form analog sources
Can listen to and record FM stereo Radio
Includes CD ripping software
Can direct transfer music files
Can use player as a portable hard drive
Customizable and upgradeable
Actually ships with a great set of earphones

Cons:

No display on main player's body may bother some users