We use affiliate links. If you buy something through the links on this page, we may earn a commission at no cost to you. Learn more.
Product Requirements:
Device:
PC running Windows 2000 or XP (Windows 2000 and XP
require admin rights to install)
or Mac OS X, v10.2.6 to v10.3 (Mac OS X requires admin rights to install)
I haven't reviewed a palmOne PDA in
almost exactly a year. That last review was the
Tungsten E. Today I'll be reviewing the
Tungsten T5, which curiously enough looks almost identical to the TE at first
glance. The T5 is palmOne's new top of the line model set to replace the popular
T3. In the year since I posted that last
palmOne device review, they have released 3 other PDAs (not including the T5).
The Zire 21, 31 and 72. At the time of
their releases, neither Judie or I felt these models were interesting enough to
us to warrant reviews. To be truthful, palmOne has left me less than excited the
past couple of years, and I'm pretty certain Judie feels similarly.
This time around, palmOne is only offering one new model to consumers. Is
this just an interim device to compete against the latest Pocket PCs before the
new OS 6 devices are ready? Or is the T5 a compelling new PDA that T3 owners
should consider upgrading to? Read on to learn my opinion.
Hardware Specs
Processor: 416MHz Intel XScale Processor
Operating System: Palm OS software version v5.4
Memory: Total 256 MB (215MB actual storage capacity; 160MB internal flash drive,
55MB program memory)
Display: TFT color display with backlight, 320 x 480, 65,000 colors
Interface: USB (for HotSync® operation), Infrared, Bluetooth
Dimensions and Weight: 4.76 x 3.08 x 0.61in, 5.1 oz. (including stylus)
Power: 120VAC, 60Hz, 100mA
Battery: 1300mHa Lithium-ion polymer rechargeable battery (internal – non user
removable)
Expansion: SD card slot (Secure Digital), supports MMC and SDIO cards
Package Contents
Tungsten T5 PDA
Stylus
Flip cover (wasn't included in my review sample)
USB cable with sync button
AC adapter
Graffiti 2 sticker
Read This First document
License Agreement
Accessories Catalog
Software Installation CD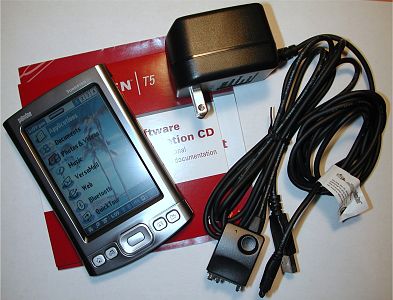 Never miss one of our posts again. Sent MON, WED, and FRI with the latest gadget reviews and news!
I had a real sense of Deja Vu when I first opened the T5's box. This new PDA
looks almost identical to the TE. Same color, same shape, same application
buttons and same 5-way navigation pad. In reality, this PDA is actually about
.25 inches longer, slightly thicker and heavier than the TE.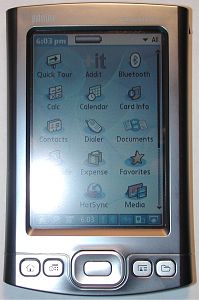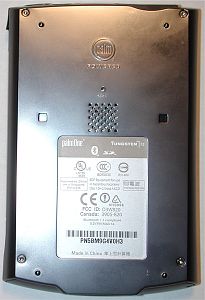 Although the T5 looks like it has a metal shell, it is only made of plastic.
This was the first of several disappointments regarding this new model. As the
T5 is set to replace the T3 which does have a metal shell, I was very surprised
that the T5 was left lacking one. Even though the case is plastic, it does have
a solid feel and did not creak, crack or flex when I performed the good ol'
Gadgeteer creak test on it. That said, the case does show fingerprints and
smudges. In hand, this PDA feels balanced and comfortable to hold and use. It
might be a little too long to be considered a good candidate for a shirt pocket,
but it does fit nicely in a side cargo pant or jacket pocket.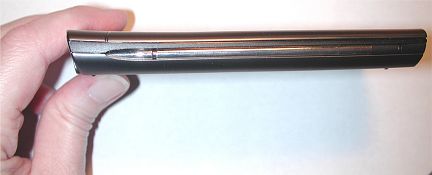 On the front of the PDA there are 4 application buttons, the 5-way navigation
pad and the color display. The buttons have the same layout as the ones on the
TE. They are small, flat and square with good tactile feedback. From left to
right, the application buttons are assigned to the Home, Calendar, Contacts and
File Manager applications. Like other models before this one, the buttons can be
reassigned to launch other applications by modifying their preferences.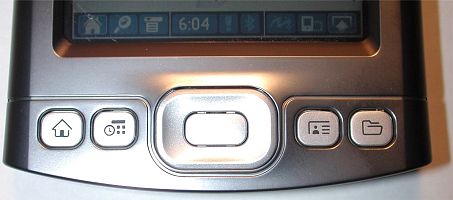 The 5-way navigation pad allows you to scroll up/down, left and right.
Pressing in on the center button performs a select function. Using the nav pad,
it is relatively easy to perform some tasks such as address look ups and
application launches with just one hand. The nav pad also makes game play more
enjoyable for certain types of action games.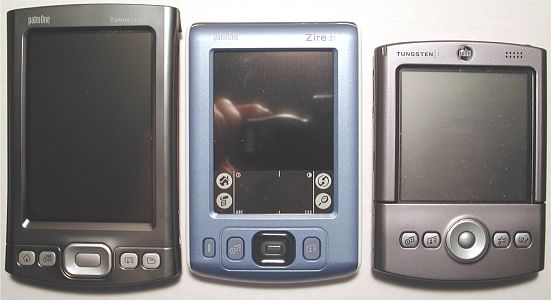 Tungsten T5, Zire 31 and Tungsten T
One of the most exciting changes that the T5 has over the T3 is the lack of a
slider. As a matter of fact, the T5 is palmOne's first PDA that has a 320 x 480
display that does not also include a slider. This is a big advantage in my
opinion as I grew very tired of having to open the slider on the T3 in order to
view the entire display in full screen mode.
The display itself is very nice. It is bright, crisp and easy to read in most
lighting conditions. The colors are not quite as vivid as they are on my new HP
hx4700 Pocket PC, but I suppose it's really not fair to compare the display from
a $400 PDA with one from a $650 PDA.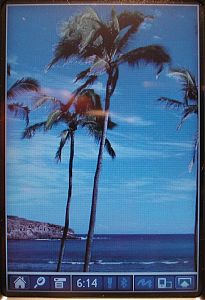 As far as stylus sensitivity with regards to writing on the display, I have
found that the screen is smooth and not overly spongy. There does seem to be
some lag time when writing Graffiti, but I'll get to that a bit later.
The left side of the T5 has a slot for the included screen cover, while the
right side has the stylus silo. The included stylus is better than average. It
has a polished metal barrel that is thick and heavy. The top screws off to
reveal a reset pin.
The top of the PDA has the IR port, SD slot, power button and earphone jack.
In some quick tests, I found that I was able to beam an address to a Zire 31
from the T5 at a maximum of 3.5 ft. Not too great… Regarding volume levels
through earphones, WOW!  The max volume level on this PDA is fantastic. I
believe that it is the loudest of any PDA I've ever reviewed. For me a
comfortable volume level in a quiet room was at less than 10% of maximum. Sound
quality is very good using the included RealPlayer software. Music lovers
will really appreciate this PDA. I did notice one thing though… when earphones
are plugged in but no music is playing, you can hear some white noise…

The bottom of the PDA has the new Multi-Connector. I guess the universal
connector is now truly history folks. Don't expect to use any of your old sync
cables or cradles with this new model. They won't fit… Which brings me to
another disappointment. The T5 does not come with a cradle. You'd think a $400
PDA would warrant one, but nope. Instead a USB sync cable is included. The cable
does have a hotsync button integrated into it, so it's not that bad I suppose.
Unfortunately the USB cable does not sync AND quick charge the PDA. You have to
plug in the included AC adapter either directly into the T5 or into the USB
cable to charge. By itself, the USB cable does offer trickle charging, but it
seems to take a very long time to charge a depleted battery.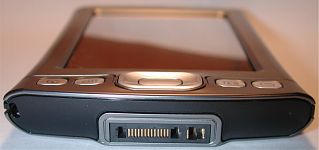 The back of the T5 has the reset switch and speaker grill. Speaker volume is
impressive. You can easily use this PDA as an alarm clock. But guess what? The
alarm sounds have not changed with this new model. You still get the same seven
lame sounds we've had for what seems like forever: Alarm, Alert, Bird, Concerto,
Phone, Sci-fi and Wake up. I read somewhere that the T5 was supposed to be
capable of playing polyphonic alarms. I'm not sure if this is true or not. I
tried installing some alarms that were only tested on a CLIÉ. They didn't show
up as choices in the alarm preferences dialog <sigh>.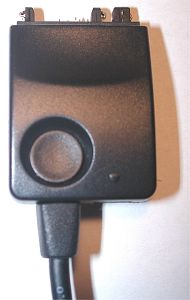 Do you use your PDA as a voice recorder? Sorry, you won't with this one. That
feature is missing from the T5. Also missing are vibrating alarms and LEDs for
alarms and charging status.
It's not all bad news though, you do get a few cool new features with this
PDA. The biggest goodie is the 256MB of memory. It's non-volatile memory too. If
you happen to let the battery run completely down, you'll not lose any of your
info. As a person that has run into problems with Pocket PC batteries
spontaneously draining, this feature is very nice indeed!
The 256MBs of memory is partitioned into two chunks called 'Device' and
'Internal'. The Device partition holds the OS and is 64MB with 54MBs in use. The
Internal partition is set aside for the USB flash drive. it is 160MB with a
little over 157MB available.
Using the included USB cable and the Drive Mode application, you can connect
the T5 to any computer and it will mount as a removable hard drive. Drivers are
not necessary, it's all plug and play. You can drag and drop files to it just as
you would any drive.  
Another nice feature is the 1300mHa Lithium-ion rechargeable battery. I had a
real hard time trying to run it down. I played MP3s for an hour, played video
and photo slide shows for 30 mins and was only able to get the battery to go
down to 95%. I'm pretty sure the average person could get at least 2-3 days of
work out of this PDA before needing to recharge.
Bluetooth fans will be happy to know that it is built into the T5. WiFi fans
will be annoyed to learn that once again palmOne is ignoring us. Yeah I know you
can get an SD WiFi card, but I personally don't want to futz around with a card
that sticks out of the top of the PDA. I also don't really want to shell out an
additional $130 or so for the card. I want it to be built in!
As far as overall system performance, I have only one complaint about the T5. 
While the system feels snappy and responsive, there is one feature that seems to
have a small lag problem: Graffiti. I've noticed that while I'm writing, the
system is always lagging a letter or two behind the current one that I'm
writing.
Although I really liked the form factor of the TE when I reviewed it a year
ago, I am disappointed that palmOne used the same design for the T5. Where's the
imagination and innovation guys? I guess we just have to wait for the OS 6
devices huh?
Software-wise, the T5 comes ready for both business and pleasure.
Included in ROM:
Quick Tour – Simple overview of features.
Addit
Bluetooth – Control panel for the Bluetooth features.
Calc – Same old calculator.
Calendar, Contacts, Tasks, Memos, Note Pad – PIM applications.
Card Info – Displays data about the SD memory card in the slot.
Dialer, and SMS – Mobile phone applications.
Documents to Go v7.0 – Word, Excel and PowerPoint viewer and editor that can
read and write native files. No more conversions are needed.
Drive Mode – Simple toggle application that turns on/off USB mode.
Expense –
Favorites – Simple application launcher
Files – Finally, an actual file manager. Not nearly as good as
File Man, but it's a start.
Hotsync
Media – Picture and Video (MPEG1) viewer
Prefs
RealPlayer – Digital audio (MP3, Real Audio) player
VersaMail – Email client
Blazer – Web Browser
World Clock
Included on the CD:
Palm Desktop 4.1 for PC and Mac
File Transfer (Windows only)
Microsoft Outlook Conduits (Windows only)
Phone Link Updater
Quick Install (Windows only)
Documents to Go Desktop and Conduit (Windows only)
Send to Handheld Droplet (Mac only)
Bonus Software:
Adobe Acrobat Reader – PDF file viewer
eReader – My favorite eBook Reader
RealPlayer Desktop – Desktop
Audible (URL)
VPN (URL)
Websphere (URL)
AOL Mail access software
Not a lot has been changed / added to the T5 as far as software goes. The
interface remains pretty much unchanged from the T3. The bottom toolbar still
gives you access to the quick screen rotation and soft Graffiti popup. Clicking
the clock display will allow you to see more info about the PDA and change the
screen brightness setting.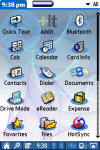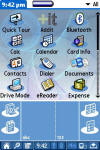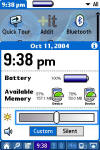 Click thumbnails to see full size images.
The agenda screen still exists in the Calendar application. I like this
overview screen as it gives me all the pertinent info I need for the day like
the Pocket PC's Today screen.
All the other standard calendar views are there as well.
The new additions to the OS include the Drive Mode toggle application, the
File manager, Media viewer application and the new Favorites launcher.
The Drive Mode application is simple to use. When you launch it, there is one
big button to tap to turn the Drive Mode (USB mounting) on.
If you have the T5's USB cable plugged into your PC and turn the Drive Mode
on, it will instantly mount a drive on the PC that you can drag and drop files
to.
The new file manager called Files, is a simple application that allows you to
navigate through the Internal memory partition. You can copy, delete, move,
rename, beam and open files.
The Media viewer is an easy to use picture / video (MPEG1) viewer and
slideshow program.
The Favorites application is basically just a simple launcher that you can
use instead of using the application view. You can arrange icons on 4 different
screens and have a background image. Personally, I just use the good old
application view…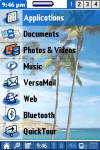 On the desktop (Windows only), we get a new program too. It is called File
Transfer and is a drag and drop file manager for the T5. With this program you
can copy, move, delete, and rename files in the internal memory partition, SD
cards. Copying files to and from the PC are pretty quick.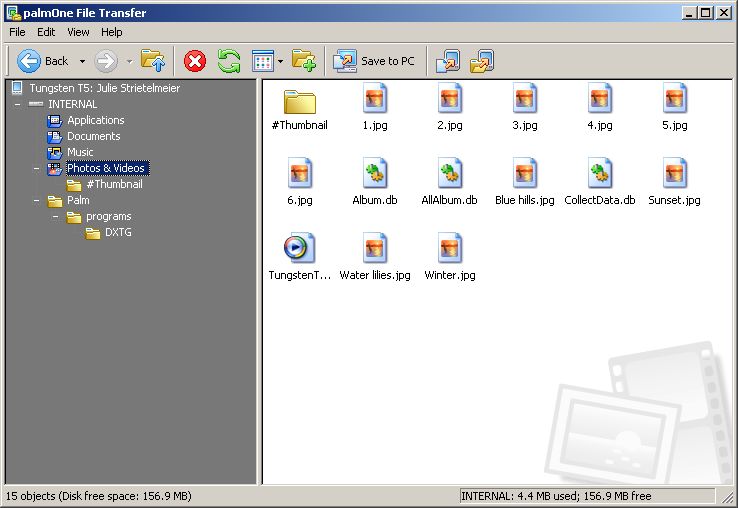 So, what's the bottom line on this PDA? I would have to say that my overall
feeling is ho-hum when it comes to the T5. Yes, it has 256MB of memory
which is nice, but SD cards are really cheap these days, so who cares. That
said, the fact that the memory is non-volatile is a great feature. The only
other halfway interesting feature is the USB mode which really doesn't give me
any goose bumps. Why oh why couldn't this PDA have had OS 6 and WiFi built in?
T3 users, I suggest that you not upgrade to this new model unless you're just
dying to spend $400 on basically the same thing you already have minus the
slider and extra memory. Those of you that have PDAs that are several years old
and are looking to upgrade to the T5, I would say that if you can't wait a few
more months for the OS 6 devices, the T5 is a solid performer and should serve
you well.
Price: $399
Pros:
256MB of memory
Non volatile memory
USB Mode
No slider
Cons:
Plastic case
Lack of built in WiFi
No voice recorder
Product Information
Price:
399.0
Manufacturer:
Palm
Pros:

256MB of memory
Non volatile memory
USB Mode
No slider

Cons:

Plastic case
Lack of built in WiFi
No voice recorder