We use affiliate links. If you buy something through the links on this page, we may earn a commission at no cost to you. Learn more.
Product Requirements:
A USB sync/charger for your electronic
device
Buying a PDA that comes with a cradle is just wonderful for those who sit at
a desk day in and day out. Viewing that PDA's screen when it is sitting propped
up at an appropriate angle is quite convenient. However, the first time the
owner needs to travel with that PDA, the desktop charger is suddenly revealed
for what it is – a clunky item to lug around.
This has led to a proliferation of USB driven compact sync and charge cables
for frequent travelers. While these cables are fabulous to use when the owner is
bringing along a Laptop to connect to, they are useless if that person is trying
to eliminate the laptop and travel light – with just their PDA.
BoxWave is offering the
perfect solution for those that don't want to travel with their PDA's cradle or
with their laptops: the
VersaCharger.
Measuring 4.5" long by 1.5" wide, the VersaCharger is the perfect size to
chuck into a gearbag or keep in the glovebox of the car. Comprised of smoky
translucent plastic, the charger can be used both in a wall socket or in the
cigar lighter of a vehicle. All you have to add is the USB sync and charge cable
that works with your particular device.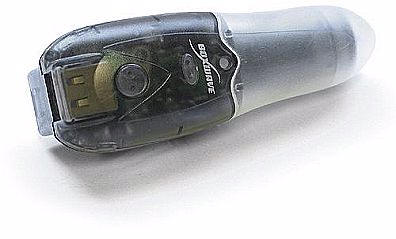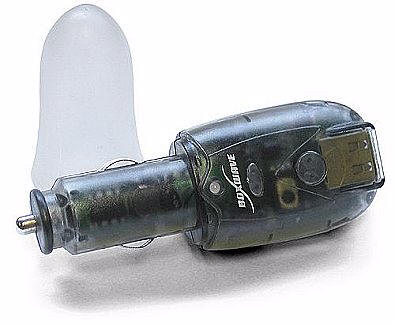 Photos courtesy of BoxWave
There is a USB port on the end to receive the plug from the cable, and under
the clear plastic cap on the opposite end is the cigar adapter.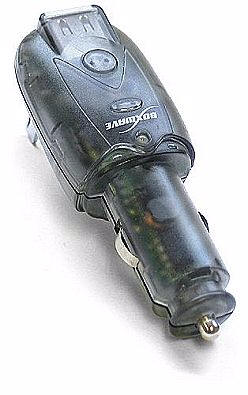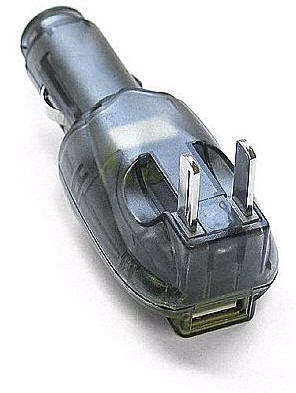 Photos courtesy of BoxWave
An LED light on the top side glows red when the attached electronic device is
charging,  and it glows green once charging is complete. The underside of
the charger houses the electrical prongs which fold down for wall-socket
charging.
When used in conjunction with a USB cable charger, such as BoxWave's
miniSync, the
VersaCharger is a compact and complete charging solution.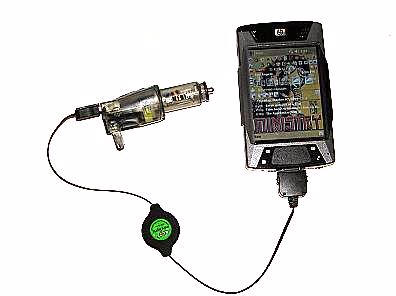 I have been very impressed with the set. I travel quite a bit and in the last
year have been trying to carry my laptop less and less. Being able to power my
charging cable either in the car, on planes equipped with outlets, or from a
wall outlet from such a compact device is the epitome of convenience. With the
holidays coming up and gift lists being made, this might be the perfect item for
your favorite road warrior.
Updated 03/10/05: Thuan Truong, one of our readers,
wrote to say that if you are trying to charge the HP iPAQ 4700 while running the
wireless, the VersaCharger will not produce enough power. I have
tested it with mine, and found his observation to be correct. Obviously, this is
not something I had needed before, so I hadn't run into a problem, but I'll know
to test for it next time! If that is the scenario in which you might be thinking
about using the VersaCharger, then you will not be satisfied. Thanks Thuan for
pointing out this problem. Hopefully BoxWave will fix it ASAP.
Price: $24.95
Add $14.95 for the miniSync
Pros:
Compact charger that draws power from either wall socket or power port in car
Can be used in conjunction with the USB sync/charge cable you may already own
Cons:
None
Product Information
Price:
24.95
Manufacturer:
BoxWave
Pros:

Compact charger that draws power from either wall socket or power port in car
Can be used in conjunction with the USB sync/charge cable you may already own

Cons: