We use affiliate links. If you buy something through the links on this page, we may earn a commission at no cost to you. Learn more.
Ok gadgeteers, pack your bags and get ready to call shotgun, because we're
going on a road trip! Well… ok, we're not really going anywhere… But if we
were, you'd want to be prepared for endless hours driving, wouldn't you? I don't
know about all of you, but as soon as I start up my truck, I also turn on the
iPod.
It's very rare when I don't have music playing while I'm driving.
This review is going to introduce you to two products that may or may not
earn a permanent spot in your vehicle. We've reviewed PDA products from
Seidio
in the past, but now we're going to take a look at two of their iPod accessories.
iMount
Product Requirements:
Device:
iPod with dock connector
 
For the past year, I've been carrying my iPod along with me where ever I go.
When I'm listening to it while driving, it lays on the seat beside me with the
cord from the cassette adapter connected to it. The only real problem with this
setup is that I can't see the display and can't easily adjust settings without
feeling around for it on the seat and then sneaking quick glances at the menu
while also trying to keep my eyes on the road.
The iMount from Seidio solves this problem in an elegant way while adding 2
additional features.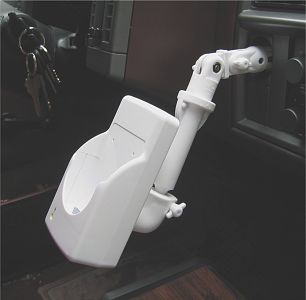 The iMount is a cradle that utilizes your vehicle's cigarette lighter as both
a mount point and a power conduit for your iPod. Made of shiny iPod White
plastic, the cradle is sturdy yet light weight.
Hardware Specs
Input Voltage: 10V – +16V
Current: 2A max
Audio Output: 3.5mm earphone socket
On the back of the mount is an attachment point for the cigarette lighter
plug. An extension arm is included to allow for customized mounting (if the
cigarette lighter in your vehicle is too low, too close to gear shift, etc…).
There are three separate adjustments that you can make to the arm in order to
put it in the best viewing angle. There is also a small adapter that you can use
if your cigarette lighter socket is too big for the plug.
Once you plug the iMount into the cigarette lighter, the LED on the front
will glow green to let you know that you have a good connection. From there, you
can insert the iPod into the cradle and the docking connector. Upon connection,
the LED will change to Red to signify that it is charging the iPod's battery.
Once the battery is fully charged, the LED changes back to green.
Besides charging the iPod's battery and allowing you to orient the music
player to a better location than a car seat, the iMount also includes an audio
out jack on the left side. Using a cassette adapter with this jack will provide
much better audio quality than using the same cassette adapter with the earphone
jack on the top of the iPod. I'm guessing that the audio out jack on the iMount
is amplified because the audio through the radio is significantly louder when
using it. You actually have to be careful not to have your radio volume turned
up too far when you plug it in because it is so loud. Adjusting the volume level
on the iPod itself will have no effect at all (even if you turn it to the
absolute minimum) on the volume coming through your vehicle's radio.
The iMount also comes with several stick on pads that you can attach to the
back of the cradle to allow for cushioning of the connected iPod. Without the
pad, my 4th generation 40gb player would rattle against the back wall of the
cradle when I would drive down my gravel road or other bumpy pavement.
I really have no complaints about this product. But if I had to find one
thing to change, I would ask for the addition of a power switch. As it is, you
have to unplug the iMount when you're not using it. This is at least true for my
old 1991 GMC Sonoma S-10 pickup. Regardless as to whether the truck is running
or not, the iMount will draw power when it is plugged in. I find it somewhat
annoying to have to unplug it whenever I arrive at my destination, and would
love it if there was a way to switch off the power to the cradle.
That said, I think that the iMount would make a great accessory for any iPod
(with docking connector) owner.
Price: $39.95
Pros:
Adjustable mount
Charges iPod battery
Audio out jack
Cons:
Powered even when vehicle is not running (may depend on vehicle)
iSound FM Transmitter
Product Requirements:
Device:
iPod (any model) or any other audio device with a
3.5mm earphone jack
 
We've reviewed several FM transmitters in the past, and admit that they are
nifty little gadgets. If you don't happen to know what they are, they let you
transmit/broadcast the audio from a device like an iPod, through an FM radio
station. This allows you to wirelessly listen to your tunes. Well, sort of
wirelessly. Read on…
The iSound from Seidio is a typical FM transmitter with some not so typical
features. The transmitter module portion of this product does not require
batteries because it plugs into a cradle that has a cigarette lighter plug
attached to it. When plugged in, an LED on the cradle will glow Red to signify a
connection.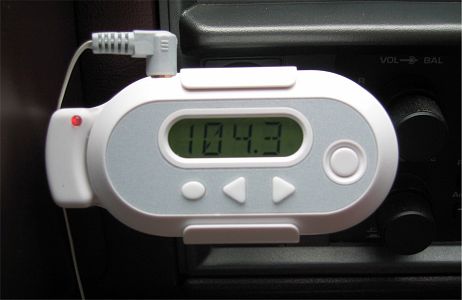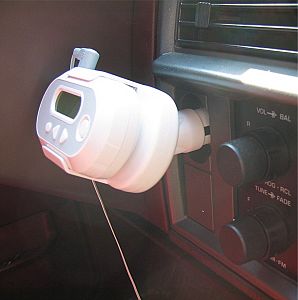 The iSound has 4 buttons on its face. The large round button on the right, is
the power button. Pressing and holding it for more than 1 second will toggle
power. When you first turn it on, the backlit monochrome display will show the
word LINK. A few seconds later, the display will switch to the tuned frequency.
The arrow buttons allow you to move up and down .1MHz at a time through FM
frequencies from 88.1MHz to 107.9MHz. The oval button is a quick skip button
that allows you to switch between 88.1, 94.1, 100.1, and 106.1MHz.
If you have never used an FM transmitter, the idea is to tune to a 'quiet'
station on your radio. One that doesn't have a strong station playing. Then tune
to that exact same frequency on the FM transmitter. Once you have completed this
step, you can then plug your audio device into the audio jack on the iSound
using the included adjustable audio cable. Music from the audio device will then
play through the tuned FM radio station.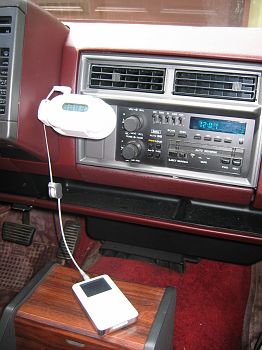 In use, I've found most FM transmitters to produce duller, muddier audio when
compared to using a cassette adapter. The iSound is no different in this
respect. However, if you have a good equalizer on your radio, you might be able
to adjust the quality somewhat.
It's nice that you don't have to worry about batteries, and can just plug the
iSound into the cigarette lighter. But, having to use a cable to plug into the
audio device defeats the purpose of this wireless solution and really doesn't
make this product any more convenient than using a cassette adapter. I actually
prefer the sound quality of a cassette adapter anyway…
But wait, the iSound does have one more thing going for it that might perk
your interest. In addition to using it with your vehicle, you can also use it in
your home. If you unplug the actual FM transmitter module from the cradle,
you'll see that it has a female USB connector in it. By purchasing an optional
USB cable, you can plug the iSound into your computer and power it via USB. This
will allow you to transmit music from your audio devices, to your home stereo. 
Too bad Siedio didn't just include this cable with the purchase of the iSound.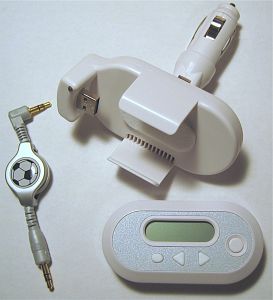 While the iSound is easy to use and has features some FM transmitters lack,
it is bulky and doesn't provide exceptional audio quality. If you are looking
for a transmitter for your iPod, I would suggest looking at the
iTrip instead. For
other audio devices, you can save some money by just purchasing a cassette
adapter.
Price: $39.95
Pros:
Can tune to any FM station
USB and cigarette lighter powered for home and vehicle
Backlit display
Cons:

Sound quality is a little muddy
To use with USB, an optional cable must be purchased
Bulky
Product Information
Price:
39.95
Manufacturer:
Seidio
Pros:

Can tune to any FM station
USB and cigarette lighter powered for home and vehicle
Backlit display

Cons:

Sound quality is a little muddy
To use with USB, an optional cable must be purchased
Bulky