We use affiliate links. If you buy something through the links on this page, we may earn a commission at no cost to you. Learn more.
I ordered a 40GB iPod last night. I figured it was my duty to upgrade my 1yr old 3rd gen model. ;o) Since I opted for the free engraving, it will be a few days before I receive it. I wonder if it will arrive before the fabled HP iPAQ HX4705 that I have on order from CDW? Still no word on when it will be announced, ship, etc. It's torture waiting for new toys!
—

Help Wanted: Reviewer for a Speck Products iPod Mini SkinTight Armband.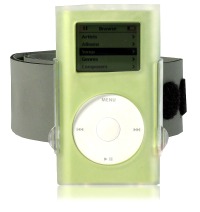 It comes with a SkinTight clear skin too. Reviewer must possess above average writing skills and a digital camera that can take great macro shots. Interested parties should send me an email.