Product Requirements:
A strong TV signal and either four AA
batteries or an outlet for charging
The ability to watch television from one's wrist is not a new thing. Believe
it or not, the technology was present in 1982 when the world's smallest TV –
which also happened to be a wristwatch – was unveiled…the
Seiko TV Watch.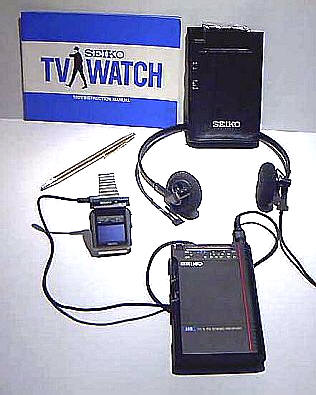 Picture courtesy of the
TV History website
In order to watch TV, one had to wear a receiver in either a shirt or coat
pocket and there were wires going from the receiver to both the watch and the
headset. The cost of the unit was $495 (in 1982 dollars*). Due
to the fact that it cost so much and the performance was so low –
the watch was eventually scrapped. However, the TV Watch was around long enough
to get some high profile placement. The
Nerd Watch Museum
has a great shot of Roger Moore as James Bond in Octopussy, testing out the
Seiko TV Watch in Q's laboratory. Of course, Bond's screen was shown with full
glorious color because it was in the movie's script. In reality, non-secret
agents had to settle for black and white as it would be many years before
technology would allow such a small color TV screen.
Well, it took 22 years, but there is now another television watch available.
Not only is it entirely self-contained, it also has a color screen. Even better
it can be worn as a watch, a necklace, or propped up on a desk.
Brando Digital Products recently
sent me the brand new
NHJ
Wearable TV Watch. Included in the box are the 1.5" TFT color monitor TV, a
docking cradle (used for charging or battery driven viewing), stereo earphones,
a neck-strap and Japanese instructions. Good thing the TV Watch is totally easy
to figure out, because I am no good with kanji.
☺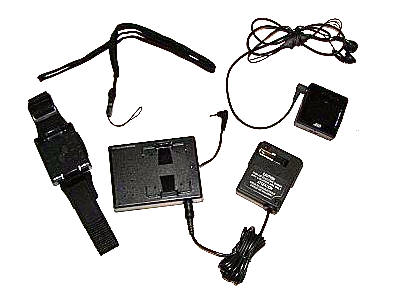 Clockwise from upper left: neck-strap, earphones attached to
TV, docking/charging cradle with AC adapter and watch band
I have to admit that it took me a moment to get over the shock of seeing such
a small TV. Knowing that it was color made it all even more amazing. The
black plastic case measures just 1.94" tall x 1.84" wide x 0.72" thick and it
weighs just 1.8 ounces. The top of the case holds a small LCD screen with no
backlighting. It shows the date as well as the time with am or pm designation.
You can toggle between the two views by briefly pressing the set button
on the right side. The actual TV monitor measures 1.5" diagonally.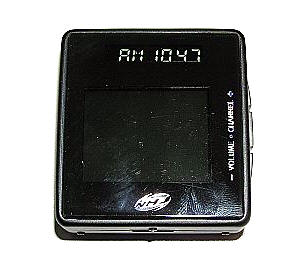 As you can see, the shiny black plastic screen is very
fingerprint prone. It seemed like I was wiping it down every other minute!
Setting these functions is easy – just press the set button on the
right side for a couple of seconds until the month setting flickers and then use
the up or down arrow to adjust accordingly. As each value is entered, briefly
touching the set button again will advance to the next value.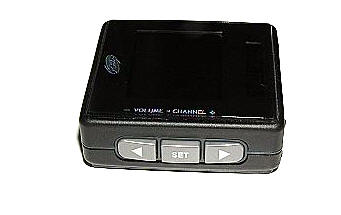 The left side of the TV holds the headset jack, TV on/off button and
the power jack. The television is turned on or off by pressing and holding the
TV button.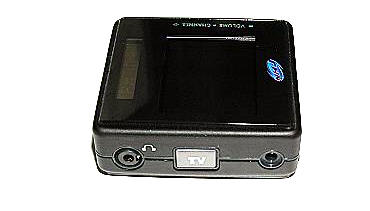 The top and bottom of the case have grooves which snap into the watch strap's
cradle and the docking cradle.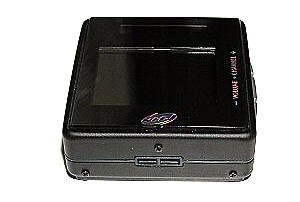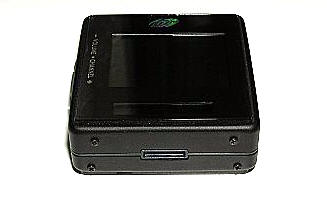 The back has device information, as well as one of the lanyard holes for the
neck-strap.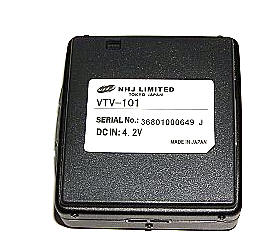 Built into this tiny marvel is a 500mAh Lithium polymer battery which
promises one hour of battery life..
In order to hear anything on the TV and to get a reception, you must plug in
the earphones; evidently this is where the antenna is located.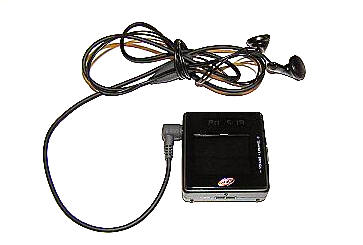 Next to the clock display is a battery meter. It takes approximately 1½
hours to charge the battery, and it should last for 1 hour of  viewing, as
I previously mentioned. Up to three additional hours are possible when you run
the TV from the docking cradle with batteries inserted.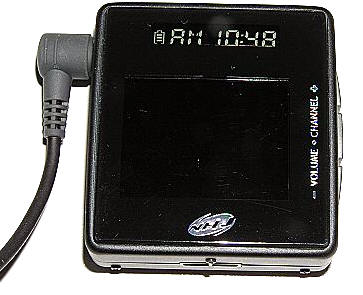 The watch band is a bulky contraption that is made to secure the TV inside a
molded plastic cradle. The strap is made virtually indestructible nylon webbing
that closes with a wide strip of Velcro. This is not something you will choose
to wear if you are trying to make a fashion statement, but it does the job.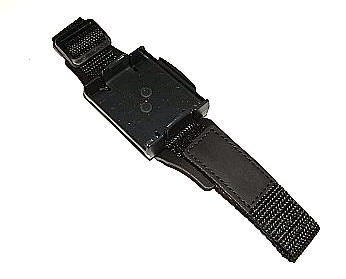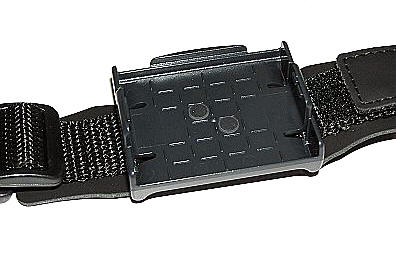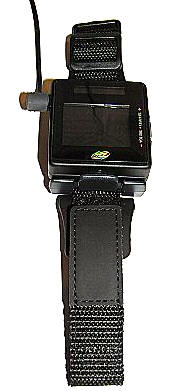 Here you can see my arm with the strap and TV in place. My wrist measures
5.5", so the strap had quite a bit of unwanted extra length.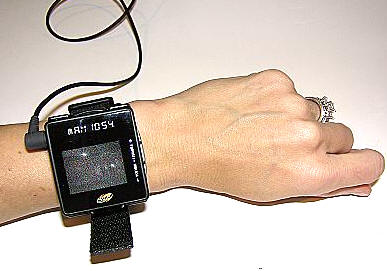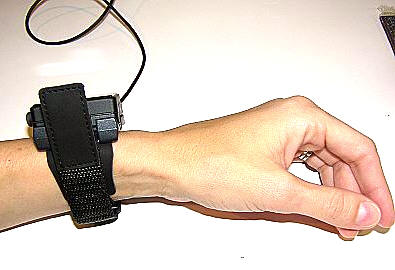 Here is the TV on Steve's 7" wrist, next to a 44mm watch for size comparison.
As you can see, while the TV is tiny, it is still a bit big on anyone's wrist.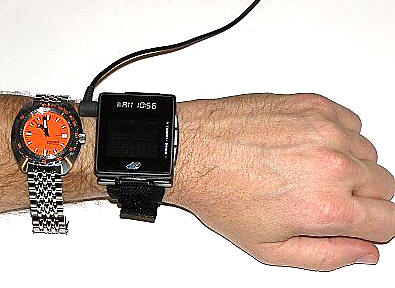 The accompanying docking cradle is a handy way to charge the TV and watch it
if you are sitting at a desk. The AC adapter must plug directly into the cradle,
and then the smaller adapter plugs into the TV's power jack. There is no easel
on the back of the cradle, so it must be propped somehow if you are watching at
a desk. I believe that an easel should have been built-in.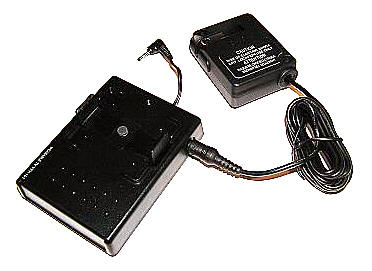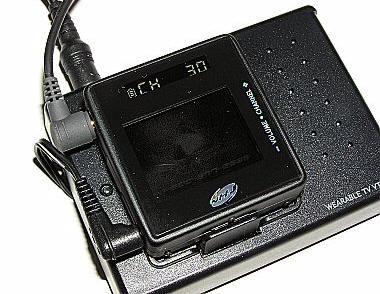 The dock can also run the TV from four AAA batteries; the battery door is
located on its underside. The four hours of viewing that you can get from the
TV's internal battery and the dock's AA batteries when used together should be
more than enough to get through most sporting events, or an afternoon of lazing
at the beach.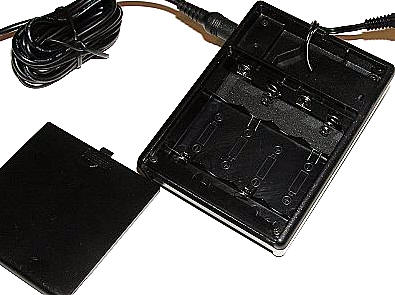 The neck strap is probably my favorite way to wear the TV. A small lanyard
loop inserts into the holes on the back top right of the case and the TV can
then dangle against the chest until one is ready to watch. Worn like this, one
can truly appreciate the tiny size and convenience of this portable television.
The lanyard has a plastic clip so that the TV can be released if needed.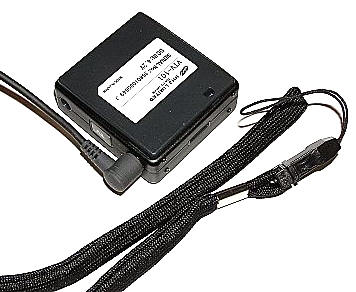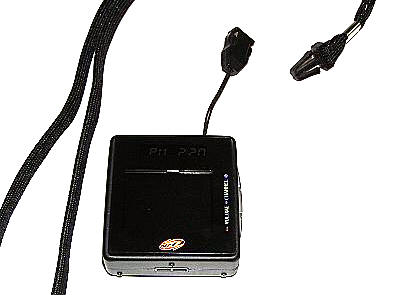 Pressing the up or down arrows on the right side will bring up volume first.
Pressing the set button for a moment will change the display to channels, at
which time you can scroll up or down until you find a signal. There are
certainly quite a few channels to scroll through; VHF channels 1 through 12 are
available, as well as UHF channels 13 through 62. When you reach the end, or
where 63 would be, the tuner will restart at channel one.
As you all know by now, I live in a city of about 100,000 people and we have
at least two network stations that broadcast from here directly. I was confident
that since I am able to receive good signals on my Sony portable TV, the same
would be the case with the NHJ. I am not sure if the antenna on the Watch TV
just isn't as strong as my other portable's, but I was a little bit disappointed
with my local channel selection. I was able to pick up two stations from inside
my house, but it figures that neither is one I would watch! Here are some screen
shots of the Spanish channel's soap opera "Besame
Tonto."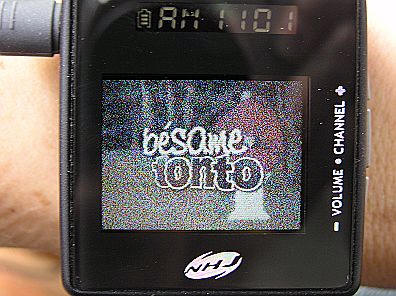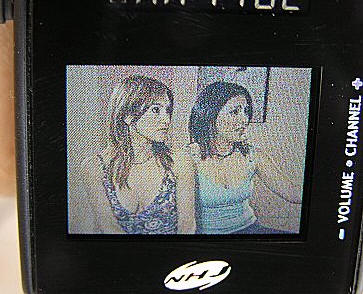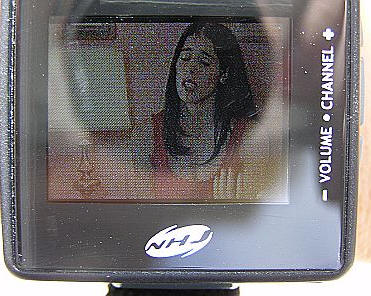 While the sound was crystal clear and quite good, the picture was just a bit
staticky. Depending on where you happen to be standing, the signal will either
get better or worse. If you live in a metropolitan area, I would imagine that
you could get quite a few channels with perfect reception both indoors and out.
I have to admit, the Geek in me just loves this product. I have
been guilty of wearing a much larger portable TV around my neck when attending
events or hanging out on vacation. This TV is so small and cute, that it almost
cancels out its own Geek factor! I am not sure if that is necessarily a good
thing, but I do know that if you are the person that keeps a portable TV handy
for whatever reason, and you happen to live somewhere with a very good local
signal, then you should be quite pleased with the NHJ Wearable TV Watch.
The NHJ
Wearable TV Watch is available from
Brando Digital Products and other retailers.
Price: $245** (Includes FedEx
shipping)
Pros:
Tiniest wearable TV available
It's in color!
Sound is clear and quite good, even when reception is not perfect
Can get up to four hours viewing time when dock is used
Cons:
No easel on the cradle / charging dock
Stronger antenna needed in less metropolitan areas
*For fun, I used an
Inflation Calculator to see what
the Seiko TV Watch would be in 2003 dollars. The cost: $963.52.
¡Aye Chihuahua!
**According to the Inflation Calculator, that is just $126.88
in 1982 dollars – a bargain! ☺
Some of our links in posts like this one are affiliate links, which means that we may receive a small commission on purchases at no cost to you.
Product Information
Price:
245.0
Manufacturer:
Brando
Pros:

Tiniest wearable TV available
It's in color!
Sound is clear and quite good, even when reception is not perfect
Can get up to four hours viewing time when dock is used

Cons:

No easel on the cradle / charging dock
Stronger antenna needed in less metropolitan areas
*For fun, I used an
Inflation Calculator to see what
the Seiko TV Watch would be in 2003 dollars. The cost: $963.52.
¡Aye Chihuahua!
**According to the Inflation Calculator, that is just $126.88
in 1982 dollars - a bargain! ☺