We use affiliate links. If you buy something through the links on this page, we may earn a commission at no cost to you. Learn more.
Product Requirements:
Device:
Windows PC running 98SE, 2000 or XP.
Digital cameras are available in all sorts of shapes and sizes these days. From the typical run of the mill point and shoot variety that we're all familiar with, to something a little more exotic like the James Bond Stealth cam that we reviewed here not so long ago. If you are a fan of the more exotic style of cameras, then you'll be interested in reading about the M Catch 1000 6in1 AV Device that Brando recently sent me to review. Not only is this little gadget a digital camera, it can also record MPEG4 video with sound, record voice notes, function as a web cam, function as an MP3 player and be utilized as a USB storage device. Take a look at the specs…
Hardware Specifications

Video Lens: F3.0/f=8.66mm, Digital Zoom: 4X, Video Lens Focus: Auto
Video Sensor: CMOS Sensor (2 Mega Pixels)
Lens Focus Range: 1.5m ~ Infinity
Movie Mode: w/Audio (320×240 Pixels) MPEG4File Format
Audio: 12S Audio Codec/MP3/ADPCM
Memory: Built-in NAND Flash 16MB SDRAM (82 images (1600×1200 200pixels)
Expansion Memory Slot: SD/MMC Card
Display: 1.5" Color TFT LCD, 84,960 (280×220) Colors resolution
Battery:
Rechargeable 780mAh Li-Ion battery with Battery Charge
Communications:
Mini USB1.1
Dimension: 116x50x21mm (WxDxH)
Weight: 100g
Shaped like a candy bar mobile phone sans keypad, the M Catch 1000 will probably not draw too much attention to itself when in use. It is made of an opalescent white plastic with silver trim. The device is comfortable to hold and does pass the creak test.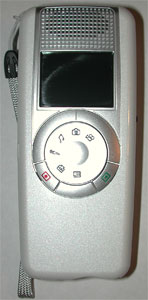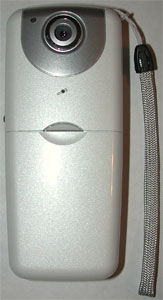 The front of the device has a 1.5 inch color LCD capable of displaying almost 85,000 colors at 280 x 220 resolution. This little display is crisp and bright when you are indoors. Unfortunately it is very hard to see outdoors in direct sunlight. This makes it a little tough to use as a viewfinder.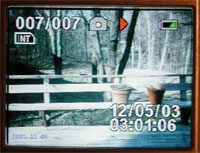 Above the display is the speaker, which is surprisingly loud at maximum volume.
Below the display is the circular mode switch. This switch can be rotated either clockwise or counterclockwise with your thumb to select the 6 different built-in functions. The functions are small raised icons that allow your thumb to grab on to help facilitate rotation. Two buttons on the outer edge of the mode switch control playback and recording in the various built-in functions.
On the left side of the M Catch there is a mini USB connector behind a protective rubber flap. This is the connector that you attach the included 4.5 foot USB cable to link with your PC or Mac computer. Below this connector is the TV out jack and earphone jack. Included with the M Catch are RCA TV cables and stereo ear buds.
The opposite side of the M Catch has the power switch, which must be held down for several seconds, to toggle the power on or off. Below the power button is the jog dial switch. This switch is used to cycle through on-screen menu options, as well as for zooming in and out in video and picture capture mode.

At the bottom of the device, there is a SD/MMC card slot, and the AC adapter connector. It's important to note that my M Catch was shipped with an Asian configured power plug. Brando had to then send me a small adapter so that I could use it with my standard US wall outlets.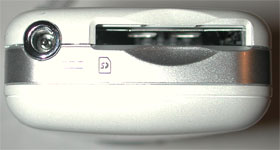 The back of the M Catch has a small status LED, the microphone and battery compartment door. The camera lens is also on the back of the device. I'm a bit disappointed that there isn't a way to protect the lens. Although it is somewhat recessed, I still fear dirt and dust getting in it while it is not in use. I wish there were a shutter cover of some type.
Before you begin using the M Catch, there are quite a few settings that need to be made / tweaked. The setup menu for each function is launched by pressing the jog dial in. From there you can scroll up and down through the various options. The number of settings varies depending on the function selected. In picture capture mode, you have the ability to change such things as exposure, white balance, and picture quality. In voice record mode, the only option is to audio quality.
Let's take a look at each of the 6 functions.
Web cam:
This is actually the only function that I was not able to test during the review period. I tried to get it to work with my Powerbook and AV Chat, but the camera was not recognized. The user manual does say that the camera will work with Microsoft's Movie Maker and Net Meeting for the PC. When I set the M Catch to web cam mode and plugged it into my PC, it brought up a Hardware Wizard that wanted to install drivers for a Sunplus SPCA536 device. I opted not to install the drivers.
Video Recording:
With the M Catch, you can easily record MPEG4 movies (.ASF) with audio. Movies are recorded at 320×240 resolution / 30 frames per sec and depending on the video quality and audio quality settings, the movies can take up quite a bit of storage in the internal or SD card. Here's a table showing the differences.
 
High
VBR
Normal
CBR(500k)
Economic
CBR(300k)
16 MB
3 min
5 min
7 min
32 MB
5 min
9 min
15 min
64 MB
11 min
17 min
29 min
128 MB
22 min
35 min
58 min
256 MB
44 min
1 h 10 min
1 h 57 min
512 MB
1h 17 min
2 h 20 min
3 h 53 min
While you are recording, you can use the jog dial to zoom in and out on your subject.
I didn't include any movie samples due to bandwidth constrictions, but I was pretty happy with the clips that I did capture. Of course the quality isn't as great as a real camcorder, but action was fluid and pretty crisp. The only thing I noticed that may be a problem is that a couple of my sample clips had black blocks in some of the frames during playback on my Powerbook. However, playing the same clips on the M Catch itself and on a PC did not show these blocks. I should note that I was playing the clips while the drives were mounted on the computer (Mac / PC). Maybe there is an issue when doing this on a Mac?
Using the included RCA cables, you can easily play the movie clips on a TV which is kind of cool.
At this point I should mention that you have to manually switch from using the internal memory to the SD/MMC slot and visa versa. Switching modes is accomplished through the setup menu, but is slightly annoying.
Audio Recording:
The M Catch works great as a personal voice recorder. Files are saved in .WAV format, and are surprisingly clear. Like the movie recording mode, specific quality settings will determine how much space is used for each clip.
 
High
(22k/s)
Normal
(16k/s)
Economic
(12k/s)
16 MB
12 min
17 min
23 min
32 MB
25 min
34 min
46 min
64 MB
50 min
1h 8 min
1h 31 min
128 MB
1h 39 min
2h 17 min
3h 2 min
256 MB
3h 19 min
4 h 33 min
6 h 5 min
512 MB
6h 37 min
9 h 6 min
12 h 8 min
While playing back recorded clips, the jog dial functions as an up/down volume control.
One cool thing that I noticed was the fact that if you're listening to clips or MP3 songs through the built in speaker, and switch to the included ear buds., the volume level will be automatically be lowered in half. This keeps you from accidentally blasting your ears when you have the volume set to the maximum level.
MP3 Player:
Using the M Catch as a player could be really cool… but as is, it does an ok job. Sound quality is very good. The included ear buds. are not the most comfortable, but they work in a pinch.
The problem I have with using this device as a player is the fact that you have to put all the MP3 files in the same folder that is used to save pictures, movie and voice clips. This is true for saving the files to both the internal memory as well as the SD card. This makes organizing your music a little difficult.
There's also the fact that you can not easily skip backwards and forwards to different songs. You can either play sequentially or randomly.
When playing music, the display blanks out after a few seconds. It's a shame that such a nice color display couldn't be used to display album art for the currently playing song. Even if it was only for a few seconds, that would be a cool feature.
You can play MP3's through your TV when using the RCA cables. Audio will only play in mono though…
Picture Taking Mode:
The M Catch is a 2 mega pixel camera. As such, it can take quick snap shots that are fine for web use or emailing friends. The more light you have, the better the picture. Indoor pictures in low light tend to be grainy.
Just like the movie and audio features, you can set the digital camera settings to the desired memory storage level.
 

High
4 mega pixel

(2304 x 1704)

Good
3 mega pixel

(2048 x 1536)
Economic
2 mega pixel
(1600 x 1200)
16 MB
47
55
82
32 MB
94
110
164
64 MB
188
220
328
128 MB
376
440
656
256 MB
752
880
1312
512 MB
1504
1760
2624
This information was copied out of the manual. The first time I looked at it, I was confused because they talk about 4, 3 and 2 mega pixel settings. According to the specs, this camera is only 2 mega pixel. I did find one blurb in the manual that says the resolution is 4 mega pixel with a software upgrade. Hmmmmm… For the life of me, I can't find this product mentioned on any web site other than Brando's, so I was unable to find any upgrade driver.
When taking pictures, using the jog dial will allow you to zoom (digital) up to 12x. Digital zoom is really pretty much useless, so you are better off not even using it. See some examples below which were all taken on the highest quality setting. Click the image to see full size picture. The full size pictures look really pixelated.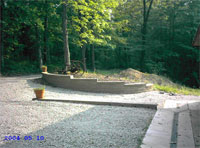 No zoom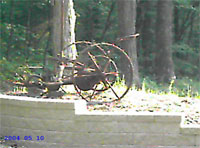 12x zoom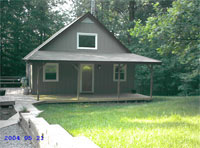 No zoom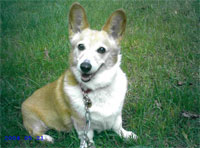 No zoom
Using the supplied RCA cable, you can present a slide show of pictures on your TV.
USB Storage:
One other use for the M Catch 1000 is as a USB storage device. When you plug it into an XP or Mac OS X 10.? or later, it will automatically mount 2 drives. One for the built in 16mb of flash memory, and one for the SD/MMC card slot. Files can be dragged and dropped into these drives just as if they were a hard drive.
Manipulating files other than picture, movie, and sound clips on the M Catch itself is not an option.
Included with the M Catch are several PC based applications to help you take advantage of the Video and photo features of this device.
Ulead Video Studio 7 SE
Ulead Photo Express 8 SE
Ulead Photo Explorer SE
Ulead Cool 360
At $265, this device is not exactly cheap… Is it really worth the price? It's hard to argue that having all these features in one handy package isn't nice, but the problem is that all the features are pretty much mediocre. While there is nothing difficult about using the M Catch, using it just leaves me wanting more from it. If you have a lot of disposable cash, this might make a great gift for a teenager, but for the most part, I would not recommend it for the true Gadgeteer.
Price: $265.00 (Fed Ex shipping included)
Pros:
6 features in one device
SD/MMC card slot
Loud speaker
TV out 
Cons:
Camera doesn't work that well in low light
Hard to see display/viewfinder in bright sun
MP3 player lacks features
 
Product Information
Price:
265.0
Manufacturer:
Brando
Pros:

6 features in one device
SD/MMC card slot
Loud speaker
TV out

Cons:

Camera doesn't work that well in low light
Hard to see display/viewfinder in bright sun
MP3 player lacks features