We use affiliate links. If you buy something through the links on this page, we may earn a commission at no cost to you. Learn more.
Product Requirements:
A computer running
Win98SE/2000/ME/XP/Mac OS 8.6 or higher 
Some days it can seem as if there is a conspiracy being perpetrated against
the consumer by all of the digital camera, mobile phone and PDA manufacturers.
How so? As each new device comes out, there seems to be a new type of flash
media card that must be purchased in order to properly use the item. While I
think that is a good thing to have smaller media cards in order to create
smaller electronic devices, I find that it can be frustrating to have to buy a
new reader each time a company comes out with a "pro" or micro-sized version of
its regular product.
If you have a plethora of media cards and you don't want to keep a collection
of readers, then you should take a look at the
12 in 1 USB 2.0 Card
Reader / Writer offered by Brando
Workshop.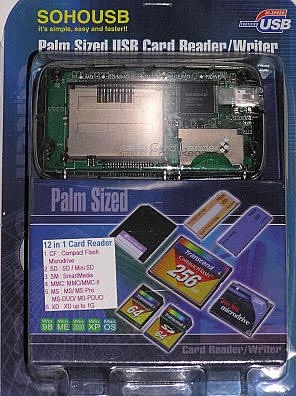 Reminiscent of the coveted clear cased Palms that only developers used to be
able to get, the reader is composed of translucent plastic showcasing its
circuit board and slots. Included in the package are the reader itself, a 40.5"
clear USB cable with mini USB connection, and a mini CD that includes drivers
and the user manual.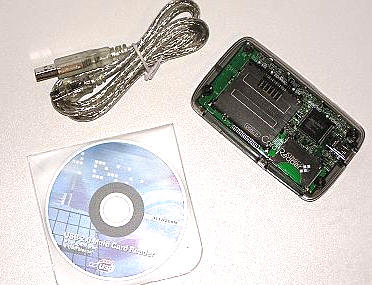 The reader measures approximately 3.5" long x 2" wide x 0.5" thick and weighs
1.7 ounces. It easily fits in the palm of a 5'11" woman's hand (mine), and
weighs so little that it won't be a burden to add to any gearbag. At first, for
portability reasons, I wished that the USB cable was shorter. However, there are
definitely times when it is convenient to have a little bit more cable available
– especially when your laptop's USB ports are on the back side.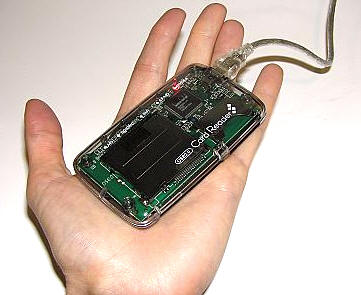 There are four slots on the front of the reader which can accept the
following cards: Compact Flash, IBM Microdrive, SD, Mini SD, Smart Media, MMC, MMC-II, Memory
Stick, Memory Stick Pro, Memory Stick Duo, Memory Stick Pro Duo, and xD picture
cards. A red LED light will glow to show that the reader is powered and an
orange light will glow under one of the following headers to show that the slot
is activated: MS, SD/MMC, SM and CF/MD.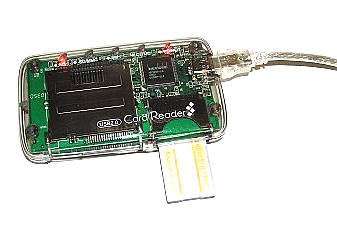 Cards are grouped together intuitively by similar form factors: MMC, MMC-II, SD
and mini SD being in the same slot, Compact Flash I, II and Microdrive being
together, all of the Memory Stick formats working from the same slot, and with
Smart Media and xD picture cards sharing the last.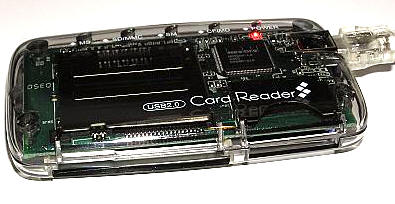 The backside of the reader is also transparent, and offers an fun look at the
electronic "innards."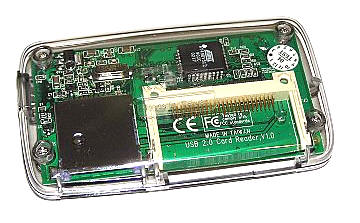 As you saw by the label under the CF slot in the picture above, the reader is
compatible with USB 2.0 Standard. This should make for speedier transfers.
When the reader is plugged in and a card is inserted, a pop-up window should
appear that looks like this…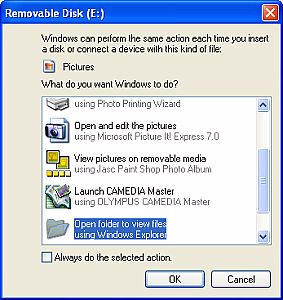 …allowing you to choose what operations you need to perform with the card's
contents.
In the My Computer section of your PC, assuming you are using a windows
machine, the four separate drives of the reader will appear under the "Devices
with Removable Storage" section.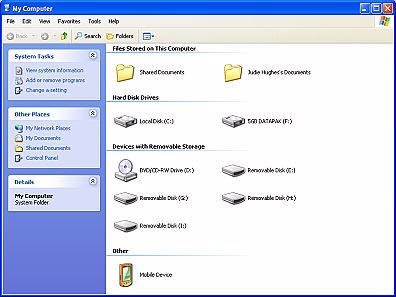 I have no idea how long it will be before the next card format appears
that requires its own reader. But in the meantime, this gadget is going straight
into my gear bag. I have not yet seen another that could accept so many card
formats and which has such an appealing design. Maybe one of these days I will
get the clear PDA to match. ☺
The
12 in 1 USB 2.0 Card
Reader / Writer is available from Brando
Workshop. .
Price: $34
Pros:
Maximum amount of readers in a compact and portable design
Appealing clear case
USB 2.0

Cons:
None
Product Information
Price:
34.0
Manufacturer:
Brando
Pros:

Maximum amount of readers in a compact and portable design
Appealing clear case
USB 2.0

Cons: