Product Requirements:
Device:
Sony CLIE TH55
The Sony CLIE TH55 hasn't been out very long at all, and already we have several options to customize it. From leather cases, to plastic plugs that fill the voids left at the top of the CLIE when the flip cover is removed. Another way to customize your TH55, is with a replacement flip cover. This review will take a look at the colored face plates that are being sold by Surplus PDA.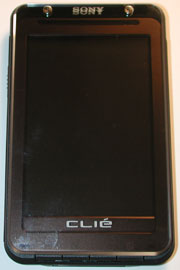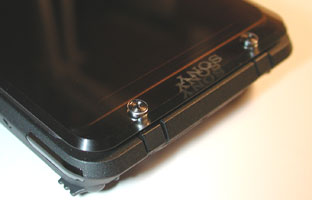 Made of semi-transparent plastic, these plates are available in blue, green, red and white. The plastic material has a luminous quality to it, that gives a person the impression that they might glow in the dark. FYI: they do! That is, if you prime them by placing them under a bright light for several minutes.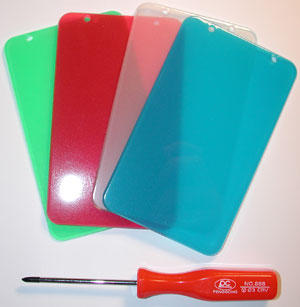 The plastic that is used for these plates does not have a mirror finish like the original flip cover. That's a good thing if finger prints and smudges drive you as crazy as they do me.
When you purchase a face plate, you also get 2 screws and a special screw driver that will be needed to remove the original face plate from your CLIE. In case you haven't noticed, special screws are used to hold the plate on to the hinge. It sort of makes you wonder if Sony did this on purpose, so that people wouldn't try to remove them. I guess they had the right idea, because when I tried to remove the original screws from my TH55, the included screw driver tool stripped them out! As a result, I can't show you what this product looks like when it is installed. :o( I'm not very happy…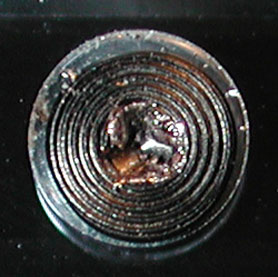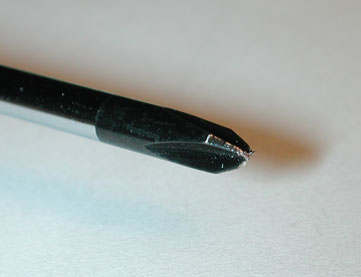 Left to right: Stripped screw, worn screw driver tip
I would approach this product warily… I don't know if I just had a case of bad luck, if the included screw driver had too soft of a tip, if the screws in my original TH face plate were over tightened, or what… Regardless, it's left a bad taste in my mouth.
Price: $19.95
Pros:

Several colors to choose from
Includes screws and tool
 
Cons:
I was not able to remove my original face plate with the included tool. My screws were stripped.