We use affiliate links. If you buy something through the links on this page, we may earn a commission at no cost to you. Learn more.
Over the years, my mom has gotten worse about keeping track of her keys. She
will lay them down without taking note of their position, put them in her lap,
forget about them and then drop them as she stands up – without realizing that
they have fallen. In all honesty, it has reached the point where it is like a
tired joke that no one laughs at any more. She doesn't just misplace them about
her house, she misplaces them in her own purse. There is not a visit that ends
without her saying, "let me find my keys." I know that it is a source of
frustration to her, and that is why when I was asked by
Convenient Gadgets if I would
like to review the Finderz Keyperz
I leapt at the chance.
Unlike other key-finder systems I have seen in the past, Finderz Keyperz
operates on the principle that if you have one unit handy, then you can use it
to locate the missing unit. The starter kit comes with two, but you can actually
link up to 50 units. There is no immoveable "base unit" that has to be within
range to find the missing object. Instead, every Finderz Keyperz fob is a
sender/receiver unit. I'll get into how well this works in just a moment.
Here are the main features of the Finderz Keyperz system:
100 ft. / 30 meters effective operating range ensures successful
locating: FCC ID # NLHRT3310
Loud 85 dB beeper can be heard under furniture, in a closet and through
clothing
Extra-long 60 second beeping duration allows more than ample locating
time
Super-bright sapphire blue ultra high-intensity 1750 mcd 100,000 hour
led personal flashlight with convenient hands-free on/off switch and
two-minute power-saving auto-shut-off circuitry
Rechargeable lithium ion batteries and custom smart charging 'Mouse' 
Low-battery chirp provides ample advance recharge warning
System expandability; accommodates up to 50 units to one system
Choice of four distinct beeper patterns
Built-in retractable mini-antenna for extended range operation
One-million unique transmitting codes eliminates annoying false triggers
Protective sliding door hides buttons ensuring units will not sound
accidentally
Unique patent pending compact design is easy to operate
One-year limited manufacturer's warranty
Included in the starter kit's box are two Finderz Keyperz Sender/Receiver units with
replaceable rechargeable Li ion battery, one smart charger and two 20mm key rings.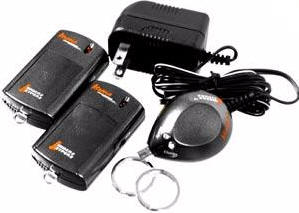 Photo courtesy of the
Finderz Keyperz website
The fobs are comprised of a dark smoky gray plastic that almost appears
metallic. They measure approximately 2.5" long x 1.5" wide by 0.5" thick, and
they weigh just 1.1 ounces.
When you open the kit, the first thing you'll need to do is charge each fob.
To do this you push the grooved slider from the ON to OFF
position, which fully exposes the charging port into which the end of the
mouse-shaped smart charger will plug.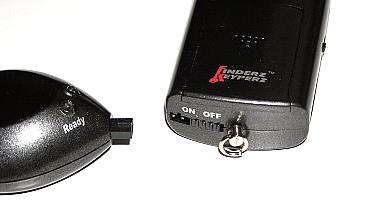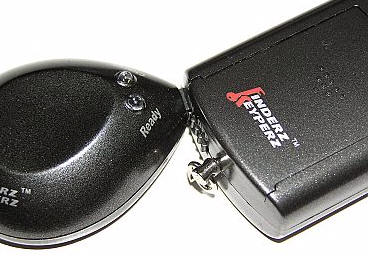 The charger has red and green lights on its top to indicate whether the fob
is charging or ready.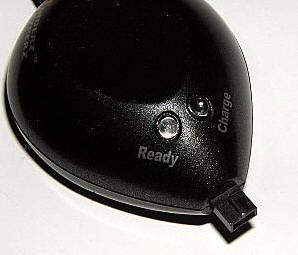 According to the brochure that came with the kit, initial charging time can
be as much as five hours (the Finderz Keyperz site says eight). I found that it
took much less time – about 30 minutes – so perhaps my units shipped slightly
juiced.
To set up the units so that they can find each other, you slide the front
cover down to expose the four buttons, marked +, –, FIND
and ♪.
Making sure that the slider is in the ON position, and the antennas are
not extended, you hold the two units no further than two feet from each other.
At the same time, you press the + button on each unit until they light and
blink. Triple blinks indicate that the two fobs can now communicate with each
other.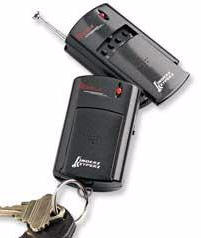 Picture courtesy of the Finderz Keyperz website
After completing this step, you press the FIND button on either unit.
Within ten seconds the other fob should receive the signal and begin to beep.
The beeping will continue for up to a minute. You can kill the beeping by
hitting FIND again, or turning the unit off momentarily.
This worked for me the first time I tried it, but if you are having trouble
it could be because the batteries are not fully charged, the units weren't close
enough together when you were linking them, or you didn't hit the two +
buttons at the same time.
You can change the beeper pattern by pressing the
♪ button until you hear the
one most likely to get your attention. The beeper volume is 85db, which while
not excruciatingly loud should be obnoxious enough to easily find in the
average home or business. If the forgetful person happens to also be hard of
hearing, which is the case with my mom, then other people in the room should be
able to help listen for the beeping if it is far enough away to be faint.
In order to find missing keys, you extend the
antenna on the fob you have in your possession. The missing fob will begin to
chirp within just a couple of seconds, as long as you are within 100 feet. If
you don't hear the beeping, then you should move to another location and try
again. As I mentioned before, the missing fob will beep for a minute, so if you
are within earshot you should have no problem finding it.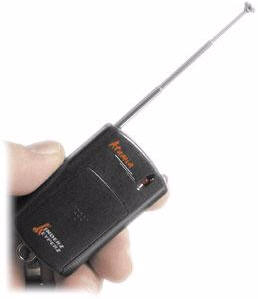 Photo courtesy of the Finderz Keyperz website
As an added convenience, each Finderz Keyperz unit has a built in flashlight.
The sliding switch for the light is located on the side of the unit.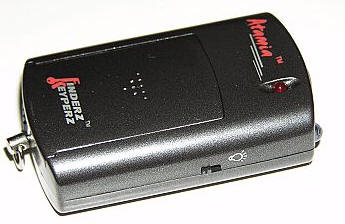 It is not large, but being slotted it is easy to catch with your finger and
operate. The flashlight will turn off automatically after two minutes, but if
you need it for longer you can reset it by sliding the switch off then on again.
Obviously, if you use the flashlight a lot then you will have to recharge the
fob more often. According to the instructions included with the kit, the bulb
has a life of 100,000 hours.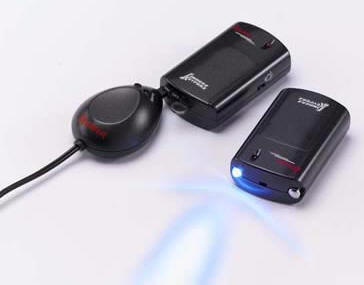 Picture courtesy of the
Finderz Keyperz website
In case you are wondering how someone that can't
keep up with their keys is going to keep up with two Finderz Keyperz fobs, let
me tell you my solution. I took the first fob and attached mom's keys to its
20mm slotted ring. Instead of attaching the 20mm ring to the second fob, I
attached a long piece of black cording into the small ring on the unit's end to
make it into a necklace. Now, all mom has to do is remember to charge either
unit when the low battery chirp sounds – approximately every two to three weeks.
The Finderz Keyperz Misplaced Item Locater
offers an easy and inexpensive solution that can keep the user from feeling
helpless or dependent on others when they have misplaced their keys yet again.
It offers long battery life with the economy and convenience of rechargeable Li
ion, a long enough beeper duration to actually find the keys, a long range,
expandability and a built in flashlight. I can't think of a better gift for a
forgetful person!
The Finderz Keyperz Misplaced
Item Locater is available from

Convenient Gadgets and other retailers.
Price: $49.95 MSRP, extra locaters start at $21.95
with discounts given for multiples
Additional parts can be ordered
here.
Pros:
Rechargeable Li ion battery w/included smart charger
100 Foot locating range
Four different beeps – you can pick the most obnoxious
Can expand to work with up to 50 fobs
Built in flashlight
Long battery life: 2-3 weeks
Cons:
Will have to figure out a way to not lose one at least one of the fobs
Product Information
Price:
49.95
Manufacturer:
Finderz Keyperz
Pros:

Rechargeable Li ion battery w/included smart charger
100 Foot locating range
Four different beeps - you can pick the most obnoxious
Can expand to work with up to 50 fobs
Built in flashlight
Long battery life: 2-3 weeks

Cons:

Will have to figure out a way to not lose one at least one of the fobs