We use affiliate links. If you buy something through the links on this page, we may earn a commission at no cost to you. Learn more.
Product Requirements:
Device:
Various PDAs
 
I'm already on my second
Sony TG50.
I think that most of my problems with PDA damage (or at least a good 40%)
stem from the fact that I carry them around in my breast pocket. Everything is
fine with this method, unless (of course) my torso does not remain perfectly
vertical over the course of the day. However, a belt-solution is not much
better. Items have an even lower life expectancy on my waist (whether scraping
along cubicle walls or hopping into the seat of my Miata) than elsewhere.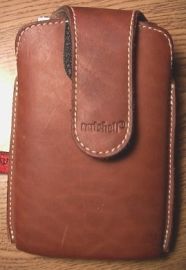 As the company's tongue-in-cheek name would suggest,
Tuff-As-Nuts line of Nutshell cases
certainly appear to be sturdy – but are they really up to the Mikey torture
test??? Read on, if you dare…
Okay, I'm assuming that you have not hit the [Back] button…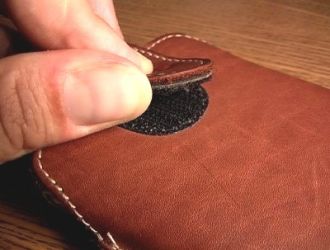 When I first received this case (Model 206, Belt-loop) I was first hit with
the smell of some very nice leather, we're not talkin' the garbage that they
sell at the mall, but the real New Zealand variety (at least, that's where
Tuff-As-Nuts is located). After getting over the rich odor, I saw that the
pictures on their site really do not do this product justice. I chose the base
brown leather (eight other coverings are offered, but some at additional cost)
and all I can say is that Indiana Jones would have no qualms wearing this thing
on his belt.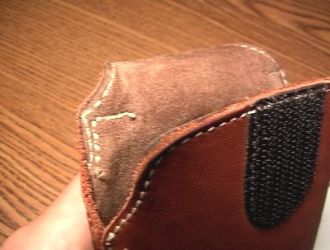 The interior of the case is lined with felt that is a little lighter in color
than the exterior, and seals your PDA in soft, fuzzy protection. It may look as
though the case is rigid, but is actually quite supple, making causing some
initial worries about it living up to the company's name – how can something so
soft stand up to Mikey the Terrible? (Answers below).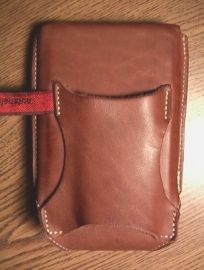 The belt loop model can be worn vertically or horizontally on the belt (the
horizontal position being more ideal if you have as much hanging over said belt
as I do…) and is stitched very well – no fraying in my time with it.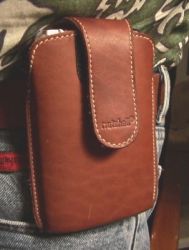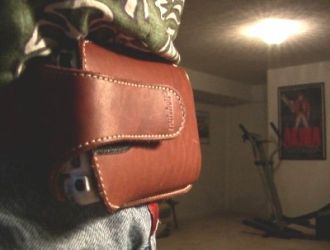 So the thing looks great, smells great – how did it work?!? After slipping it
into my belt (horizontally), I first loaded my TG50 Clié into the holster – I
was astonished. It felt, initially, like I was not wearing a PDA on my hip at
all – what magic is going on Down Under (okay, is NZ really considered "down
under," or is that just Australia?).
Actually, it is not really magic at all; the perceived super-slimness of the
Nutshell really comes down to the Ultra Clip. Yes, that little device that has
all but dominated the PDA/cell phone case industry. They are a great way to
attach and store a play-through case, to be sure, but that extra room for the
clip, belt holder, and case (which is invariably bulky) can make an item stick
out twice as much as necessary. Granted, this is most-certainly not a
play-through case – but I am seriously re-thinking the whole Ultra Clip thing
(after breaking three of them in the two weeks I tested the Nutshell).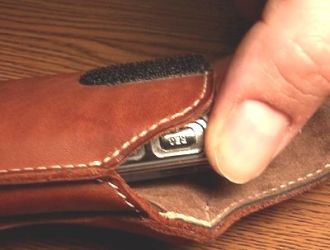 The first and only real problem occurred when I pulled my TG out of the case
– and hit the voice recorder button. Testing with the NR showed that the camera
button might prove to be an issue. I resolved the situation by grabbing the
middle of the PDA, as opposed to the sides (yes, I even tried putting it in
screen-first, but removal was awkward. And, yes, I understand that my situation
is a PDA specific issue, and does not really speak to the case (but if someone
wants to send me a copy of McPhling, you go right ahead…)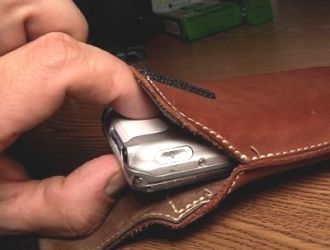 As you may recall, I had questioned the protective capacities of this case a
few scant paragraphs above, and the answer came after using the case. The
relative toughness of the Nutshell was not really a factor; the form of the case
kept it out of harms way – even when hopping into my car Bo and Luke style.
My PDA still has no scratches, dings, or other abrasions.
The more than I used the case, the more that it molded to be – both literally
and figuratively. The belt loop has become somewhat distorted after two weeks,
but it perfectly matches the curve of my waist. Also, the PDA is sliding in and
out a lot easier (especially with my middle removal technique) now that it has
been officially "broken in…" In all, I really cannot say enough good things
about the Nutshell. It is a simple, elegant solution that I didn't know how much
I needed until I had it. I think that my cell phone and iPod just might be
getting some new homes in the not-too-distant future…
 
Price: $39.95 (base price + shipping +/- options)
Pros: 

Excellent Quality Leather
Slim Form Factor
Many Customization Options
Cons: 
Limited Shock Protection
Inadvertent button pressing on removal (PDA-specific)
Not play-through
Product Information
Price:
39.95
Manufacturer:
Tuff-as-Nuts
Pros:

Excellent Quality Leather
Slim Form Factor
Many Customization Options

Cons:

Limited Shock Protection
Inadvertent button pressing on removal (PDA-specific)
Not play-through